St. Louis, MO
St. Louis
Monster Energy AMA Supercross Championship
Round two of the Monster Energy AMA Supercross Championship took place in chilly St. Louis and although the negatives of having this race so far East so early on were obvious (expenses for teams and riders, cold weather) the bonus was just one week after having terrible racing conditions (due to weather in California) all the riders would be greeted with the best dirt on the circuit!
St. Louis was back on the schedule and I guess the plan from here is to alternate years on the schedule with Nashville. Nashville was an unquestionable hit last year, its first on the schedule, and St. Louis has slipped quite a bit from the first year I went there in 1997 in terms of attendance. Not sure why the dome's attendance numbers have gone down, I've always thought of the Midwest as a strong motorsports area.
Two for two in terms of interesting, exciting tracks this year on the series. As I've stated for approximately 20 years, I like tracks that offer some options and allow the very best racers to show off. We had that in Anaheim and we certainly had it at St. Louis. A cool quad over table that not many guys could do, a rhythm section that offered variations and didn't present one clear way that was faster, and a good set of whoops (that did break down bad for mains) that allowed Malcolm Stewart to shine. That's all I ask each week!
And yes, I've noticed that we've used the over/under bridge for two straight weeks! It's glorious.
Speaking of a Stewart, did you see JS7's breakdown of Anaheim 1?
I have so many questions:
Is Stew…back? I mean, he did his two-part retirement video a while ago for his first interview in ages and now he's breaking down a race? Did he come out of his hole and not see his shadow? The races would be better with James Stewart around, that's for sure.
You notice in his breakdown he said he would quad that section at Anaheim 1. YOU CAN NEVER QUESTION HIM ON THIS STUFF! Ballsy of Stew and I love it.
Ok, he's wearing a SX logo shirt so that means, if I have this right, the folks at SX paid him to wear that. Because he does own a gear company and would wear that shirt all things being equal one would think. So he got paid which is cool but how much? Like, he's not putting on a shirt for, say, only 10K, and I don't see the guys at SX paying him 100K for a 10 min video. So what kind of money is worth it for him to wear the shirt but also worth it to Feld just to get a few videos? From what I heard this is not a weekly thing, he's doing it on Stew time which is a method of time that James uses where he does whatever the hell he wants whenever the hell he wants. Trust me, there are lots of companies out there that have worked on "Stew Time" and it ain't fun. So how much did Stew get paid?
Finally, when is the next one? I need it so bad.
So great to see Ken Roczen win his first 450SX main event in almost three years with a dominating ride in St. Louis to lead every lap but one. Roczen had a poor Anaheim 1 and he explained it by saying his suspension was too stiff for him on that type of track. Insert eye roll here as another rider says "setup" was the reason for his ride but with Roczen, things are a bit different. He's honest almost to a fault so you kind of had to believe him on this one. I spoke to a Honda guy that told me on Friday press day before Anaheim Kenny said his stuff was too stiff but didn't want to change it as he was used to it. This guy told me (and Kenny confirmed it) that he was running a stiffer setting than Malcolm Stewart!
Again, I have a lot of questions but I do know the team threw on a fork spec that Justin Brayton uses and Roczen was much happier. A rider backing up his talk about setup is something that I can get behind! Roczen's come so close to winning a 450SX and he's won 450 Class races of the Lucas Oil AMA Pro Motocross Championship since his injury that I can't get behind the "he's back" narrative that will be pushed because, well, he's already been back to me. He just hasn't gotten the win. I didn't need this victory to tell me that he's made it all the way back from his horrific injuries, but it was great to see him win.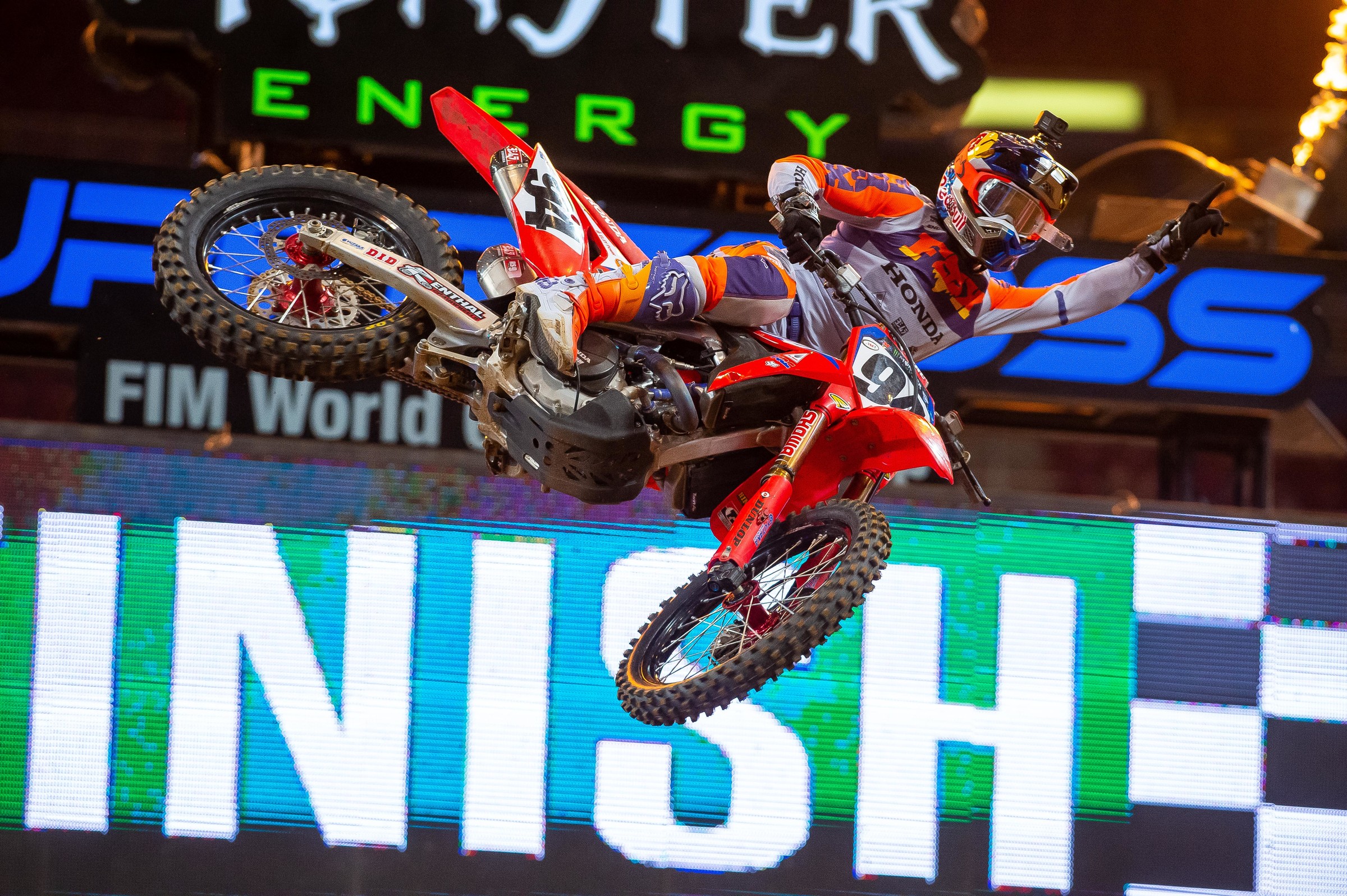 Kenny is such a beautiful rider to watch when he's on his game and it looked that way in St. Louis. An aggressive pass on Zach Osborne (which Osborne was fine with) early to grab the lead, then near perfection the rest of the way. These guys work so much from confidence that I think we'll see an improved Ken Roczen from here on out, but I don't think he'll rip off a bunch of wins in a row. This field is too deep and intense for that.
Ah yeah, about that. We're early in the series so we have everyone fresh and feisty right now. This could change but what struck me in the main event was how GD fast everyone was going. Like, the pace was high and it wasn't easy to get around some of these world-class dudes. Roczen and Barcia were checking out a bit, but Jason Anderson, Zach Osborne, Adam Cianciarulo, Eli Tomac, Justin Brayton and Malcolm Stewart were conducting WWIII behind those guys. Pace was high, Tomac was jumping a couple of things other guys around him weren't and man, it was gnarly. Crazy to watch these guys ride like that (did I mention the start was so important?) and then further back a race winner last year, Blake Baggett, is pushing so hard and can't gain an inch on these guys. Never mind #dropthegate for supercross 2020, the tagline should be #sointensebro
The Anaheim 1 winner, Justin Barcia, was very good again in St. Louis with a second. Man, what if this is for real? I don't know if this means he's going to become 450SX champion (I mean, that could happen) but just a podium guy/race winner dude the way I look at Jason Anderson. Justin's been very good to start the year and was the first guy to quad over the tabletop in the rhythm after the whoops in practice. Clearly, he's feeling it.
And he was sick as well! Bam Bam looked to be all smiles after the race but I heard earlier on it was rough. I mentioned to him in our post race interview that I didn't think his heat race went that well but I went back and watched it, looked at some stats and he started outside the top ten and worked his way to third with the fourth best lap time of the race (all in traffic). So, my bad on that one. Barcia's main event was stellar and he's the red plate holder after two races. Something cool could be brewing here.
Eli Tomac has got to figure out his starts to *ahem* start the year. Funny enough when the steel grates came in a few years ago his starts (or first lap positioning anyways) got much better, but through the first two races this year he has some work to do. He was balls-out fast in St. Louis but couldn't get on the podium after working so hard early on.
Last week, I said my worry meter was pinging for both Roczen and Tomac but we're good now. Both guys were much improved obvi this past week. We're all good now!
Cooper Webb was the hero last weekend when he took his Red Bull KTM 450 SX-F to a third place despite being sick from working out with Zach Osborne (what were they doing, reenacting Rocky and Apollo from the beach in Rocky III?). He rode so well that JT even changed his title pick AFTER ONE RACE! I can't deny that Webb showed a lot last week and it was impressive. This week, not so much. The illness lingered on (Osborne told us on the PulpMX Show that he contracted it earlier than Coop so he had run through the flu cycle already) and he didn't have much this week. Coop finished 12th in a ride that he'll want to forget about.
By the way I was talking to a Yamaha guy about Coop and he mentioned that unlike a lot of other riders that go on to have success with another brand, Webb never talked trash on his two year stint at factory Yamaha. This person told me they admire him for it. They did admit that a couple things Coop said about the Yamaha weren't accurate in this person's opinion, but by and large Webb's handled his success at KTM with class towards Yamaha. And I agree with that, Coop's talked about it not being a fit for him, he got hurt a few times and joining Aldon Baker's program made him fitter and upped his intensity level. He never straight-up said the Yamaha wasn't a good bike.
In the two-fiddy's it was Austin Forkner taking the win in a better ride than he had at Anaheim. I wasn't stoked on Forkner's Anaheim ride because A- he wasn't nearly as good as he was last year but obviously he was coming back from a long time off so no biggie. B- he still crashed pretty good in practice which was a bad habit of his last year and C- he ultimately made a mistake while leading that cost him the lead and then made another mistake (showing me he's not really learning to calm down) that cost him another two spots.
All good this week though as Forkner looked fast and steady in practice and then rode a calm race in the main event. He didn't even freak out when Jett Lawrence caught him a bit. Nope, just steady laps and he eventually pulled away for the win.
Behind him sat Justin Cooper who worked up from a so-so start. J-Coop won last week but was maybe better this week with a steady charge up to the runner-up spot. He's got the red plate and going into the series I probably put Forkner and Dylan Ferrandis ahead of him in terms of speed but I'm impressed with Justin. He's as good any anyone right now.
Speaking of Ferrandis, his start was terrible again and that led him to get into a big crash on the first lap. He stopped in the mechanic's area for repairs and got out right before the leaders. He let the top five guys go and rode behind them until late in the race when he passed Alex Martin and Brandon Hartranft. The Frenchman ended up 12th and his chances to repeat just got tougher. If he can't get the win this weekend, it's going to be really hard to see him defend his title.
Yay for Brandon Hartranft! The Troy Lee Designs/Red Bull KTM rider got his first career podium with a solid third as he out-dueled Troll Train [Alex Martin]! I've always thought that Brandon could do some damage if he got on a factory program as it seems he's always done the work off the bike. Well, he's got his chance now and last week he was sneaky good working up from the back. This week he was a threat the whole way. I'm not stoked on theTroy Lee Designs/Red Bull KTM lineup this year other than Hartranft, but he can hold these guys up by continuing to get top fives and more podiums.
I mean, c'mon. Did Coy Gibbs walk under a ladder while holding a black cat? The teams been hit hard by Suzuki pulling some support back for this year but they went out and signed Joey Savatgy who promptly got hurt in Australia. They filled his spot in with Fredrik Noren (or maybe Noren was going to be Joey's teammate, I'm not sure) who then broke his lower leg without even crashing this weekend. So JGR's got Jimmy D (250SX East guy) on a 450 (hey, he's making mains!) and then Troll Train on the 250 for West. I don't blame Coy for wondering when he and his team can catch a break. Or maybe not get a break if you know what I mean?
Some other news and notes:
Thanks for reading the column this week, I appreciate it. We're onto Anaheim this week…email me at matthes@racerxonline.com if you want to chat about this race or anything else.