St. Louis, MO
St. Louis
Monster Energy AMA Supercross Championship
We checked in with Bullfrog Spas/SmarTop/MotoConcepts Honda teammates Malcolm Stewart and Vince Friese after the St. Louis Supercross. Stewart has gone 10-6 in the first two rounds of the 2020 Monster Energy AMA Supercross Championship, despite a big crash before St. Louis that left him battered for the weekend.
Friese pulled his customary great start at Anaheim and held on for tenth, then took 14th in St. Louis. Here's what they had to say after round two.
Racer X: I saw you earlier. We were talking about stuff that was "Stewable" or not. We know you had a bike malfunction and jacked yourself this up week. If someone had told you all of that, and all the stuff you're going through, and you're going to get sixth, you'll take it?
Malcolm Stewart: No. I'm in a lot of pain right now. I'm not going to lie. For sure, it pays off, but damn, man. Nobody wants to go through that pain. For me, I told myself, I showed up today and I'm like, I don't even know if I'm going to be able to ride. I went through first practice. They were like, "You don't have to ride." I'm like, "Bro, I flied from damn California to St. Louis and I'm not going to be like, I ain't going to ride. No, we racing." For me I was just taking it practice by practice and I was like, dude, just get through the practice. Then honestly for me, I think Dr. G helped me out all week, just getting me ready for this weekend. Then I went and saw the Alpinestars Medical Unit and those guys helped me out. It's good to have these people on your side when you get in a little tough situation. I was just happy with the way I rode. To be honest with you, to put 20 minutes like that solid, it was a straight race. It was a battle. It was a serious battle out there.
It was pretty intense.
I was like, [Eli] Tomac, [Zach] Osborne, [Justin] Brayton… We were having a little freight train going. Even [Justin] Hill was right behind me. Racing like that, it just gives you flashbacks. You realize this is what racing is all about. Of course, we didn't win the race, but just being in the race like that just makes it fun. For me, that's what we all live for and we drive for every day. It paid off. We got sixth. That was a better start. We still got to work on a little bit of starts. Not starting 19th is definitely a hell of a way better than Anaheim.
Funny you tied your career best with this result. Like you said, it's one of those weeks where you're just jacked up, and you got your career best.
Yeah. We got more to go. We're going to take it race by race, each weekend. We got sixth last weekend and our goal is just to stay top ten. We're going to end up on the box before you know it. It's funny. On the last lap I could see third. I was like, I ain't that far away from third. It's definitely possible. We're just going to keep working our way up there. I'm happy with the whole group I've been working with. Everybody has been working their butts off, on and off the track. So I'm excited to see what the next fifteen rounds can do for us.
Such a good track. Such good dirt, huh?
I can speak to that for everybody - this is probably the best dirt there is. Sucks that it was only the second race. I wish we could have this weekend every race. I say Dirt Wurx should pack this dirt up and bring it to Anaheim. It was good. It's just to mix it up. A little bit of east coast fans. There's a lot of fans out there. I got a lot of fans that are rooting for me, so that was cool just to mix it up. A couple of my friends met me here that are more towards the east coast. Like I said, I'm excited. I'm happy with the result that I got and we're just going to keep moving from here.
Did you do the quad over the table?
I didn't do nothing! [Laughs] To be honest with you, the number 27 out there was not Stewable anything. He wasn't quadding nothing. It was more like, "You know what? Let's just go out here, give us 20 solid minutes, and go home."
I can't wait to see James' breakdown of your race.
He ain't even going to talk about me.
He's going to be disgusted.
Yeah. He's going to say, "Good job, bro," and that's probably it. That's all we're going to hear about it. He's actually going to give me, "At least my brother didn't start last. That was good. He raced." That's the positive thing.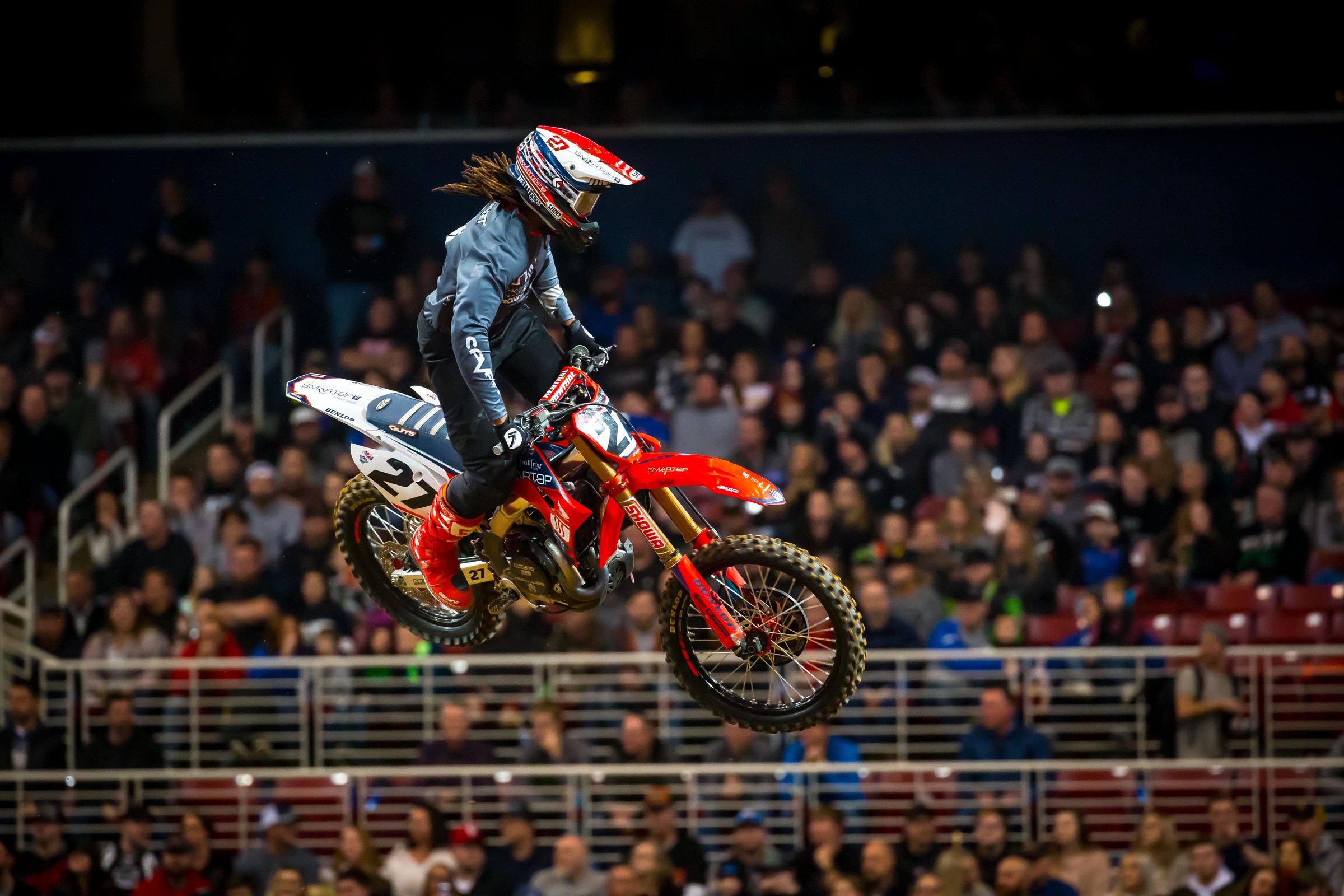 Racer X: You want to do an interview?
Vince Friese: About what?
You did good?
I got 14th.
Okay then let's start with good news. How about we go back to Anaheim 1? You got tenth against the most loaded field you'll have all year.
Yeah, that was good. Two good starts and just kind of stuck it up there as long as I could. A good race to build off of. Got a holeshot in the heat race tonight, but in the main event I just kind of messed it up a bit. So yeah, without a start, it's hard. I started 14th and I stayed in 14th, I've got champions ahead of me and champions behind me, I'm riding as hard as I can and I'm not catching them and they're not catching me. It's hard to make moves. It's Dean Wilson and Aaron Plessinger ahead of me, and Justin Bogle right behind me. They're good riders! I would have loved to have started up front to see what I could do, but we have 15 more races to go and hopefully we can get more starts. Qualifying was better, I got eighth, I just want to put together better main events.
Qualifying last week was pretty good wasn't it?
Tenth.
And you're bummed about all of this? I'm surprised this is where you are, your standards are so high now.
Yeah because during the week everything is there. I'm riding with some of the best guys in the world and the speed is there. If I was just getting my butt kicked all week I would expect it here, but I want to show what I can do at the races. I have a little bit. Also, I'm getting old! I'm 29 years old now, it's time to get it going. JB [Justin Brayton] is making it look like you can go forever. I do believe I have a few good years left in me, and a few years of growing, but everything is there. I have all the tools to do it, I just need to get it done.
Okay, Dean Wilson, Plessinger, Bogle, what have you done to improve so much compared to where they were in the 250s, winning races, and to where you can compete with them now? What do you attribute this improvement to?
Man a lot has gone into it. What helps is I have a great team behind me, and I've been here for 10 years. You see guys, when they switch a team, it dings them for a year or two a lot of times. I'm staying on the same bike, same team manager, same engine guys. I'm a little hard headed so it takes a while for me to learn and grow. Now I look back like "Man maybe I should have done it the way they're telling me." I'm also a little bit more of a cautious guy, too. I'd rather not take the big hits. So sometimes I will back it down to 90 percent and not take the big risk, and that's probably cost me at times, too, it probably made it take longer to where I want to be.
When you get these starts, what is the pace like up there?
Yeah I'm getting to where it's not so much like "Wow this is so gnarly" but more where it's like "Okay, let's go." In the 250s I eventually got comfortable with it, but in the 450s it has taken some time. Last week, I was pretty comfortable with it, and I was really thinking I would be able to do that tonight. I know we'll get a lot more of them.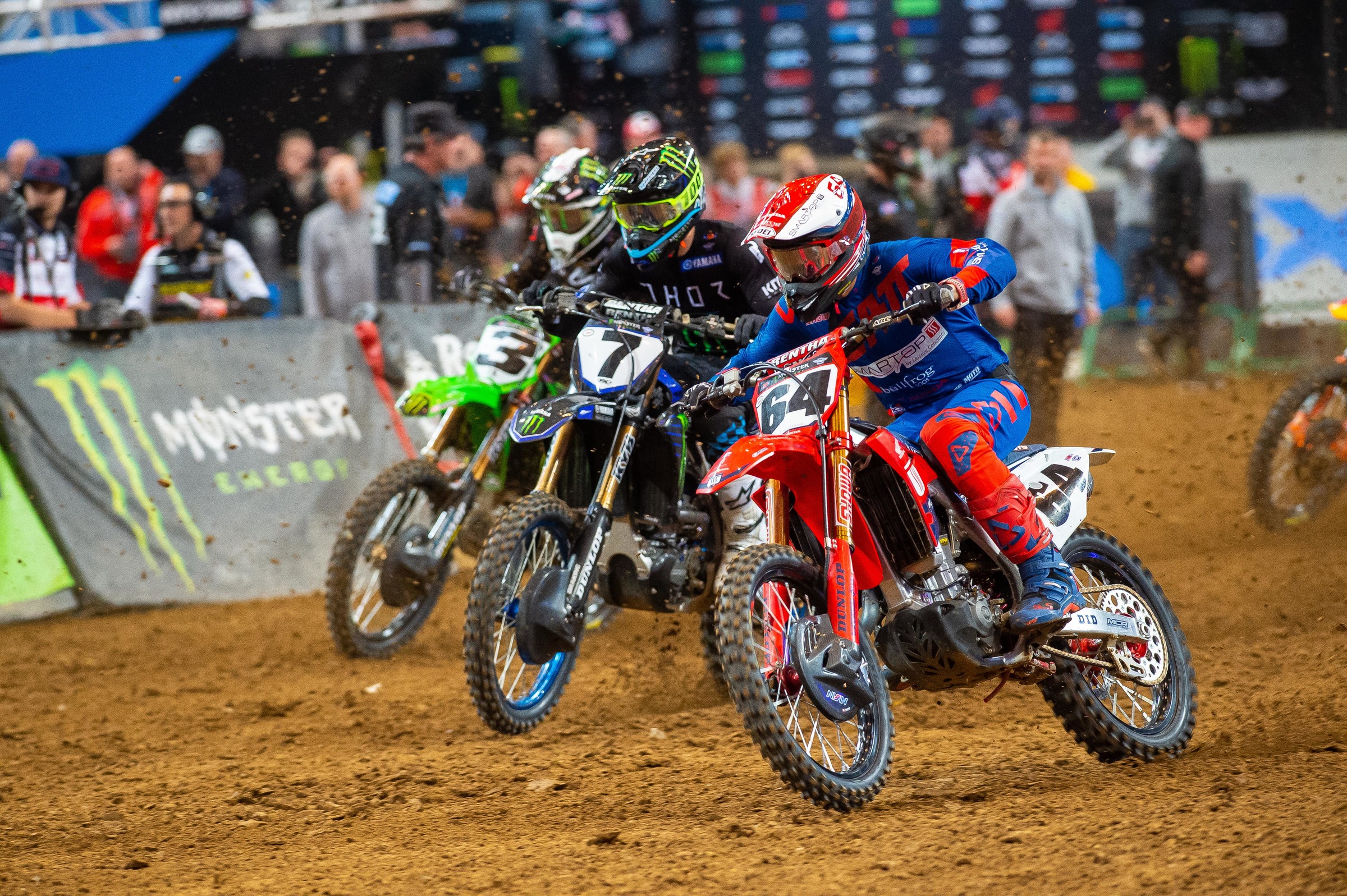 Finally, is this a home race?
It is. Had a lot of friends and family here. Hopefully I excited them for about a minute and a half in that heat race.
You and Malcolm went back and forth!
Yeah he did. He's so fast in the whoops! We had it on video, he went past Cooper, Tomac and me in one set of whoops. That's insane. There's nothing you can really do with that. He bobbled and I got back by him, I thought I had my groove back but then he came right back by me in the whoops again. There's gonna be tracks that suit me and I'm going to be able to be right there, 3-4-5 and there's going to be tracks that suit him like that—big whoops and stuff like that.
So you had some family time here this weekend?
I did. We had a nice family dinner at an Italian place we always go to. I wish I could have put on a better show for them in the main event. They'll be watched on TV the rest of the year, hopefully I can show them something.