St. Louis, MO
St. Louis
Monster Energy AMA Supercross Championship
JGRMX/Yoshimura Suzuki Factory Racing's Alex Martin just missed the podium in the 250SX West Region main event at the St. Louis Supercross. On the last lap, he closed right up to the rear fender of third-place Brandon Hartranft, but came up short of making a pass.
Honda HRC's Justin Brayton had a bike problem during his heat race that caused his race to end early. The team wasn't sure what the problem was so they decided to do a full motor swap in the time before the start of the 450SX LCQ. They managed to get it done and Brayton went on to win the LCQ. He finished eighth for the second week in a row.
Aaron Plessinger finished tenth in the 450SX main event. Sounds like he's still having fun at the races. There was a rumor he would be returning to GNCC racing following 2020, which Aaron addresses here.
Our Steve Matthes caught up to all three after the race.
Racer X: I was watching the Hartranft/Troll Train battle with great intensity because you were on TLD KTM and Hartranft there is there now. You're doing your thing. He's doing [Seth] Rarick's program. I want to see who wore who out, how that was going to go, but he slipped away from you a little bit. But still, good ride.
Alex Martin: He's on the Mike Brown program. You can't give Seth any credit.
I think Brownie quit already.
Never mind.
It was a good ride.
I had a really good parade lap start and I was like, it's on. Then I kind of botched the main start. Not bad. I still came out sixth. Then kind of got into it a little bit in the first rhythm. I think maybe Mosiman and Ferrandis went down. It was sketchy. I was lucky I didn't get landed on.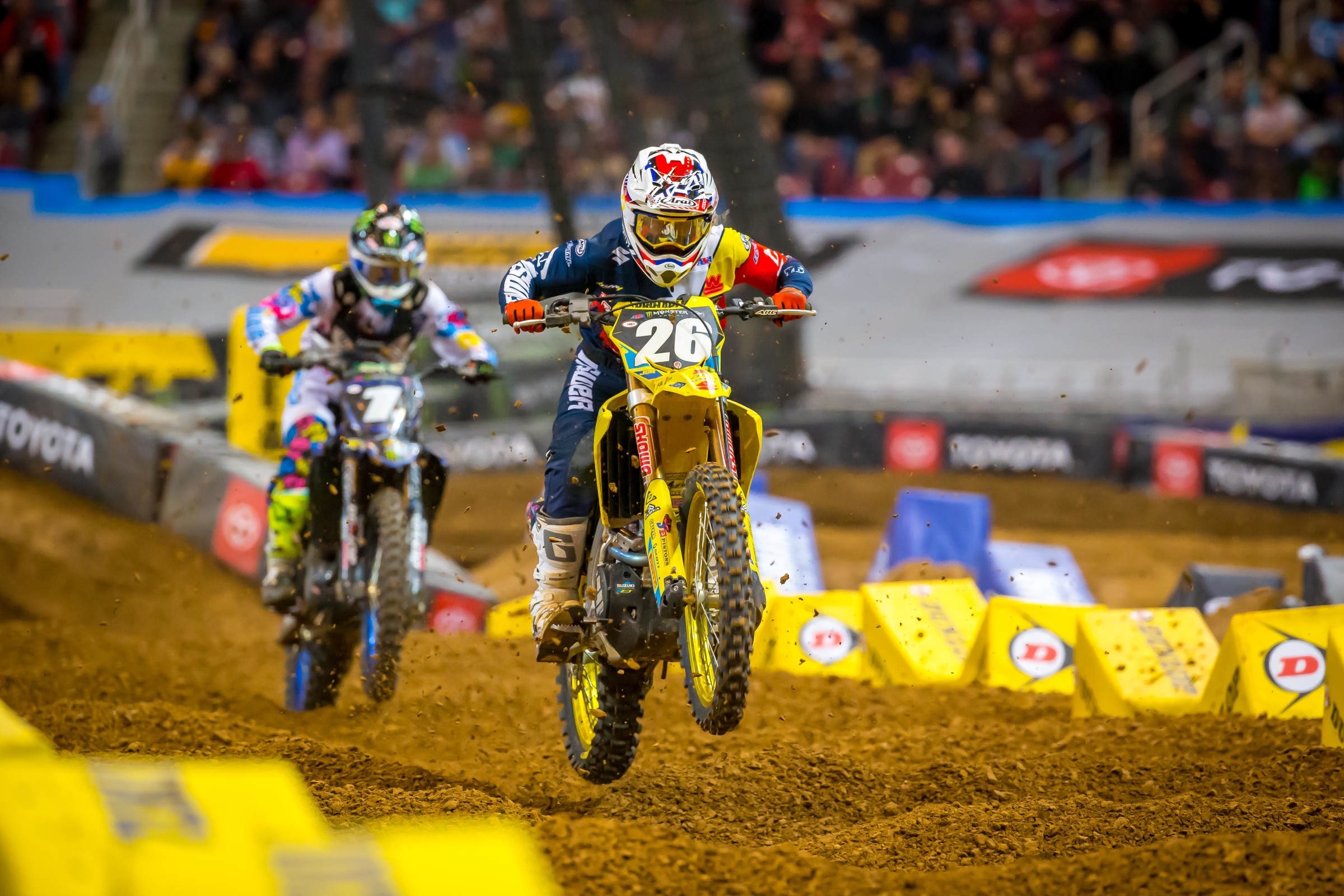 Cooper jumped in the middle higher? He did some rhythm that no one else did. Did that cause it?
I don't really know. Honestly, it's all a blur. I blacked out for a sec. I made a few good passes right at the beginning and then I found myself in sixth battling with Hartranft for honestly the entire race. For me, first time this year actually being up front because I was last weekend dead last for most of the main. So intensity-wise, pressure-wise I was kind of a little… for sure the nerves were there. I definitely rode a little tight. I definitely had a lull in the middle of the race. I didn't realize Ferrandis was actually a lap down. When he passed me it kind of deflated me a little bit. Then he passed Hartranft and that kind of deflated him too. I seriously thought I was in sixth, so when we crossed the finish line and Hartranft was panic revving, I'm like, what are you celebrating, dude? Excited for fifth? Then I saw third and I'm like, what happened? I didn't realize, I think maybe Lawrence crashed out.
Blame Leroy for no pit boarding.
Leroy was already yelling at me, but I did look at the pit board, just not at the key, pivotal points of the race.
St. Louis always a good track. Always good dirt.
This is the first time I've raced here since 2014, I feel like. It's been a while. It's good to be here. I love the Midwest. I love cold and snow. In all seriousness, it was definitely a step in the right direction. We made changes throughout the day in the right direction and I feel like we ended on a high note.
If only the parade lap start could have been the main start.
Yeah. Shoulda, coulda, woulda.
Racer X: Kenny just told us that he used your forks, which means you get a credit of this win which means that I'm not going to be able to deal with Weigandt and how you got Kenny the win.
Justin Brayton: That's right. I need to have a chat with Kenny, actually, to see what percentage I get. What's fair, you think?
I think a fork is 20 percent of a motorcycle.
So 20 grand or something. No big deal.
Never want to go in the LCQ, but it didn't really affect you. You ran up front for a long time. Got a start, so that part was good. Maybe did it get to you later on?
Not really, no. I just had to pull the start and somehow I found a hole in the first turn. I was like, I'm taking this. I knew how start-dependent… Obviously super start-dependent these days. Ran sixth to seventh for a while. Eli got me. I got him back. He got me again.
It was an intense battle with everybody there.
It was intense. It was really intense.
Osborne, AC, Eli, you, Mookie, Baggett, and Hill.
Baggett was in there. Yeah, it's intense. It's just a battle. Eighth place two weekends in a row isn't exactly what I would like, but it's also you got to take the good with the bad. Tonight could have been a disaster for me going to the LCQ.
Bike issue in the heat?
Yeah. I don't honestly know exactly what it was.
Twenty three minutes to change your motor. Somebody timed you here in the pits.
Dude, how impressive is that?
It's pretty good. I probably would have done better, but that's pretty good for your guys.
What do you think you had in you?
I had probably 18.
You'd still be out here trying to change it! That was impressive. We were just in a meeting. I applaud those guys. Lars was actually awesome. He made the call like, "Let's swap an engine." I remember somebody saying, I think the gate dropped in 25 minutes from the time they started. So I just went up to the gate and I was like, I got confidence in those guys. They made it happen.
Then the start, of course you were on the far outside so you had to do that.
Yeah, far outside. Chad beat me to the first turn and I got by him. It was actually really fun. I just was like, treat it as a heat race and try and dip into the 52's and 53's. I was just racing the clock. It was actually pretty fun.
Fun track?
Yeah.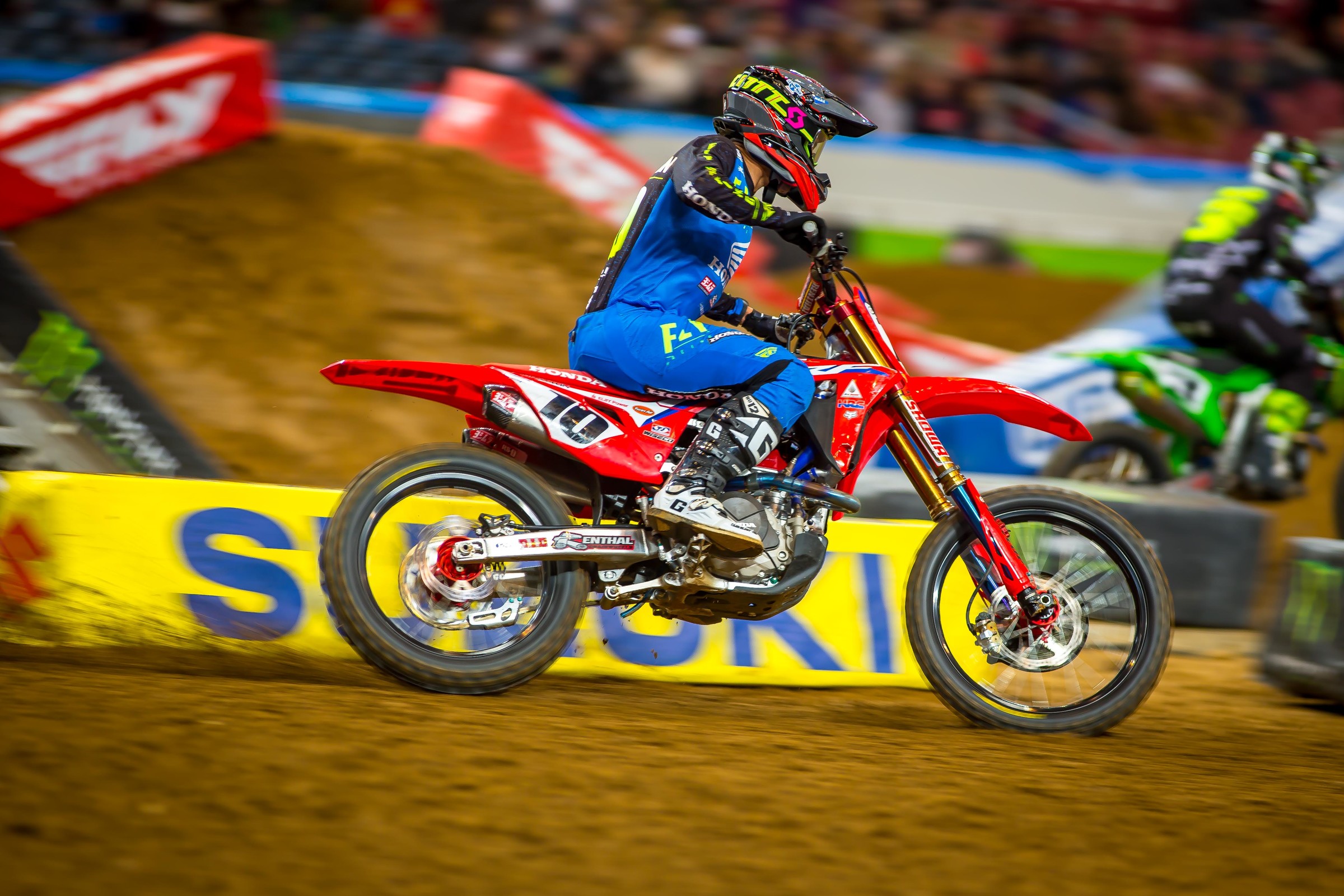 Beat down, rutty, chuck-hole track?
Fun track. Both tracks have been really challenging, really demanding. I liked tonight's track. Just a bummer how much the whoops get chewed out, but they weren't quite jumpers tonight. At least we still were skimming a little bit.
Then the quad over the table. Did you do that?
I never did, actually.
I didn't see you do it. What's going on?
What was weird is through that segment all day I was in the top five and I think AC was first and he was one tenth better than me. So with me just going three on, it was actually not bad. The way I was doing it was pretty good. Then honestly I had in the back of my head that a few years ago here in St. Louis I was going three all the way over. Me and Stew were doing it. Once it went away in the main event, it totally ruined my race because I hadn't been going three on-off that much. So I was like, just stick to the race line and go low in the turn, get the three-on quick, just be racy with it. That's kind of what I did all day.
So, through two races you've shown speed, you ran up front, lost some positions, crashed last week. Are we okay with the start of the season?
Yeah. We can talk about two weekends that got away and this and that, but if I keep putting myself in that position I really believe I can win one of these things and definitely be on the podium. Just kind of through the middle of the race got to make it happen a little bit better. But I'm in the fight. I was battling with Eli for most of the race tonight. That could be a fair win next weekend. It's going to be an interesting year. You got to be in it for all 17 for sure. I'm fairly happy with the way it started.
Were you one of the guys doing the 2-3 after the finish for the first time in the main event? Or 3-2?
No, I did it in practice.
A couple guys never did it. Eli was going 3-2. Osborne and a few other guys pulled out the 2-3 in the main.
I went 2-3 in practice. Eli had to go kind of to the top of the berm and that's actually where I passed him back. He had to go to the top to go three and I just went to the bottom rut and did two and got him back. That was a big three that he was doing out of the turn.
Congratulations on the 20 percent of the win tonight. Roczen on your forks. Nice work on that, and the Racer X cover.
That's pretty sweet. Racer X cover is awesome. I'm stoked on that.
Racer X Illustrated Supercross Magazine
The March 2020 Issue
Inside the March issue: Honda is expanding its support—technical, material, and more—to anyone who races one of their bikes. Jason Weigandt hit up supercrosses in Australia and New Zealand to watch U.S. rivals relax and have a good time together. Brand ambassadors are all over the sport now, but these retired legends don't always wind up with the brands that helped make them great. The Mini O's in November act as a bridge between racing seasons past and future. All these features and much more in the March issue.
Read the Issue Now
Preview the Issue Now
Racer X: One thing that struck me when I was watching you out there in the main event, Baggett was right in front of you, Hill was right in front of you. That's for 11th, 12th, and those guys are trying to kill each other. It's such a deep field, man.
Aaron Plessinger:[Laughs] Yeah. It's definitely a deep field. Shoot. Twenty of us, I don't know how many are there on the track? Twenty-two? Twenty of us are freaking champions. It's crazy. It's a stacked field. All of us are fast. It's literally whoever can get a start and go up front for 20 minutes long, then you're a winner.
Intense for you?
[Laughs] For sure. Webb got third last week. He finished a spot behind me, and then Baggett got fourth last week. He finished two spots ahead of me, or a spot ahead of me. It's crazy. It gives me confidence because I know when I get a start, whenever I get a start, I can run up there.
Any issues with the ankle or foot or whatever that was last week?
[Laughs] No. I think it was just pretty much the initial twist of it kind of hurt it a little bit, and then the rest of the week it was the inside of my groin. It was a little sore.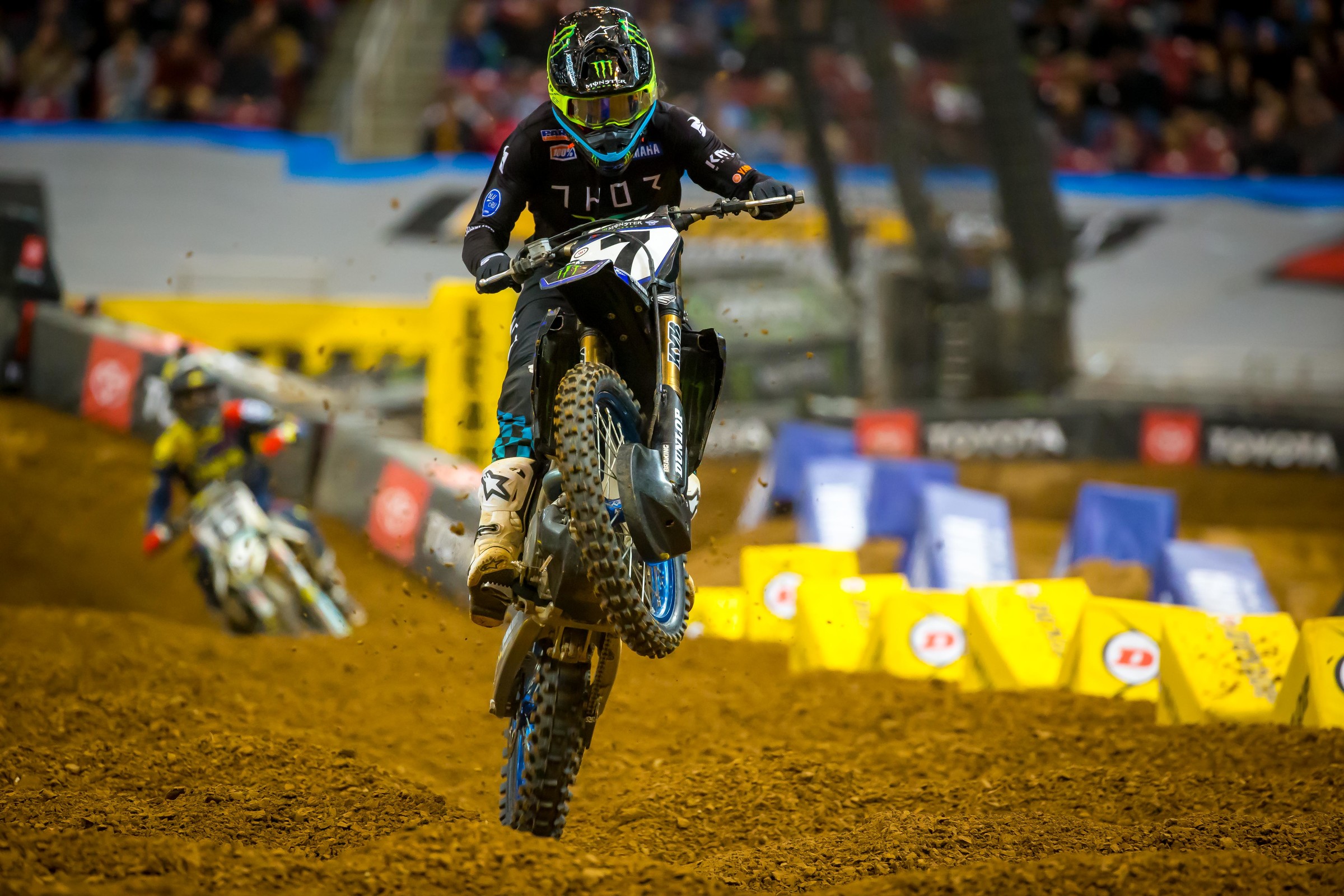 Last week I was like, this is the last thing this dude needs right now. Then in the LCQ, you were out of it. I'm like, he can't start like this. He can't.
[Laughs] No. It was not the way I wanted to start the 2020 season, but you know me. I got to make it exciting. I got to make it interesting. This week was a big rebound from last week. Even though it was only two spots, I felt good.
You were in the battle.
[Laughs] Yeah. I was top ten. Right now that's all I can ask for. Being that this was my really third supercross since March last year, I'm pretty stoked on it. Just got to go back and put the work in.
Are you going to tell me like every other rider how much this track, dirt, you just love it?
[Laughs] I think I like Atlanta better. They always add the sand in Atlanta. And last year I got fifth there. Best finish yet.
I like this track tonight. I thought it was cool. No triples. They had the two doubles that were kind of like triples across the start straight. Some really cool rhythms that you could try and do. I thought it was a cool track.
[Laughs] Yeah. I think it was definitely kind of a different layout, but it was cool. I dug it. How we could do the quad over in practice, it was pretty fun.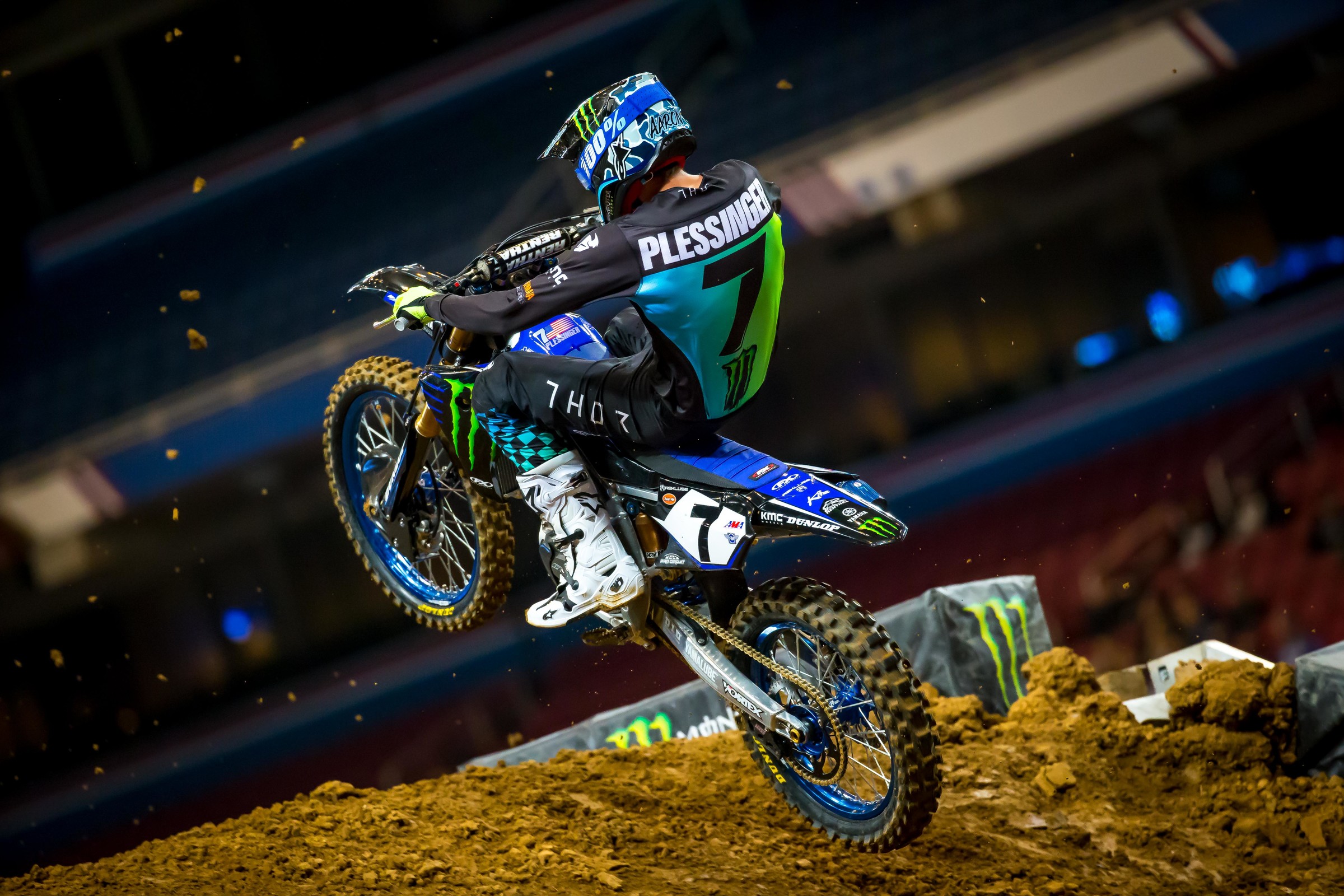 I didn't see you do that. So you did that over the table?
[Laughs] Yeah, I did it in third practice. Sacked up a little bit. I saw Adam do it in the second practice and I was like, wow. He made that look easy. Came out swinging in third practice. It was cool. It was fun. The little dragon back almost bit me in the last few laps. But it was a cool track. I liked it a lot.
Your teammate Barcia, you guys get along really well and of course won last week, this weekend had a good race. That's cool, right?
[Laughs] Yeah. I'm stoked for him. Hopefully he keeps it going. We get to ride together during the week. He teaches me a few things because I could use a few pointers right now.
You guys ride so differently. Such different body types and everything. Does his stuff help you testing-wise?
[Laughs] No. Not really. He likes his bike kind of heavy in the front, and I like mine sagged out in the back. I like my choppered out. That's really the only way I can ride it. He just has words of advice that kind of help me. Watching him ride, I know I need to be a little bit more like him instead of laid back, especially in this class.
Your personality doesn't help, I don't think.
[Laughs] No. I made some moves tonight, though. I got some elbows in on people.
You've just got to get angry somehow.
[Laughs] That's what everybody tells me.
Did you hear this thing on my show? I didn't say it, but it was said that you might go to GNCC next year. Do you want to shoot this down?
[Laughs] I don't think there is a chance I'm going to GNCC. I might race a couple maybe, but there's no change I'm going to GNCC next year.
You heard it, though?
[Laughs] Yeah. I've seen it on Vital. I made a little comment. I told everybody I was going to the NFL! Make a little fun of it. No GNCC's in the near future. Unless I start killing it and then I just go do everything, like Mike Brown or Sipes.