Anaheim, CA
Anaheim 1 (A1)
Monster Energy AMA Supercross Championship
Just short of 3 p.m. on Monday afternoon in Orange County, California, my phone rang. I recognized the number.
"Hey Eric," announced the caller. "It's Justin Barcia. I'm a little bit out and about today and wanted to give you a call back," furthered the winner of Saturday evening's Monster Energy AMA Supercross opening night round at sold-out Angel Stadium. "Today is my recovery day, so I did a bicycle ride and got some yogurt and a massage. Now I'm just heading down to Troy Lee's place to do a little ride and a photo shoot down there. It's a nice Monday for me. I'm just recovering the body and taking care of myself and eating and drinking a lot and just regrouping. "I figured I'd call you while I was driving through some Los Angeles traffic."
Barcia was certainly something of an underdog pick to win the main event in Southern California on Saturday, but that's exactly what the 12-year veteran went out and did. A winner at this same Major League Baseball stadium a year ago, the native New Yorker struggled throughout the rest of the series to place 13th. Not exactly Earth shattering, but… To many race insiders and veterans, however, there was something special about Barcia's latest win. On his Monster Energy Yamaha YZ450F, Barcia looked like a cool and calm veteran who, despite some setbacks throughout the night program, kept his cool and came away with a huge victory.
Racer X: Hey Justin. Sorry to be such a pain in the ass in stalking you down on your one day off…
Justin Barcia: [Laughs] It's alright!
The sold-out crowd inside that baseball stadium the other night sure as hell roared its approval when you met the checkered flag. Could you feel the overall vibe of the place when you took your helmet off?
Oh yeah. Absolutely. It was unreal.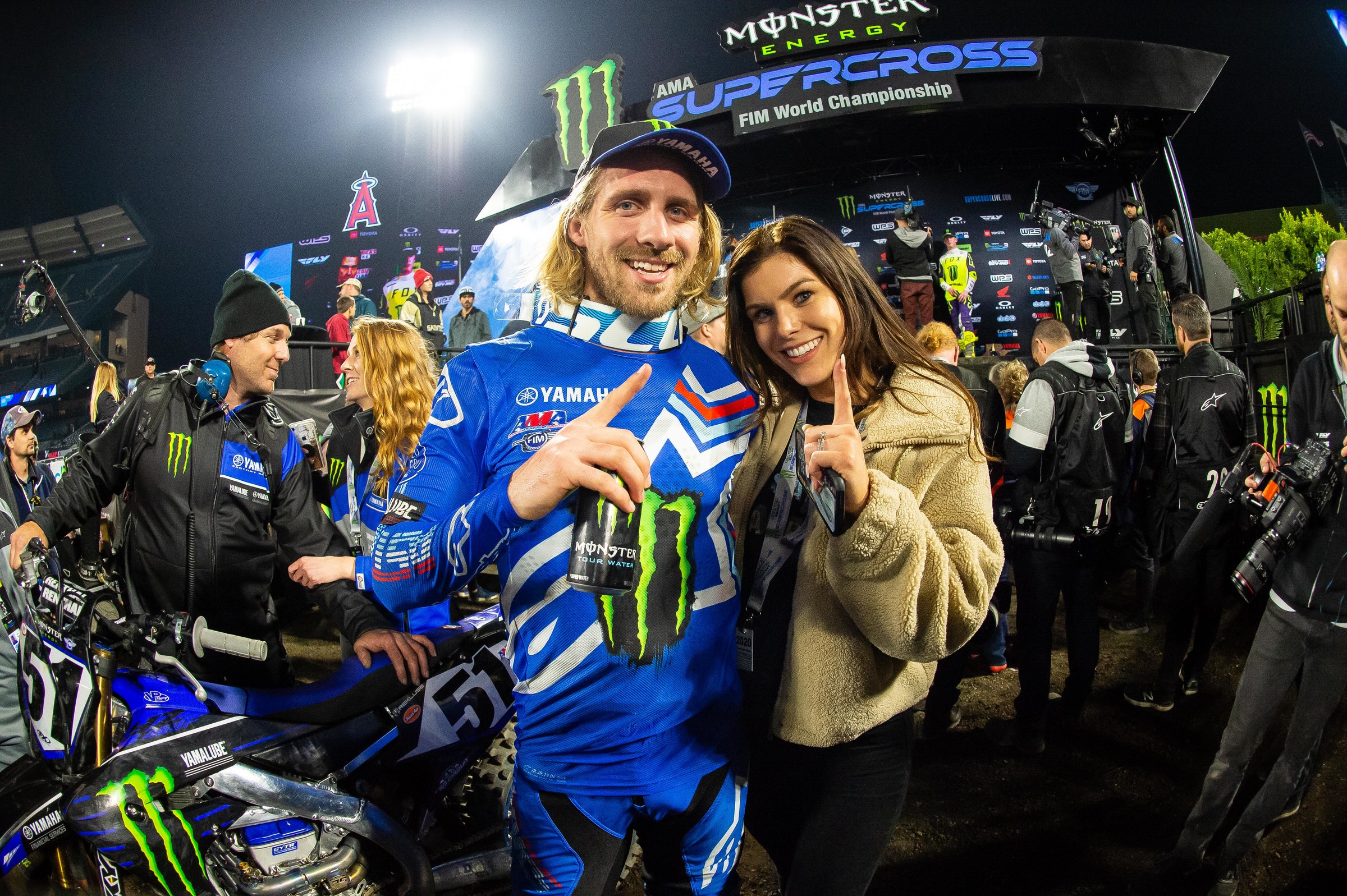 You won at Angel Stadium—virtually to the very day—one year ago. You've now won the opening round of the Monster Energy Supercross Championship for the second year. Here I am calling you 364 days later to ask you if the two wins—both on the bike and off—are different from one another. Thoughts?
Yeah, for sure. Last year's win was more of a shock than anything. It was a mud race and it just worked out that I won it, but this year the win feels more right. Last year I wasn't super comfortable and this year I felt way more comfortable. Yeah, everything definitely feels better when things go like they did last night.
Having won here a year ago, will you take anything you learned or gleaned from the 2019 season and its opening phase and apply it all at the next round of the series his Saturday evening in St. Louis?
Yeah, I definitely felt more like a veteran this Saturday. I was able to regroup after a mistake and put the race together as I went. I had that one mistake, but I was able to recover from it and get back into the lead. Yeah, for sure, it's definitely a long-term goal to win this thing. It's not just winning one race and the title done.
After you competed in a host of international supercross events and got back home, there wasn't a lot of communication and chatter coming out of the Barcia camp this off-season. Planned?
Yeah, a little bit. I mean I was just putting in the work in the off-season. Obviously, I did the two overseas races at Geneva and Paris. I was just grinding away doing a lot of testing and a lot of work. I wasn't on social media or anything like that much at all. I was just keeping really busy.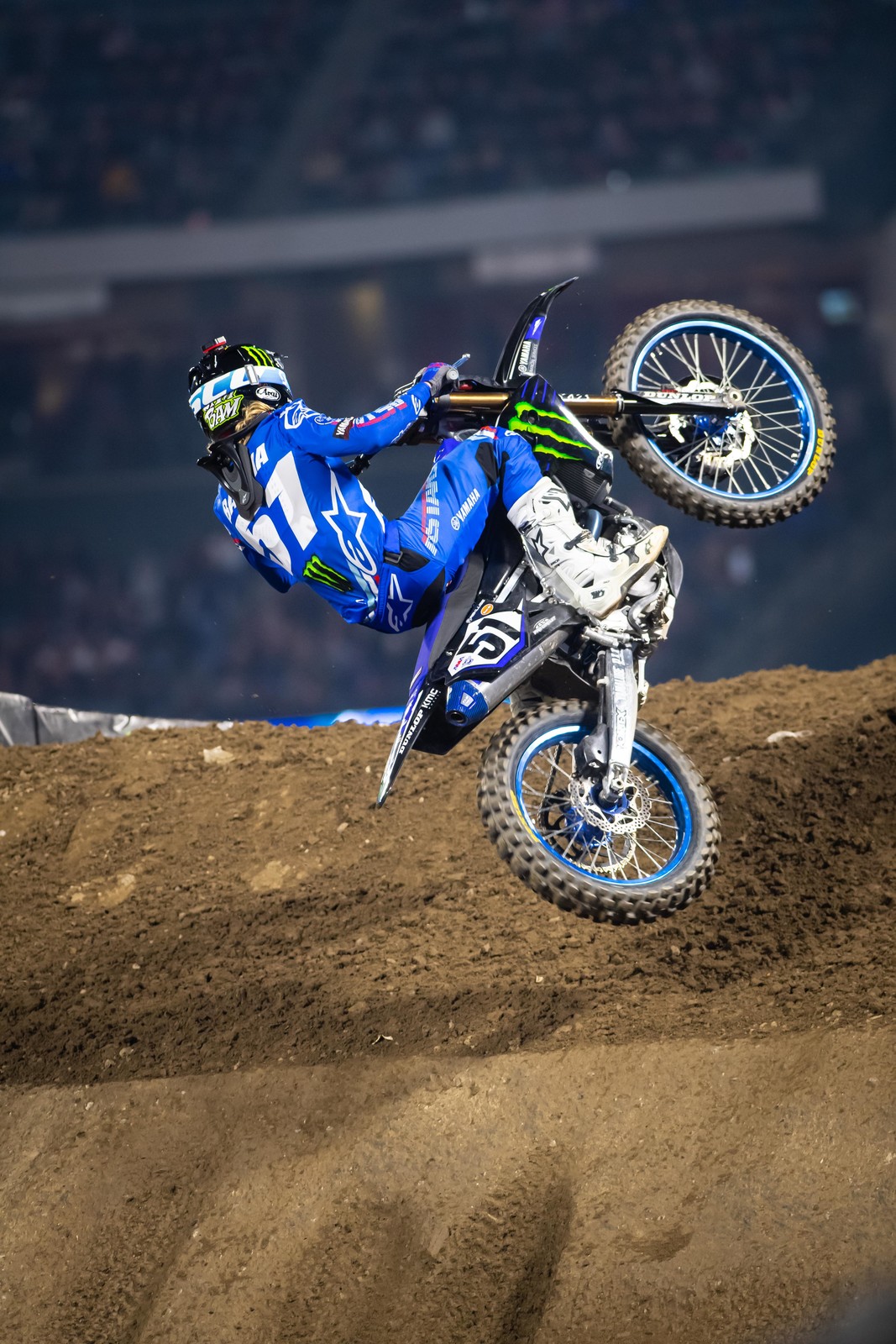 All things considered, how was race day, from beginning to end, for you? You were sort of unremarkable hovering around the top six and seven in day qualifying yet appeared to really ignite when you left the line to start your heat race.
Yeah, for sure. It was a good day. Qualifying went well for me. I felt fast and very in control and I didn't think there was anything that I necessarily needed to fix. I was hitting my marks pretty good. I was hitting all the rhythm lanes well. For me, winning practice has never been the goal; it's more about winning races. Yeah, once the gate dropped and I got a good start, I just started chipping away at it and getting my times lowered and things like that, so overall it was just a good day. It was a lot of fun and I'm super-pumped on it. Going into St. Louis this Saturday, I like that stadium and I think that dirt there is good. It gets pretty rutted and it does get a little slippery, but I feel for me and with the set-up now that I have on my bike, I just feel like that will be a good and fast track for me. I can excel there and do really good.
A homage to your East Coast racing heritage, huh?
Definitely. I did a lot of East Coast when I was younger, so this is a really good race for me to keep chipping away at the points.
In closing, all sorts of racing people from all sorts of racing disciplines were taken back and quite impressed by your "body of work" Saturday night. You pick up on any of that?
Yeah, I did. It was cool. I've made a lot of friends in this sport over the years—photographers, and people like you, and people from Monster and Yamaha. It was really cool to get the texts from people who I know really care. The smiles at the races and the hugs and all that good stuff, it was just so cool to see. And all those people that have stuck behind me—and have always stuck behind me—were really happy that I was able to put it together and get back up there. I was very happy to hear a lot of people tell me that I looked as good as I did.
Hey, word has it that you were very involved in the testing, research, and development of the 2020 Yamaha race bikes. And not only all of that, but that you also played a major leadership role in leading up the entire testing process. Thoughts?
Yeah, I've been really gelling with the team. We all get a long really well and we did a lot of testing on the bike. I feel like it showed this last weekend. It showed how good the bike worked and how I was able to ride real comfortably on it and flow and just ride like I know how to ride.