Auckland, New Zealand
S-X Open Auckland
Australian Supercross Championship
Penrite Honda's Justin Brayton is a traveling man. He'll spend about two months living in Australia defending his Australian Supercross Championship, then head home to the U.S. in two weeks after the season finale on November 30 in Melbourne, Australia. Then he handles photo shoots and press days with Honda HRC for the 2020 Monster Energy AMA Supercross Championship for two days in California before jumping back on a plane to race the Geneva Supercross. Then it's back for some honest training and testing to be ready with his new Honda HRC machine for Anaheim.
He may or may not be Australian Supercross Champion once Anaheim rolls around. After sweeping the opening rounds, a big crash has Brayton on the ropes a bit physically. Then he found himself leading the final main event at the Monster Energy S-X Open in Auckland, New Zealand, only to crash, uncharacteristically, out of the lead. He ended up fourth overall, and sits one point behind Luke Clout heading into the finale. We talked to him after the race.
Racer X: You're not disappointed? You had the lead there in the third race and then you crashed. It was going well, but it's okay?
Justin Brayton: Yeah. That was honestly just totally my fault. Winning the race and just washed the front trying to push. I'd rather it be that than me trying to ride cautious up front and then crash. But for sure a little bit of a bummer, but just happy to leave and still have a shot at the last round and a weekend off. Hopefully be able to ride a few days. Go into Melbourne, [it will] be a full-size track with a roof, so I think it's going to be awesome.
Is the racing usually like this? It was unbelievable these battles. Is that going on every week, or is this crazy?
No, this was a little bit different because of the Joker Lane. The Joker Lane was so big that you could literally just have a 15th-place guy all of a sudden be in the lead. Which is a little bit dangerous, we come up on them so fast and we're like, "Is he a lapper? Nope, he's on the lead lap. He's winning, or he's in third! I got to pass him." So that's a little bit sketchy, but we don't have that at the other ones. So that was thrown in today. Definitely made it exciting.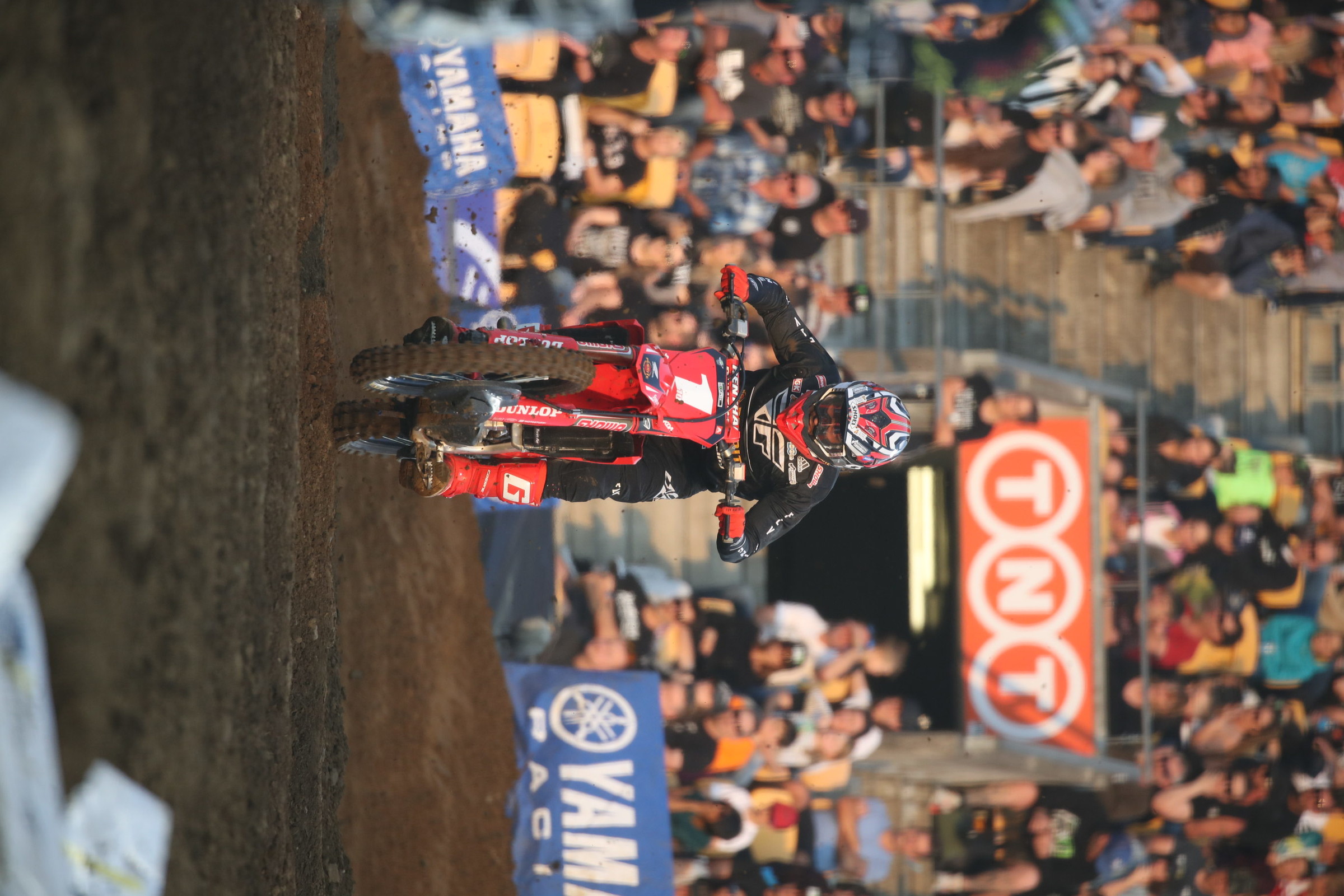 Did you even know necessarily where you were at half the time? It seemed like there were about six of you that were so close.
I kind of would know where I'm at because I was in the top four-ish, so you kind of see. Then the first one, I knew Jason [Anderson] and Metty [Brett Metcalfe] were right in front of me, so I'm like, alright. Then the second race, I wanted to save the Joker Lane for the last one because I knew if I could save it I would win that one. So I did, and then I thought, "I'm going to win this last one. I'm going to take the Joker. No problem. Going to win the race." I got the lead, then next thing you know, I was on my head.
What was weird was you jumped into the Joker Lane and then Reardon jumped in at the exact same time. I don't think it's really designed to fit two bikes!
No! That got a little bit sketchy. It was all good. I've actually never been in a situation where it comes down to the final round where it's this close. I kind of like it. It's a good tester. Really kind of winner-take-all at the last round. I'll be riding on the offensive more than in years past where I'm just kind of trying to get a top five to clinch the title, where now I just go all-in and try and win the race. Should be good.
It seems like you and Luke Clout are cool? There's not a problem there?
Yeah, Clout is super cool. He races with me clean all the time. He's a good kid. I think he's still got a bright future in America if he wanted to take a stab at it. Just good, clean racing. He's been really good this year. I'm happy for him. I think it's cool going into the last round with him, because I know that it will be a clean race. Of course I want to win, but I'm happy for him.
We were talking to Anderson in the press conference and he thinks, now that he's been here a couple years, he's like, "I think Brayton being here is helping these other dudes step up." Do you feel like they're getting faster all the time?
A hundred percent I feel that way. Every year my prep has had to start earlier because I'm anticipating that. I think the tracks bring us a lot closer too, rather than in America where they're a minute lap times and a couple sets of whoops and rhythms, big rhythms. But I think that helps me because then I'm just looking for the two tenths to try and be better than these guys, and then that helps me be on that razor's edge or that sharpness when I'm back in America because I have that in me. So, I think it helps us both. For sure the first year was probably the easiest. I came over, I literally rode the Honda I think two or three times. Came over here and won almost every race. Then the next year was a little bit harder, and this year is obviously the hardest yet. I've always had some setbacks, it seems like. Last year being sick, this year having a big crash a couple weeks ago and now not being able to practice during the week and just trying to recoup. So it just seems like there's always something. Then throw the travel in there and throw time zones… I just look at it more as a life test, especially right when I crashed tonight, I was like, "Here you go. How are you going to handle it?" I can either be pouting and all mad or I'm still in the fight and three weeks ago I didn't even know if I'd be riding. So happy to take it down to the wire and also just winner take all, whoever beats who out of me and Luke.
The tracks here, how much do they vary week to week? Everybody is saying last week's track was pretty bad, and it rained at this race last year. How much of that is a thing you have to be able to manage here, where it's different every week?
They vary big time. Our first race this year, I think lap times were 24 seconds. Second race was a pretty big track with some nice, big rhythms, but honestly the soil here is the biggest thing. We don't ever really get ruts. That's my weakness, dry, slick, hard-pack stuff. So it's actually helped me to be better at that. But in America, we very, very rarely get hard-pack tracks. There's always ruts. You might get Phoenix or Vegas, but there's still ruts in the corners. So here you just have to adapt. They're built a little bit different each week. It can be really frustrating for me at times. Honestly, I've had times in years past where I'm like, "I'm not coming back. This is it. I'm just over it, because of some of the tracks." Now I've just learned to accept it. This year they have the same track builder every week, so I think that's good. That's a step in the right direction. But for sure, it definitely varies week to week.
Unfortunately for you, you're really good at whoops, but there were hardly any tracks last year in the US where the whoops really mattered. They would keep breaking down and eventually everyone had to start jumping them. Actually Jonny Oler, your old suspension guy at JGR, he was the first one that said to me, "I'm wondering if with four-strokes and 450s, soft soil, maybe whoops can't even last? Maybe whoops just aren't a thing anymore?" Does the hard-pack tonight, and the whoops holding up, prove that with the right soil the whoops can last? Or if they had 20-minute mains with more riders, do you think the whoops would break down more?
No. these whoops would have broke down, too, if we'd had more guys. I think we had 20 450 guys and 20 250 guys. So basically we quadruple that for an American race, and they're longer races. I think there would have just been a line right down the left side. I think Jonny's spot on with that idea. I think we had two rounds where we skimmed the whoops last year which was Vegas and Phoenix. So there's a little bit of a factor in the soil there, because once they get to a certain spot they just stay there on those tracks. It's weird. The four-stroke era, the whoops just aren't near as important anymore.
People are always asking me why they don't they build the whoops like they used to. But even if they did…
Even if they did, it would still break down.
That's not good for you.
Not really, no.
Whoops are just your thing.
It is. That's why I think, if you look at last year in the main events, I think we jumped whoops. Like I said, 15 out of the 17 rounds. It was pretty crazy.
---
Main Image: AME Management