Night one of the annual Paris SX is all wrapped up here and we saw a chaotic night with three winners in three races and some great, unpredictable racing. First of all, pour one out for the cheerleaders that were a staple of this race for a long, long time. For the first time since we can remember, they were not here.
Other than that, the racing was exciting and the fans got their money's worth with a line up racers that were all very close in speed and a track that featured longer lap times than the old Bercy track and a tough section of whoops.
The format featured a Superpole race off the top and then two shorter, heat-race style races followed by a longer main event. The thing is, all races counted towards your overall ranking for the King of Paris SX given out tomorrow night. So it was key to be fast and consistent all night long which not everyone could do.
The night started off with SmartTop Honda's Justin Hill throwing down the fastest lap in the Superpole contest, Hill went first and no one was able to top his time. Fast lap times in practice is something hill did last year, also.
The first main event saw Hill get out front early and set the pace with Monster Star Yamaha's Dylan Ferrandis (the home nation hero) working hard to track him down. GEICO Honda's Jeremy Martin was up there early as was Hill's teammate Vince Friese. Hill looked in position to take the win but made a couple of mistakes in the whoops that allowed Ferrandis to draw close. On the last lap, Dylan dove it in hard in a right hander and knocked Hill over the berm and ruined at least a second for the Honda rider. Ferrandis took a very popular win with a pass that, while not dirty, was kind of greasy as he rode across some ruts towards Justin's front tire. Afterwards the riders had words and it looked like Hill was accepting of the apology/explanation.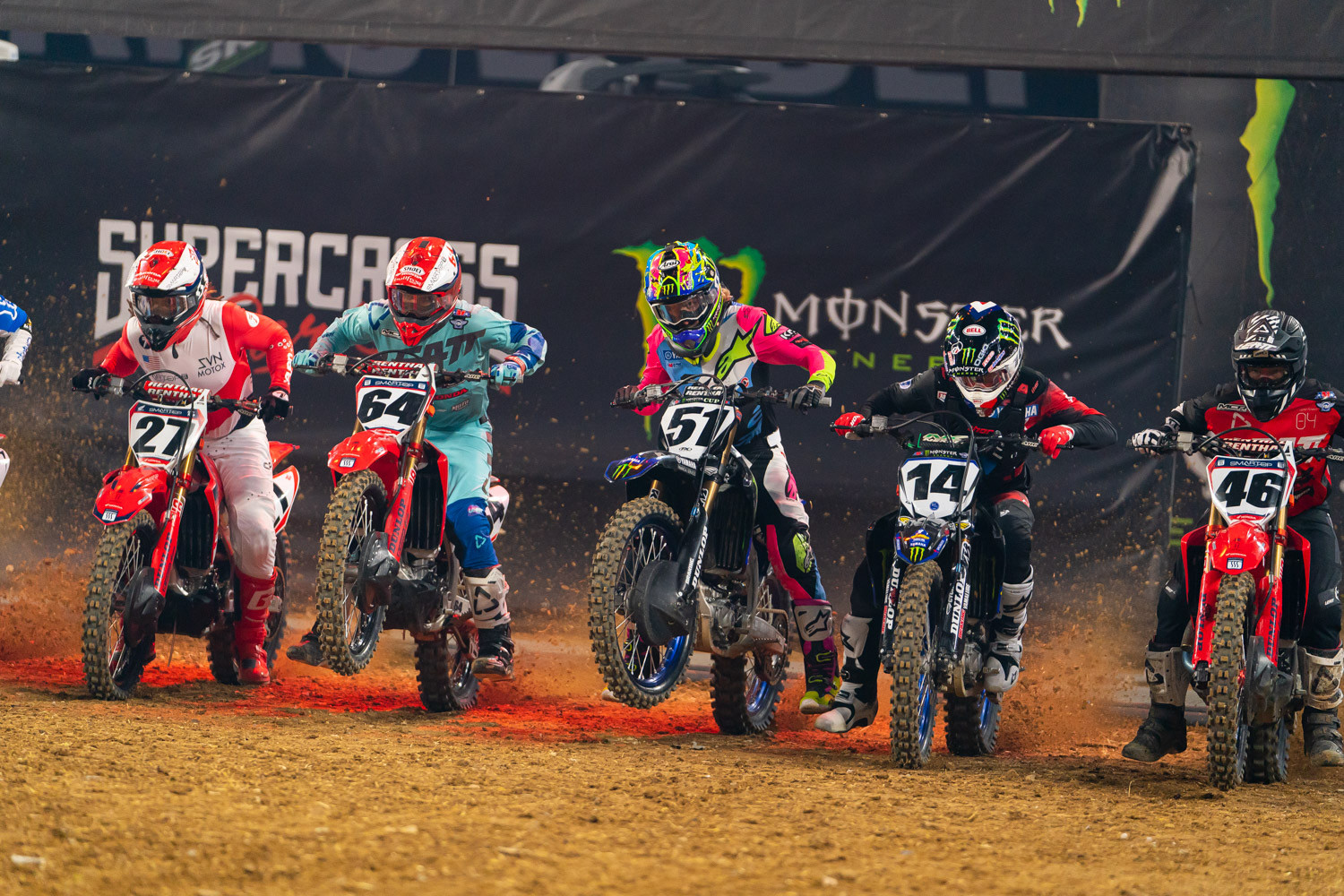 JGR Suzuki's Joey Savatgy, who had just signed his contract earlier in the day with his new team, took advantage of Hill crashing to grab an impressive second while Star Yamaha's Justin Barcia worked his way up into third. Martin took fourth.
Chaos in the first turn of the second race saw Ferrandis and Savatgy locking bars going into the turn. They stood them up and both guys went down. Hill was an innocent victim and also crashed. It was tough sledding for both riders and then Savatgy would eventually go down again.
Out front it was Friese who led some laps with Martin again getting a good start and also leading some laps. But it was Malcolm Stewart who really got busy as the laps clicked off, especially in the (this is no surprise) whoops. Barcia got Friese for the lead then Stewart hunted Friese down and made the pass in the (yup!) the whoops. Then Stewart stalked Barcia and, (you guessed it!) made the pass in the whoops. Late in the race Barcia snuck up to the #27 and when a rider went down at the end of the whoops and held Stewart up, it looked like the win would be gifted to Barcia. But in the next turn, with only a few corners to go for the win, Barcia jacked up the right hand rut, got hung up and Malcom got back by and took the win. It was Barcia, Stewart and Martin on the podium going into the longer main event. Ferrandis blitzed his way up to fifth fro the back with some very fast lap times.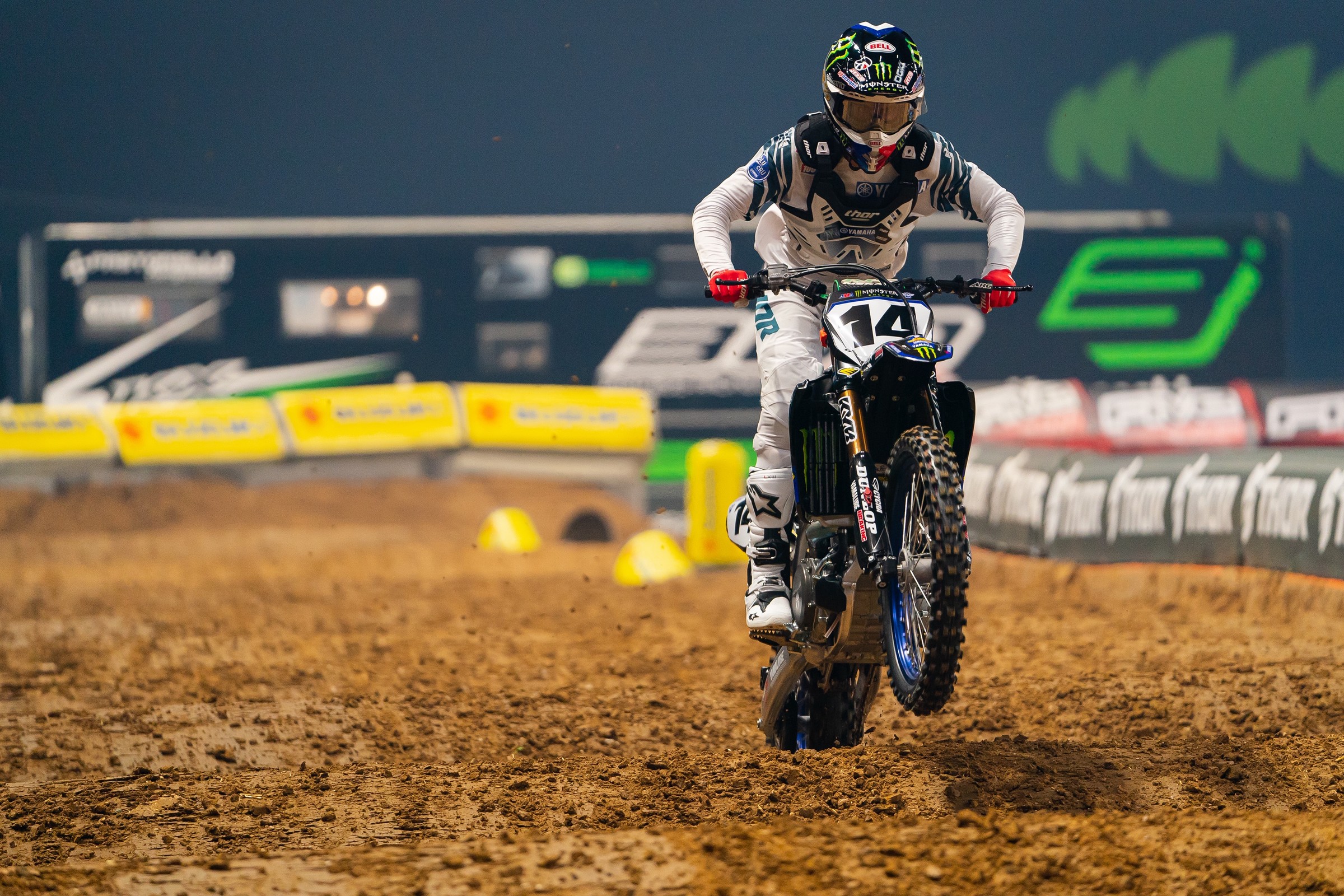 "I didn't go the way I wanted it, but at the end of the day I was more happy with just how I rode. Obviously, we come over here and we want to win, but it's just gate drops, honestly," Stewart told us after the race. "A few things we got to work on, but that's the good thing about coming over here to Paris. You got two nights to do this, so it's a redo tomorrow. Hopefully get on top, get on the box at the end of the night. I'm happy."
22 laps awaited the riders for the main event but for Ferrandis his overall chances went down the tubes in yet another first turn crash, this time with Chad Reed and Stewart! Ferrandis came back strong in the second race, but wouldn't be able to replicate that this time due to a twisted up bike that required a trip to the mechanics' area. Somehow, he would go on to get an eighth. Stewart got up sooner than the #14 and #22 and hauled butt back to the front to get a strong fifth.
Out front though it was Friese and Hill again with Hill grabbing the lead early on and trying to hold off Barcia who started up in the top five. Barcia got better as the laps went on and eventually got into the lead. Immediately after getting the lead, Justin laid down some fast laps to gap the two Honda riders. It was a lead he wouldn't relinquish and it also led to the overall win on night one with 3-2-1 scores.
"It was a good night, I went 3-2-1," said Barcia, who has struggled with his practice lap times. "After practice I was ready to retire. It was a good night, fun. Got obviously a lot more work to do for tomorrow."
Also of note is that the team didn't ship a bike, Barcia was riding a very stock-based Yamaha that seems to agree with him.
"Got a lot of to do when I get home as well because some things kind of popping up. Kind of what I thought would pop up on some suspension stuff and could use a little more power in a few spots. But man, I can ride that thing hard, which is cool. I don't know if you can tell watching me, but I feel like I'm riding kind of like my old self a little bit. I can just ride the shit out of the bike.
"I got more comfortable with the whoops and that fixed a lot of stuff. The whoops were killing me mentally because I was struggling in them so bad. They got smaller. They didn't cut them down, I don't think. I watched them fix them. The dirt is soft. It gets smaller. This whole track is going to get smaller and smaller with one more day (of racing). It got rough though in the main event, big time. My bike worked quite well, but definitely could fix a few things. So it was good."
Friese was second overall and third was Savatgy, the newest JGR Suzuki rider.
"Yeah. All day I felt good, except for the super pole," Savatgy told us afterwards. "It's not my thing. I'm going to be honest. Sit around for that two and a half hours and then just go out there and send it. It's not really me. It is what it is. Honestly, I didn't know how the format worked until we were sitting on the gate for the last one and someone was like, they take all three motos. Every time we go out there, I look at Rene (his mechanic) and I'm like, "What are we racing for? I thought it was just gate pick, gate pick, and then the last one was the main." He's like, "I don't know!" Then we got up there and figured it out. I'm stoked. Besides that second one, was a little unfortunate, and then I made another mistake trying to pass someone and compounded the wound. But I'm happy. We made a lot of strides tonight. Felt good in the whoops. The bike corners great. Just a few things that I need to work on. Obviously I'm not in the most race-ready shape. Considering where we are… We did a lot of laps. I don't know how many."
In the SX2 class it was French points leader Thomas Do taking his RM-Z250 to the overall win with consistent finishes of 1-1-2. KTM's Brian Hsu was second overall and won the last main event while defending champion Jace Owen of the USA was third on his Honda.
Tomorrow is another day here in Paris and we'll see who ends up as the King after it's all said and done. Stay tuned!
SX1 results
Sprint 1: 1.Ferrandis (Yamaha, France) ; 2.Savatgy (USA, Suzuki) ; 3.Barcia (USA, Yamaha) ; 4.Martin (USA, Honda) ; 5.Friese (USA, Honda) ;
Sprint 2: 1.Stewart (USA, Honda) ; 2.Barcia ; 3.Martin ; 4.Friese ; 5.Ferrandis ;
Main: 1.Barcia ; 2.Savatgy ; 3.Hill ; 4.Friese ; 5.Stewart ; 6.Tixier ; 7.Soubeyras ; 8.Ferrandis ; 9.Izoird ; 10.Reed (AUS, Honda) ;
Podium: 1.Barcia, 6 pts ; 2.Friese, 13 ; 3.Savatgy,
SX2 results
Sprint 1: 1.Do (Suzuki); 2.Hsu (GER, KTM) ; 3.Irsuti (Yamaha) ; 4.Owen (USA, Honda) ; 5.Imbert (Yamaha) ; etc…
Sprint 2: 1.Do ; 2.Owen ; 3.Hsu ; 4.Irsuti ; 5.Imbert ; etc…
Main: 1.Hsu ; 2.Do ; 3.Owen ; 4.Lopes (BRA, Kawasaki) ; 5.Fonvieille ; 6.Irsuti ; 7.Imbert ; 8.Sanayei (USA, Kawasaki) ; 9.Lozzi (Husqvarna) ; 10.Bourdon (Honda) ; etc….
Podium: 1.Do, 4 pts ; 2.Hsu, 6 ; 3.Owen,