Crawfordsville, IN
Ironman
GNCC Racing
It's been quite a year in Amsoil GNCC Racing for Ben Kelley. After wrapping up the 2018 XC2 championship the Trail Jesters KTM rider went on a rampage in 2019, clinching the title early enough to move up to the XC1 class with three races remaining. He killed it there too, winning the final two races of the year. We caught up with Kelley after the Ironman GNCC to get his thoughts on his season, racing in the XC1 Class, and what lies ahead.
Racer X: Congrats on the season, it's been great for you. Did you see everything going this well at the beginning of the year?
Ben Kelley: Thanks a lot, it's been pretty wild. I definitely didn't expect it to go this good, but I did have high expectations. I had an awesome season last year in XC2, winning the championship and battling with Josh [Toth]. And with Josh moving up, I knew I had a good chance to be pretty dominant. I was optimistic going in, but there's always somebody there biting at your heels. But I just had an incredible season in XC2, winning all the races and wrapping up the championship and moving up to XC1 and getting two wins. That was definitely unexpected.
When you first won in the XC1 class, were you surprised?
Going in I wanted to be on the podium, I felt like that's where I belonged and I was going to do my best to get a win. But to actually do it was crazy. I had a good race going and was right there in second behind Stu [Baylor]. Unfortunately he had a DNF and I was able to make my way into first and get the win. I did all the right things and positioned myself in the right place. It was crazy when I passed him. I was right on his rear wheel and he stalled his bike, and I had to swerve around him real quick without hitting him. I almost didn't realize it was him, we were in lappers going so fast. All of a sudden I didn't see him in front of me, and like three miles from the finish I was just riding. It was kind of hard to believe and I was wondering where he was at. Then about a mile from the finish the KTM off road team manager was on the edge of the trail cheering me on, just stoked. I was like 'Damn, I guess I'm in first place!' I crossed the finish line and it was just hard to believe.
Well you backed it up over the weekend at Ironman.
Yeah. Going into Ironman I was confident. I had a really good race there last year, I almost won it in XC2, and I feel like those conditions suit me well. I went out there and had fun and enjoyed the track. Had a solid race, got into the lead pretty early, and was able to pull away. From that point I was able to just manage it. It felt good. I was comfortable up there and felt natural.
You felt natural on that course!?
Yeah [Laughs].
That course was ridiculous. I raced in the morning and it almost killed me.
Okay [Laughs]. I hear you, but I feel like at the end of our race, that was the best that track was all weekend. Every lap it just got better and my lap times got faster. It just kept drying up. That soft loamy dirt and those deep ruts, that soil, that's what I like. It's what I'm comfortable in and have fun riding in. It suits my style.
Let me tell you, there was no loam in the morning. None.
Just sloppy?
Just sloppy. I got taken down so many times by so many tree roots that weren't even visible. And the ones you could see got me too. Talk about that course. To me it was crazy. How gnarly was it compared to some of the other races?
It's funny you said you got taken down by roots because I don't even feel like saw any roots out there. To me that track is just dirt. No rocks, no roots. It's one of the more fun races. If conditions are prime the dirt is just awesome there. The track, like all the other GNCCs, gets super rough and choppy with deep whoops and ruts, but that's the only reason it's technical. It does have some steep up hills and creeks, but for the most part it's not too rooty, rocky, or gnarly. Me being from New England that's what I grew up on, it's what I'm comfortable on. When the tracks are gnarly I'm just used to it. I don't think of it like a lot of other racers would.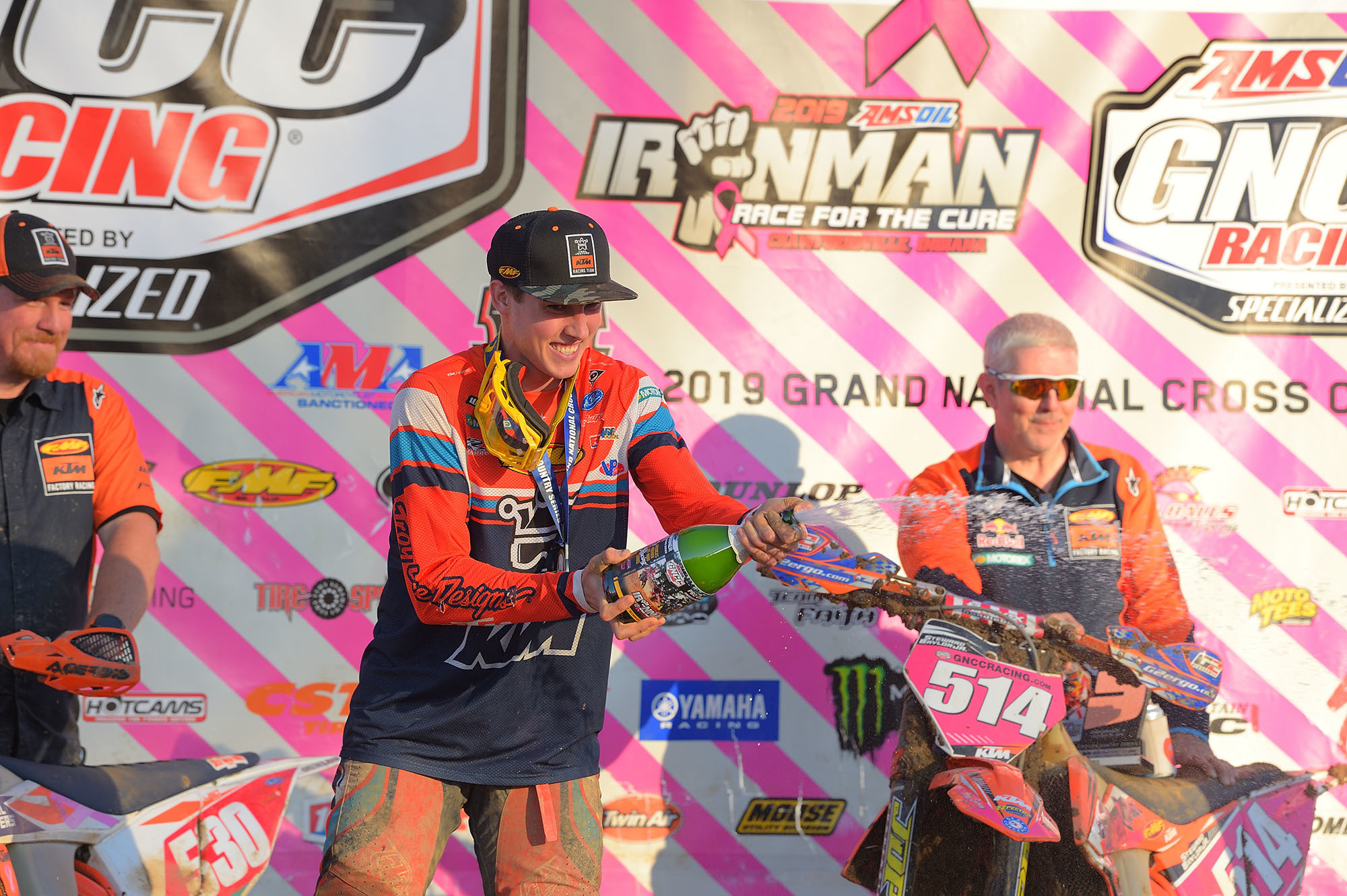 Well I saw nothing but roots. We must have ridden a different track.
[Laughs] I've been racing in the woods my whole life, I don't know. Maybe my eyes were closed and I was blacked out the whole time.
I'm from California and we don't have anything like what Ironman was like. How do you even develop that skillset?
It's gnarly in New England. We have a lot of different types of terrain, which is cool, and pretty much everything is rocky, rooty, and technical. Growing up on that, it's what I'm used to. I didn't even know there was anything else until I started racing nationally. It helps me a lot. In certain parts of the track where it's technical, being good in that type of stuff can really separate you from the field. It's been working out in my favor.
What's the plan for next year?
I'm joining the FMF Red Bull KTM factory team. I'm stoked on that, and to stay with KTM. I'll be racing GNCC in XC1, and it'll be my first full year in that class, I'll be a rookie. I'll also be doing a secondary series, but I'm not sure which one yet, whether it's national enduros, sprint enduros, or what. It'll be another full year of racing.