Las Vegas, NV
Monster Energy Cup
Monster Energy Cup
Turn the hype level on Adam Cianciarulo's 450 career up to a 9, as he's now undefeated in his big-bike career. He's one-for-one after capturing the 2019 Monster Energy Cup, his first 450 race, prevailing in another drama-filled night of racing. In this case, the Monster Million bonus for sweeping all three mains was off the table as soon as first-race winner Eli Tomac crashed and finished third in moto two. What remained was a three-rider tie for the overall heading into the final race, with Cianciarulo tied with his Monster Energy Kawasaki teammate Tomac, and Bullfrog Spas/SmarTop/MotoConcepts Honda's Malcolm Stewart for the overall lead.
In the final race, Cianciarulo got the start and held up under heavy pressure from Tomac, and even some strategy in the MEC's famous Joker Lane couldn't help Tomac. Cianciarulo just barely held his teammate off in the final lap to snag the overall win with 2-2-1 scores, besting Tomac's 1-3-2.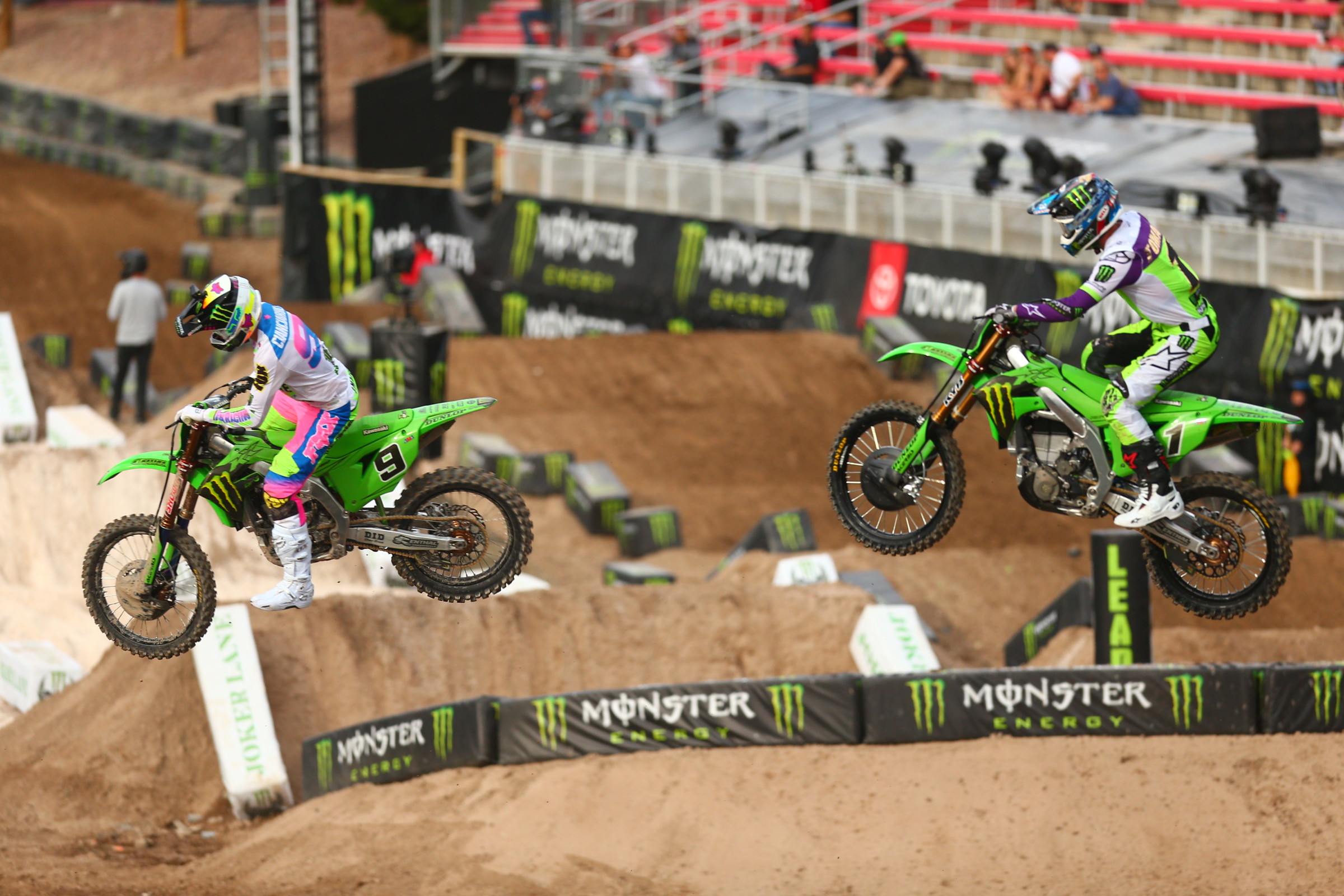 "Obviously, this feels good," said Cianciarulo. "In May, [a crash in this stadium that cost him the 250SX West Championship] it was pretty devastating, obviously. I always felt really comfortable in Vegas, but I just made a big mistake at an inopportune time. I was able to put it behind me, and now I look at it not so much as a negative. I really mean that, I'm not just saying that to be up here and be Mr. Positive guy. I've always enjoyed Vegas, and it definitely felt good to be on the top step instead of on the ground with my bars all mangled."
Cianciarulo's starts were a key. He holeshot the first main of the night, but washed out early while leading. He got up in fourth, and managed to fight his way back to second. He rode steady in the second race, and then holeshot the final moto. From there, he and Tomac put on a fantastic ten-lap duel, with Tomac catching his teammate, but unable to find a place to pass.
"We've only spent a handful of days together out in California, but I knew we could end up in that situation, because he's been going fast," said Tomac of his new teammate. "I mean, we had a pace going there—we were both going so fast. I wanted to make a pass, but we were going so fast I couldn't make anything stick."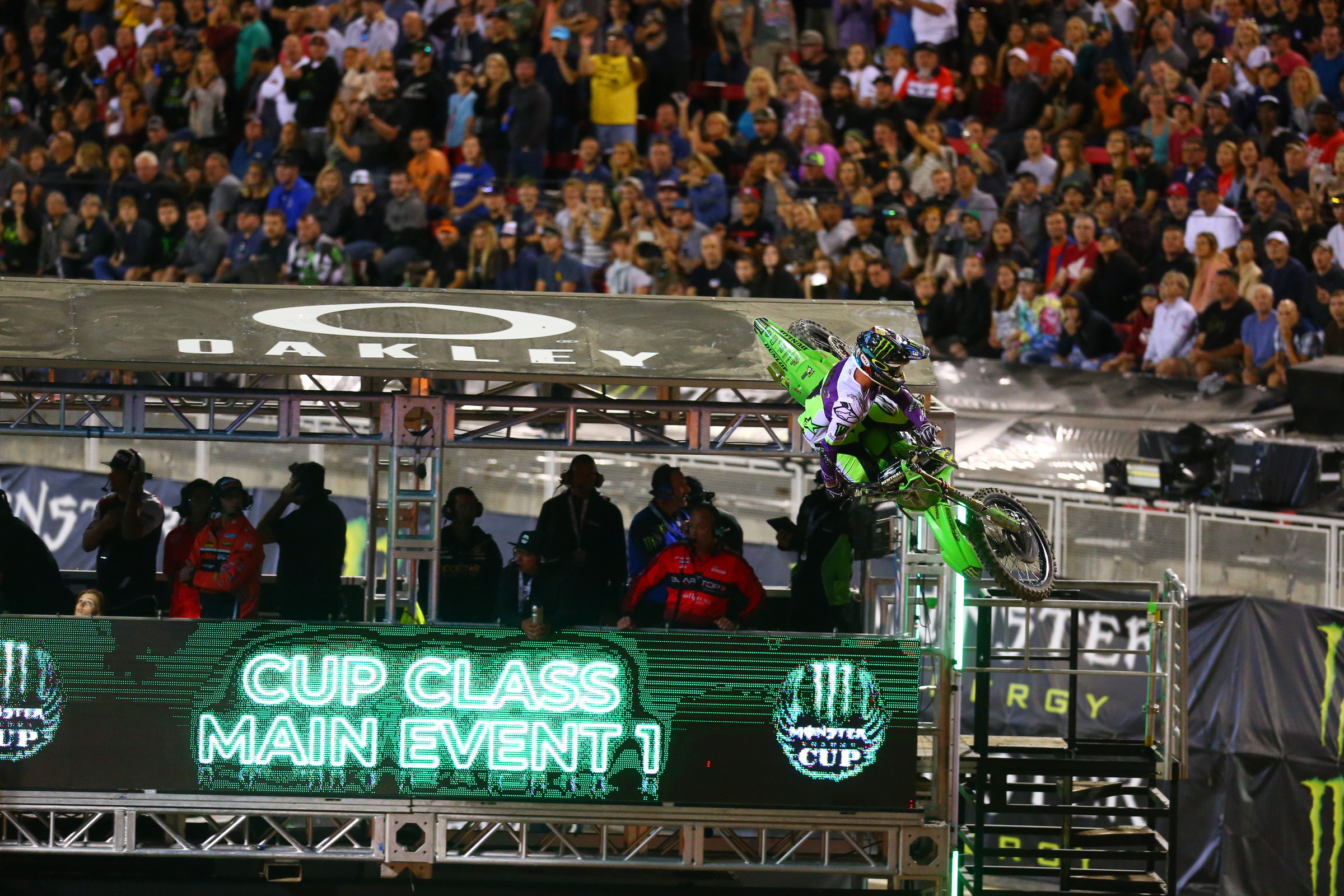 "It was just a wild night, really," added Tomac. "Moto 1, buried on the start and made a few passes, caught up to Vince [Friese], and going into that rhythm section, I just totally brain faded and went for a big triple over a double and just smashed the landing! I had to make those passes back. Moto 2, I got a better start, but when I downsided that roller, I don't understand, it was just a big high side. I went into the Joker Lane a little early and that paid off, I was able to get back to third and get it to an even score. Each race had its own moment and its own drama and it's really hard to replicate that race environment on a practice track."
Part of the reason Tomac made mistakes is because the track was run in two different directions during the three races. Going backwards had an impact!
"This is, by far, I'm not gonna' lie, the craziest Monster Cup I've ever raced," said third-place Stewart. "Going backwards on the track! I mean, Eli says he cased that jump, and I saw it, it was bad, there's still case marks out there, too! The last time I rode a track backwards, it was on a pit bike, and I still crashed!"
Stewart won the second race, holding off Cianciarulo, to hold 3-1 scores heading into the final moto. He didn't get the start with the Kawasaki riders in that final race, though, but fought his way to third to take 3-13 scores for third overall. Malcolm, who broke his femur in a nasty crash at round two of Monster Energy Supercross back in January, was happy with his performance. "Going back into the last one tied for the lead, that's good for all of us," said Stewart. "I wanted to come into this race cool and calm, but I almost had a few get offs! Right now I'm just focused on being ready for Anaheim."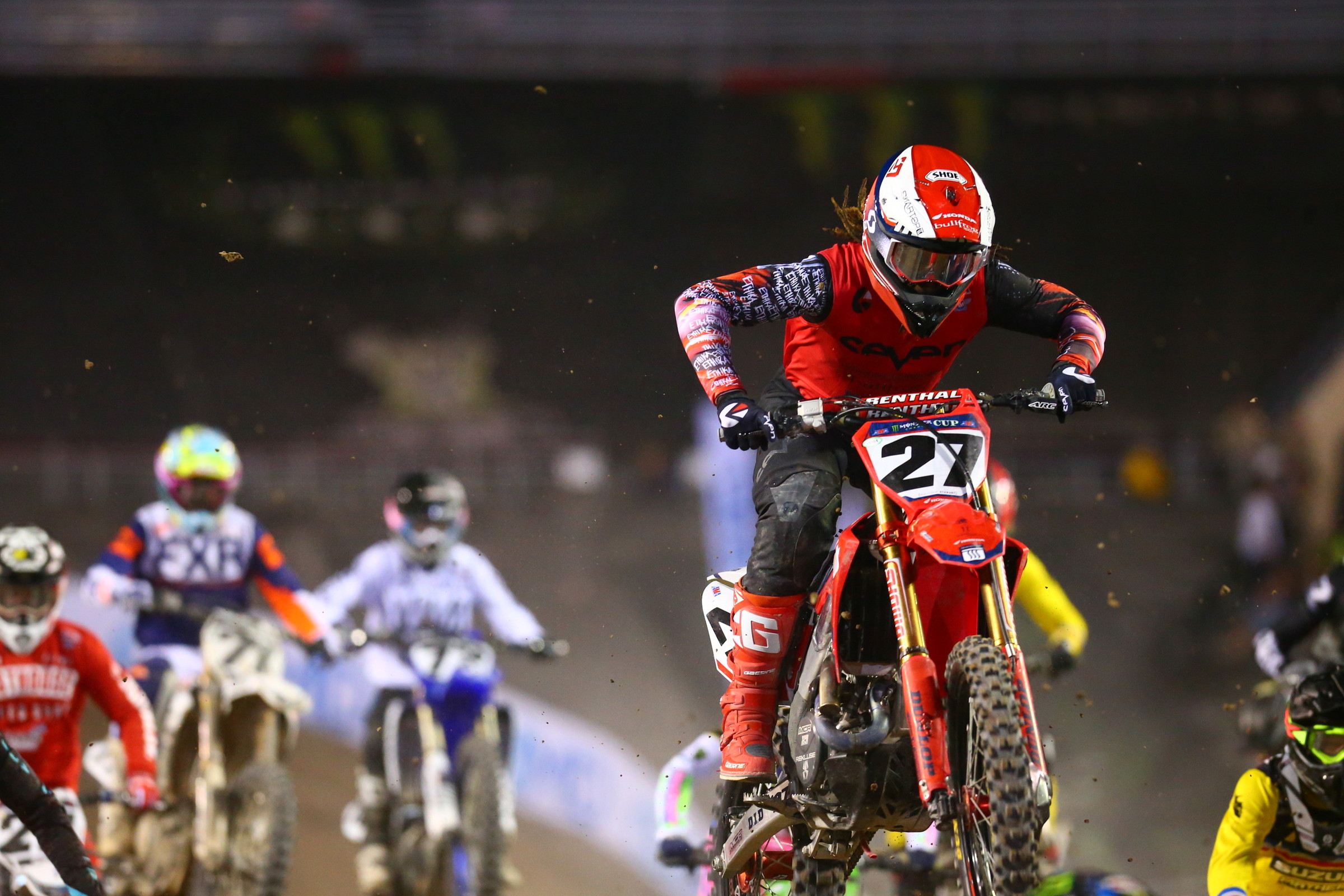 Stewart's teammate Vince Friese rode very well, starting up front—as is typical for him—and then holding up well under fire from the top three. He ended up fourth with 4-5-5 scores, telling NBC Sports reporter Daniel Blair after the race that he was happy to get back to racing after tearing his ACL in February. Friese felt he had more in the tank to show during the 2019 season, and was happy to back that up with a good run in Las Vegas.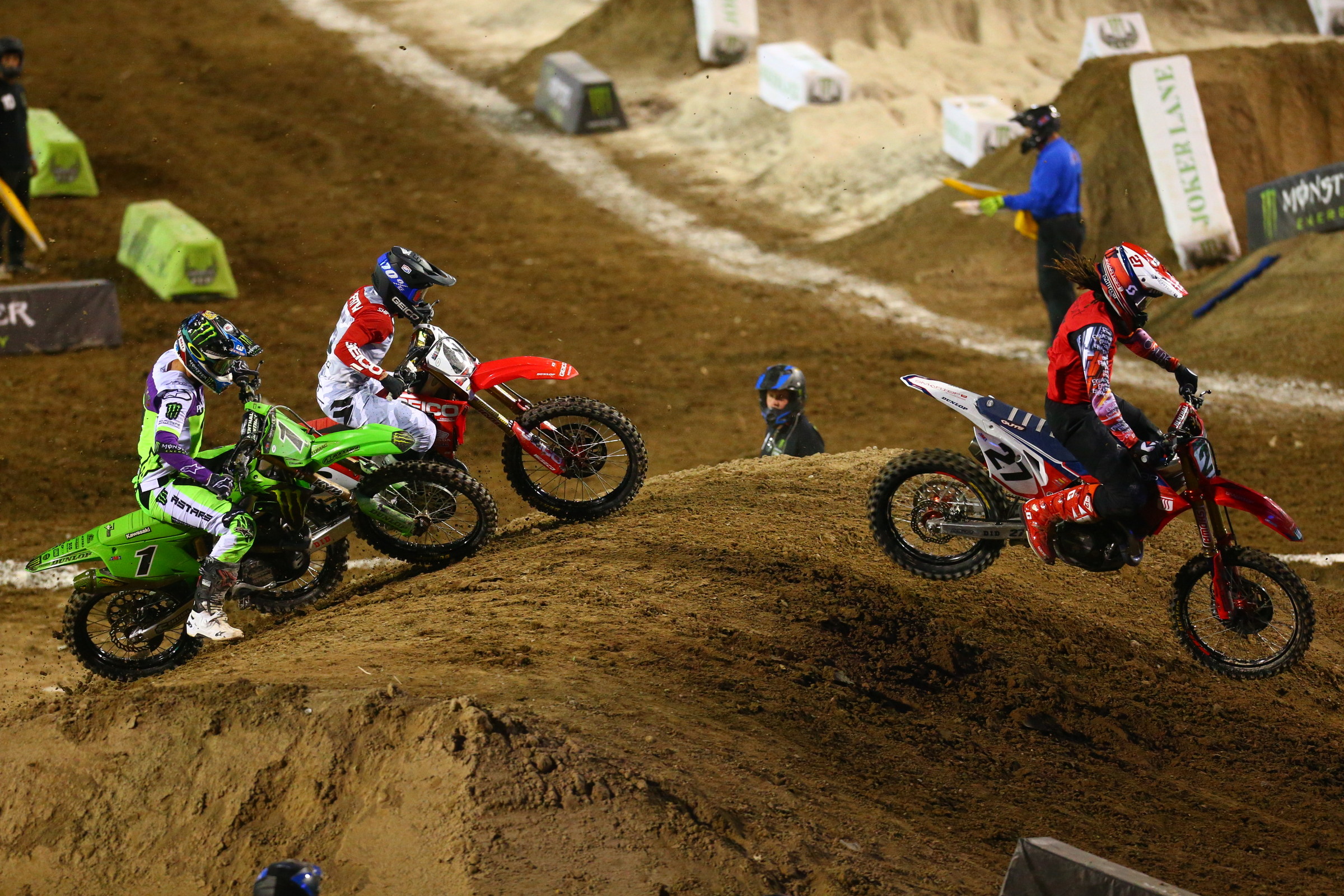 In fifth came an impressive performance from MXGP World Champion Tim Gajser, who started up front in the second two mains and went 7-4-4. Gajser commented that it took awhile to get used to Honda's factory SX suspension [Gajser tried his own setup here when he raced the event in 2017 but crashed out of the race] but actually felt pretty comfortable by the time this race rolled around.
Rockstar Energy Husqvarna's Dean Wilson suffered a huge crash in qualifying. The team report indicated he suffered a dislocated hip.
In the SX Futures race, a star was born via GEICO Honda's Jett Lawrence. Already a sensation based on his fast riding at the Rocky Mountain ATV/MC AMA Amateur National at Loretta Lynn's, the 16-year-old Australian has now proven he has some supercross skills, sweeping both of the Futures races for the overall win. Lawrence had to pass Rockstar Husqvarna prospect Jalek Swoll to win the second race, making his win even more impressive. What really matters, though, is Lawrence's personality, punctuated by making fun of his older brother Hunter (who he kept referring to as his sister) and then eating a donut while celebrating the win on the podium. "I worked hard for this donut and I'm going to enjoy it," said Lawrence.
The Supermini winner was a familiar name. Evan Ferry, son of 1997 125 East Region Supercross Champion Tim Ferry, and now a member of Rockstar Energy Husqvarna, grabbed the early lead and took off in both races. It's the biggest win of young Ferry's career and an indication that he might get to another level now as part of the Husqvarna program.