Las Vegas, NV
Monster Energy Cup
Monster Energy Cup
It's hard not to like a guy like Adam Enticknap. His story of making his way in this sport is great, and he's a good guy to boot.
We got in touch with him to find out how is 2020 prep is coming, his thoughts on racing the Monster Energy Cup this weekend, and of course, to get few laughs.
Racer X: Adam what's up, how are you doing?
Adam Enticknap: I'm doing real good, how are you?
Great man, how are you? Never mind, don't answer that, I just asked you that. I must have had too much coffee, sorry.
Oh man, I love coffee. I could drink it all day. If I didn't get so jittery and jacked up I probably would. It's amazing.
I agree. Anyway, I'm calling because we wanted to do a Privateer Profile with you for the web.
SICK!
Super sick!! I love your enthusiasm dude.
Super sick!
Just talking to you is like drinking coffee.
[Laughs] Straight up, huh! Well someone has to bring the energy, c'mon dude.
So what have you been up to lately?
Bro, honestly, training. I'm working with a new riding coach too at MX Clinic, Jeff Pestana. Just trying to get ready for the season. It's going really good. Knock on wood, I'm healthy and haven't gotten hurt. That's really good, it's what I need for a good season next year. Last year it was pretty rough coming off that femur injury and I didn't really get to ride until mid-November. I was on a new bike, new suspension, new gear, new everything. So that was a big change, and I'm happy to be on the same bike this year, same everything, healthy, and moving forward. I had speed last year, I just didn't have the starts. If I can just get a little more speed and keep working on my starts like I have been, I think we're going to be doing really good.
And, you've got the 722 back.
Oh my gosh dude, you have no idea. It's going to be a good season just because of that! I'm really stoked to be 722 again. Yeah, I'd say it's my lucky number, but at the same time it's my identity too. It's a bummer they wouldn't let me run it, but a tough year last year came with a silver lining. I think it's going to be one of those things where everything is just lining up to where I'm going to have a great season. We had some kinks last year that needed to get worked out, I had that injury and I was getting used to everything. I'm healthy this year and have been working during the summer really hard. Been working on my corner speed, working on my weaknesses, and I'm going to be ready. It's been so much easier being healthy and being on the bike. I'm on a program I've laid out and can just follow it and build on it. That's huge.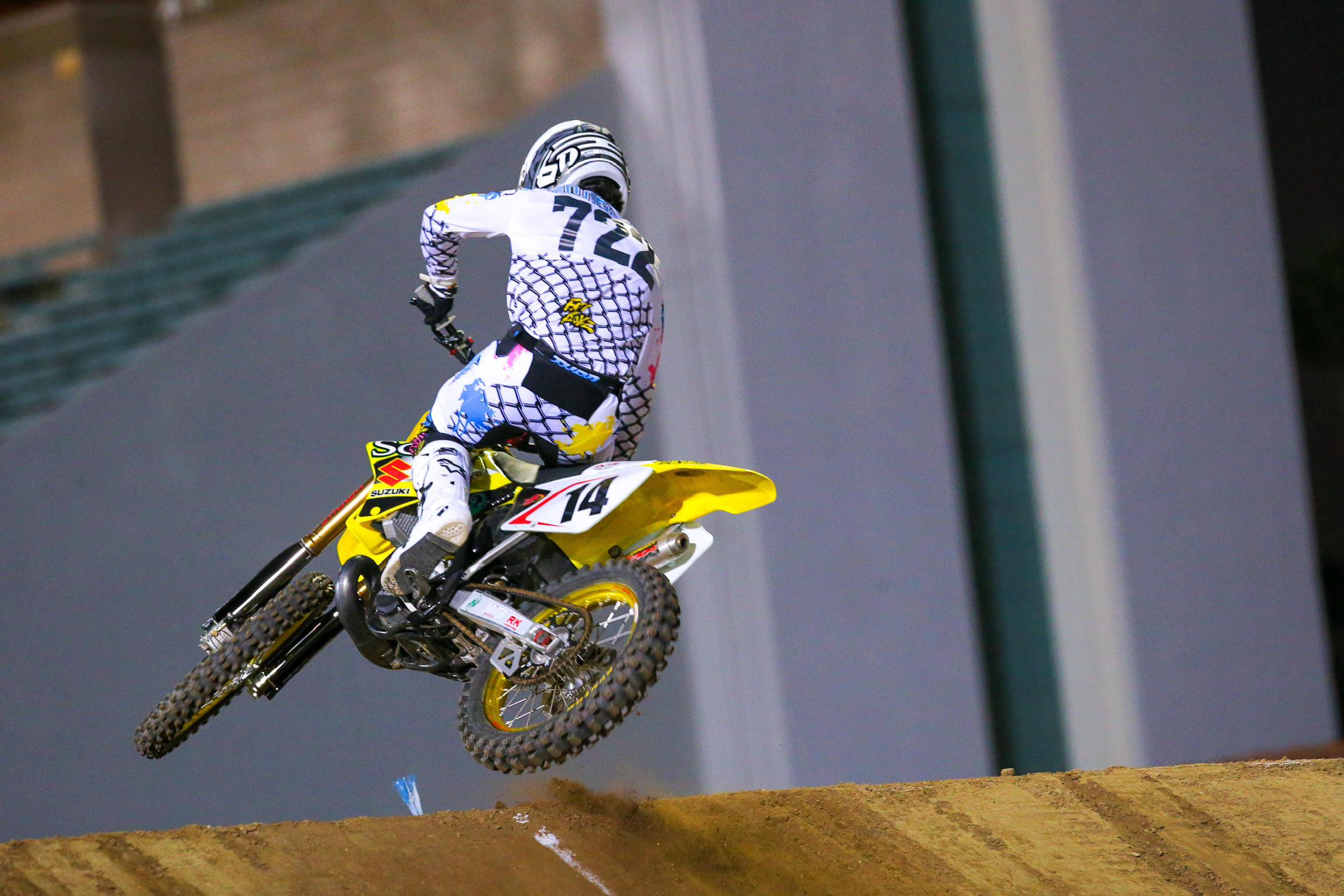 Talk more about the team, and how not having to adapt to anything new is such a help.
It's so nice that it's almost identical. We'll be running Ohlins Suspension, we'll be running the same chassis, and all the gains I made last year in supercross and over the summer will roll over into next season. People don't understand how big that is. When you get on a new chassis, essentially you're getting on a whole new bike and you have to figure out what it's going to do, how it works, where the flex points are, and how it will react in different situations. I already know a lot of that information on this chassis from racing supercross and working over the summer with Clark Jones and Noleen, and Ohlins Suspension. That's going to be a huge benefit. So will being comfortable on the team and knowing the setup with the semi and mechanics. Just knowing how the program works makes everything run smoother. It's really nice to be with the same people. We should be able to function at a higher level because we've worked out the kinks.
You rode a Kevin Windham tribute bike at Red Bull Straight Rhythm. When did you come up with that idea?
We'll I'm really not a big two-stroke fan, but my buddy Clint, LundMX, was like, "Dude, we gotta do one. We gotta do one." So like three months before I was entertaining the idea, and I put it out on Instagram that I was looking for an RM250 for Red Bull Straight Rhythm. In the next few weeks I got a couple offers, but being a professional supercross racer and people kind of knowing who I was, they were trying to sell me bikes for a little bit of a high price, you know?
Yeah, I know. You're being so nice right now in describing people who wanted too much money for their bikes.
Well, a little bit. They were trying to sell me an old two-stroke for like four to five grand. It was like, "Nah, I don't think this is gonna work." Then one day we were having a ride day out at my dad's ranch for R-Jerky, where I released my new beef jerky flavor, and this guy pulled up and said, "Hey Adam, I heard you're looking for an RM250." His name was Jeff Lanini. He said, 'I'll make you a deal. I have a 2006 RM250 completely torn down. I powder coated the frame, it's all new, but the motor is roached out, the wheels are roached out, the rest of the bike is roached. I have all the parts in a box, I just never got around to building it. If you build it, make it look awesome, and race it at Straight Rhythm and give me a jersey, and let me ride it once, you can have it." So I got his number but it sounded too good to be true, but you never know. So I called him later and asked if he was for real. He was and we arranged to pick it up. LundMX and I built this thing from the ground up, you can see it all on YouTube, and I had a ton of people help us out. We had all types of problems building it, of course. Like with the cylinder. We needed a new one and a guy sent us one, but it was a European model, which happens to be different than the American cylinder, even though it's the same bike! It was all kinds of drama, it was crazy, but it came out amazing.
It sounds awesome.
Yeah, but the only bummer part was, I didn't know I was bringing a knife to a gunfight. I didn't know all those KTMs were going to be factory 2020 300s. I literally had a stock RM250, which I later found out those were on the slower side anyway. The race is a lot about technique, for sure, and I'd get out of the gate pretty good and go over the double section, but as soon as I'd get on the back side of the singles, to drive down, I'd lose about two bike lengths. On top of that, once I got to the step-on, step-on, step-offs, those 300s and all the guys with big bores, it was over. That sucked, it was disappointing, but you live and learn, and next year we'll probably throw a 325 in that bad boy! I think we'll be a lot more competitive. I felt great on the bike, it was absolutely insane, but it's just crazy. You don't realize how much different the technology is these days. The throttle response on a two-stroke 250 is so delayed it feels like you're driving an electric Prius or something. You gas it and a second later it responds. It's like, "Whoa, that's sketchy!" It makes you really appreciate how awesome the new four-strokes are. Anyway, yeah, that's my Straight Rhythm story.
And Windham's bike it's based off.
The first thing I always notice is the lack of engine braking on two-strokes.
Yeah, a lot of people say that, but I'd say the lack of engine braking was probably the last thing. The biggest thing for me was how to gear it and ride it. It was really snappy on the bottom but the response was a little delayed. The other thing, you had to shift it so much. In second gear, once you got to that midrange power, that thing would just fall off a cliff. If you wound it out at all in second you had to immediately shift to third. Then in third you had to clutch it so much to keep the RPMs up so it'd be in the meat of the power. It's just crazy. We're so spoiled with four-strokes. The power is so linear.
Yeah, two-stroke nostalgia is an interesting thing. Moving on, you're doing the Monster Energy Cup. Have you trained differently for it at all?
Just normal supercross training. I think the only thing that's changed for the MEC is the amount of laps. I've been trying to do three twelves and get on that pace because the races are quite a bit shorter. I'm not really worried about the track being backward [one of the main events will be run backward]. I think the guys at Dirt Wurx will have a good design and I don't think it's going to be as big of an issue as some people think. It's super scary, but we learn a track literally in six minutes and have it dialed in about 20. It'll be different and interesting, hopefully it works out.
And Feld Entertainment doesn't want guys getting hurt, especially with the season not too far off. It doesn't seem like unnecessarily high levels of risk would be good for anyone.
On the other hand though, we race supercross. I don't know how much more stupid it gets. You say they don't want to put us in danger, but they're also building a supercross track. I guess we're professional daredevils, right?
Absolutely! [Laughs] "How much dumber." [Laughs] I don't even know where to go at this point. Let's must move on to the next topic. How's the music going? It's been a while since we've heard anything new from you.
You haven't heard any music from me in a while because I've had a lot of interesting stuff going on. I'm not sure when the announcement is allowed to come out, but I've got something really big for 2020 I think a lot of people are going to be stoked on. I think I want to drop a new album during the week break in supercross. That's the goal right now. I have something else cooking though that's my top priority, which is why the album has kind of been put off. I think this is going to put everything at a new level.
Well what is it? Can you talk about it?
No. I literally can't talk a word about it. I think it will change my whole career.
We'll circle back on it when the time comes.
Yeah, definitely. In the meantime, I'm looking forward to releasing more music. I love music, and I like the way I do it. There's not a lot of moto music out there, and I think I do it well enough to where people can connect with it. It's not cheesy, my music is genuine. I love riding my dirt bike and I talk about that passion, the feeling of riding. It's not outsider-looking-in kind of stuff. I feel my music gives a genuine portrayal of how you feel when you ride a dirt bike. It's not about showing up and being the coolest guy, it's about enjoying the feeling of riding a dirt bike. I feel I've executed that lately, and the next album is just expanding on that, my life, and what it takes to be a professional supercross racer. I have like 18 songs sitting on my phone that are insane and I want to release. But it needs to be the right time and everything has to be promoted correctly in order for it to be heard. I'm stoked for the future and what comes in up in January, I think, is going to be one of the coolest things the sport has seen in a while. It's going to get noticed.
You're getting me excited and I don't even know what it is.
Everyone is going to know about it, there's absolutely no way anyone is going to be able to miss it. It's cool and I feel blessed. I'm also excited about racing in Geneva, I think it's going to help my program. I'm really excited to be one of the only privateers to get invited to that race. Getting married this year was really awesome too.
Yeah, that's something else, isn't it?
Yeah, huge! Everything has just been clicking away and going really good. Everything is shaping up to where it's going to be a good season.
That's good to hear because that's not always the case, even if guys say it is. You really sound genuinely happy and excited. You can tell when a guy isn't that excited.
I just think it's weird how things are falling into place the right way, you know what I mean? When stuff just falls into place it's like, "Damn, that's good, that's good, that's good, and that's good too. Okay, cool!" It's perfect. It takes a long time. It's like building an NFL team or something, putting in all the right pieces. All of a sudden the stars align and you've got all the right pieces.
Yeah, but if things go well you won't have the 722. Unless of course things go really well.
Bring the hype!! #72 is looking real good! Or we just top ten the series all of a sudden! I've kind of been liking the #14, and [Cole] Seely just retired, so if I top ten next year, c'mon! That's slightly a stretch, but 72 would be dope.
Well let's wrap this up. Thanks for your time, it's always a pleasure chatting with you.
Heck yeah, you know it.
---
Mian Image: Spencer Owens