When Cole Seely announced his retirement on August 1, speculation immediately began as to who would replace his slot on the factory Honda HRC team. While some signs pointed to the biggest-name free agent on the 450 market—Joey Savatgy—Honda was already prepping for a future 450 deal with 250SX East Champion Chase Sexton, who is expected to join the factory team full-time in 2021. However, Sexton needs at least one more year of experience in the 250SX division, and so Honda has made a unique deal by bumping veteran Justin Brayton from the Bullfrog Spas/SmarTop/Motoconcepts Team to the factory Honda 450 unit for 2020.
Brayton runs a unique schedule these days, skipping Lucas Oil Pro Motocross but racing a host of off-season events, including the Australian Supercross Championship. He also showed up at the Montreal Supercross over the weekend, and that's where Steve Matthes chatted with him about his new deal.
Racer X: Montreal. Race came back last year. You were here. You're starting your off-season now today. It includes Montreal, Geneva, and of course the Australian supercross series. Are you ready? Do you feel good? You did all your prep?
Justin Brayton: I'm ready. Yeah, it's been good. I haven't done a ton of prep for this one just because things got going a little bit late. So I've been on some supercross maybe two weeks or so. Then two weeks before that I was doing some motocross stuff and riding with Filthy [Phil Nicoletti] down at Club MX. It's kind of funny. I was riding motocross and the beginning of my second week I'm like, dude, I feel good on motocross. I feel really good. I even had a wild hair like, maybe I'll go to Budds Creek. This was on a Monday. Then I did a moto with Phil the next day on a Tuesday. I was like, yeah, I'm out. He waxed me, so I was like, yeah, I'm out.
Whenever someone jumps into motocross… Think about when LaRocco came out for RedBud, Nick [Wey] came out for RedBud. It doesn't work, dude. Windham came back on a 250F. Remember that?
Really? I don't remember that one. A 250F? Wow.
Yeah, a Honda 250F. It's so hard when you're not doing it week and week. So as we've always said on the Pulp Show, you have the best schedule in the sport. You're killing it. So you didn't do a lot of prep for this one, but then now it kind of starts in Australia?
Yeah. With my unique schedule, it's really hard to start supercross in August and then still be fresh for January, February, then the later East Coast rounds and not go flat. So I've pretty much got a timeline that I feel like works for me now. This is my fourth year doing it, so I pick and choose some weeks. I've got a four-week block before the Australia stuff, I'm kind of in the middle of that right now, where I work pretty hard. I don't know if boot camp would be the right word, but similar, something like that. Then I'll actually go to California next weekend. I'll go out there for a couple weeks, do some more prep. Then we'll head to Australia on October 3. I'll be there a week before the first round. Then we'll have rounds one and two over there, back to back. Then I have three weeks off. So I'll hit another hard training block. I feel like it works good. Keep racing. I'm just a fan of racing, honestly. Back in the day at the beginning of my career I just wasn't a good racer. I was like the practice king. So right then I'm like, I'm going to try and do any race, anytime, anywhere. And here we are now.
Last year I did a feature story on your crazy schedule. All your air miles and everything else. This year it's not as crazy, but you did mention to me last year that you might not do Australia next year. The kids are getting older. Was that a thought?
Yeah, it was a hundred percent a thought. A lot of that was based on my five-year-old going to school. So we basically decided to hold her back. She would either be the youngest in her class or one of the older. We decided to hold her back and be one of the older kids in her class. We talked to several teachers and people we know in school districts and stuff and they kind of recommended that. So we were like, that will work perfect because now we can go back to Australia, take the family. I wouldn't do it unless I could take the family, honestly. Going for that long and then flying back and forth, it just wouldn't work the way that it is now. So I'm going back to Australia with the Penrite Honda Team. You mentioned my schedule. Honestly I just got super lucky with Honda, really, globally. American Honda supported me huge the very first year I went. I remember calling Dan Betley and saying, "Hey, man. I've got this opportunity. What do you think? I'm not going to do it unless you guys support me with some equipment and stuff." He jumped all over it. I actually called him a couple weeks ago and just had a chat with him and thanked him once again for kind of starting this whole deal.
Factory Honda for next year. Obviously we've seen you ride the last few years for the MCR team. You've done really well for them. What was the first time you heard from Kehoe or somebody at Honda that this may happen?
So it was this summer. It's a couple months ago now, two or three months ago.
Kehoe called you?
No, actually Brandon Wilson from Honda. I talk to those guys every now and again. It's not like I don't talk to them. We were just talking. I forget what it was. It wasn't even about really riding for them. We were talking about something else and then he had brought it up. Like, "Hey, what would you think about this?" I'm like, "Yeah, that would be awesome. That would be a dream." But I did have a contract with Genova, so I'm like, we need to do it the right way. Make sure it's okay with Genova. The process takes a long time, getting approval from basically everybody involved. Mike thankfully was nice enough to kind of let me out of it.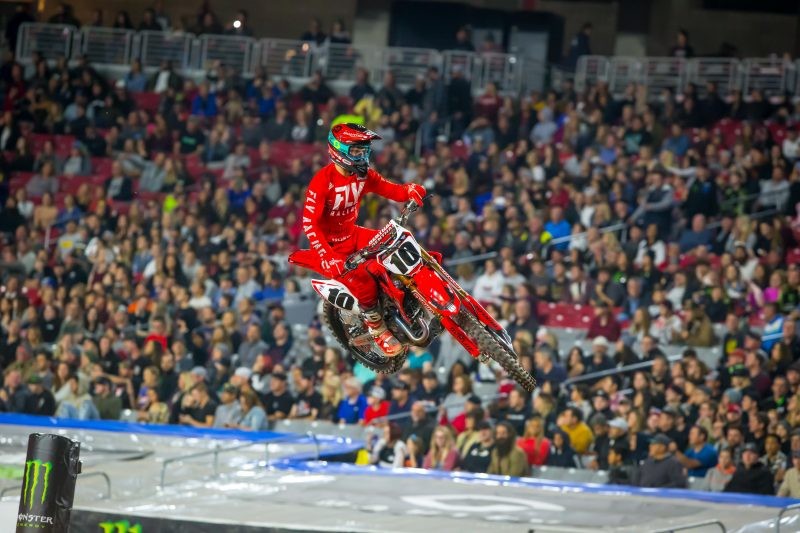 They could have stopped it, I guess. It wouldn't be being a very good partner with Honda.
That's the thing. That was it. Genova wants to be a good partner to Honda. I want to do what's best for everyone. Genova wants to do what's best. Brandon and Kehoe and all the guys at Honda want to do what's best for the Honda brand, because we're all representing that brand at the end of the day. So what made the most sense was what's happening now. It's great for me. I think it's cool for Genova too, that his guys possibly could get that opportunity in the future for Malcolm or whoever.
I heard that was going to happen a while ago, but I didn't think there would be any way that Factory Honda would let you continue your off-season stuff. That's awesome that they did, though. That's good for your pocketbook. It's good for your racing. You're going to come into Anaheim ready, as you have been the last few years. But I didn't think Honda would let you do it.
I think if it was my first year doing this program they would question it, but I have a track record of it working and this is my fourth year doing it. So I think they trust me, they trust my prep. They're hiring me for my results the past couple years. For me to not do motocross for one and then stay back and just test the whole off-season, I feel like I would be so rusty coming into A1. So now to do this program, they're going to help me as much as they can. I think it's a win-win for everybody. But I'll go to Australia for the Honda Australia team. Then when I get back in December then I'll be kind of officially with Factory Honda in America. Geneva in the first week of December will be my first race, actually, for them.
It's a cool situation, and it's unique because Sexton of course is going to ride the outdoors [on the Honda HRC 450]. We saw that press release come out. Very unique structure for those guys, but in a way it's smart. I was almost saying this with the Rocky Mountain guys [Rocky Mountain ATV/MC KTM]. I don't know what is involved with the riders, but Bogle killed it in supercross. Benny's a better outdoor guy. Benny's been hurt indoors so we haven't seen quite what he could do, but what if a team said, "Hey, Justin Bogle, you're our guy for supercross, and Benny, you're going to ride outdoors?"
Yeah. It's funny you mention that because when I was at JGR years ago JBone [Jeremy Albrecht, team manager] used to always say that. He'd love to have me for supercross and JG [Josh Grant] for outdoors. I'm like, let's do it! But no manufacturer would really take that risk. But now, yeah. Honda is doing it. I feel like it's going to work. Chase, I don't know if he's running the number one plate or I don't know if he just wants some more experience in supercross. I'm a big fan of really not staying in as long as you can, but also making sure you have the experience to jump to the 450 because you can never go back. I think it's good. I think it's going to work for everybody.
Then your schedule is such that if something happens to Chase in a future year, you could jump back in maybe or whatever.
Yeah, possibly.
There's rumors this is going to be your last year.
I haven't really said that, but let's face it. I'll be 36 in March. I don't want it to go really bad before I'm done, but I also don't want to go out too early, either. I still love it. I'm still competitive. So if the opportunity keeps presenting itself, I'm in. As long as I feel like I can get them what they want and what a factory team deserves, then for sure. We'll see. I'm definitely not ready to say a hundred percent it's my last year, because then I feel like I'm already checked out. Might as well just be done now.
The last time you rode Factory Honda was in 2012. One year there, good supercross season. Outdoors I don't remember, so-so. You're not an outdoor guy.
It started rough.
Motocross always starts rough for you though.
It ended pretty good. I was second at RedBud and had a few podiums that year.
But you weren't that happy with the bike that year, were you?
No, I loved the bike. The bike was awesome. It was hard for me to handle the pressure, honestly, because I put so much pressure on myself. It's kind of cheesy to say but Factory Honda growing up for me… I always rode Hondas, and to be on that team, it was the deal. [Jeremy] McGrath, so many superstars on that team. Even I'm old enough to where I remember RJ and those guys. I had a one-year contract with them, so I'm like, This is it. I have to do X, Y, and Z. I wanted to do certain results and stuff. Through supercross I crushed it. I think I had six or seven podiums. I led a lot of laps.
Should have won one. RV got you late in one, right?
I should have won Indy. I led 17 laps and he got me. Also Toronto the next weekend I got second to RV again. I led a lot of laps. It was almost like he just outsmarted me. He was just, I'll let him lead for a while and then I'll nick him at the end. But I did really good, and then coming into Hangtown I knew it wasn't my strength. My contract read that if I was top three overall in the supercross series that I was guaranteed X amount of dollars and bonuses and a contract the next year. I got third in Vegas and I tied [Ryan] Dungey for third overall in points. So I tied him, but he got the tie breaker because he won Vegas. So that was a lot of bonus money that I missed out on! I still had a good outdoors season. Second at RedBud was a great result for me. I did good at Millville. I had some good ones but it just wasn't good enough. I think [Justin] Barcia was coming up. They had to sign Barcia. I don't fault them.
But smash cut to 2020, the pressure's not going to be there for you.
No, the pressure is not going to be there at all. That's what I'm telling people. I know everyone so well. Kehoe is a buddy of mine. I've kind of been a part of the factory program now - this will kind of be my fourth year in a row, because I've got some parts and the test track.
And you've done off-season testing stuff for them, right? Suspension stuff?
Yeah. [Cole] Seely was a great buddy of mine, so we would always do motos together. So the pressure is not there. Of course I want to do well, but it's not like it was in 2012.
The bike, it'll be similar to what you rode at MCR? Different motor package. I imagine similar, but for you it'll be lighter. That will be probably the biggest thing, do you think, between your two bikes?
I would say lighter. The engine package definitely is different. I don't know. Honestly, I've asked for certain things in the past - a front brake, certain engine parts, but you never know. When you get on the bike you might be like, "Dang, this feels way different," or "that feels way different." So we'll just have to see once I get deep into testing and see. But at the end of the day, it's a Honda. The chassis is the chassis. I'm happy with it. I know it. This is a fourth year on this generation bike. It's not new. So it's a smooth, easy transition.
I feel like you already know what you like in the bike, like you said. So I feel like all the off-season stuff, I don't think we're going to hear from you early on that, "I'm still getting used to the bike."
Yeah. Same suspension settings.
If you tell me that at like Glendale, can I punch you?
[Laughs] Yeah.
That's what we hear all the time. At Vegas guys are like, "I'm still getting used to the bike."
No. That's not an excuse. Honestly, I think that goes back to guys not racing. Yeah, they feel great at the test tracks and then you go race and it's like, this feels way different and I'm more nervous than I am driving to Corona. It's totally different.
I talked to a guy who raced one of these off-season races last year. It was the only one he did. He said he had to kick and fight his trainer to let him do the race to make money. It's the stupidest thing ever. I'm like, you tell your trainer, it's a well-known trainer. Not Aldon Baker, but it's a well-known trainer. I'm like, tell that guy to eff off. You make money, you get a gate drop.
Then people say, "Well, you might get injured." Come on. Almost every sport has pre-season. Every stick-and-ball sport has pre-season. Guys play in the off-season. I don't agree with that. For sure, there might be a limit. I'm probably on the high side, but also I don't race motocross. So I would have an argument there that I'm not on the high side. Really the whole month of December and the very first week I have off for testing. We can be testing throughout the whole Australia series, if there's bits and pieces I want to try and test. I like it.
You're working a little bit with Trey [Canard] too now. Trey will help iron some stuff out.
Trey and I were teammates in 2012, which is crazy. Now he's part of the team. It will be cool to work alongside Kenny and get to ride with him, and then Kehoe. It's going to be really cool.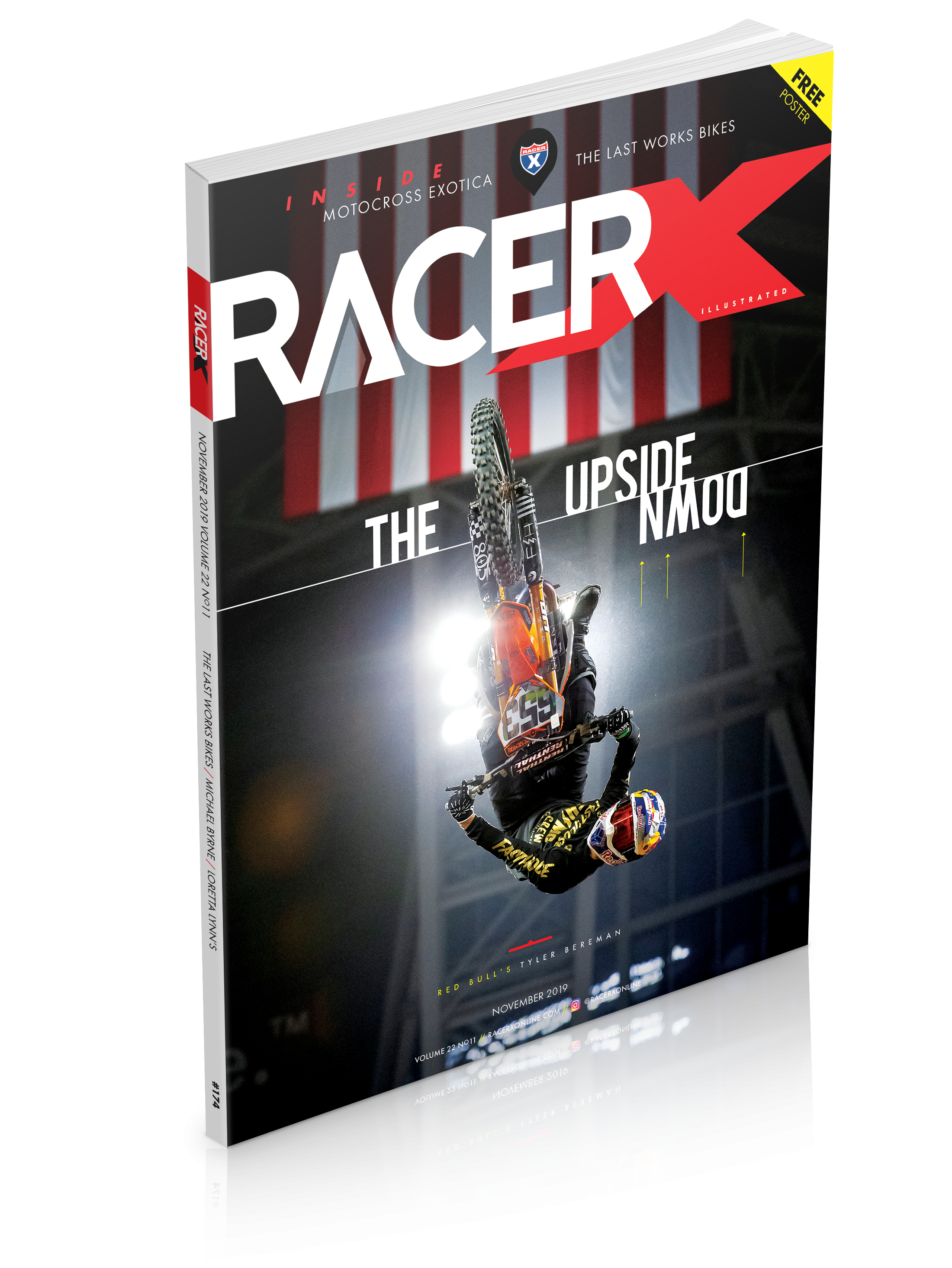 Racer X Illustrated Motocross Magazine
The November 2019 Issue
Inside the November issue of Racer X magazine: See who stood out and what our takeaways are from Loretta Lynn's and all of its future moto talent. GEICO Honda had a packed house at the last three nationals, but who's sticking around? Former factory rider Michael Byrne has made a successful jump to team management, and we find out how and why. When the AMA's 1986 Production Rule went into effect, it ended a glorious run of exotic, hand-built—and wildly expensive—bikes in AMA racing. We dig into the story of those final years. All these features and much more inside the November issue.
Read the Issue Now
Preview the Issue Now