Assen, Netherlands
Motocross of Nations
Motocross of Nations
Red Bull KTM's Jeffrey Herlings and Jorge Prado double up to own a landmark Grand Prix as MXGP finally comes to rest at the 18th round for 2019. Here's our takeaways from the final round of the FIM Motocross World Championship.
1. The orange shadow
Red Bull KTM and Jeffrey Herlings provided a reminder of what a fit #84 might have inflicted on the 2019 MXGP field. For the second time in a week and from Turkey to China the 2018 champion attacked the second moto and countryman Glenn Coldenhoff in the final stages to seize overall victory. Two triumphs from three appearances is not a bad haul for a rider who is nearing the kind of threat he posed on a sustained level last year and bodes badly for any competitor mildly optimistic about the Motocross of Nations in less than two weeks. Herlings, who has recently taken to more explicit public declarations of his faith (and who could blame the athlete who turned just 25 in China but has smashed his body on a semi-regular basis in ten years of FIM World Championship racing for seeking solace) was again emotional and affected by his ability to conquer. Team Manager Dirk Gruebel described his effort to close a three second gap to Coldenhoff with three laps to go and make a 2-1 as "incredible."
To others, Herlings' smash-and-grab mattered little; the war had long been won. But for the four time world champion the results sheets and the manner of the success was vindication that he could still swing the axe in an injury-battered MXGP despite two sets of surgery on his right leg.
Standing Construct KTM Racing Team's Coldenhoff had led almost every lap of the Grand Prix and was undone in his search for a third win in the last four rounds. After being passed by the barrelling Herlings #259 quickly looked behind him because there was another prize on the table. The Dutchman is at a career peak, and China meant a fifth podium trophy in a row and also enough points to demote the off-song Gautier Paulin (seventh overall) from third place in the standings and the bronze medal. Coldenhoff had tweaked the 450 SX-F to deliver unbeatable starts and the kind of technical package that enabled the racer to prevail in sand, Italian hard-pack, Turkish ruts, and Swedish soil.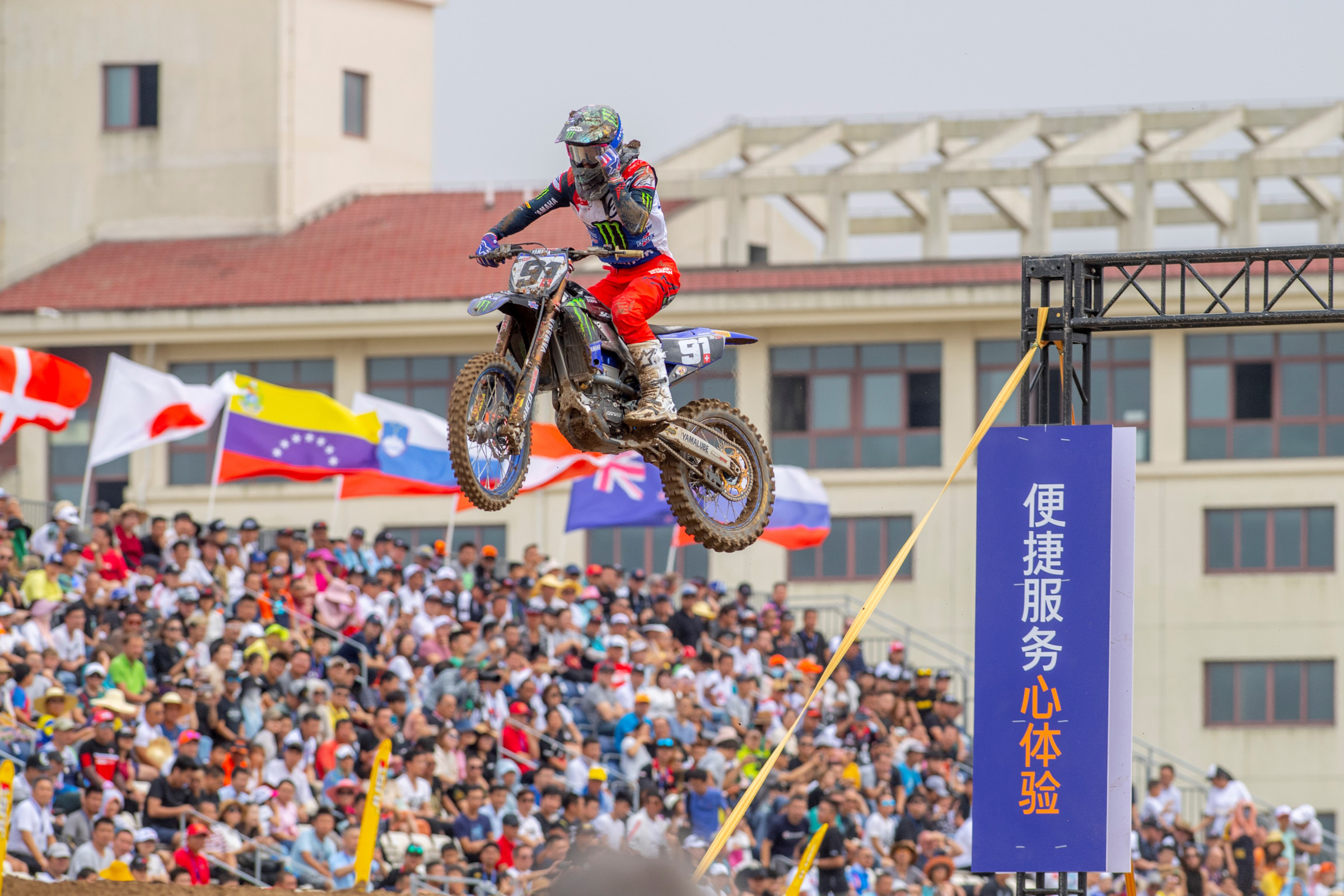 Monster Energy Yamaha Factory MXGP's Jeremy Seewer completed the top three and opened champagne for the sixth time this season—just his second on the 450 and the first as a factory rider—to continue a career arch that is one of the best in the world championship. The Swiss, second in this year's final MXGP rankings, has scaled the standings in both categories every year, and in these precarious times where injury is decimating even whole teams (Monster Energy Kawasaki were absent in China with fill-in racer Tommy Searle also hurt) his ability to be present in every single gate drop is a valuable commodity. Seewer has not missed a single Grand Prix since he entered MX2 full-time in 2014.
As for Seewer's Swiss teammate for the 'Nations, there was concern for Monster Energy Wilvo Yamaha's Arnaud Tonus on Saturday. The Swiss rider crashed and smashed his chest and picked up a fractured left hand that puts his participation for Assen in doubt. The 2019 season has tapered off for the likeable former Monster Energy/Pro Circuit Kawasaki rider after posting a career-high six podium finishes in the mid-part of the campaign but the simple fact is that Tonus has not completed a full season for a number of years due to illness/injury and sat out 2018 altogether. He made immense progress on the YZ450F in 2019 and Yamaha are not misplaced with their belief in him for next year. However, the last five races have been a lesson for effective pacing for the 28-year-old.
Also, another mistake (a miscue of the finish line jump landing in the second moto) and hints of a 'job done' approach by world champion Tim Gajser meant the HRC star missed the podium for the second time in a week and only for the third time in 2019.
2. Jorge says bye-bye to the quarter-litre
There are many who will be glad to see the back of Jorge Prado. There are many who have seen far too much of his back. There are others—by the double world champion's own admission and ire—that have not seen much of the Red Bull KTM rider at all. Prado had another one of those 1-1 weekends where his starts (23 holeshots for the year) and dominance meant he was undisputed, and again barely featured on the TV broadcast as he ran free at the front. Teammate Tom Vialle pushed close in the second moto but this was largely another demonstration of control by the Spaniard for his 16th win from 17 Grands Prix and 31 motos won from 34 contested.
Prado was irked by an awkward race rhythm and while the motos seemed fairly easy, he painted a picture that they were in fact tougher work than they looked. China was the eighteen-year old's last Grand Prix in MX2. In theory he could return to the class in 2021 if a debut year in MXGP does not go so well and has plenty of time before he ages-out at 23. For now, it's adios to the 250 and he is already clocking the miles on the bigger bike when not travelling or racing.
"I've been riding and racing with the 450 and it is not easy jumping from one bike to the other," he said. "You need to change the chip in the head, but I am really enjoying the 450. It's a good bike to train for the 250 because it feels lighter when you change back!"
Prado's superiority in Shanghai was the bookend of a remarkable three-year MX2 stint: one term to learn (and grow physically) and two in which he was decisive and deadly. "Another great season and after 2018 we managed to do it again with some great races, consistency and another title," he beamed. "I cannot be happier. This weekend I wanted to do well and finish on the top."
Elsewhere, Tom Vialle's recent mini rollercoaster of emotion continued. From the low of a double DNF in Italy, to the high of his first victory a week later in Sweden, the low of absurd Motocross of Nations team politics to the high of his seventh podium result in an outstanding rookie year in China. There was another brief low as Monster Energy Kemea Yamaha's Jago Geerts rode sensibly to fourth overall, which cost Vialle the chance of third position in the championship. The difference was just six points; making the bad luck and judgement at Imola even more painful. The Frenchman's attitude, ability and starting prowess mean that KTM can look towards MX2 again with optimism in 2020. It is still unconfirmed if Vialle will have a teammate for next year on the 250 SX-F. Much of the attention will rightly go on the monumental trio of Cairoli, Herlings, and Prado up in MXGP.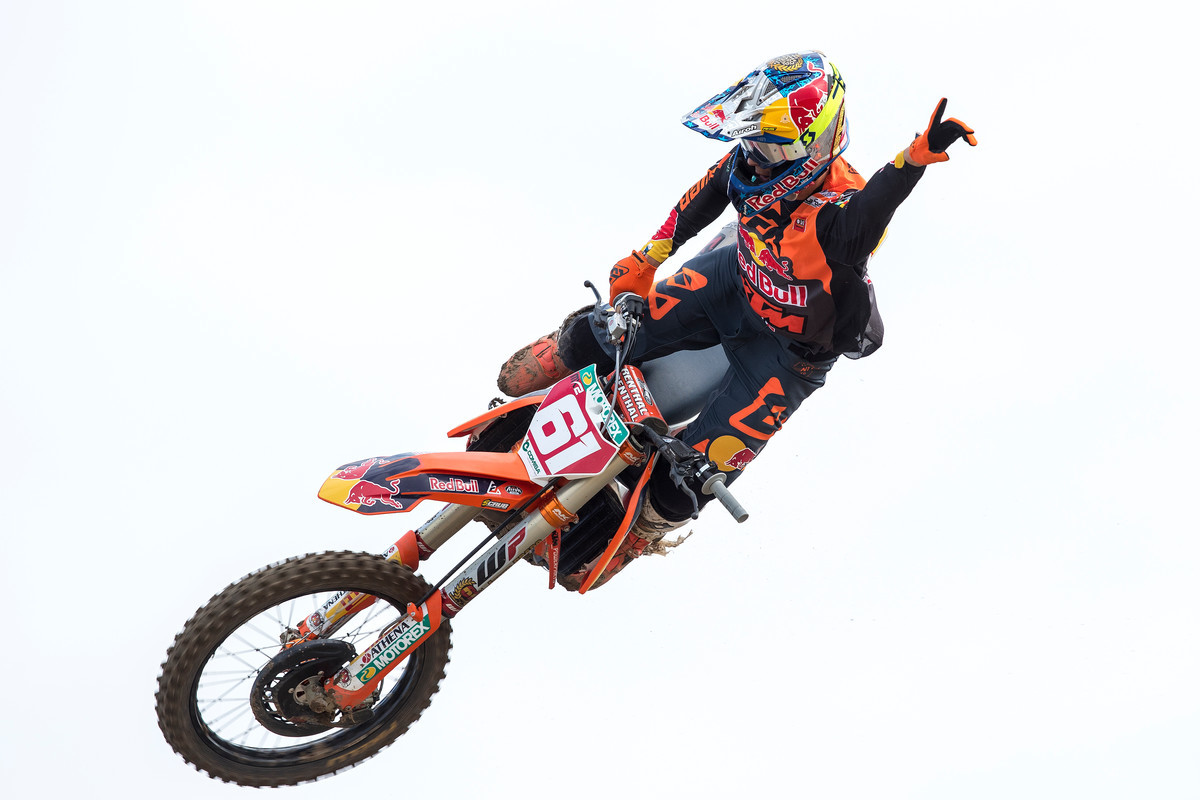 3. Go big or go west
The first ever Just1 MXGP of China presented by Hehui Investment Group has to be applauded for its ambition. This was an event that had been years in the making and it was 23 months ago at the 2017 Motocross of Nations that planning for the race reached the official announcement stage.
Constructed south of Shanghai in the Fengxian district and on the banks of the East China Sea, the track was a new-build and open venue with mostly flat, soft and sandy terrain. The distance – some 5500 miles from central Europe – and the position as the calendar finale when both MXGP and MX2 series had long been wrapped up gave the Grand Prix an exhibition feel. This was backed-up by the spectacular ceremonies and presentations that filled part of the official program and formally introduced China to World Championship motocross (a dedicatory concert by the Shanghai Philharmonic Orchestra at the Nine Trees Future Art Center means little compared to what happens on the track but it does pull the sport out of the niche and closer to another mainstream in terms of awareness and consciousness).
Shanghai shouldn't have been the last round. It was originally slated to be the fifth of nineteen fixtures but was shifted in March after a monsoon-like climate had flooded the area and subsequently affected assembly of the track and preparation. With the cancellation of the accompanying Grand Prix of Hong Kong, China was left as an isolated and daunting last trip for GP teams and a narrowing list of riders that had been thoroughly bashed by injury problems.
Like some of the other adventurous and well-supported Grands Prix like Argentina and Indonesia, MXGP discovered a raw and fresh reaction from a new federation/circuit/organization/audience. That the race happened in China at all - and in a time when motorsport has never felt more costly or complicated – is a massive credit to all those involved and hopefully there will be some longevity and shrewd re-scheduling for 2020.
Predictably the gap in speed and capability between the Grand Prix teams that made the journey—even WMX racer Larissa Papenmeier attempted MX2, only a week after seeing peer and New Zealander Courtney Duncan win her very first FIM Women's World Championship—and the Chinese riders were vast. Herlings and co were putting up to four laps over the natives. "Not a lot of people know about MXGP here, so it is a big honor to be here for this first Grand Prix," said Yamaha's Jianhao Xu. "Right now there is a huge gap between Chinese and European riders, but we hope to learn from racing with them and we can get better."
Jorge Prado was a little more pragmatic in his assessment. "The difference between them and us is very big and it can be dangerous. Maybe they should think about another category? I understand they want to learn from us, but maybe they could also watch us? For sure they can improve—anyone can improve."
China was a first taster for many and hopefully just an appetiser for more growth in this part of the world.