After making its big return to the worlds stage of SX last year, the Monteal Supercross was back this year for another go. Although the rider list wasn't as deep this year with American riders, the fans here still packed Olympic Stadium to see SmarTop/Bullfrog Spas/MotoConcepts Honda's Malcolm Stewart, Penrite Honda's (his Australia team) Justin Brayton, and Rockstar Energy Husqvarna's Dean Wilson take on the best of the Canadian series regulars like Red Bull KTM's Cole Thompson, Rockstar OTSFF Yamaha's Phil Nicoletti, Monster Kawasaki's Matt Goerke, and more.
The track was much tamer than last year due to the addition of quads and these dune buggy things that kept the crowd hopping out there. So the start, maybe more so than a "regular" supercross, was very key in the three 12-lap 450SX main events that used Olympic style scoring for the overall.
As far as the Rockstar Triple Crown series regulars, Nicoletti led Thompson by 24 points with three (supercross) rounds to go. The overall champion when you combine AX (in the spring), MX (this summer), and SX would get $100K so there was a race within a race tonight that was worth watching.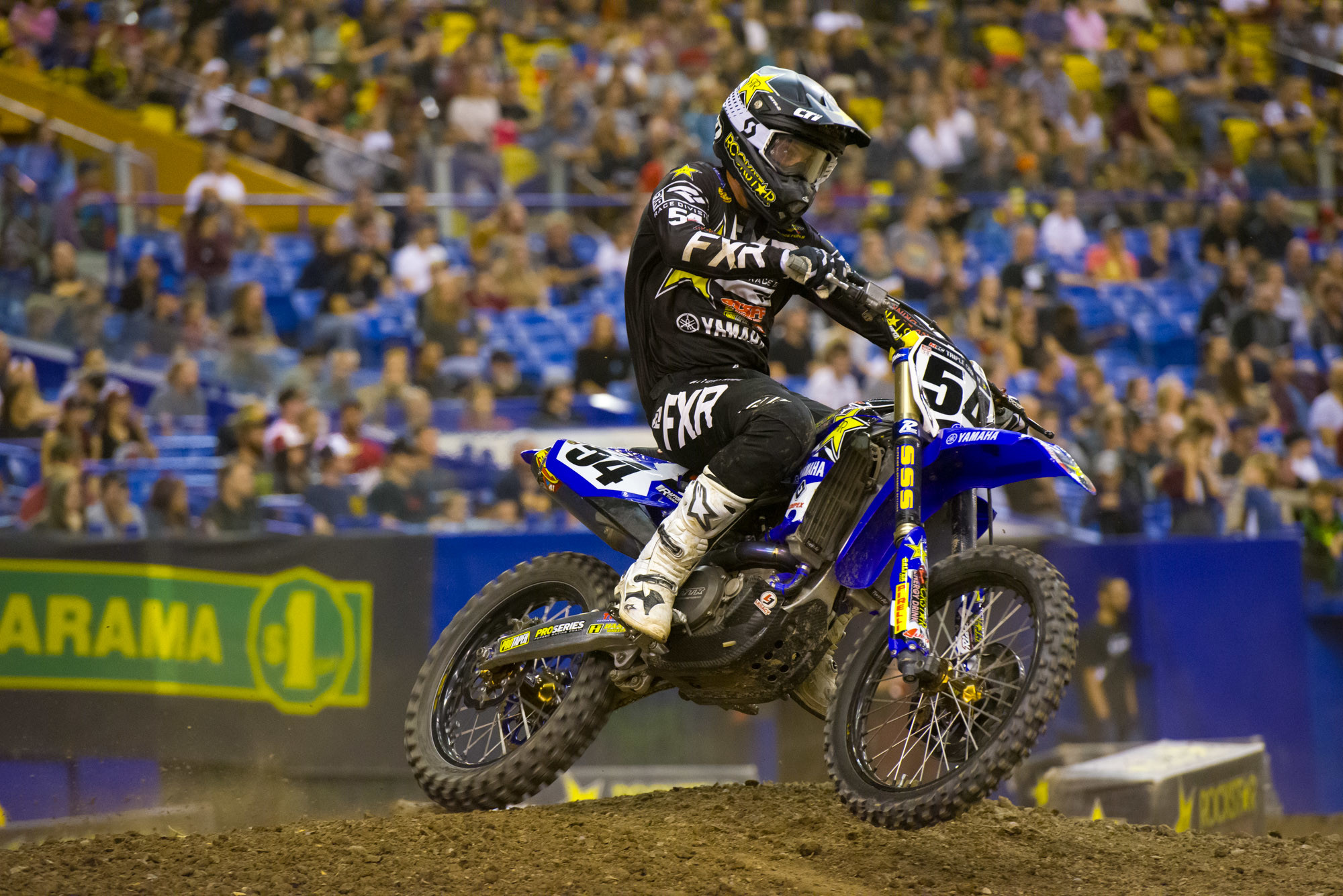 In the first 450 main event it was Nicoletti getting the start and leading the opening laps with Stewart trying to get by him and the lappers, that proved to be difficult on the narrow track. Stewart made one move around Phil as the riders went on each side of a lapper but then Stewart was bumped off the track and Nicoletti got back by as did Wilson, who was lurking right behind them. They swapped positions a few more times before Nicoletti washed the front end out and allowed Wilson, Stewart, and Brayton (who didn't get the start he needed to) by. That was the finishing order at the end of the race, with Thompson in a distant fifth ahead of Cade Clason, Shawn Maffenbeier, and Goerke.
The second main event saw Nicoletti again sneak inside and take a top five start to a lead. He had Stewart all over him early like the first main but this time Malcolm slipped by early and that was all she wrote. Mookie took the win, Nicoletti rode well to a second but behind him it was Wilson and Brayton swapping spots probably about five times in three laps before Dean grabbed it for good. There appeared to be some contact there even by both riders! Trailing the top four in this main, like in the first main, was Thompson (who ran second briefly) and Clason, who was racing a Kawasaki for the first time and had limited practice on it. Goerke was running fifth for a while before crashing—he finished seventh.
Going into the final main event of the night it was Stewart with a one-point lead over Wilson for the overall and when #27 grabbed the start it looked like it was to be his night. But like a few others, Malcolm pushed it a bit too hard and went down. Wilson took advantage of that to sneak by into the lead with Brayton and Nicoletti right behind him. Those three would stay about the same on a track that was getting slicker and harder every lap.
The man to watch was Stewart who picked his bike up in last and ripped up through the pack. He was blitzing the whoops, flowing through the corners, and trying every line out there to get to the front as quick as possible. A last lap pass or two bumped him from off the podium to a second overall on the night and he earned every bit of that. However, his early-race crash had cost him a shot at the overall win.
The overall win though would go to Wilson who went 1-3-1. Wilson said afterwards that it was good to win something as he hasn't done that in a while and for someone who spent a lot of time living in Canada, he did it front of his quasi home fans. Wilson, Stewart, and Brayton took the top three overall spots with Nicoletti tying JB10 for third but ending up fourth because that's what happens to Phil.
Justin Brayton, the 2018 Australian Supercross Champion, returned to the Australian Penrite Honda Racing team for the Montreal Supercross. Brayton will race for the Honda HRC team in the 2020 Monster Energy AMA Supercross Championship. James Lissimore
In the 250SX class, it was KTM's Jess Pettis who took the win in the first main event with an easy ride. In the second main he had the start, washed out and took down most of the contenders from the first main. Looked like he hurt his knee also and his 1-DNF scores got him an eighth overall. MX 101's Luke Renzland took advantage of the carnage in the first turn in the second main event to go wire-to-wire for the win. In the first main he had, like Pettis, gone down in the first turn. Renzland's 9-1 scores got him second overall.
In the end it was GDR Honda's Dylan Wright who went 5-2 for the overall in a bit of fortunate luck. Wright showed great speed but was unable to slow the mistakes out there (especially in the first main) and that prevented him from getting a main event win. In the first main, he came from basically dead last to fifth in a good ride. He crashed again in main event two also while trying to get around Renzland. In the end, it was a wild night for Wright, Renzland, and Pettis, but Wright's 5-2 was enough to get a hard-earned win. Renzland was second and Mathias Jorgenson took his Kawasaki to a third overall in a chaotic 250SX class.
---
Main Image: James Lissimore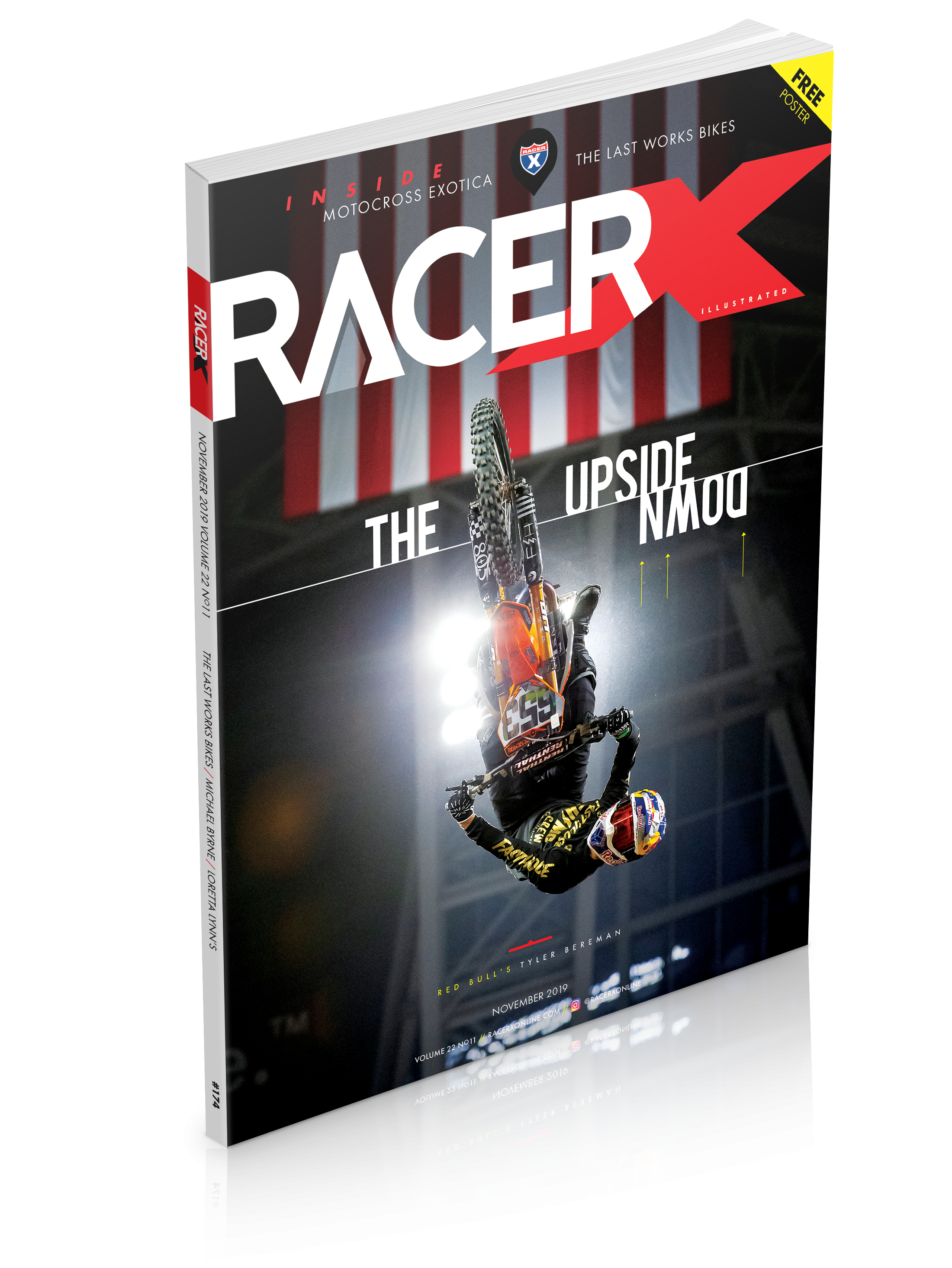 Racer X Illustrated Motocross Magazine
The November 2019 Issue
Inside the November issue of Racer X magazine: See who stood out and what our takeaways are from Loretta Lynn's and all of its future moto talent. GEICO Honda had a packed house at the last three nationals, but who's sticking around? Former factory rider Michael Byrne has made a successful jump to team management, and we find out how and why. When the AMA's 1986 Production Rule went into effect, it ended a glorious run of exotic, hand-built—and wildly expensive—bikes in AMA racing. We dig into the story of those final years. All these features and much more inside the November issue.
Read the Issue Now
Preview the Issue Now