Assen, Netherlands
Motocross of Nations
Motocross of Nations
On July 20, 1947, Hague, the Netherlands, served as host for the first-ever running of the Motocross des Nations. Only a handful of years following WWII, the storm clouds had been blown off the European continent and it was time to go racing, Great Britain winning motocross' version of moto nation state war. Two years later, the Circuit van Drenthe in the town of Assen in the north of Holland was built and soon came to be known as the "Cathedral of Racing." The only venue still on the 2019 MotoGP World Championship calendar since its founding in 1949, Assen has played host to countless races and crowned MotoGP champions from John Surtees to Mike "The Bike" Hailwood to Barry Sheene to Kenny Roberts.
It will be at storied Assen that the 72nd edition of the Monster Energy Motocross of Nations will be staged. America, a nation that has won the "Olympics of Motocross" a record 22 times going back to 1981, will be omnipresent at the event, Team USA pilots Jason Anderson, Zach Osborne, and first-time participant Justin Cooper bound and determined to win it back for this nation, which has not won the race since 2011.
Monster Energy/Star Racing Yamaha ace Justin Cooper has never been to Europe. No matter. The sophomore racer placed inside the top three in both the 250SX East Region in Monster Energy AMA Supercross and the 250 Class in the Lucas Oil AMA Pro Motocross Championship. Far and away one of the standouts of American motocross during the past two seasons, the 23-year-old from Cold Springs Harbor, New York, is a throwback to the old school when you sank or you swam amongst the best racers on Earth.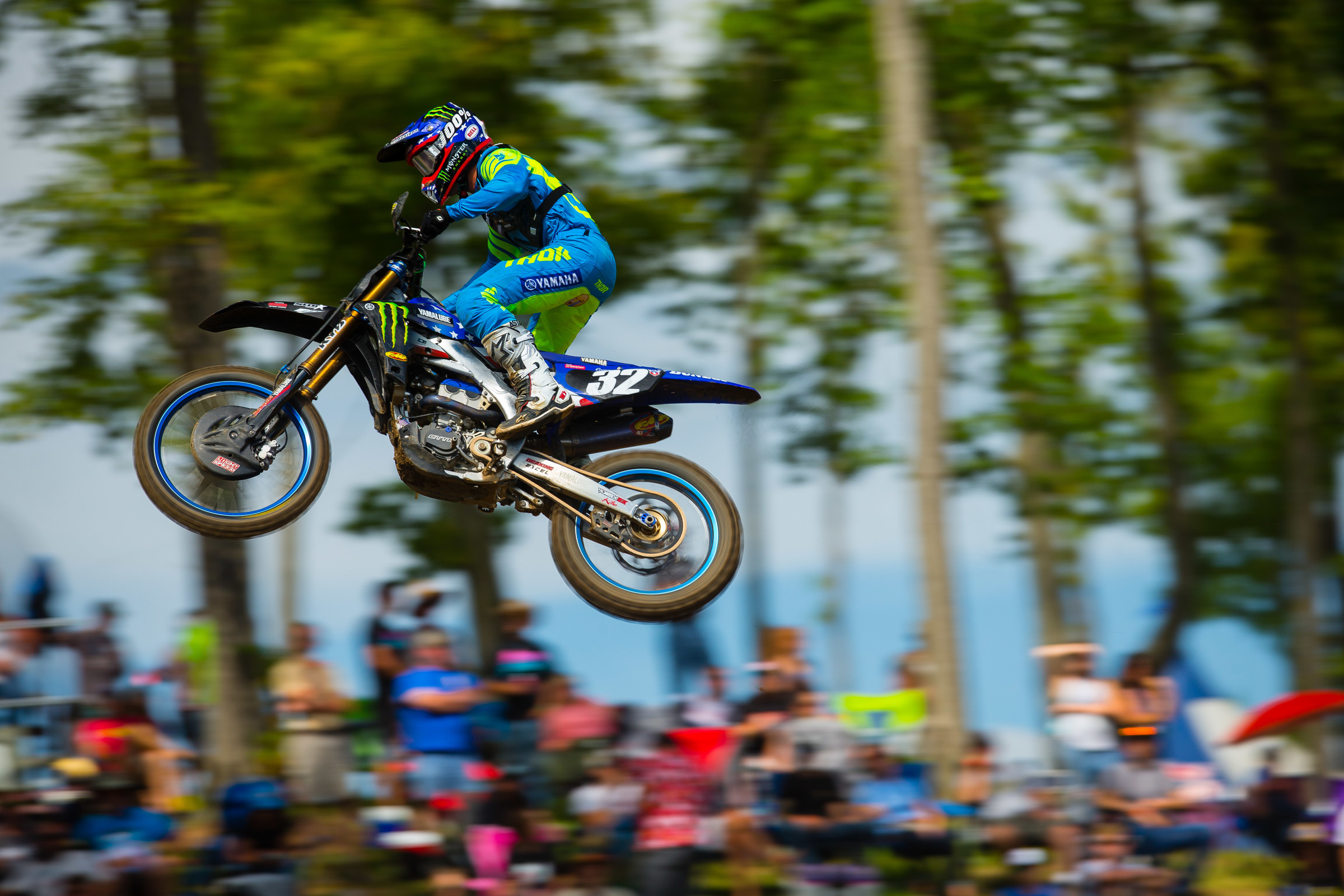 He'll face yet another test head-on as he lands in Europe and attempts to learn the craft of sand racing over there.
"Yeah, the plan is for me to leave for Europe and the Motocross of Nations on Sunday," said Cooper on Saturday morning at his home in Temecula, California. "I just got done with two weeks of sand riding over here in California. We're doing our best over here for right now until I leave for Belgium to meet up with Anderson and Osborne. From what I have seen the past few days, it looks like they've been hitting up a couple of sand tracks over there. The sand looks good and looks fun and I'm excited to get over there. I've been riding some pretty crappy sand tracks over here so I'm excited to get over there and see what that's all about."
Off of a rock solid runner-up overall finish at the Ironman National nearly a month back, Cooper took a week break and then went right back to the grind, bashing out laps beneath what has been a wickedly hot Southern California summer
"I've been riding a lot at a hard bottom sand track called Nuevo," pointed out Cooper. "It's been good practice. It has been tough. I'm just ready to get over there. Hopefully, the stuff in Europe is better than what I have been riding."
As for his "Team Fried" teammates Jason and Zach, well, they've already been communicating.
"We've done our fair share of talking, but once we get over there it will be a little bit different," said Cooper. "We'll be going as a team and that's pretty much the important part of the whole thing. We need to make sure we communicate well with one another and hopefully it all goes well."
Team communication can be tough at this race, one that suddenly takes on-track racer and team rivals and asks them to work for a common goal for one weekend.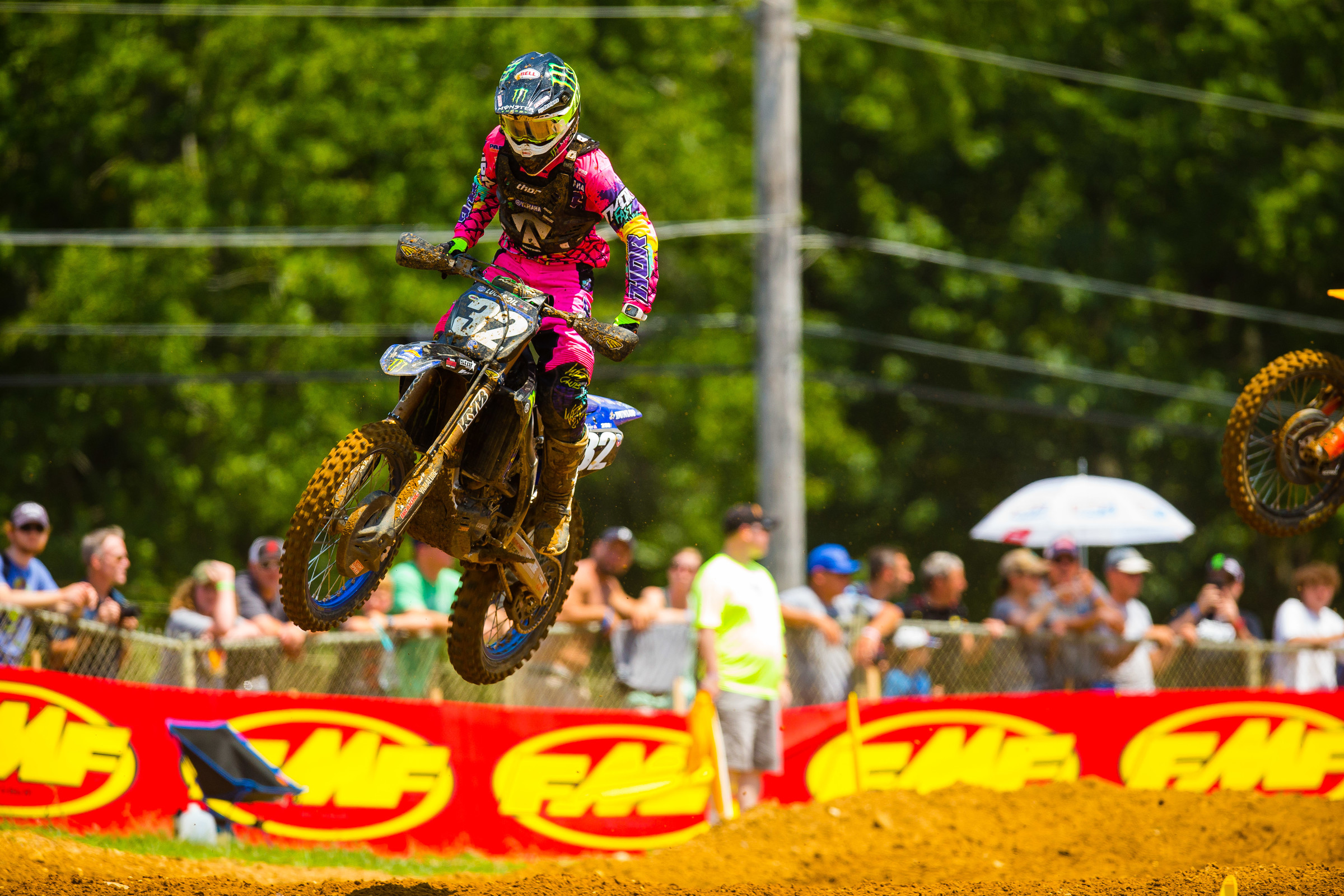 "Yes, it's something that we're focusing on more this year because I've heard that in the past that it hasn't really been a team effort," he says. "I think one of the most important parts of the whole thing if we're going to try and win it is to operate as a team and help each other out and get as much as we can from each other."
Cooper has already gotten into step with team manager Roger De Coster, the duo talking consistently, and at times, at length.
"We had a real long talk at Ironman and he gave me his advice and what he thinks it's going to take and the challenges that lie ahead. I'm trying to get as much advice as I can from the people that have been around it and through it, I guess you could say.
"I fly to Europe tomorrow and will get there on Monday, so I think the plan is to ride Lommel on Tuesday," furthered Cooper, citing the legendary bottomless sand track at Lommel in Belgium where Team USA in 1981 out-and-out stunned the world in 1981 by defeating the Grand Prix riders in wicked-ass silica. "We will all be there and the plan is to ride Tuesday, Wednesday, and Friday of next week and maybe Monday, Tuesday, and Thursday the following week. We're trying to schedule it all to where we are all riding together and doing the same program."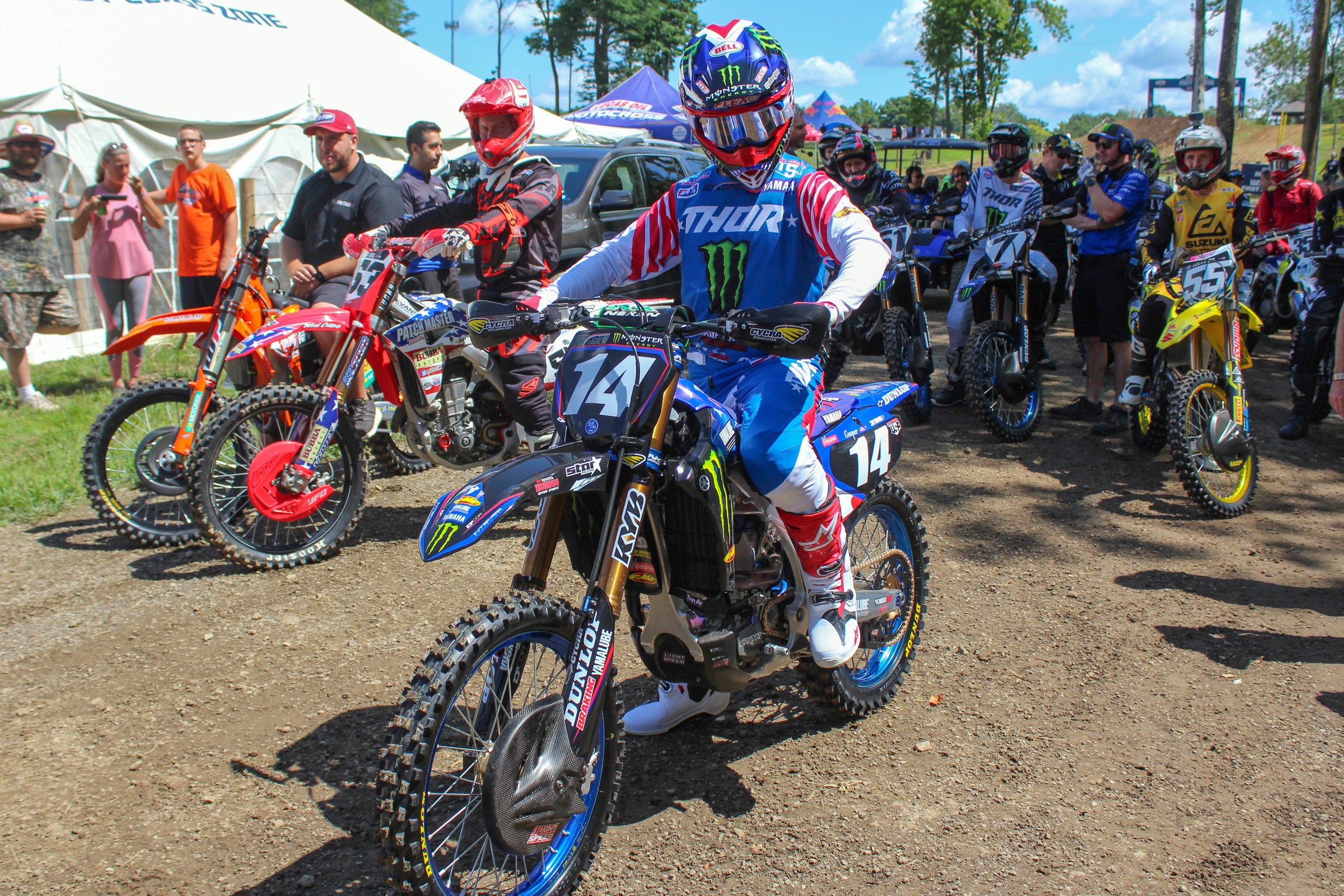 After last year's ass whipping at RedBud, Team USA is rolling into the Benelux Low Countries of Belgium and Holland with a point to prove. And while he's a rookie to the greatest motocross race in the world, Cooper is simply not afraid.
"You never really know what's going to happen. Of course we're going there to win. A lot of sacrifices are made by each of the teams going and I think it's due for USA to win this thing. Obviously, the goal is to win and that's what we're going there to do. Whatever happens, happens. You've got to be in it to win it."
Perhaps the biggest challenge for Cooper is taking in so much info so quickly. Just a few years ago, he was a fairly-lesser known talent on the amateur level. Now, he'll have to shoulder his share of Team USA pressure on his shoulders.
"You know, it really is a big deal," he says. "I'm just trying to take it as another race. It's obviously not. It's just another stepping stone in my career, I feel, and I want to make the most of it and to try and deal with it all the best I can. It is a big deal and there is a lot of pressure and I'm honored to be in the position I am in now to go and do it and to have that pressure on me. You don't really know what to expect. You just go out there and hope your preparation pays off. I'm looking forward to this race coming up. I'm looking to do my best and to represent my country well. There really isn't a bigger honor than this as far as representing your country. Everyone is watching you and you're there to deliver. There are only three people there to race for Team USA and I'm one of them. It's a really big deal. Full steam ahead."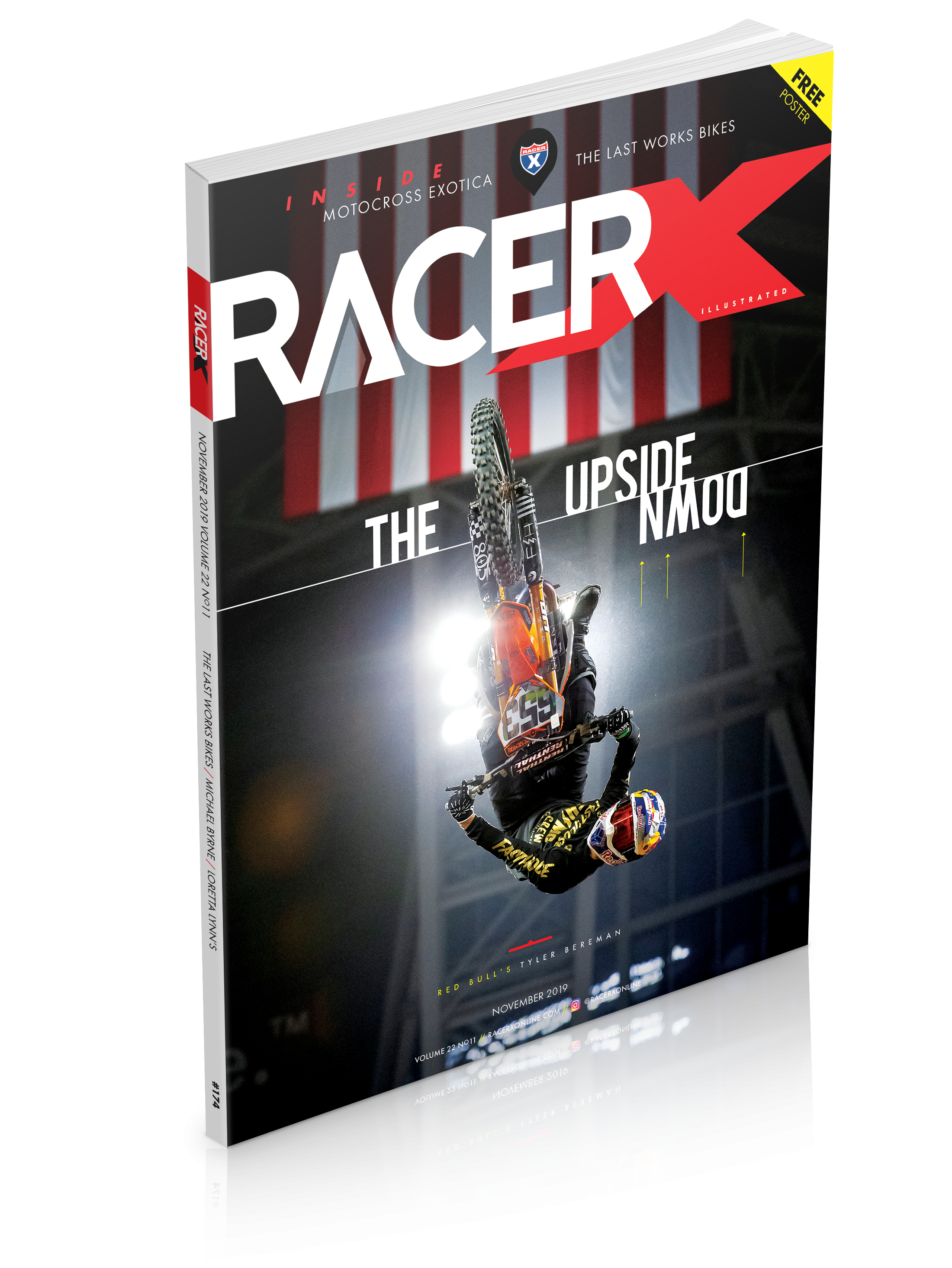 Racer X Illustrated Motocross Magazine
The November 2019 Issue
Inside the November issue of Racer X magazine: See who stood out and what our takeaways are from Loretta Lynn's and all of its future moto talent. GEICO Honda had a packed house at the last three nationals, but who's sticking around? Former factory rider Michael Byrne has made a successful jump to team management, and we find out how and why. When the AMA's 1986 Production Rule went into effect, it ended a glorious run of exotic, hand-built—and wildly expensive—bikes in AMA racing. We dig into the story of those final years. All these features and much more inside the November issue.
Read the Issue Now
Preview the Issue Now