Mechanicsville, MD
Budds Creek
Lucas Oil AMA Pro Motocross Championship
Budds Creek was my favorite track to race. That wasn't because of the venue or location or time of year, it was all about the track. I grew up in Florida, where most of the practice tracks were built with some sort of clay/sand mix. In Florida, there are hard sections of clay, big sand berms, and other sections that have meshed together. The dirt usually has an orange tint to it that will forever be burned into my memory. Driving into Budds Creek Motocross Park, that same orange hue is prevalent across the entire track. Not only similar in color, the composition and consistency are remarkably close to what I spent my career practicing on at home. That familiarity leads to confidence which typically leads to a good result. I just knew how the dirt would form and the limit of traction. All of that experience and positive thinking had me smiling every time we headed into southern Maryland.
The start at Budds Creek has changed several times over the years. My early years of racing at Budds, the start was on the far side of the facility and climbed a near vertical uphill. Depending on the direction of the track, the start either made a hairpin right at the top of the hill or continued onto a fast straightaway. In 1998, Budds Creek hosted a USGP (my first foray into Grand Prix racing), and the start was moved completely, positioned next to the old barn, barreling into a hard right turn that almost always saw pile-ups. This was my least favorite of the start variations, mostly because I ended up underneath motorcycles more times than not. That start was finally changed, again for an international event, but this time it was for the 2007 Motocross of Nations. This start is how we still sit 12 years later. It's an inside-favoring straight line to a 180 left. It's nearly impossible to get a good start from the outside and also a reason I don't especially care for this latest rendition. It is a fairly safe start, I will give credit where it's due there, but I prefer the starting gate positions to be a bit less critical. The qualifying positions from the morning usually dictate how far to the outside you will end up, and the riders simply moving outside one after another as they are called to the line. I like to see riders employ strategy on their starting gate, some wanting to swing in with momentum from the outside while others want to brake early and stay inside, etc. A start like Budds Creek kinda removes that option. There are worse things to complain about, no doubt, but I just think this start limits possibilities.
The weather Saturday is going to be warm. With a high of 91, riders will suffer. The proximity of the Atlantic Ocean means high humidity and a tough afternoon for the field. We haven't had a hot race since the three week stretch of Florida, Southwick, and RedBud. We all saw how difficult that was for riders to navigate. Hopefully, riders have learned from previous mistakes and are preparing more appropriately. Burying themselves mid-week with ten days left in the season will only harm their chances of success. Sprints, start practice, and rest are the most productive activities possible. All 80 riders are going to need to be their strongest Saturday, so that needs to be the highest priority.
In the 250 Class, I expect Adam Cianciarulo to be great on Saturday. This track should offer familiar confines and comfortable traction. He got his first ever win at Budds (in 2017) and needing a solid day to help lock up this title, I can't think of a better round to enter on Saturday. He should be able to start up front with an inside gate pick, stay out of trouble on a track he excels on, and possibly even add to the points lead.
For the 450s, I am most interested to see how Ken Roczen handles the higher temperatures. His results have suffered in the hotter races, his physical ailment taking a toll. After such a dominant Unadilla, Budds Creek's heat and humidity will be a serious test. In a season with more questions than answers, I will be wondering what Saturday has in store for Roczen. The level of his riding is beyond reproach leaving last weekend. Now, we see how his health will stand up.
Questions I Need Answered
Which Eli Tomac shows up at Budds Creek? The unstoppable Washougal version, or the less invincible Unadilla one?
Can Adam Cianciarulo and Dylan Ferrandis maintain this torrid pace?
Justin Barcia found something at Unadilla. Was it simply his familiarity with the terrain or will he bring that pace to Budds?
Can Aaron Plessinger take any steps forward before 2019 is over?
Will any of the rookies show up to Budds and redeem themselves?
How will Thomas Covington do in his return?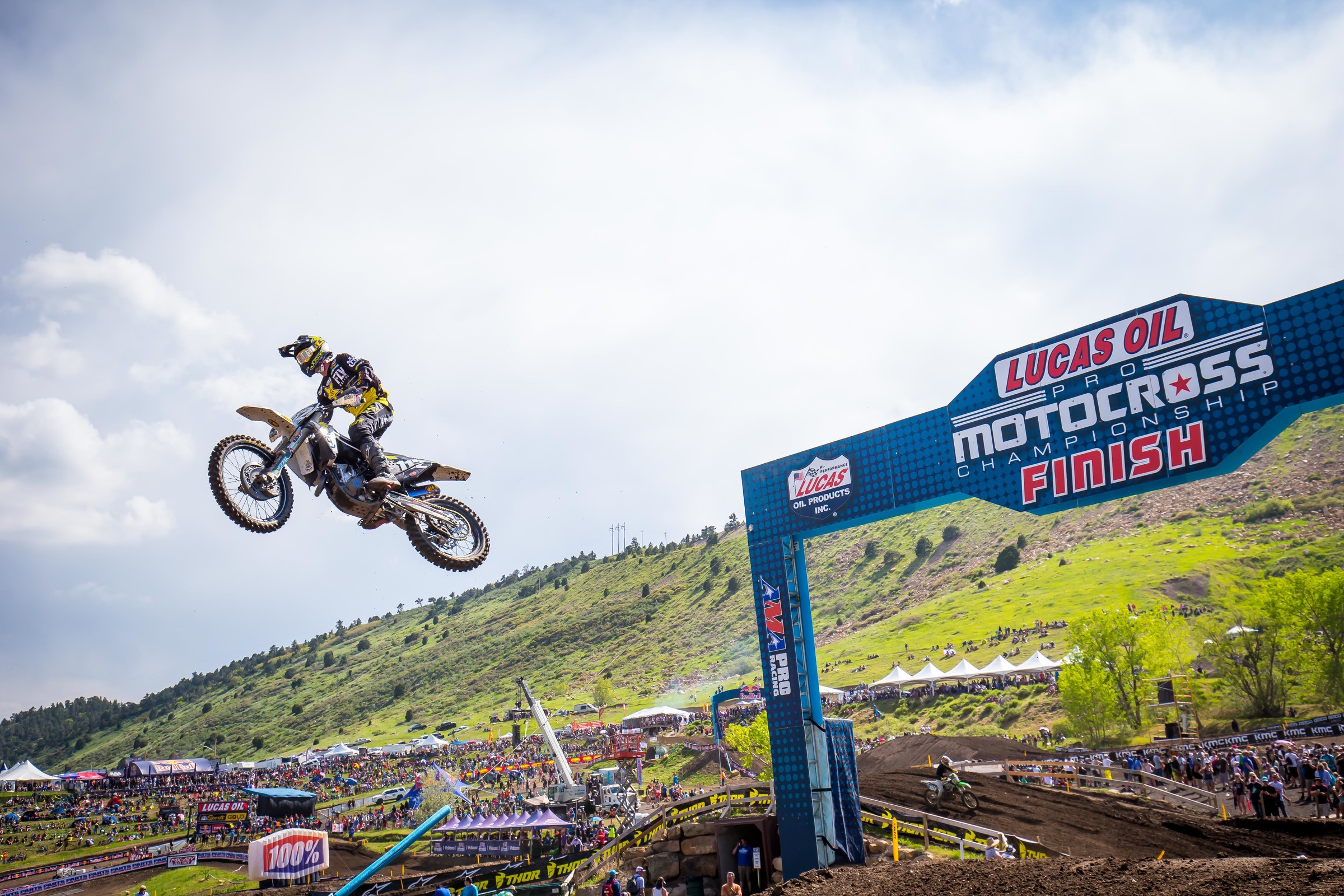 Who's Hot
Holy guacamole, Ken Roczen was amazeballs at Unadilla. No one had anything for him, period.
Both Ferrandis and Cianciarulo are riding on their best form and putting on a great show every weekend.
Chase Sexton finally looks to be back to 100 percent after his Florida meltdown (literally).
Zach Osborne logged another podium and was just named to Team USA for the Motocross of Nations.
Joey Savatgy has finished four motos in a row, finally finding some consistency.
Who's Not
Cooper Webb suffered a knee injury at Unadilla and will miss the remainder of the Lucas Oil Pro Motocross Championship.
Dean Wilson just hasn't been able to display the magic we know he has inside him.
Plessinger's 2019 has been rough and tumble in every sense.
Kawasaki's decision to skip the Motocross of Nations has taken criticism from fans.
Bold Predictions
Honda HRC builds Kenny a cooling hose, a la NASCAR suits, to help with the humid conditions Saturday.
Eli Tomac goes 1-1 and I completely give up on making sense of it.
Adam Cianciarulo wins the overall after qualifying fastest.
After Steve Matthes shaved his goatee for Unadilla, he shows up to Budds Creek with a mohawk and pierced eyebrow.
Joey Savatgy is rumored to sign with JGRMX/Yoshimura Suzuki, Honda HRC, SmarTop/Bullfrog Spas/MotoConcepts Honda , Cycle Trader/Rock River Yamaha, TPJ Racing, 3D Racing, Tecate Kawasaki, Chesterfield Yamaha, Great Western Bank Kawasaki, Lorenzo Locurcio's "Call Me Maybe" effort, and TwoTwo Motorsports.
My Picks
250
Adam Cianciarulo
Dylan Ferrandis
Chase Sexton
450
Eli Tomac
Marvin Musquin
Zach Osborne