New Berlin, NY
Unadilla
Lucas Oil AMA Pro Motocross Championship
It happens quite often. Late in the season, the riders with a title on the line pick up their pace and go to another level, and that's what has happened with Monster Energy/Pro Circuit Kawasaki's Adam Cianciarulo and Monster Energy/Star Racing Yamaha's Dylan Ferrandis. The two have distanced themselves from the rest of the field in points, and turned in fantastic one-on-one battles in the motos. After a classic at Washougal, the duo hooked up in both Unadilla races and split the results, with Cianciarulo taking second overall with a 1-2 and Ferrandis getting the win with a 2-1. They've combined for the last five moto wins in the series.
Steve Matthes talked to both of them after the race.
Dylan Ferrandis | 2-1 for first overall in the 250 Class
Racer X: It's fun watching you and Adam. You guys are really pushing each other. You're going to new levels. It's cool to watch, man.
Yeah. I think it's cool because from my point of view it's tough. Especially in the first moto, I try everything for pass him, attack everywhere, and tried to push him. I gave everything I had.
I think he would say the same for you in the second moto.
Yeah, for sure. It was two tough motos. I think for the show it's good, but for my point of view I wish he could have made a mistake and I could have gained some points.
You're running out of motos.
Yeah.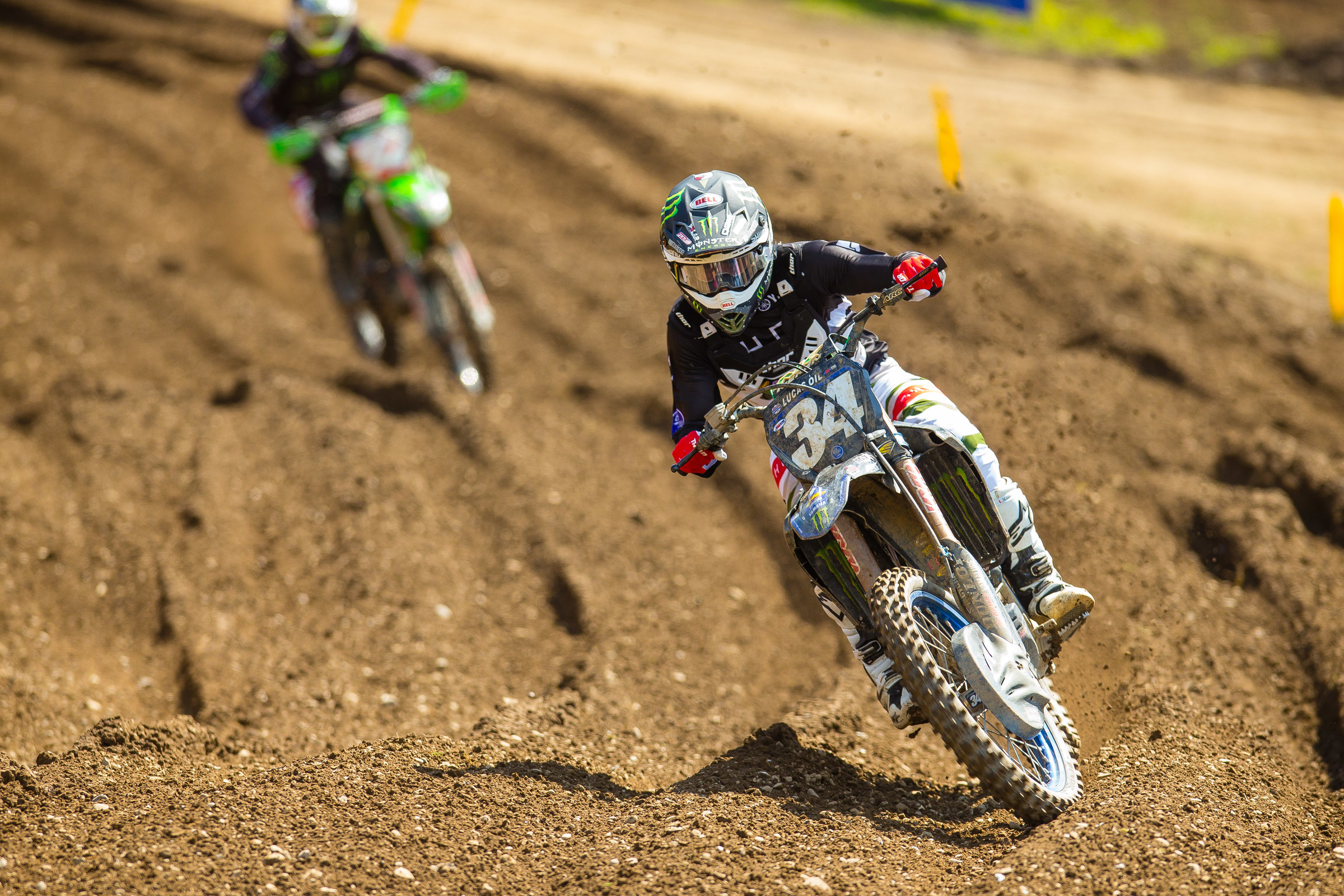 Good track for you here. You did well last year, of course. Today you took the overall. Is it too easy to say that it's a European track? Is that too easy?
It's not a European track. I don't know why everybody [says] that. I never see a track in Europe that's 2:20 the lap. It doesn't exist. It's not European at all. There is uphill, downhill, everywhere.
There's big jumps on it.
Yeah, also. So I don't understand why people say that. It's just a gnarly track. Especially today it was tough. Big ruts everywhere since first lap of the first practice to last lap second moto, ruts everywhere. Long ruts, big bumps. Honestly it was tough physically and technically it was difficult to manage this track and get the flow every lap. So really happy to get the win today.
In the second moto, you guys were doing the same lap times for I think five laps in a row. They weren't exactly the same, but they were 2:17, 4, 6. It was incredible. You guys were just matching each other.
DV told me already. His best lap and my best lap are like 0.001 difference. It's crazy. I think we are completely different riders, but we have kind of the same speed. It's just about not giving up. The first to give up will get beat by the other. Just give it all and don't give up. We try. We both try to push the best we can to the limit.
I like it. It's exciting. Then after the finish, you guys handshake. You both want to win. You both want to beat each other, but you're being professional about it. You're being cool about it. I like that.
Yeah. It's not really about being professional or whatever. It's just I'm working really hard. I know what I do every day, every morning when I wake up. If he beats me, I know he's doing the same and work as hard as I do so I have respect for that.
Adam Cianciarulo | 1-2 for second overall in the 250 Class
Racer X: You guys tied in points today, so I guess that's the important thing. You didn't lose any points today. Really good battle. You started out front first moto. He couldn't get you. Reverse that for the second moto. You guys are pushing each other. I just told Ferrandis that there were three or four laps where you guys were almost the same times. It was cool and it was intense.
Adam Cianciarulo: Yeah. I think it's tough for me. Having a lot of good races this year in the past, obviously second would have been awesome, but now it feels different. It kind of feels how it felt when I was an amateur or something. The expectations are just higher now, which I guess is a nice thing. So even though we did what we came here to do in the sense of basically the weekend is just a wash, two less motos to do it, but it's hard for me to accept second at the same time. So I do put my best foot forward. On a track like that out there too, we're racing the track so much. It's not like we can really be going back and forth out there more. I know we didn't really go back and forth at Washougal, but that's kind of more of a track that you would duke it out on. This track you have to be so much faster than the guy ahead of you. Second moto, I made a big mistake right after halfway, hit neutral and then Chase [Sexton] was right on me. Dylan gained maybe five seconds on me that lap, it felt like. So it took me the rest of the moto to get back to him, whether he's managing the race or not. I felt great. So I can't fault my riding. I feel really good right now. Just trying to limit the super risks. He's going super fast. I'm going really fast too, so in order to really make a move, and especially in his position—he's wide open, nothing to lose. Worst case scenario, he goes down, gets up, gets fifth, gets second in the championship or something. He's not sweating it. For me, I've got to be smart sometimes. But at the same time, I'm going to be going for it. The last four motos I need to do my best every time.
I think you're right. I think looking back on it when we rewatch it, the track made it so. It's not like you could go, I'm going to go inside and drift to the outside and cut back in. You can't do that. You literally get stuck in a rut.
Yeah. Unless you see something like [Eli] Tomac at Washougal where the guy is just way better than everybody that day and can make anything happen anywhere, a track like this… We have tracks like this on the circuit where you're racing the track and it's kind of a circumstance race. If you're up front or in this group or happen to… That's why I thought I made a good pass on Justin Cooper there in the first lap of the second one. I could have spent the whole race behind him and Dylan could have won by 20 seconds. Who knows? So it's stuff like that that's important.
Your 450 deal was announced. It was the worst-kept secret in the pits, but good for you. You've got to be looking forward to that.
Yeah, totally. Obviously as a little kid, I know it's kind of cliché and whatever but really I always wanted to ride for Mitch's [Payton, team owner] team and I always imagined myself obviously growing up riding with RV and all those guys and just always imagined myself being there. So it's cool that I've been able to show enough potential for those guys to believe in me. I certainly think that I'll be competitive and stoked to have my foot in the door and just get in there and learn.