New Berlin, NY
Unadilla
Lucas Oil AMA Pro Motocross Championship
Monster Energy Yamaha Factory Racing's Justin Barcia put in a solid third-place finish in the first moto at the 2019 Unadilla National—his best moto finish of the championship. In the second moto, "Bam Bam" got another good start but a crash put him around 15th place. He fought up to the top ten but was challenged by Rockstar Energy Husqvarna's Dean Wilson. The two have had their battles on the track in the past and they went at it again for the remainder of the moto. When it was all said and done, Barcia bested his competitor and finished tenth, giving him sixth overall on the day. Wilson finished 8-11 for tenth overall. The action for several laps of the second moto was quite amazing, though.
Afterwards, our Steve Matthes caught up to both riders.
Justin Barcia | 3-10 for sixth overall in 450 Class
Racer X: First of all, never mind the first moto. We'll get to that in a second. When you and Deano get together, we need to sell tickets to that. Honestly. It's great.
Justin Barcia: It was a great battle. Deano came up to me after the race like, "You tried to kill me!" I'm like, "No."
He said, "Good battle, but you're trying to kill me."
That's what he thought, but I never tried to kill him because that was like 250 days. But I heard his team was ragging on him a little bit. Everyone saw where he thought I tried to kill him and they were like, no.
From what I saw, I didn't see really any dirtiness. I just saw a really good battle between two guys who probably don't like each other.
I don't not like Dean. I don't think we'll ever be friends just because our history. Sometimes I think we're okay, and then sometimes I'm like, he probably doesn't like me. But I'm cool.
Between supercross and here, it's fantastic. Both you guys had your best lap of the moto when you were involved in that race because you were going to die before you let him by.
A hundred percent. I was trying to catch the dudes in front of me and it just wasn't really happening. Dean came up and harassed me for ten, 20 minutes.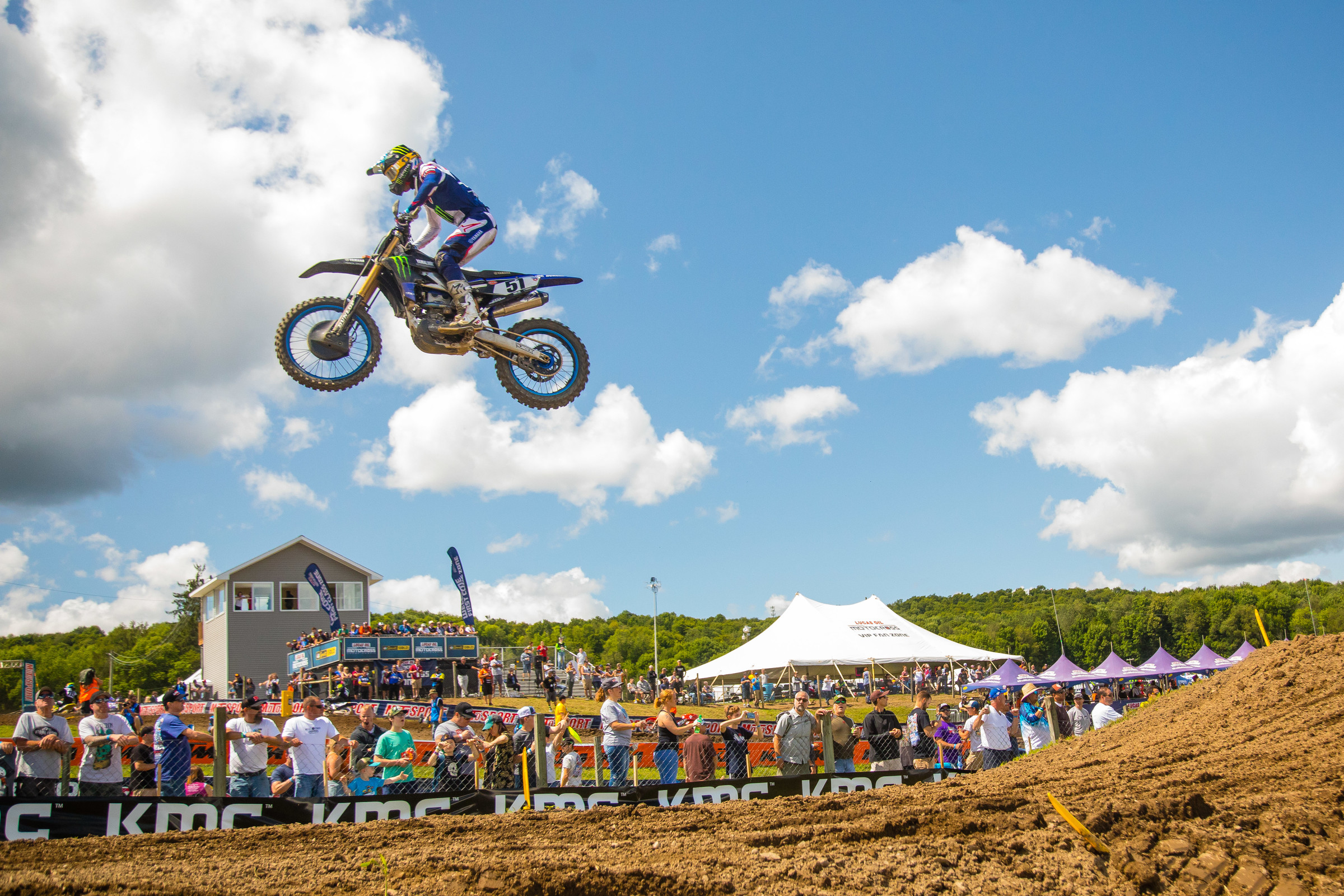 First moto, fantastic. Good to see that. You've got to be stoked. That's what we remember from you.
Yeah. Just the work that went in on the off-weekend. I felt I made progress a few times this year [but it wouldn't work out in the races]. It worked good at home. It worked in California. I was like, we'll see. I'm not getting my hopes up, but it was [finally] good [in the races]. Made some good progress with the bike and it showed the first moto. The second moto I was probably too excited and just charged really hard. Just tucked the front end.
Kind of the same place you did last year, right?
Yeah, but last year I took out a trail rider [Kailub Russel, a GNCC champion who was making his Pro Motocross debut] and all that good stuff. That corner, I told people, I'm like, I'm bringing holy water next year. I'm splashing it on that corner. We're going to get that thing figured out.
That had to feel good though to come through the pack. You were fifth or sixth or whatever.
I rode super good in the first moto. Finally felt comfortable and like myself, which was nice because it's been a tough year. But we've got two more races and I do feel like I can do a podium.
I talked to Travis Preston, buddy of mine, and he told me he's been helping a little bit with some stuff [Preston works in Yamaha's production testing department]. What has he been helping you with, do you think?
Yeah, huge shout out to Travis and the boys at the test department. We were just trying so much stuff and I think we were just kind of lost. I know what I want, but we weren't able to really figure it out. TP and our other test guy went to Washougal after the race and rode my bike, rode the new bike, did some testing, got us a base setting, I would say. Then I came to California and rode it and progressed from there a bit. So I give that first moto to TP for sure.
One of the things he told me was he's not sure if you and Aaron Plessinger, you know what you want but maybe you're not using the right words to tell the guys.
Yeah. That was the pretty cool thing after Washougal. They were there for the race and we had a meeting upstairs and TP was there. He understood what I was saying. I think the team does as well sometimes, but obviously riders… And I'm not the best tester in the world, by any means. It was good to have TP there and kind of talk moto lingo as riders. It was really cool because the things I said about the bike that I've been really struggling with, he felt those things at Washougal on Sunday. So at least I didn't feel like a complete idiot, making up things. So it was cool that he felt that and they were able to tackle those little issues. Are we fully 100 percent there? Probably not, but we're going to start on a new bike here soon and supercross is next.
A couple teams that I've been on, or a couple teams that I've read about, when they get a little lost or when riders are struggling, you go back to a base, stock setting, and I mean a bone stock bike, and you almost start again.
It was tough because I came in with my hurt wrists and didn't get to do a lot of testing. Lost probably most of the season, struggling myself getting fit. Probably a great idea. Easier said than done sometimes probably, but we should have done that.
You don't come here a lot, but you're from New York. Always a special place to come back?
Yeah. The fans are so awesome. It's the best place to come. I feel like I'm at home. I love these fans up here, man. They make me feel so good. I did an interview over there with Weege and I felt like I won because the fans were so stoked. But I was like, "I didn't, guys. Sorry."
Dean Wilson | 8-11 for 10th overall in 450 Class
Racer X: I was tweeting about this. There is nothing better than when you and "Bam Bam" get together, whether it's supercross, whether it's outdoors. In the second moto, that was a battle. It was actually pretty clean, I think.
Dean Wilson: No, it was good. I was happy with it because I rode decent. He got third the first moto. We were pushing a good pace. But honestly, I was getting roosted so hard. A rock spat up, broke my GoPro. I got hit in the chest and I also got hit in the balls, and I was hurting. All in all, it was good. He got the better side of me. It's all good.
Fairly clean.
It was fine. He was still typical Barcia. I should have known better.
I think it was funny that you were coming up on him and then he saw it was you, and it was on.
Oh yeah. Honestly, I would like to see the lap times because he upped his pace big time. I don't know. I kind of let that one slip, but it's all good. It was a fun race. I told him after the race it was fun battling, but I was like, "Dude. Why do you just try to go so hard on me every time?"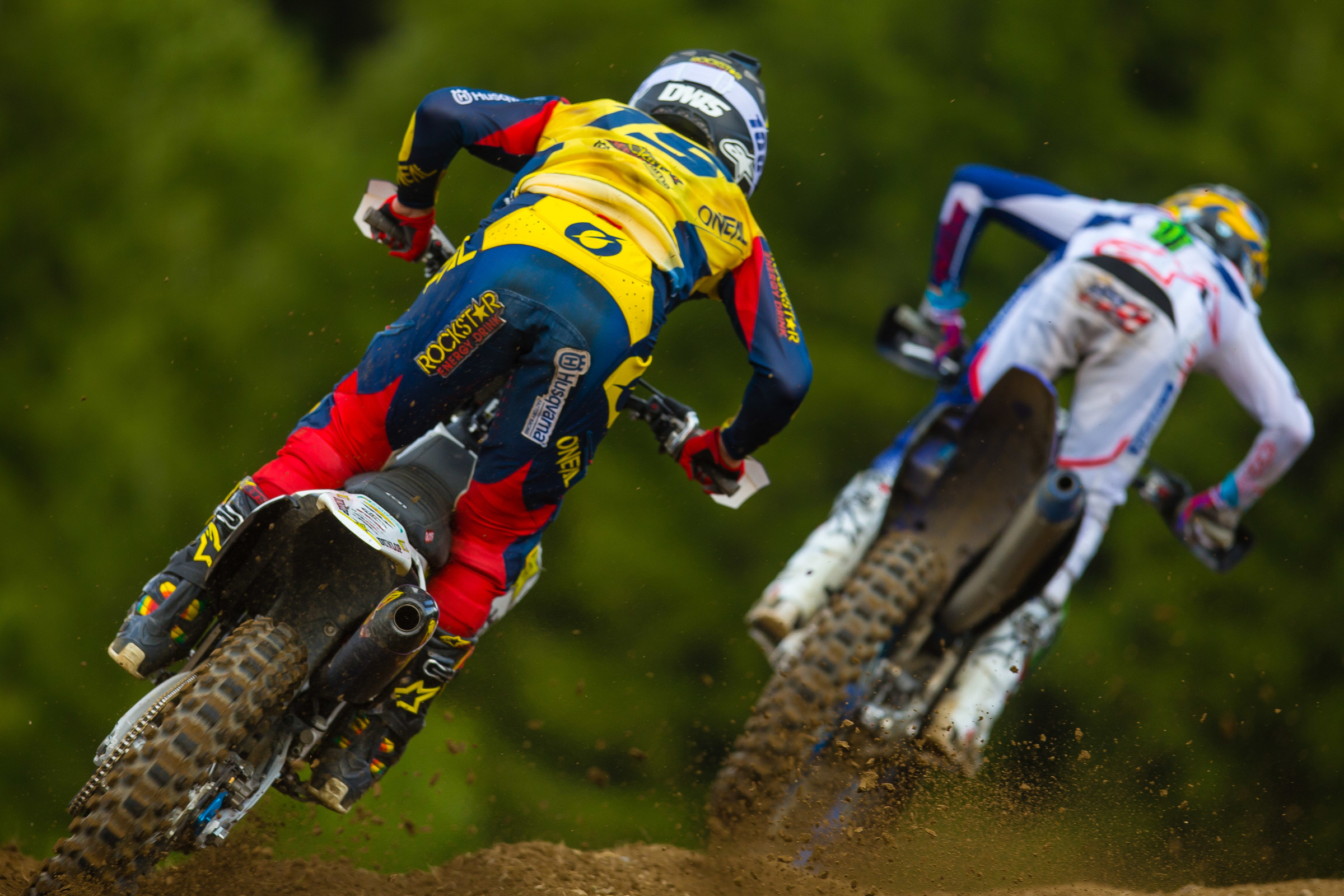 When he puts his helmet on something happens.
It was pretty funny, but it's all good.
Not a great day for you. Starts weren't there, from what I noticed. Then you kind of just spent every moto, every lap kind of trying to come up.
Yeah. I'm actually not real bummed on my day because I'm not really trying to win races. I'm just trying to put my time in, really. With my shoulder, I'm not even close to being 100 percent. My shoulder is really far away from it. It's weak and I have no strength in it. So, really, I didn't race outdoors last year so I just want to have a solid bike setup so when I come in next year I have something comfortable. Eighth the first moto, which was fine. Kind of my own deal. Then the second moto, bad start. My lap times were pretty good. I had a solid effort the whole way through. Not super bummed on it. Just my starts sucked.
I was telling you, I think we should sell tickets to you and "Bam Bam," like a one-on-one thing in Geneva or Bercy or whatever they do. I'll pay money for that, all day.
Yeah, we could make good money off of that. No, it's fine. I want to keep my legs intact.