Inside the Pro Circuit Shop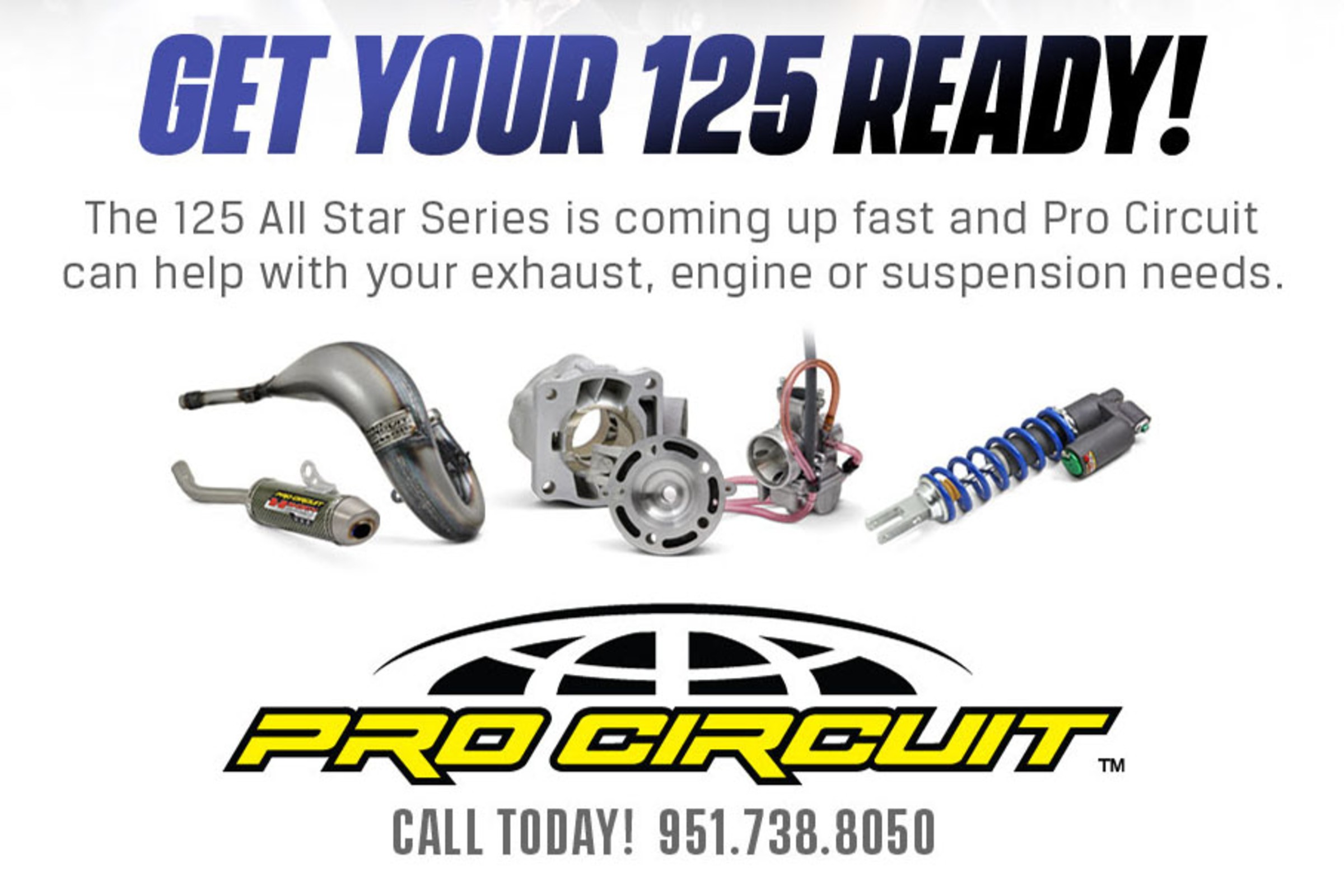 Product Feature
Highlighting suspension fluids might not be the most flashy thing we've ever done, but if you've been a fan of Pro Circuit long enough you know we are all about the best suspension setup. In order to withstand the rigorous demands of motocross and off-road racing, you need to keep all your parts at optimum performance.
The Pro Circuit PC-01 Cartridge Fork Fluid is the finest suspension fluid available for today's sophisticated cartridge fork systems. Bottled by the best, Maxima Racing Oils, PC-01 provides superior lubricity for smooth action and an additive to prevent foaming and extend seal life. The high VI rating will ensure consistent damping at high temperatures.
The Pro Circuit PC-02 Gas Shock Fluid is just as important. Like the PC-01, it's formulated specifically for racing applications and includes additives to extend seal life and help control aeration upon assembly. It's intended to endure extremely high temperatures and long-term abuse that are seen with the latest pressurized systems. The high VI rating prevents fade and has superior lubricity to protect against anodizing and the wearing of internal parts, which is of high importance.
Rounding out the lubricant family is the PC-03 Seal and O-Ring Grease. This should be used on any seal and o-ring during assembly.
The PC-01 and PC-02 fluids are available for $24.95 each. The PC-03 is available for $12.95.
Back in Stock
Pro Circuit is known for squeezing every last bit of power out of its products and now 2019 Suzuki RM-Z250 owners can get a taste of that extra power at a minimal cost.
The all-new High-Compression Piston will give your Suzuki a significant boost in low-end torque and high-RPM performance. You'll be hard-pressed to find someone who isn't a fan of more power! The pistons are forged from high-quality aerospace aluminum alloy using advanced CNC-machined technologies and are manufactured by JE Pistons—a company that has been supporting the Monster Energy/Pro Circuit Kawasaki team for years.
All this superior quality and exceptional power is available for only $394.95.
Inside the Shop
Get Your 125 Ready for the All Star Series
With the success of last year's 125 All Star Series at the Lucas Oil AMA Pro Motocross Championship, the series has expanded to all 12 rounds of the championship. Now there is more opportunity for riders to take part in a fun four-lap race on the same day the pros are turning laps.
Pro Circuit's dedicated service department can help you get ready for the season and, of course, after the season has started with ongoing maintenance. Whether it's simple tasks like oil and tire changes, or more intensive engine or suspension work—we have you covered!
Give us a call today and we'll let you know how we can help you!
Deal of the Week
The item of the week is a deal you'll want to jump on today! Now, 2010 - 2014 Suzuki RM-Z250 owners are going to save BIG, getting this T-6 Stainless System for ONLY $400! This sale is good until May 12.