Nashville, TN
Nashville
Monster Energy AMA Supercross Championship
Ryan Dungey has made his name synonymous with St. Jude Children Research Hospital, starting with his charity ride and run following the Spring Creek National (coming again July 21, 2019 to the Afton Apple Orchard). Starting in 2017, Monster Energy AMA Supercross and Feld Entertainment came on board with the charity as well, and now nearly every rider in the pits participates in the This Shirt Saves Lives fundraising campaign.
Today, an auction began with some high-end supercross swag, all raising money for St. Jude. You can view the auction here.
Last weekend's Nashville Supercross was exceptionally big because St. Jude is located in Memphis, Tennessee. Several supercross VIPs, including Dungey, of course, made a visit. Defending supercross champion Jason Anderson came out for a meet and greet on Thursday.
(St. Jude, by the way, is a hospital for children with cancer. The goal is that parents will never see a hospital bill, so they can focus on their child and treatment instead of stressing over expenses.)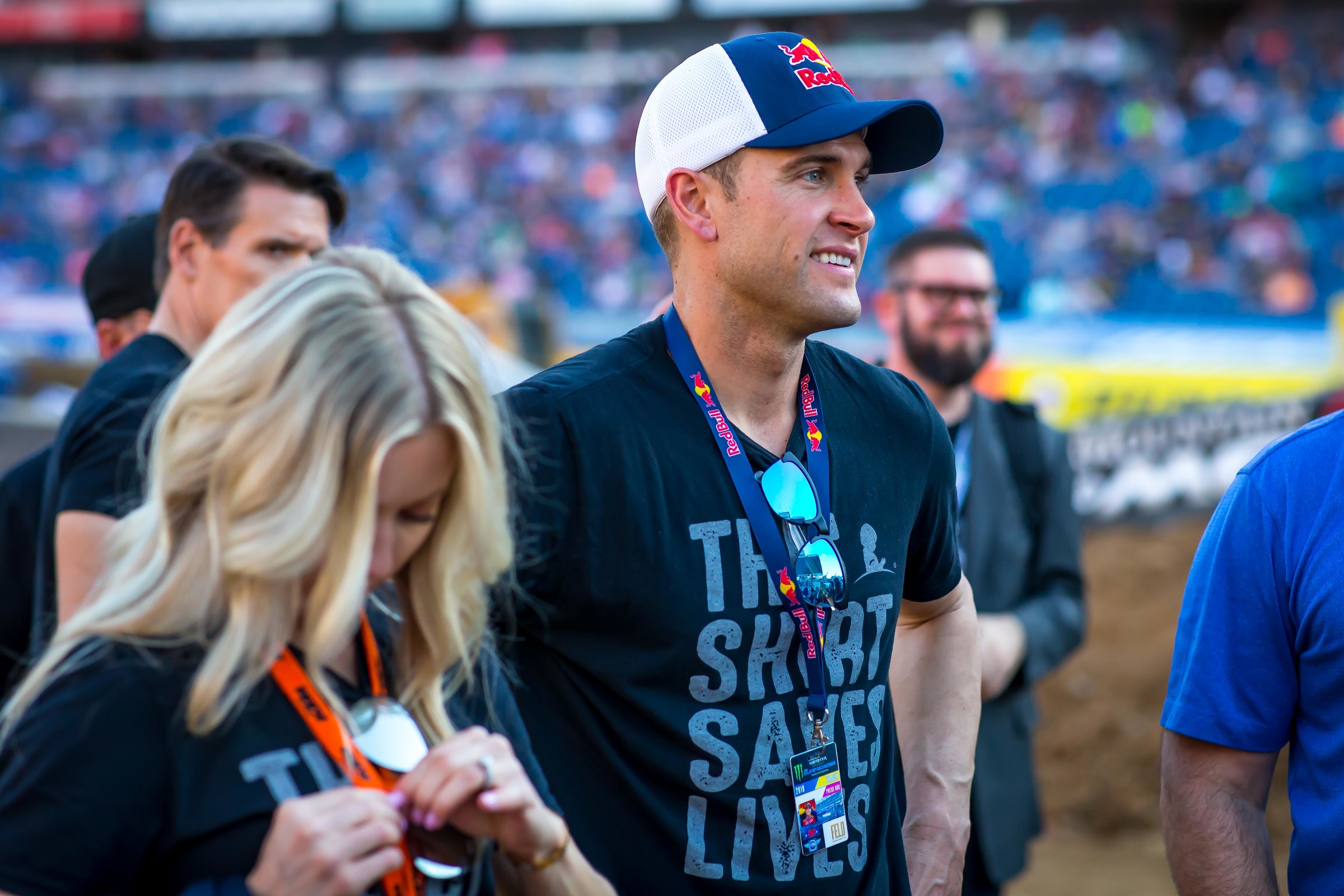 Dungey's ties with the program run deep, including his connection with a child named Gabe, who started riding dirt bikes at age six, and racing at age seven. Gabe, now nine and a patient at St. Jude, is in a wheelchair. He was successfully treated for medulloblastoma, a cancerous tumor of the brain, but has posterior fossa syndrome (PFS), which can follow brain surgery and affect speech, language, motor skills, and mood.
Some cases of PFS are mild and only temporary. Gabe's is severe, so much so that when he arrived at St. Jude for treatment in April 2018, after surgery near his home in Illinois to remove the tumor, his mom, Andrea, says he couldn't do anything more than open his eyes for a second.
"So pretty much his brain has to relearn how to do everything," she says. "That includes breathing, talking, walking." She says there's been "major progress," but, "A lot of it hasn't come back."
Gabe is now cancer free, but still in recovery. He was Dungey's special guest at the Minneapolis Supercross and again in Nashville. You can read more about his story here.
In Nashville, Dungey and Andrea explained the connection.
Racer X: When did you first get to know [the] St. Jude [program], and what's the story of the origin there?
Ryan Dungey: For me, it actually started the beginning of 2005 with my grandmother and battling cancer and everything like that. I was looking for a way to give back. At first I was thinking of a foundation. I actually had a partnership with one of my sponsors, Target, and they brought us down to the Target House [the long-term lodging facility for St. Jude patients and families]. We got to see that and hang with the kids. They had a huge party and everybody was outside hanging out, so that was kind of my first experience with it all. Then shortly after we got the tour of the hospital. That made up my mind. This is the place I want to support. Shortly after that we actually created a charity bike ride up in Minnesota called the St. Jude Ride and 5K run. A hundred percent of the proceeds go to St. Jude's, so that's kind of the whole tie-in, but in the beginning it was the Target House. I kind of got to see everything in person.
It's one thing to see it from afar, and everybody respects what St. Jude does, but how different is it once you get to meet people like Gabe?
To talk about it is one thing, but then going there and seeing it first-hand. You always hear how life-changing it is, but it really is. Every time I go to St. Jude's and get a tour and I see the place and I learn more about whether it's the research on the patients and how they take care of the families from never receiving a bill, to tailored treatments for each and every individual kid going through cancer or whatnot. But for me, it's been really inspiring just to be there and help and give back. Watching my grandmother go through it [cancer treatment], I felt helpless. Like, what can I do? But there is a lot you can do. The place runs off of funds and donations through individuals and partnerships. It's also amazing how this all came about with Gabe and meeting him and his family and hearing his story.
We were just visiting St. Jude one day and doing the tour, and actually Feld was with us as well. They [Gabe's family] didn't even know we were even coming, they actually saw it on social media that we were there the same day they were. We were doing a little signing for all the kids and stuff. When that was completely done, we were getting ready to leave and here was Gabe. His mom called and was like, "Hey, are you guys still here?" We were just going out the elevators to the next building. So, they came over, we met, and shortly thereafter we were like, we got to get him to a race. It's pretty amazing. Gabe grew up racing KTM 50s, so there's kind of that connection. It's pretty special. They call it St. Jude moments. It really was a moment. I think all of us were speechless.
How do you guys feel about the link now with supercross? Obviously there was a connection to Ryan before, but now coming to Nashville it was actually a much bigger scope, much bigger spotlight.
Andrea, Gabe's Mother: Absolutely. It's been just absolutely amazing, just seeing everybody that's been helping out and getting us here and getting us to come, hang out with Ryan and hang out with the rest of the riders, and able to experience this whole event. So it's nice to see an upbringing, just happy moment in a very hard situation.
So you folks were into riding motocross. At the hospital, you could have met a [NFL] Titans player or a celebrity from something else. It just happened to work out that the sport that you folks were into happened to have Ryan Dungey stopping by the hospital. That's really fortunate.
Andrea: Yeah, dirt biking was Gabriel's passion before he came here. He raced 50's. Ryan was like his, "I'm going to be him one day." So when he came to St. Jude I was like, oh my gosh. We missed him. We didn't think we were actually going to get to see him. Then we go up there and Gabriel's just like star-struck. Just kind of stared at him and didn't really say anything. He was just like, "Is this really happening right now?"
Ryan, you were kicking around the idea of a foundation or something charitable even in your earliest days. I don't know any other riders that necessarily are doing that. So what was your inspiration for that?
I think prior to turning pro, it kind of was like, what can I really do? Then I was able to turn professional and I realized very quickly that's a huge platform. It was actually funny—I was sitting on the plane the other day and I totally forgot, but we were in the mix of creating a foundation, and I just saw the olds emails. So, I was in the middle of that, then we decided not to go that route and create a charity ride for St. Jude's. I always wanted to do something. Life's bigger than each of us. I feel like I was really fortunate, even going through it as a racer, to do what I did for a living, but ultimately I think you look at life in the scope of it and what's really life about? Racing's pretty small compared to a lot of things. Meeting Gabe, I never really realized it, but that hope for him and the motivation to get through it to the other side, and now he is cancer free and he's moving forward, we all need that. I think it's important, especially to have a good attitude when you're going through situations like this and just to be a light to other people.
You have even said toward the end of your career it almost helped take the pressure off from the racing side because you were seeing everything from a little bit bigger perspective than just the result at the end of the night.
Yeah, it did. I hate to use that. I never want to utilize this to benefit myself, but I think it put things into perspective for me. We get all upset that we get third place, and then you walk to this hospital and it's like, they're the real heroes. We're a bunch of maybe drama queens sometimes, what we're going through. [Laughs] It's true. I always wanted to appreciate what we did for a living, what I got to do for a living, and never wanted to take for granted that you get to race for a living.
Are you happy that this can get bigger? Nashville having a race is only going to help.
Yeah. I couldn't have ever imagined. I hoped, I guess, that it would grow and get to a point that the community would get involved, but then for Feld to kind of come on board and to get behind this, they have such an influence and such a voice, and now we have so many riders, too. St. Jude runs off of donations, so the more money we can raise, the better. I don't feel guilty saying that. In the 1960s or 1950s there was a 20 percent overall cancer survivor rate and now it's 80 percent overall cancer survival rate. They're going to keep pushing. I just think that the more we can get behind it, the more money we can raise, the more good we can do and the quicker they can accomplish their mission and hopefully end these unfortunate deals.
Does Gabe have a new favorite rider now?
Gabe's mother: I think Ryan will always be his favorite. He does stick with the KTM. He likes Marvin [Musquin], but he enjoys the Seven Duece Duece [Adam Enticknap]. He likes rapping with him and hanging out with him.
How did this go from Ryan Dungey's deal to something all of the riders would be involved in?
Sean Brennan [supercross public relations]: Well, it all started with his ride. The first year, Fox ended up doing a custom t-shirt, but it really was around one race, Minneapolis. We didn't know that you [Ryan] were going to retire at that point, but obviously Ryan's hometown, we wanted to make it big. So it really started very simple around that shirt, wanting to back our supercross champion, and really supporting what he was supporting. The "This Shirt Saves Lives" campaign, it started off in the country music community with Country Cares, and then we just really embraced it. We didn't know how involved the supercross community was going to get, to be honest with you. We just made it available in Minneapolis. That's all we did that first year, right? But it was so embraced, especially the digital campaign. Once we had all the assets and hit go, it was like everybody embraced it. We've never had a rider say no to doing it, and a they all give us their time. Jason Anderson, he flew in to Memphis this week just so he could do the St. Jude's visit. That's just a great thing that he did.
The response from that first race was so strong, I think at that point we were only going to do it around Minneapolis and maybe two, three, four races tops. We ended up leaving open the text to donate all the way through the final. We ended up raising $106,000 last year. I think it was just overwhelming with how much the community embraced the whole thing. We met in the off-season at St. Jude with Ryan, Steve [Yaros, Feld vice president, global communications], a few from our exec team. We did a hospital visit. We brainstormed, and that's what led us to being here. Again, we wanted to kick off in Minneapolis, but we really came up with a plan for the entire season so that we could go bigger, raise more funds, and certainly do as much as we can for the kids. So, that's where the idea of this race came into play, for "This Race Saves Lives." We knew that this being the home race of Memphis and closest within proximity, that's not by coincidence that Nashville ended up being on the schedule this year. That's just amazing to me. So that's how we're here.
You're saying that's not a coincidence?
Brennan: That's not a coincidence.
This is a big reason why this race is here?
Brennan: This is where my faith comes into it. That is somebody way, way up above… That's all I'm saying. But our online auction I think is going to be fantastic. You're seeing all of the bikes out in the pits and in the paddock, on the racetrack with the graphics. The support that we were seeing from the community is just overwhelming. So, this online auction we're hoping will be super successful. We're going to kick it off on Wednesday. So, that's why we're here and then we hope in the off-season that we'll come up with a bigger plan for next year and years beyond as well.
If you would like to donate to St. Jude, you can do so here.