Nashville, TN
Nashville
Monster Energy AMA Supercross Championship
For a solid ten minutes in the 250SX main event in Nashville, Cycle Trader/Rock River Yamaha's Brandon Hartranft was locked into the battle of a lifetime while fighting with JGR/Yoshimura Suzuki's Kyle Peters for third. Hartranft would finish a strong fifth place, but admits he wants more.
Feeling confident heading into the two week break—this weekend's race in Denver is a West Region round and then the series is off for Easter—he told us that the next couple weeks at the practice track—he's actually to Thunder Valley this weekend in Lakewood, Colorado, to do some outdoors riding—will be less stressful and he looks forward to getting after it.
We caught up with Brandon during the post-race press conference in Nashville.
Racer X: Solid night for you tonight. The first ten minutes of that main event were probably the most intense ten minutes of your life. Talk about it.
Brandon Hartranft: [Laughs] Yeah, I knew I was in third. I want to get on the podium so bad for our team and for my sake. The first ten minutes I was just hitting my marks, just solid third place. I knew I was going to catch [Mitchell] Falk. That first ten minutes was awesome. I feel like I blew up a little bit. I've never been in that position. So, Kyle Peters got me and right after that, [Chase] Sexton and Justin [Cooper] were right on me. That kind of blew me up a little bit. [I finished] Fifth, I'll take it.
For the situation you were in where you could have just been freaking out inside your helmet, it looked like you were kind of in the moment and just doing your thing in the race. Were you freaking out or were you pretty chill?
No, I was very calm. I was just trying to focus on hitting my marks and not crashing in the whoops, because tonight the whoops were claiming people all day. I just kept hitting my marks. I've trained all week for the last five years, so I know how to ride. Can't think too much. You just got to hit your marks and breathe. Like I said, I haven't been in that position so I wasn't breathing too much.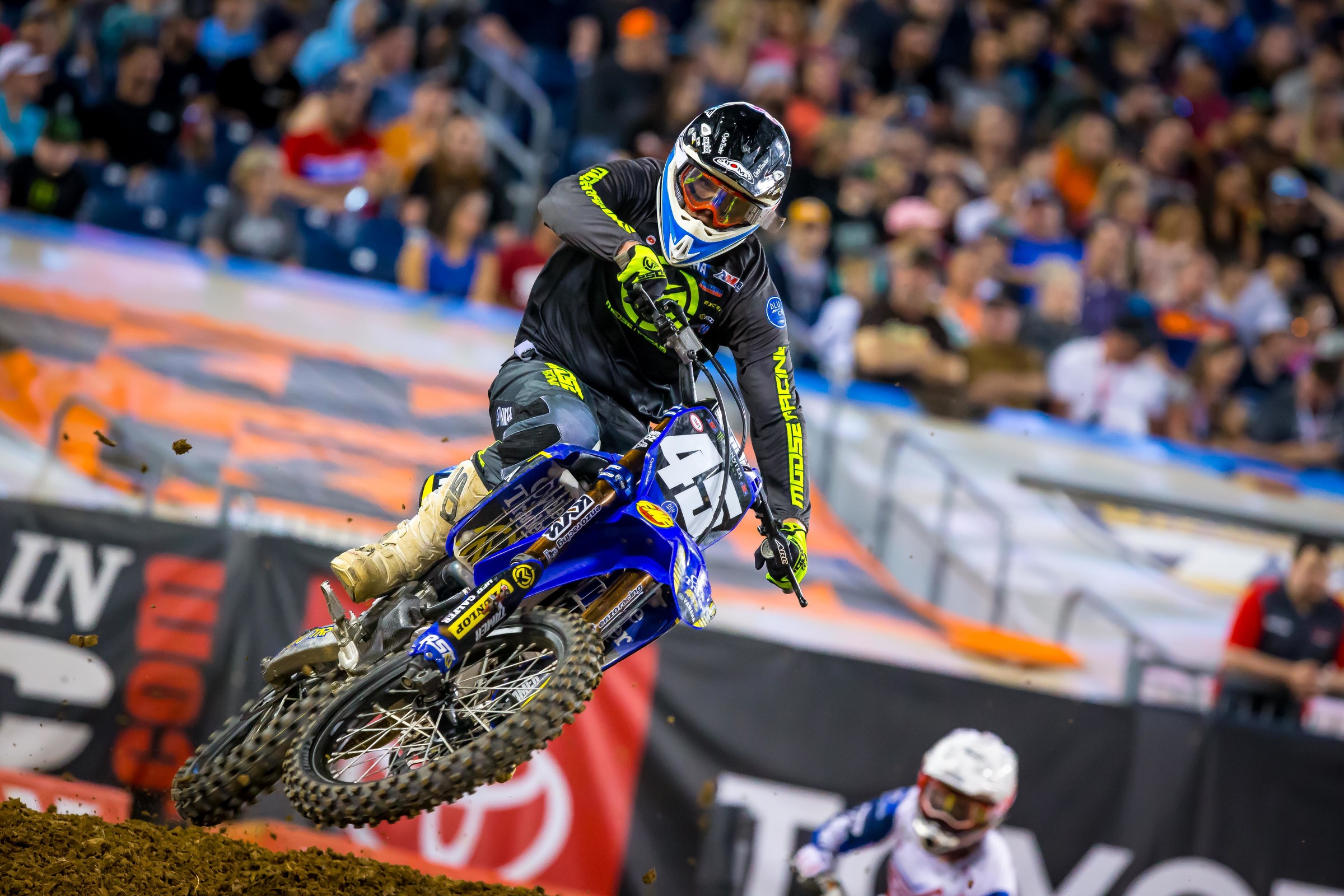 It's hard to duplicate race situations. Talk about the intensity you were in. I'm sure when you train during the week, it's not near the slugfest that you were in tonight?
Definitely. During the week I'm not riding with some of the baddest dudes of our sport, and the tracks when we ride during the week we're so adjusted to them, so you know the breathing points. When you go to a race you're never really too comfortable at a race because you're not used to the track, the whoops are bigger, the rhythms are bigger. So it's definitely not the same when you're riding during the week.
You ended up fifth. Are you happy with that or does it just make you want more?
I'm personally never satisfied. I want to get on the podium and I want to win. I want to be a champion someday. It's just you got to start somewhere.
Overall, how would you rate your season so far?
I would say for our season it's pretty good so far. The first three rounds we were having a bunch of bike problems. I just look past it and keep doing my thing during the week. It's just been an incline since round one in positives. So we're getting there. I want to be on the podium by the time the season ends.