Nashville, TN
Nashville
Monster Energy AMA Supercross Championship
When riders at Eli Tomac's level struggle, nothing in the world seems right. In other sports, 4-3-4 finishes over the last three races might seem fine, but everyone knows what Tomac is capable of, and watching him go backwards and get passed seemed to point to some real issues. This year, Tomac had finally made it through the early rounds of Monster Energy AMA Supercross without giving away huge points. He was in position to make a title run. Instead, he… well, he didn't ride like Eli Tomac is expected to ride.
Things didn't look much better early in Nashville. He was 11th and sixth in two practice sessions, and then when he looked good while leading his heat race, his bike broke, sending him to the Last Chance Qualifier.
"It's tough, you can use it your advantage or not," said Tomac about going to the LCQ. "My advantage was I kept my body warm, and I found more rhythm even by racing the LCQ there.
"The track conditions changed a lot," he continued. "I was struggling more early. It seemed like it was still slick, but there was a little more moisture in the dirt at night. I was able to ride it better. The whoops were tough. The edges were there, and they were still really big in practice. Early on, that felt like it was my weak point, the whoops."
None of this seemed like it was trending in the right direction. Then, suddenly, it was. The old Eli Tomac returned for the main event, turning the bad gate pick from the LCQ, and subsequent bad start, into a win, really without any trouble at all. So what has been the problem with Tomac? What did he fix? How bad did it get? We've heard a lot of stories recently, and the fact that the crew chief for his number three Monster Energy Kawasaki KX450, Mike Williamson, chose to leave the team a few weeks back, only added to the intrigue.
We grabbed Eli after the post-race press conference to learn more.
Racer X: Okay, I have heard many of theories about you the last few weeks, and I have come up with many of them myself—the theories, the concepts. I've probably heard 100 different reasons as to what has gone wrong for you. Do you have any idea?
Eli Tomac: [Laughs] I mean, yeah, I either feel right or I don't. You've got to have a big window to feel right, and right now our window has been too tight, for being in the right spot, depending on the track. You know, when it's good it's great, when it's not, I've been going backwards. Tonight, I don't know, I felt the best of any of the races I've won. I was able to manage this race.
This was better even compared to Detroit, when you came from 11th to first?
Well, comparable to that, but it was good to do it in a full-length main. I haven't felt like I've in a full-length main yet, except for Daytona, I guess, but Daytona is different.
But when you're struggling, and obviously it's relative struggling, it's not like you're getting 18th every weekend…
Yeah it's just that I'm going backwards. It was not good.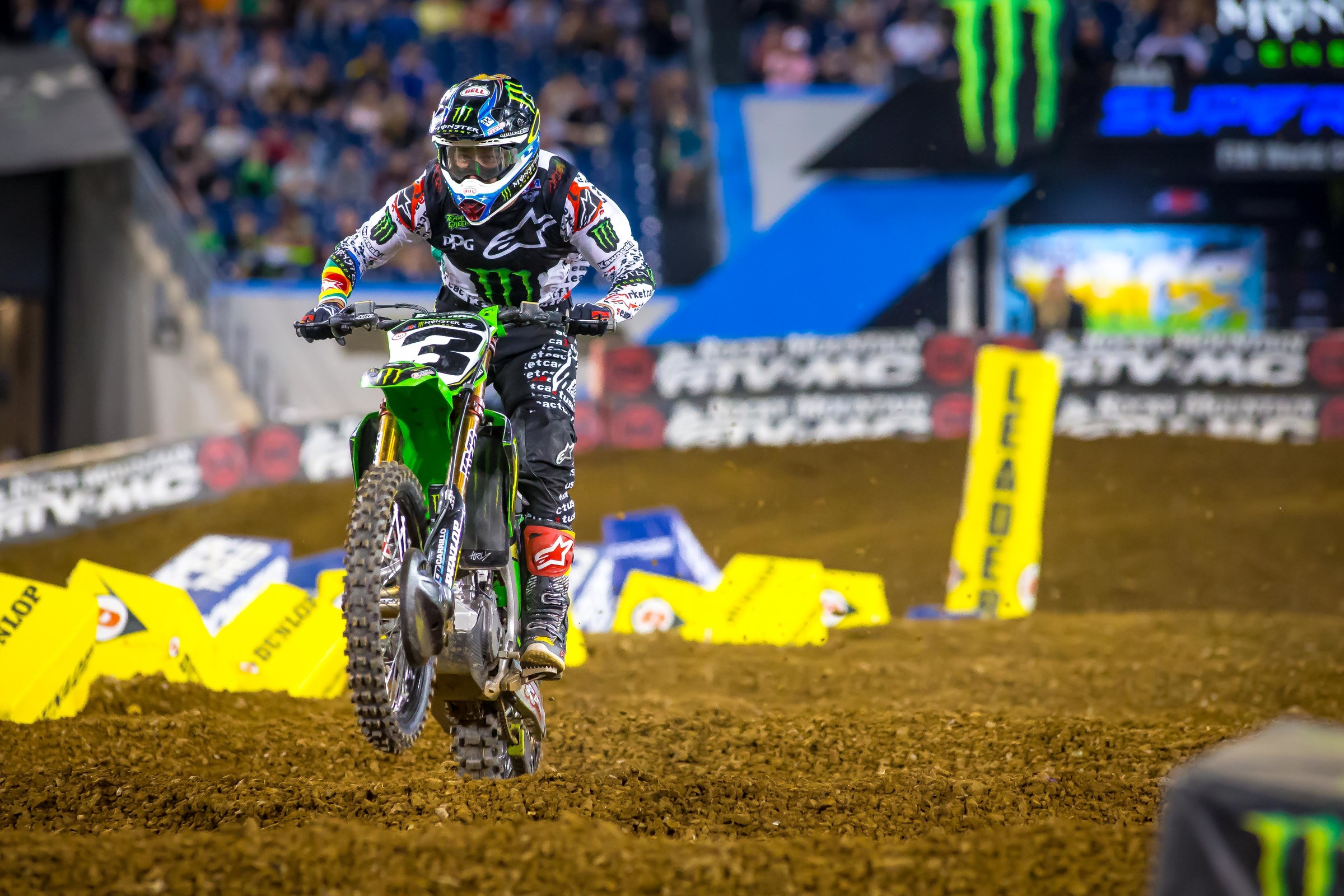 Okay, when that happens, are you reaching full panic? I'm telling you, I hear so many theories. I'm thinking, "Is the dude burned out?" "Does he not want to be here anymore?" This wasn't reaching full career crisis mode, was it?
Absolutely not! I'm not just going to park it tomorrow, no way. I still have some unfinished business. It's just a comfort deal for me, and I know that sounds crazy, but it really is. I've been struggling to be good that whole 20 minutes, and just feel right. That's it.
When you win like this, can you tell exactly what the difference is? Do you at least think you figured it out?
We have figured some stuff out. So there's some improvement there. I've just been stressing on finding that good feel before the season ends, because I did not want to go into next year doing the same thing. Hopefully we've made the right step.
So at some point this year, your goal changed. Forget points, just try to get the feel right, even if it's just to make another run at the title next year?
Yes. Just that feel and being able to make everything work in the right condition.
So in the race tonight, did you get to whatever point in the race when things start to come undone, and then suddenly that just didn't happen?
Yup, exactly.
You know it's going to happen when it's going to happen?
Oh yeah, as a rider you know the feeling right away. Yeah, you just feel it. I mean, I was getting tight in Triple Crown races. And you can't do anything about it, it makes you look so bad. Like last week, everyone thought I literally let Marvin [Musquin] by at the finish. I was just locked up. I went to block the inside, and of course he didn't go inside, he went outside, squared me and then of course smoked me over the triple. I was just blocking the inside and I planned on rolling the jump anyway. But when you're not feeling right, it just makes you look bad. I was just feeling bad! I couldn't ride like myself and hang on.
And let me guess, you're tight, but you're not even tired. You're not winded.
Not tired, not winded at all, no.
So at one point in this race tonight where you like, "Hey, wait, I feel good now."
Yeah, it felt like a practice day.
What kind of start did you get? I didn't even see you the first few laps.
It wasn't terrible, it was maybe eighth or something.
Supercross
| | Rider | Time | Interval | Best Lap | Hometown | Bike |
| --- | --- | --- | --- | --- | --- | --- |
| 1 | Eli Tomac | 48.949 | 26 Laps | | Cortez, CO | Kawasaki KX450 |
| 2 | Blake Baggett | 49.216 | +11.644 | | Grand Terrace, CA | KTM 450 SX-F |
| 3 | Cooper Webb | 49.671 | +13.808 | | Newport, NC | KTM 450 SX-F |
| 4 | Dean Wilson | 49.548 | +18.940 | | Scotland | Husqvarna FC 450 |
| 5 | Zach Osborne | 50.174 | +23.804 | | Abingdon, VA | Husqvarna FC 450 |
Full Results
Could you see the leaders?
Yeah, I actually could, they were close, so I had hope, for sure, right from the beginning. They weren't stretching it out huge right away.
And then when those two guys crashed then everyone was that much closer.
Yup everyone was that much closer.
So, is this a big sense of relief?
If I get two in a row I'll say that! It was definitely different tonight.
And you've been here before. San Diego, Daytona, Detroit. Then the next week wasn't as good.
Yeah but the mudder (San Diego) doesn't count. Daytona doesn't count. Triple Crown (Detroit) doesn't count. This is the first 20-minute main where we were good.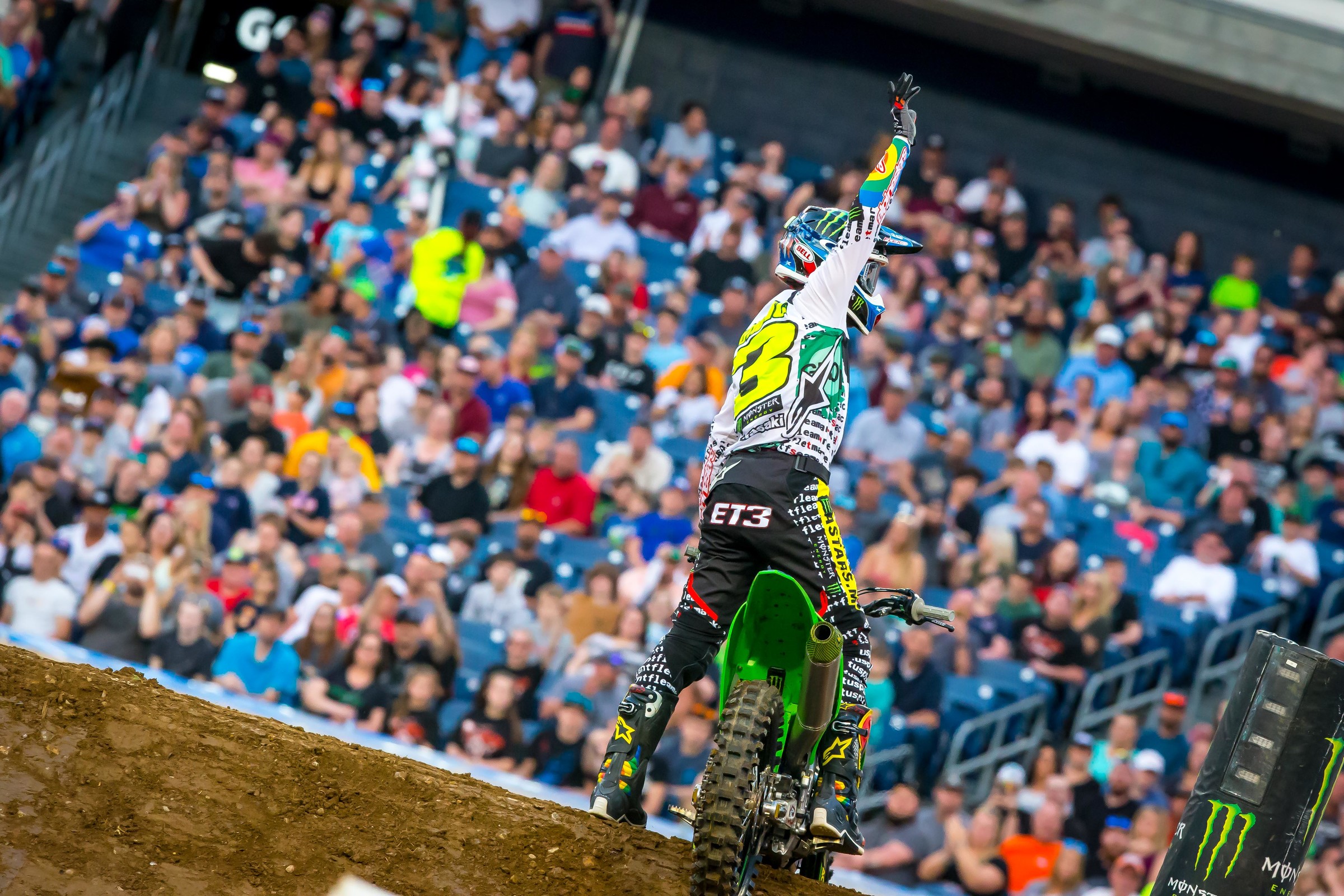 Is this bike or you?
I'd say it's a combo.
Okay, let's talk Denver race. I know you don't live in Denver, but it is Colorado.
Yeah it's going to be cool. I'll fly a little regional flight, don't have to be on a plane for hours and hours. There will be a lot of local people going, some local family up there, it will be fun.
And now you have some wind in your sails. Man, what were you feeling like leaving the last few races?
It just drove me crazy. Like I said, I was to the point where I was more worried about not figuring it out and not having good finishes—still having bad results—by the end of year not figuring out and then having to worry about it for next year. It's not over yet as far as this season, but I was far enough out to where I was already looking toward next year.
Okay but you're not burned out, you're not over traveling, you're not over racing, nothing that bad, right?
[Laughs] No. Well, I am over traveling! [Laughs] But I'm not over racing!