Nashville, TN
Nashville
Monster Energy AMA Supercross Championship
We have changed the format to Breakdown this year. The Racer X staff will pose some burning questions from the weekend and I'll take my best crack at them.
Nashville's whoops looked especially tough. What was different?
They were difficult, no doubt. The two main factors were height and deterioration. Tall whoops create more depth from the crest of a whoop down to flat ground. That depth creates more room for things to go wrong in between each whoop. If a rider drops the front wheel in between two whoops, taller whoops mean the angle of the bike gets more vertical (that's bad). Riders are always looking to keep their bike on a flat plane across the tops of the whoops. In shorter whoops, there is a larger margin for error in that the front tire will hit the ground quicker and the bike angle remains more controllable if things don't go to plan. You can often see this dynamic reflected in riders' entry speed, body language, and general respect for where their front and rear tires are. If the whoops are small, riders won't respect the whoops as much and that means faster, less precise execution. In big whoops like Nashville, though, lack of respect for the whoops usually ends in disaster. Everyone from Austin Forkner to Marvin Musquin to Mitchell Falk to Brandon Hartranft, and more all found themselves upside down at some point. Both sets of whoops were difficult and punished mistakes harshly.
The deterioration upped the ante as the night wore on, too. Riders that wanted to blitz faced ever-evolving lines and those that wanted to jump had to deal with nasty ruts. Musquin is the best whoop jumper I have ever seen and even he crashed in the first set of whoops, effectively ending his chance of winning both the race and championship. The rain on Thursday night softened the dirt quite a bit (as did the rain in previous weeks leading up to the event). The soft whoops changed throughout the day and night, even after being rebuilt once during practice intermission and again before the racing began. Musquin usually capitalizes on that scenario but this time around he was the one that got it wrong.
What did you see with Justin Cooper and Chase Sexton?
Well, Forkner's injury raised the urgency for both. They both knew a win was much more in play and as they were 1-2 after two turns, surely, they both felt this was the time. As Chase Sexton made a move coming back down the start straightaway, it looked like Justin Cooper hopped off the berm to avoid Sexton's pass attempt. I think Cooper moved prematurely based on Sexton's angle but sometimes perception is more important that reality. I think that first pass attempt by Sexton was perceived by Cooper to be more aggressive than it actually was. That perception instigated an aggressive response/retaliation in the corner before the whoops and both riders ended up on the ground. It wasn't hard contact and certainly not punishable, but it also cost both of them the chance at a win. Sometimes young riders make mistakes that show their lack of experience. In hindsight, he will realize that it was the first lap, and nothing needed to be decided that early. Youthful exuberance is a powerful weapon at times, but it can also be a liability if unchecked. They both rode incredibly well to get back to the front, but I would be lying if I said they didn't leave an uncontested win for Martin Davalos to snatch up.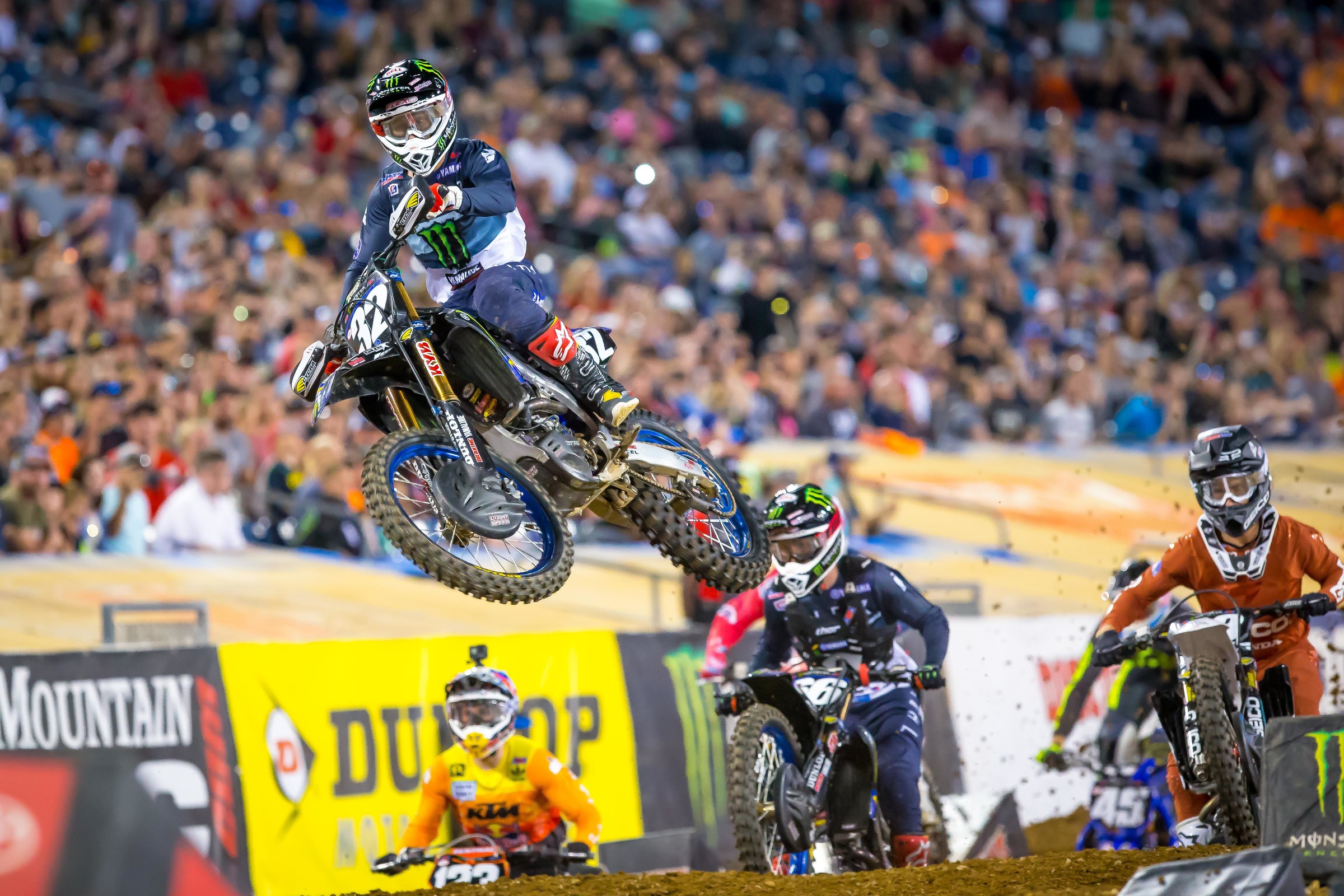 Who wins the East Region?
Tough question to answer just yet. If Forkner's knee injury is as severe as I think it is, I will give the nod to Sexton. He has been so solid and only a touch off AF24 all season. Even if Forkner can race the last two rounds, I don't know if a lesser version of Forkner can beat Sexton. With the points gap so minimal, Forkner will need to bring his A game to win and I just don't know if that's realistic. The Vegas East/West Showdown will be a dogfight, with both series likely up for grabs. I like a healthy Sexton's chances over a hobbled Forkner. Cooper is right in the mix, too, but I think Sexton is the man to beat. It's crazy to think Monster Energy/Pro Circuit Kawasaki could lose both titles after such a dominating display this season.
Care to weigh in on this rendition of Eli Tomac?
There is simply no explanation. He looked "off" all day, had a mechanical difficulty in the heat race, qualified through the LCQ, then dominated the main event. There is simply no way to logically explain what we have seen from Tomac this year. The highs and the lows seemingly have the same probability as flipping a coin. The guy could win every race if he rode to his potential.
Is the title chase a foregone conclusion?
I have been beating the "it's not over" drum for months now but I am losing steam quickly. Musquin is making too many mistakes, giving Webb endless opportunities. I absolutely feel that Webb is beatable and might even be the third or fourth fastest guy in the series right now. Having said that, Webb is doing everything right when it comes to the big picture. He is avoiding incident when it counts and even when he screws up (the heat race crash) he is getting bailed out by a red flag restart. He is going to win this championship and deserves it. He might not have been the fastest guy every time but every time he needed to find resolve, he rose to the occasion. There's a lot to be said for that.
Marty is back! What was different than the rest of this season?
I wish I knew. He seemed to be fighting a neck injury and maybe that was a bigger issue than we thought. Even in timed qualifying, though, he just hasn't had that elite Marty speed. He hasn't really looked like himself at any time but whatever was different this weekend, it certainly showed. He was good all day and all night. He was great in the whoops, most noticeably, but he just seemed to have a bit more intensity than at any other point this season. He has two more races to leave his mark, but it was good to see Marty back to being Marty.
Marty has made it known that he wants a 450 ride for 2020 and might retire if he doesn't get his chance. Does he deserve a shot?
Yes, absolutely, but that's not always enough to land a spot. Winning in the 250 class is not easy. Beyond that, his 450 performances in the 2017 Lucas Oil AMA Pro Motocross Championship should be plenty to prove his competency. The biggest challenge will be finding an opening, though. With riders like Dean Wilson, Broc Tickle (pending his suspension), Chad Reed, Justin Hill, Cole Seely, Joey Savatgy, Justin Bogle, Josh Grant, and more all vying for spots, it won't be easy. Simply deserving a chance often isn't enough. Wilson deserved a spot this season and had to wait for a fill-in ride to open. I hope Marty is able to find a home and finally answer the question as to how he would fare but when taking a hard look at the landscape, I can't find an easy solution.