Nashville, TN
Nashville
Monster Energy AMA Supercross Championship
For developing 250SX stars, it's key to follow a logical pattern of steps. First comes learning, then podiums, then wins, and finally, titles. Only a few times has a rookie nailed all the steps at once, as for most, supercross gets tricky when you're trying to do too much, too soon.
Note Austin Forkner's pattern: podium guy in year 1, race winner in year 2, would-be title guy in year 3. It was all going to plan for Forkner this year, although he'd been flirting with disaster through some huge crashes in practice. Finally, in Nashville he went down again, and, unlike his previous daytime crashes this year, he didn't get up easily. Ultimately, Forkner suffered a knee injury, which prevented him from racing.
Forkner held a 26-point lead with three races to go, so there's no way the riders second and third in the series, Chase Sexton and Justin Cooper, came into the race thinking they could suddenly be battling for the points lead. For both, they had entered the podium stage and were now looking for their first career wins. To suddenly have a great chance at that first win and know it could impact the championship was a lot to take in.
I know from talking to folks on both the Monster Energy/Yamalube/Star Racing Yamaha and GEICO Honda teams that the riders kept the focus on themselves. They didn't get Forkner reports throughout the day and didn't even worry about that. The goal was to just finally win a race, Forkner in the field or not.
"I knew he crashed in practice," said Cooper, "I was right behind him. It's not what I was focused on throughout the day, I was focused on what I needed to do, my own riding."
"To be honest, I knew he went down, but he went out for third practice so I thought he would be fine," said Sexton. "I wasn't really worried about it, I just wanted to go out and win no matter who was on the gate."
This was key, because for two riders suddenly thrust into completely changed championship picture, there's a chance it could all go haywire. And for Cooper, once the big moment came, it actually did. Sexton passed him early and Cooper dug right back in to try to make something happen. He made too much happen—taking both riders down.
"I didn't want to take him down, I just wanted to assert myself," said Cooper. "I believe we started 1-2 and I got a good start on the outside—decided to risk it there. It started right away, we started battling knowing everything that was on the line with Austin out. I didn't want to give it up that quick, it sucks to get a holeshot and give it away that quick. I wanted to make a block pass and pull away, but our bikes kind of locked up and we both went down."
There, then, is the key line: "It started right away, we started battling knowing everything that was on the line with Austin out."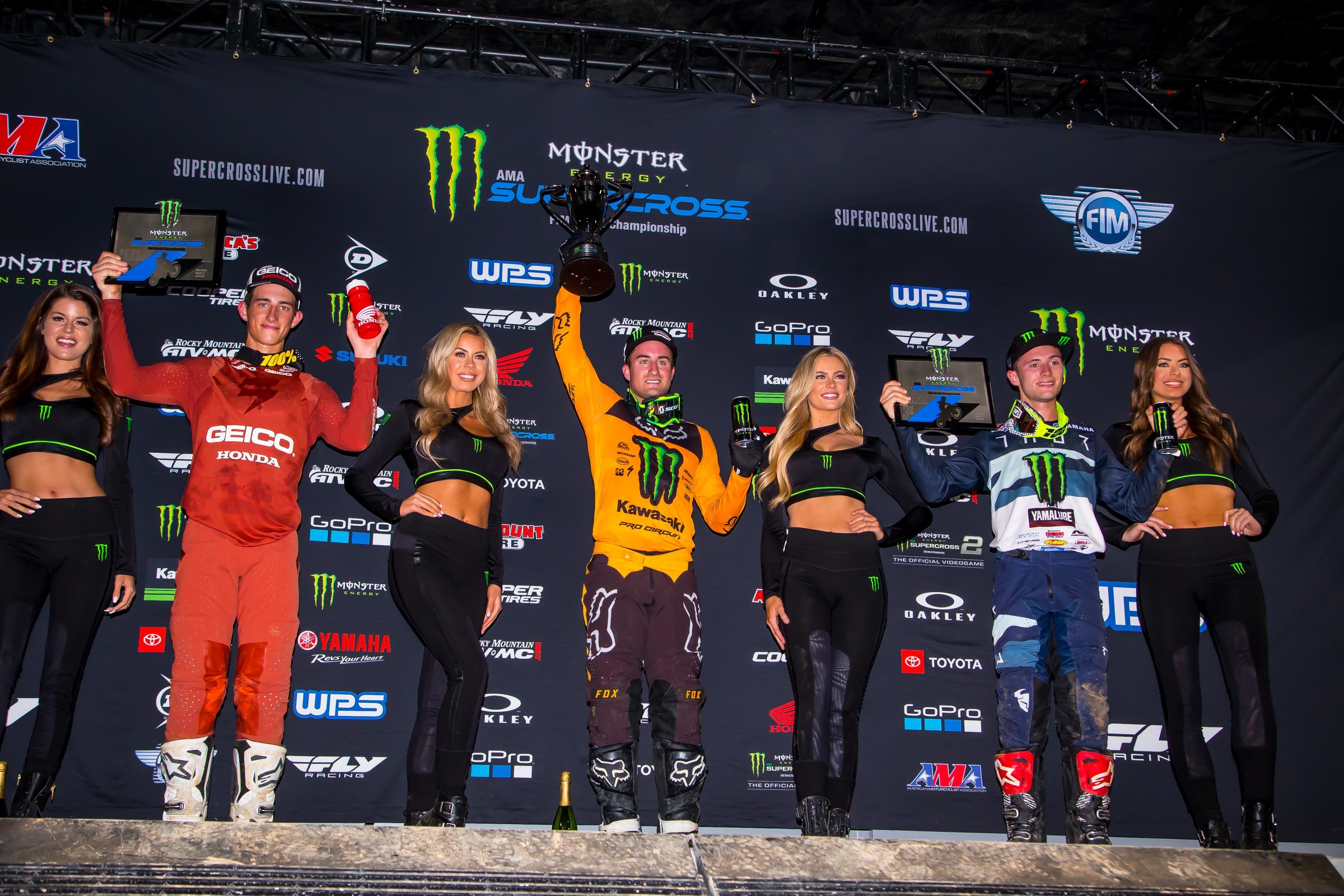 That cost Cooper but also Sexton, who was in the wrong place at the wrong time.
"I really feel like tonight was my night," said Sexton. "I made a quick pass on Justin and I just wanted to try to pull away. I kind of clipped the rhythm and Justin got inside. I don't really have much to say about it [the crash]. I just tried to put my head down. I'm happy to make up points, it's not how I want to make up points, but you have to be there every weekend. Man, I'm over second place."
"I think I can speak for Chase for this one, we're both sick of getting on the podium, we've been watching Austin get all of these wins, and we want some of that," said Cooper. "We were 1-2 off the start and set up for a good battle, just got a little ahead of ourselves, I think we were both excited out there, and we both came together. It's just part of racing, obviously I didn't want to go down and I didn't mean to take him down, I just wanted to assert myself and get back into the lead. You don't want to give up the lead in the first lap, that's not what we're there to do, we're there to put up a fight."
It was a costly error of judgement on Cooper's side, but because Sexton made it back to second and Cooper third, they erased most of the damage. No first win yet, which hurts, but they didn't lose a ton of points, and they'll be back to battle it out again in East Rutherford. At that point, maybe cooler heads will prevail, but maybe not. We've seen crazy endings of 250 championship runs before, especially if this goes down to the Las Vegas finale, which is also an East/West Showdown. Plus, Forkner's status is yet unknown, he might be back to try to salvage this. Can you imagine throwing that kind of pressure and drama into the mix? The 250 class provides the chance for riders to learn. There are many lessons planned over the next few weekends.