Nashville, TN
Nashville
Monster Energy AMA Supercross Championship
We're now to the point where not only do Eli Tomac's struggles seem weird, but it also seems weird when he surges. His season has turned so unpredictable that no result makes complete sense. His wins in San Diego, Detroit and Daytona were followed by sub-par rides, and things were certainly not trending toward a win for the Monster Energy Kawasaki rider in Nashville. Practice and qualifying didn't make it any better, as Tomac was 11th in the first session and sixth in the final one. Then he looked good briefly in his heat race until his bike broke, sending him to the LCQ. Yep, another nightmare night for Eli.
And then he won.
Yup. He won. With the bad gate pick due to the LCQ he started around eighth. No one was even thinking of Tomac as a potential race winner at that point, as it was instead Ken Roczen who looked absolutely on fire as he made moves toward the front. Roczen, though, is star crossed and seemingly cursed with his attempts to win a race. Joey Savatgy washed out, Roczen had nowhere to go and went down. His chances were over, and suddenly Tomac slid through the wreckage to find himself in third place. Plus, his old speed was back. He made quick work of Blake Baggett and Cooper Webb to take the lead and the win. Webb and Baggett were okay, but not as sharp as in other races this year. For one night, Tomac was back on top.
"It's tough, you can use it your advantage or not," said Tomac about going to the LCQ. "My advantage was I kept my body warm, and I found more rhythm even by racing the LCQ there. I just poored it on in the main—felt like we got back to our old self. Felt good to do that."
At this point, Tomac would be foolish to proclaim his issues are instantly behind him, so he would only say, "there's hope." He did say this was by far the best he's felt in a 20-minute plus 1 main event, and that counts for much more than his previous wins—a mudder in San Diego, a Triple Crown in Detroit, and Daytona, a totally different type of track.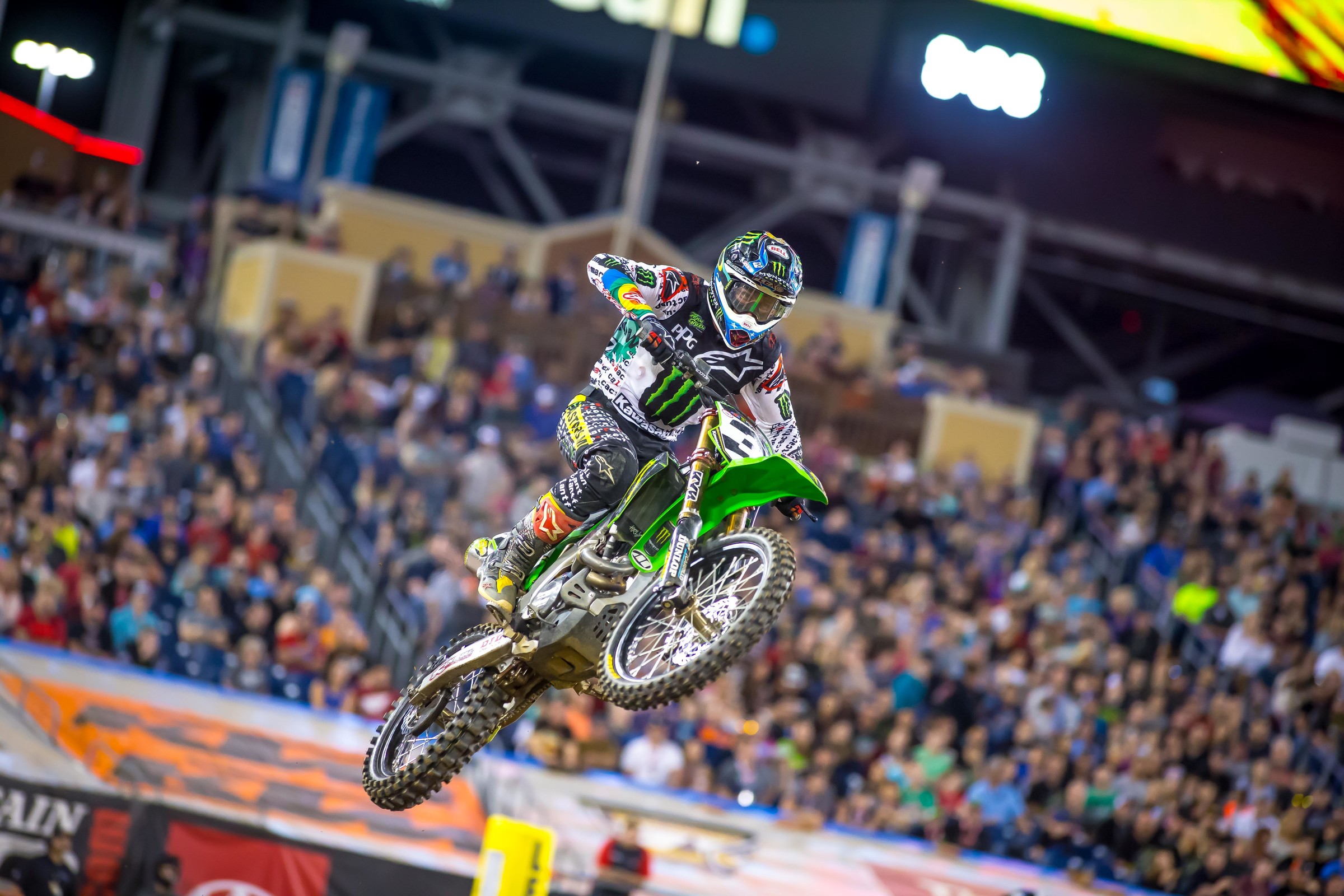 Tomac explained that his troubles are a combination of both the bike and him. Are they fixed? With this season, you can't possibly know.
In fact, there is only one constant in 2019, and it's that everything will keep rolling Cooper Webb's way. The Nashville track has two gnarly whoop sections, and whoops have been a problem for Cooper all season. Predictably, the Red Bull KTM rider struggled there, but predictably he also nailed the holeshot and rode smart to lock in another podium. His teammate and title rival Marvin Musquin crashed in the whoops and finished sixth, so Webb has stretched his points lead to 21 over Musquin and Tomac. With his struggles in the whoops, third was okay.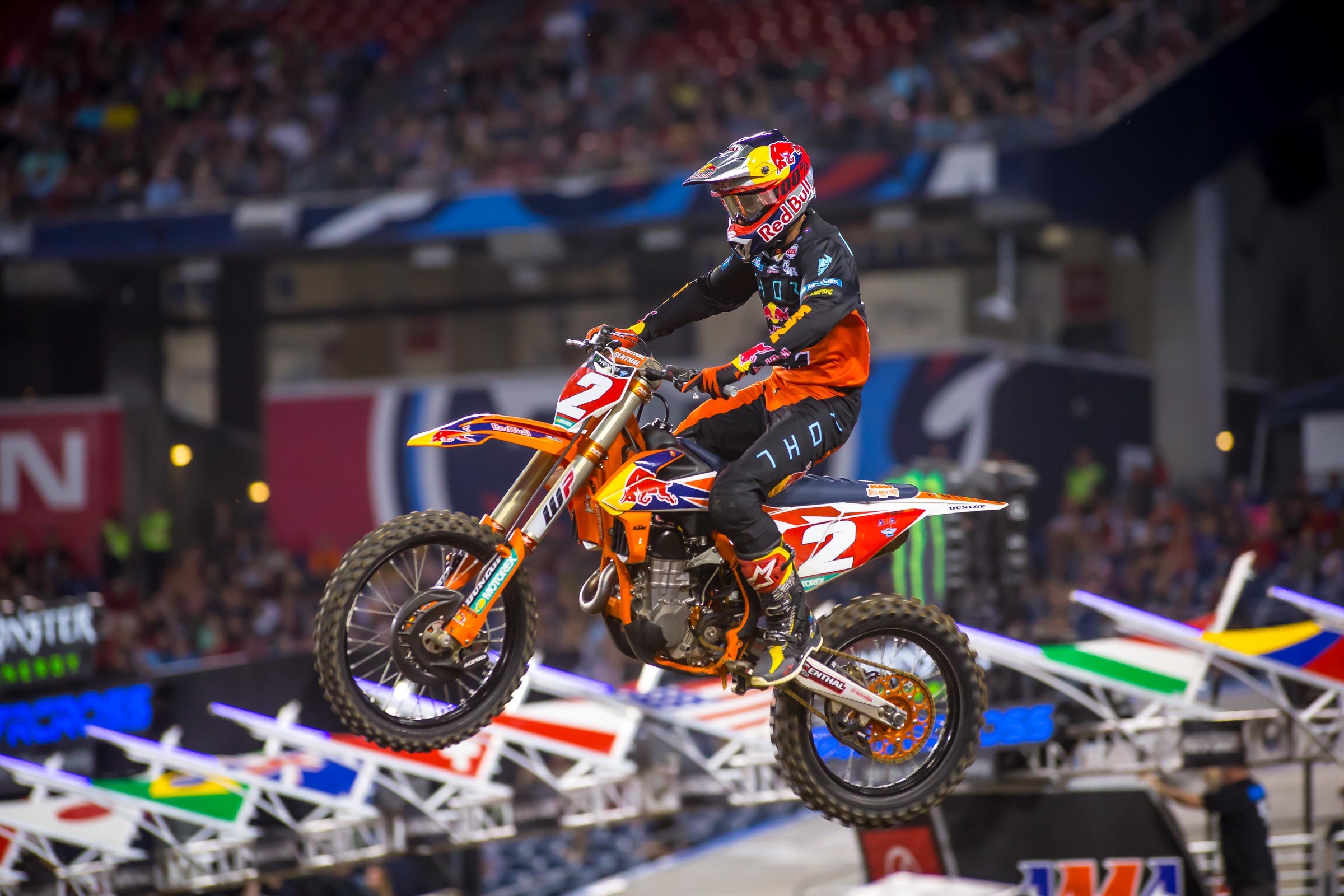 "When you're out front, it was good, but I could tell they were catching me," said Webb. "I was struggling with lines, whoops, this and that, [and I thought] hey, maybe I can learn, keep on their wheel and maybe I can attack later. It obviously didn't work out like that. It was a track where it was slippery and you couldn't be too aggressive.
"I tried a little bit of both [skimming and jumping whoops]," said Webb. "Last week I felt like I was pretty good at skimming them, but today they were really slick and edgy, I was just kind of searching. I figured some things out, but these guys were obviously a lot better than me."
One of the guys better than him was Baggett, who finished second on his Rocky Mountain ATV/MC KTM. It's his first podium since a second at Indy three weeks ago.
"It was definitely one of the tracks that looked super tacky, the dirt looked good and looked like it had traction, but it was super slippery," said Baggett. "The whoops, sometimes you'd have traction and sometimes you would spin. You'd use a lot of energy tonight. I had a few good spots, but Eli, best man won tonight, for sure, he took advantage of some spots were I was slower, I tried to pick it up but he was just too good. I wanted that win, thought it was going to be there, but not tonight."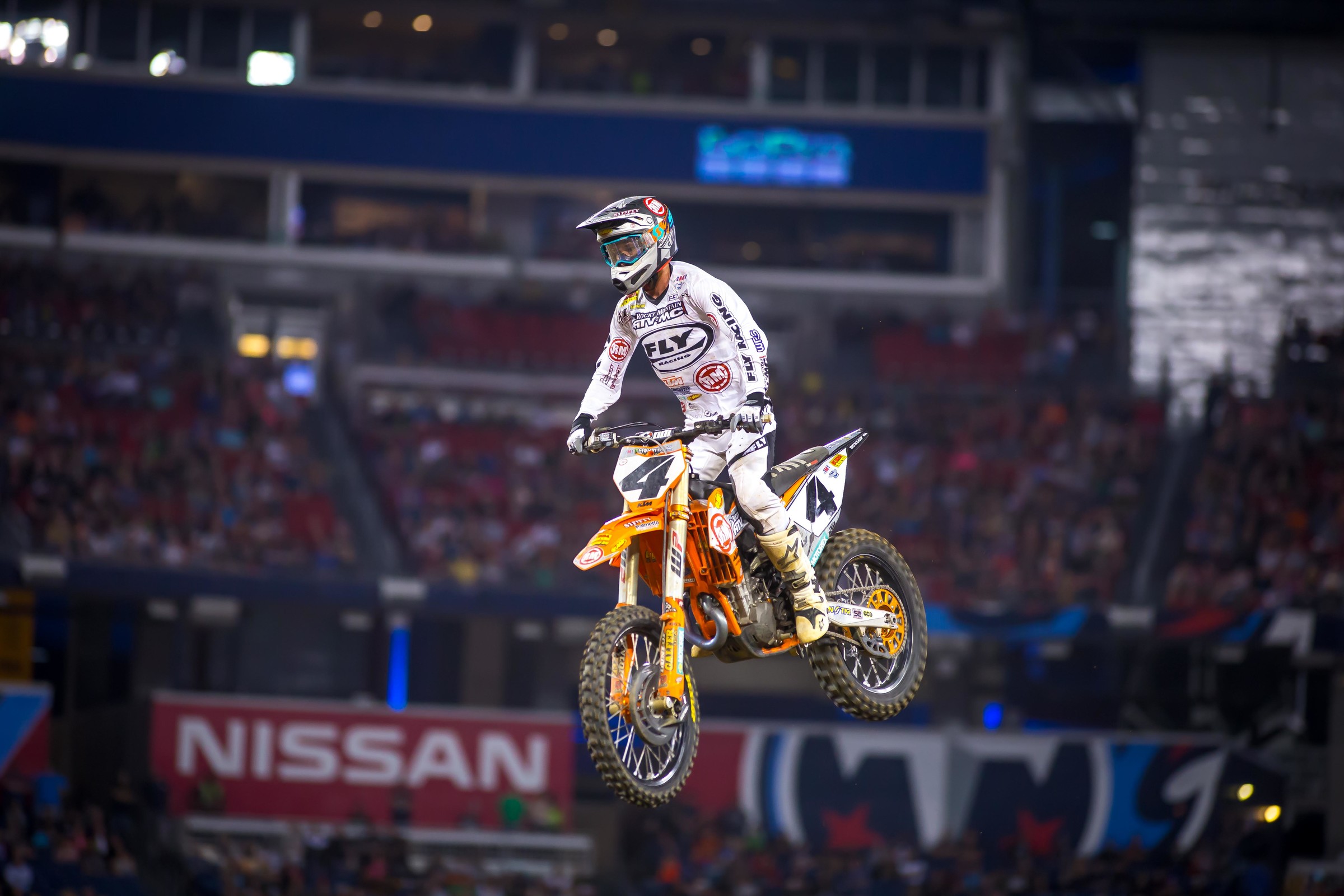 Supercross
| | Rider | Time | Interval | Best Lap | Hometown | Bike |
| --- | --- | --- | --- | --- | --- | --- |
| 1 | Eli Tomac | 48.949 | 26 Laps | | Cortez, CO | Kawasaki KX450 |
| 2 | Blake Baggett | 49.216 | +11.644 | | Grand Terrace, CA | KTM 450 SX-F |
| 3 | Cooper Webb | 49.671 | +13.808 | | Newport, NC | KTM 450 SX-F |
| 4 | Dean Wilson | 49.548 | +18.940 | | Scotland | Husqvarna FC 450 |
| 5 | Zach Osborne | 50.174 | +23.804 | | Abingdon, VA | Husqvarna FC 450 |
Full Results
Supercross
| Position | Rider | Hometown | Points |
| --- | --- | --- | --- |
| 1 | Cooper Webb | Newport, NC | 379 |
| 2 | Eli Tomac | Cortez, CO | 361 |
| 3 | Marvin Musquin | La Reole | 350 |
| 4 | Ken Roczen | Mattstedt | 319 |
| 5 | Blake Baggett | Grand Terrace, CA | 290 |
Full Standings
Another solid performance from Dean Wilson, who followed his podium in Houston with fourth. Wilson started up front, lost a little ground on the lead group, but then started closing back in on Webb to make a podium run toward the end. His Rockstar Energy Husqvarna teammate Zach Osborne was a solid fifth, just holding off Musquin, who logged a valiant charge from the back.
Mistakes have dotted Musquin's attacks on Webb this year, and it happened again tonight. He snuck into second on lap one and saw a chance to make a move in the whoops, but instead he crashed and went to the back of the pack.
Honda HRC's Cole Seely was seventh ahead of Roczen. Justin Bogle rode very well all day, including some hot practice lap times, and took ninth in the main. Tyler Bowers was also solid and took tenth.
Savatgy's crash early in the main was costly, and he got up holding his arm. Our man Steve Matthes is reporting from the Monster Energy Kawasaki pits that Savatgy's shoulder popped out. We'll update his situation as we know more.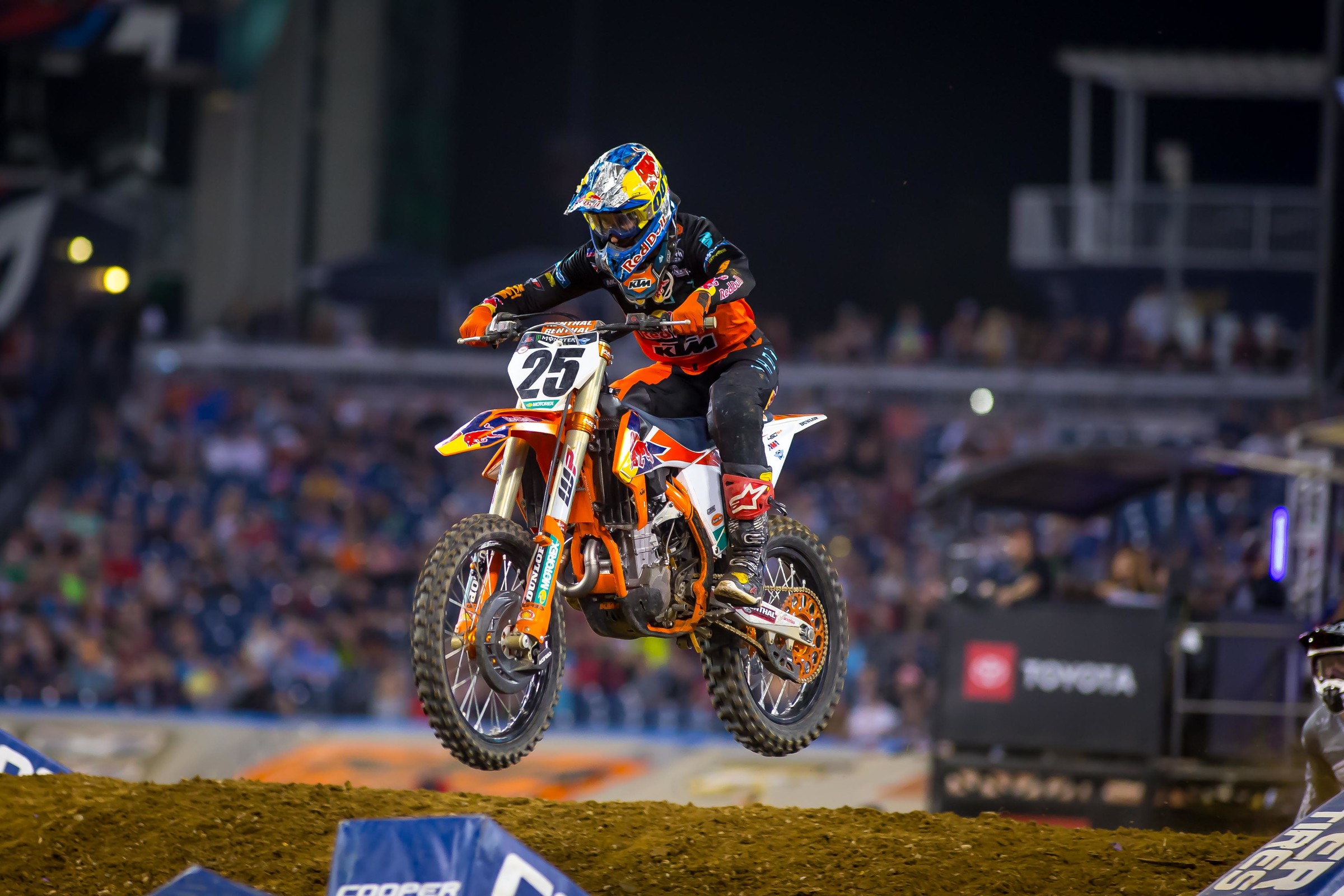 All season long in the 250 class, Austin Forkner has walked the tight rope in qualifying. Multiple big crashes have somehow not resulted in any injuries, until today, when a wild ride through the whoops and into the tuff blocks resulted in an injured knee, which he then aggravated again in the final qualifying session. Forkner was on crutches in the Monster Energy/Pro Circuit Kawasaki pits by the time the night show began, telling us he couldn't walk, so he definitely couldn't ride. An MRI this week will reveal the extent of the damage, but for tonight the door was open for Chase Sexton and Justin Cooper to try to get a win and erase his points lead.
So, opportunity knocked, and Justin Cooper kicked the door down. He ripped a good start from his preferred gate just outside the box, but Sexton was there to engage him in battle. Sexton sliced inside and nearly hit Cooper, but they avoided contact, and Cooper went for an ill-advised block pass to get him back. He ended up taking them both down.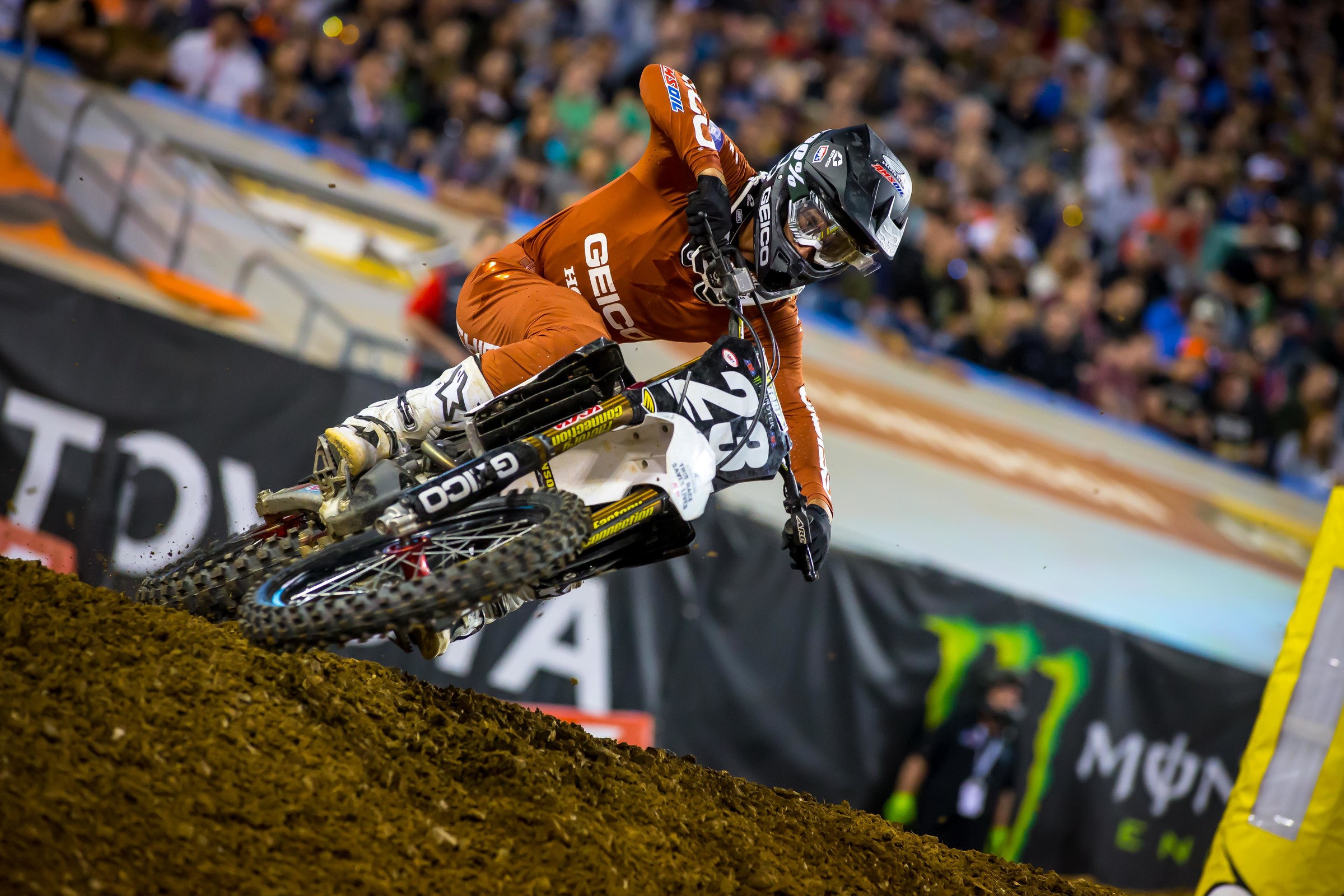 "I didn't want to take him down, I just wanted to assert myself," said Cooper, of Monster Energy/Star Racing Yamaha. "I believe we started 1-2 and I got a good start on the outside—decided to risk it there. It started right away, we started battling knowing everything that was on the line with Austin out. I didn't want to give it up that quick, it sucks to get a holeshot and give it away that quick. I wanted to make a block pass and pull away, but our bikes kind of locked up and we both went down."
"I really feel like tonight was my night," said Sexton, of GEICO Honda. "I made a quick pass on Justin and I just wanted to try to pull away. I kind of clipped the rhythm and Justin got inside. I don't really have much to say about it [the crash]. I just tried to put my head down. I'm happy to make up points, it's not how I want to make up points, but you have to be there every weekend. Man, I'm over second place."
Supercross
| | Rider | Time | Interval | Best Lap | Hometown | Bike |
| --- | --- | --- | --- | --- | --- | --- |
| 1 | Martin Davalos | 49.081 | 19 Laps | | Quito | Kawasaki KX250F |
| 2 | Chase Sexton | 49.686 | +03.508 | | La Moille, IL | Honda CRF250R |
| 3 | Justin Cooper | 50.069 | +08.575 | | Cold Spring Harbor, NY | Yamaha YZ250F |
| 4 | Kyle Peters | 50.505 | +13.091 | | Greensboro, NC | Suzuki RM-Z250 |
| 5 | Brandon Hartranft | 50.651 | +18.721 | | Brick, NJ | Yamaha YZ250F |
Full Results
Cooper got up ahead of Sexton but then crashed again. They both recoved to come all the way through the pack and take second [Sexton] and third [Cooper].
Up front? A rejuvenated Martin Davalos. Marty has not had his usual speed this season, and he's revealed that a lot of that goes back to lingering effects from last year's neck injury.
"It's been tough, breaking my beck last year and then ACL and MCL reconstruction," said Davalos. "I didn't think my neck would be that bad, but my wrist was locking up, it was just a terrible, terrible feeling. You prepare so well and you just can't deliver—you can't ride to your potential. After Daytona I told Mitch I needed to go to some doctors in California, they put me under last Friday. We're just trying to calm it down—my trap is locked up, my arm is burning. I haven't actually ridden supercross since Indianapolis, I did some outdoor testing, we're trying to just keep it calm. I caught a break tonight, those guys went down, but what we did did help my neck a little bit. I need to work on my neck a little more, I want to be competitive."
There have been rumors in the pits that Davalos might retire at the end of the season. He addressed that post-race:
"I just want a 450 ride, I've been in this class a long time and I just want a shot," said Davalos. "Outdoors was good for me on a 450 in 2017. There are those that believe and don't believe, but I believe I can do it. All I'm searching for is that 450 ride. I want it so badly."
Fourth came Kyle Peters on the Yoshimura/JGR Suzuki. Peters says he saw the Cooper/Sexton crash and knew that was his chance to get a podium, but he probably pushed too hard early, locked up, and couldn't maintain the pace. Fifth went to Brandon Hartranft on a Cycle Trader/Rock River Yamaha.