Houston, TX
Houston
Monster Energy AMA Supercross Championship
We have changed the format to Breakdown this year. The Racer X staff will pose some burning questions from the weekend and I'll take my best crack at them.
What's your take on Cooper Webb and Marvin Musquin in the first main event?
Well, Cooper certainly squirted a bit of fuel onto the championship fire. It has been very courteous between the two Red Bull KTM riders, avoiding confrontation and both doing their best to win. That all ended Saturday night and I would expect there are some hard feelings as we head into the final four rounds. Webb took several shots at Musquin and connected twice, putting Musquin off the track and down several positions.
Up until this point, they had done a great job of avoiding any incidents and worked together to put their team up front. That may have all changed now as Webb certainly fired the first salvo. I would venture to guess that Aldon Baker and Roger DeCoster will both try to mediate the situation and prevent any future problems but when Musquin gets an opportunity to retaliate, only he can decide what action he takes.
Webb was apologetic after the race. Is that because—as he said—battling Marvin allowed Ken Roczen to get away, or because he's trying to avoid retaliation from Musquin?
I think deep down he realizes he probably shouldn't have gotten so aggressive with his teammate. I think the apology stems from that realization, trying to smooth things over with his team, and also avoiding reciprocity from Musquin. The most important of those would be with Musquin as he could really cause Webb problems down the stretch. Musquin would be the most incentivized rider to see Webb lose big points and he is also now the most emotionally charged. That's not an ideal scenario for Webb to face every Saturday night when all he needs to do is avoid trouble.
Have you ever seen anything like Eli Tomac rolling the finish and allowing Musquin to pass him in the first main?
Having watched it several times, I think Eli just goofed the entire section up. Going into the turn, I think he was worried Musquin was going to dive-bomb a block pass so he jumps several of the inside ruts to avoid that. Unfortunately for Eli, Musquin had chosen to square the corner up instead, allowing him to drive back underneath while Eli was floundering on the outside of the turn. That mistake also prevented Eli from getting a good drive for the triple and instead of simply doubling it, he chose to brake hard to roll it. That braking action allowed Musquin to get by right at the last second. I couldn't really figure out what in the world Eli was doing in that moment, but after watching it over and over, I now think he just blew it. He guessed wrong as to what Musquin was going to do and then everything snowballed the wrong direction. Had he just chosen his line and ridden through the turn like every other lap, he would have been fine. Musquin wasn't even angling for contact anyway.
What part of the Houston track offered the biggest place to gain or lose time?
The first set of whoops after the start was the toughest part of the track and also the most critical. There were many big crashes there throughout the day and night and one that almost took Webb out of action during free practice. Removing the crashes, it was still the area where riders were able to pass or at minimum, gain time on their competitors.
The whoops broke down significantly but jumping them didn't really pay dividends like Seattle, though. Zach Osborne switched to jumping in the final main event, but Webb was still blitzing and seemed to be a bit faster, albeit inconsistent. With blitzing remaining the faster option, riders were forcing it and having close calls lap after lap. Justin Barcia had a big crash that took him out of the night's action; many others narrowly avoided disaster, too. That section of whoops was the rare occasion where blitzing was the better option, but catastrophe seemed inevitable. Most times, jumping becomes the optimal choice in that scenario but with the depth of the whoops and jagged edges, riders couldn't carry enough forward momentum. Blitzing was the right choice but also the scary choice.
Is Adam Cianciarulo back to making mistakes or was this just bad circumstance?
These Triple Crown events don't seem to work out for AC. I think he is fine, he just needs to put himself in better situations. Having to work through the pack always increases the chance of something going sideways. The 250 class is full of inexperienced riders by default. Adam is going multiple seconds a lap faster than most of the riders he is passing, which causes uncertainty around where they will be versus his line choice. I don't think it was necessarily a meltdown, just a by-product of the situation he put himself in. If he starts up front and stays there, none of that weird stuff would have happened. Crashing can sometimes lead to more crashing but keeping a cool demeanor even when things aren't going to plan can be the difference between losing six points or 26.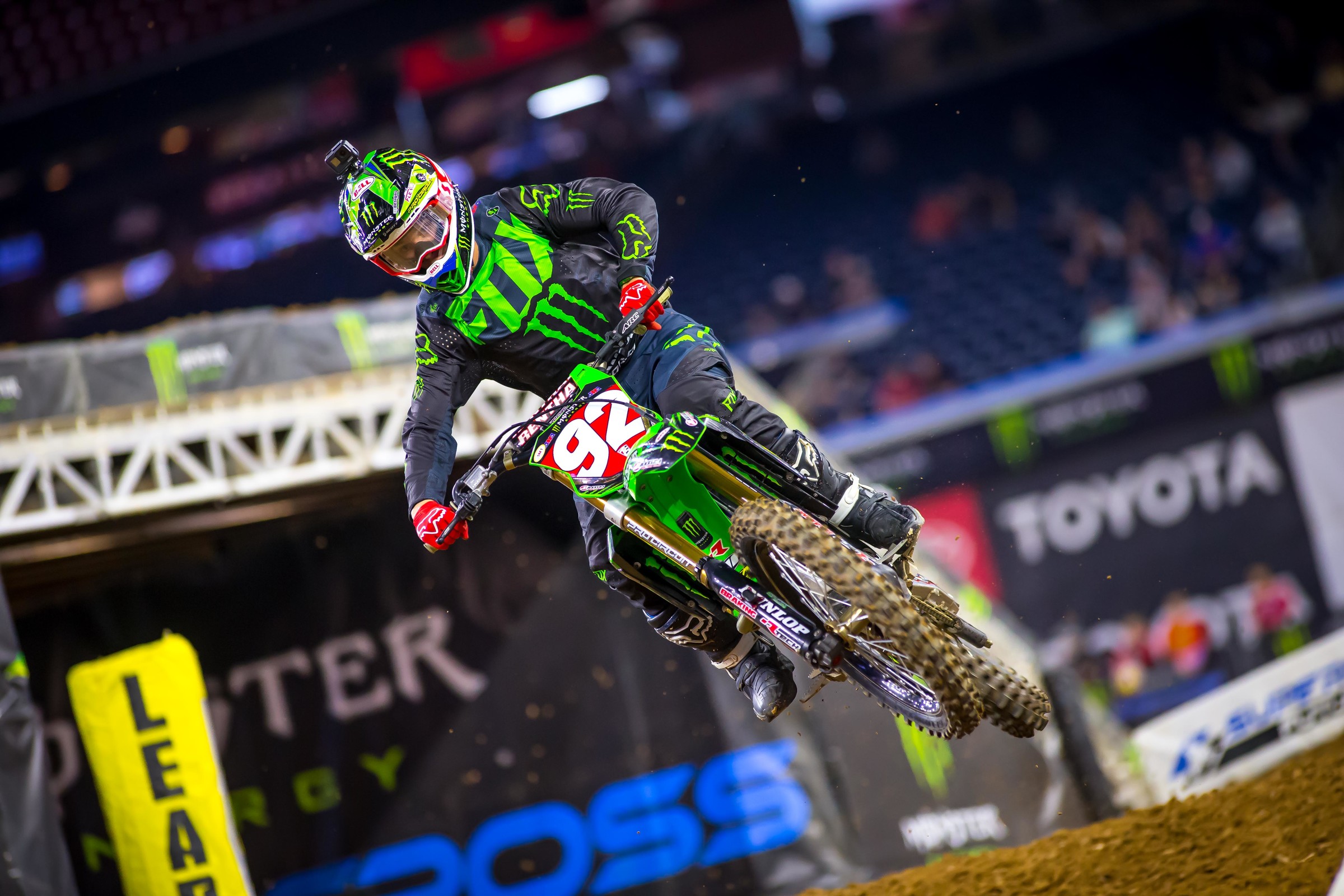 Dylan Ferrandis is hitting his stride at the right time. What's in store at these last two races?
I still believe Adam is the fastest rider in the West series. He has a five-point lead and I am inclined to think the fastest rider spotted a five point lead will end up as champion.
One variable could be the spring weather in Denver. If we saw a muddy Denver main event, maybe that tips the scales toward Ferrandis. On a normal track with normal weather, though, I think Adam will find a way to get this done. Don't forget, Adam has won the Vegas East/West main event the last two years. If it comes down to a Vegas showdown for all the marbles, that's a big feather in his cap.
Dean Wilson is on his best form lately. Does he have a win in him?
He looks awesome! He has the speed to ride with anyone right now, but I don't think he has mastered that pace for 21 minutes, yet. I wouldn't be surprised to see him grab another podium before it's over but with Webb and Musquin at the razor's edge of this title, they seem to wear Dean down a bit in the final minutes. If things fell just the right way, yes, anything is possible, but podiums are definitely within his sights week in and week out. Once he fully realizes that mentally, Dean will be a very dangerous man.
Chris Blose has been riding well all series long and deserves credit. He got the short end of the Ferrandis stick in the second main event but still had a good night. What's his ceiling?
Yes, Chris is riding incredibly well. He has made it full circle from supercross contender in 2009, to arenacross contender in recent years, and back to supercross contender again in 2019. I think his age might preclude him from getting a factory level ride in the 250 class but his riding is certainly deserving. I would love to see Pro Circuit or GEICO take a flyer on Chris for 2020.