Houston, TX
Houston
Monster Energy AMA Supercross Championship
Urgency. A sense of it has definitely started to take hold for some as the number of remaining races in the 2019 Monster Energy Supercross season dwindles, and for good reason. 250SX points leader Adam Cianciarulo has been strong and solid all season and held a twelve-point lead coming into Houston, while 450SX championship leader Cooper Webb, who's been the epitome of strength so far, held a fourteen-point lead over Marvin Musquin. If there was ever a time for the competition to fight back and make a push, tonight's Triple Crown format was the perfect opportunity. But did anyone seize it? Let's get into Saturday Night Live to find out.
In the 450SX Class things were looking good early for Ken Roczen to make up some desperately needed ground on Webb. The HRC Honda rider was fastest in qualifying and took a convincing wire-to-wire win in the first 450SX main event (in the Triple Crown format each class races three times to determine an overall winner). Webb still finished second, but Roczen had him covered by over eight seconds. Unfortunately for Roczen, things went south immediately in the second race. He crashed hard off the start, narrowly avoided being run over, and after a single lap called it quits. Later it was announced over the stadium PA that he'd hurt his foot, but he ended up coming back for the final 450SX main event. Credit to Roczen for toughing it out, but the damage was already done. He took eighth in the final race and ended up tenth overall.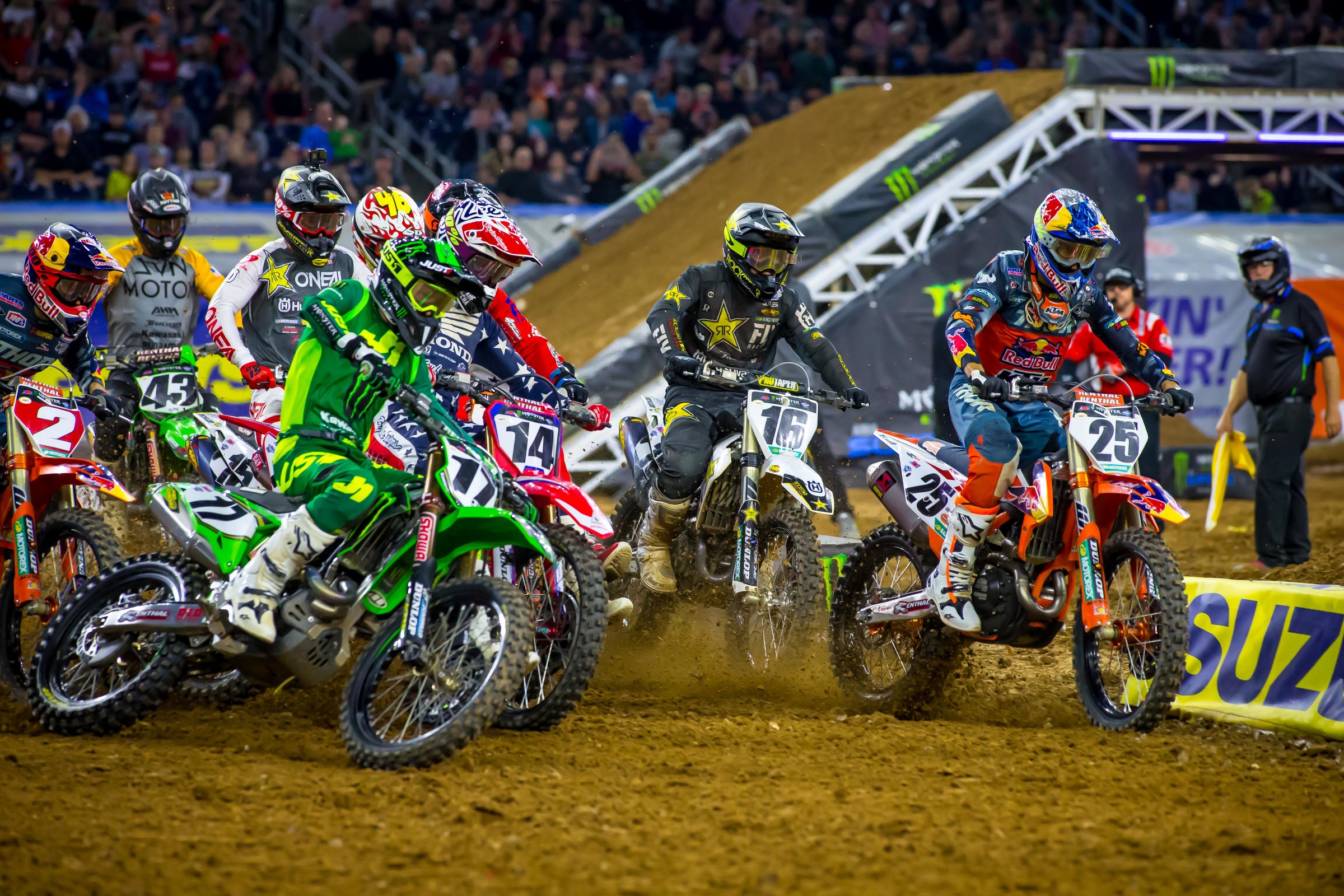 Eli Tomac also needed to make up ground on Webb, but, like Roczen, didn't have the night he needed. Tomac simply lacked his "stuff" tonight. He even got passed by Musquin twice in the first race, despite Musquin going off the track twice and crashing once. The second time Musquin passed Tomac was puzzling, too. On the last lap Musquin was catching Tomac, but it seemed Tomac would be able to get to the line finish line first. When the two rounded the final turn however, Musquin was somehow able to accelerate past Tomac, who rolled the finish line jump, and edge him out for fifth. In the second race Tomac got a poor start and just never moved forward. But in the final race he caught and passed Webb and finished second! The mystery that is Eli Tomac didn't get any closer to being solved in Houston.
Musquin, who's been riding better lately than he has all season, also did what he could to take a bite out of Webb's championship lead, but fell short in Houston. The two had some contact in the first race too, with Webb coming in hot right before the sand section and bumping his teammate, Musquin, off the track. When asked about it in the postrace press conference both tried to play it cool, although it was clear Musquin wasn't pleased about it.
"It's always very intense in the Triple Crown. The races are shorter and everyone is pushing really hard," Musquin said. "I made the pass right away in the first left-hander but unfortunately I went through the whoops in second gear so I couldn't get a good drive. I got passed, but then made a good pass on Cooper. I think I was running second or third and was in a good position. Everyone was pushing hard behind him, and obviously Cooper is very aggressive. He pushed me off the track and I lost some time. I showed some good speed, but in the Triple Crown you have to be consistent for three main events. Unfortunately it's not always the fastest guy who wins the overall. I never touched Cooper, and we'll see what happens in the next few rounds. It's definitely not my intention to do stuff like that. He's my competition, but also my teammate. We'll see how it goes."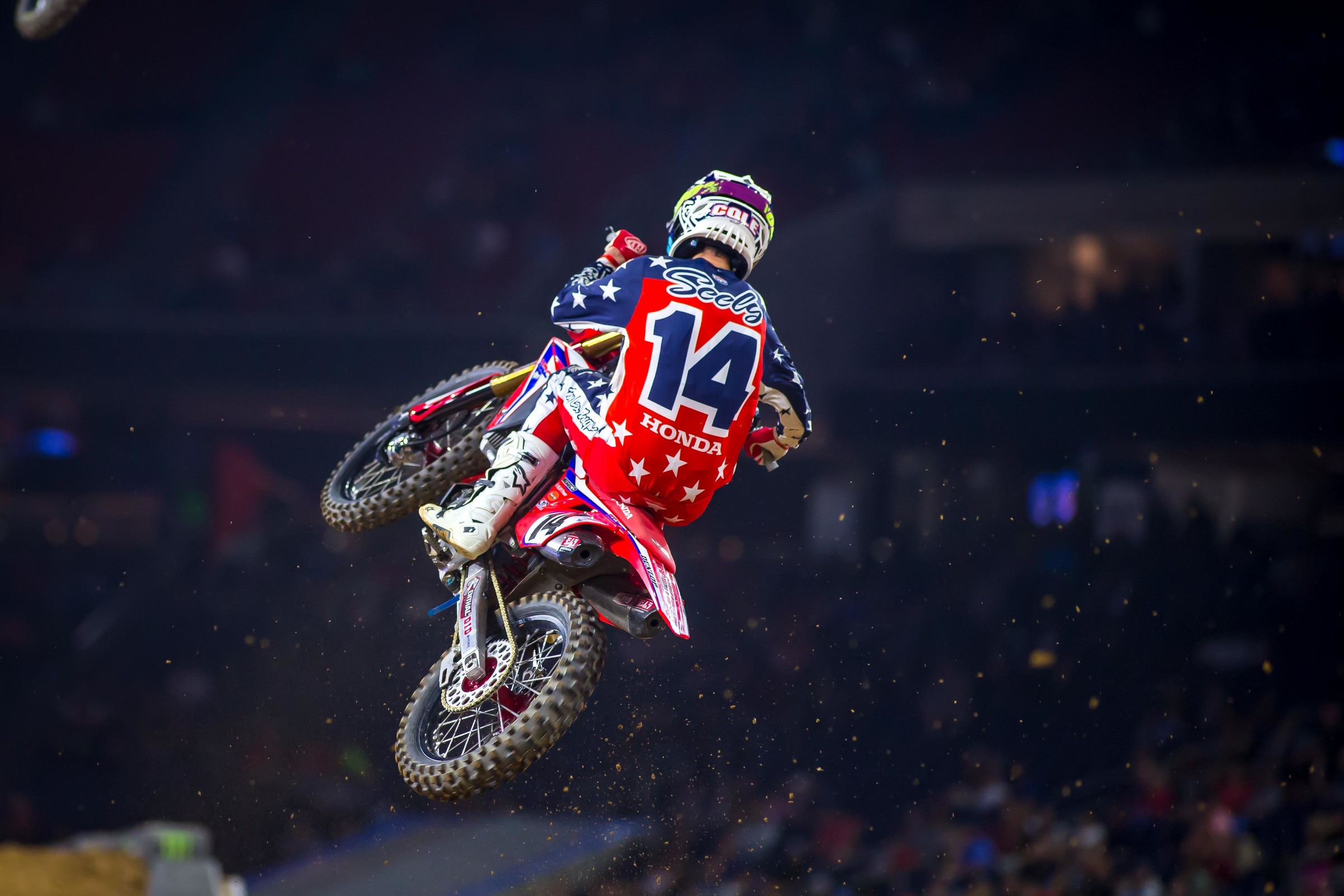 "Like Marv said, it gets intense," Webb answered. "We were definitely racing aggressively and I got frustrated. That's not the way to do it, for sure. I'll try to contain the emotions a little bit better. We are one and two in the championship, so it's a tough line. I made some mistakes and got a little frustrated. I'll learn from it and be better moving forward."
When asked if it'd affect the way the two, who train together, interact during the week, neither one gave a straightforward yes or no response.
"We talk about it with Aldon [Baker] and it's not easy," Musquin said. "We have the same program and the same trainer, but at the end you push each other on the track in Florida."
"It is tough," agreed Webb. "It makes you question things. We're one and two in the class right now and we're going back and forth. It's raised our levels and made us both better."
Tough or not, it all worked out for Webb, who won the overall and extended his lead over Musquin to seventeen points. He also now leads Tomac by twenty-six points, and Roczen by thirty-six points, with just four races remaining.
Rounding out the podium was Dean Wilson, who made the top three for the first time this season. The Rockstar Husqvarna Factory Racing rider was clearly happy about it afterward, but admitted he had a tough time in the first race and found himself struggling with fatigue.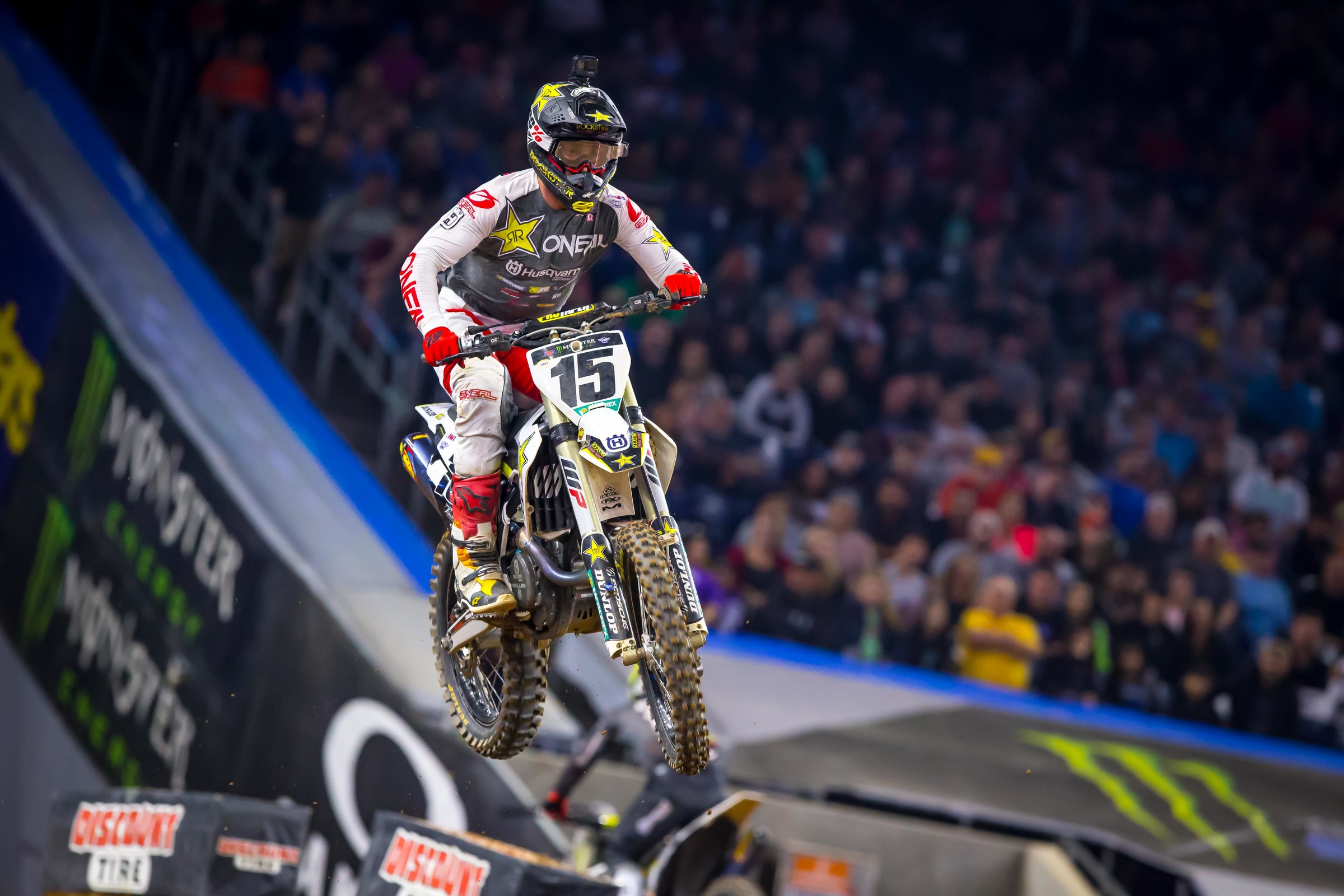 "I think once you get the first race done, the second and third aren't that bad," Wilson said. "But the first one is tough for me. I was really tired in the first one and felt like I was riding a bull. I connected with Marv through the whoops and blew him over the berm. [Laughing] Not that it's funny! I was just trying to hold on and Marv flies over the berm. He was probably like, 'He's trying to take me out!' I felt like I was hanging onto a bucking bronco, but I made it through. After that I was good."
Not a great night for the Monster Energy/Yamaha Factory Racing team. Justin Barcia and Josh Grant were eleventh and thirteenth in the first race, and things got downright horrible in the second. Grant ended up pulling off the track, and Barcia had a bad crash exiting the whoops and was done for the night. By the time we got to the pits after the press conference the Yamaha rig was all closed up and we were unable to gather any details. Expect more information on this in the upcoming week.
Smartop/Bullfrog Spas/MotoConcepts/Honda rider Mike Alessi also had a night he'd likely rather forget. He went down in the first moto after getting together with Alex Ray in what Ray simply referred to as a racing incident and went down, ending his night. The good news is he checked out okay and is just banged up.
In the 250SX ranks Dylan Ferrandis really needed things to go his way tonight, and boy did they ever. It didn't start out great for Ferrandis when Cianciarulo won the first race, but things took a sharp turn in the second race when Cianciarulo went off the track in the first turn. He didn't crash and got back on the track around mid-pack, but moments later disaster struck when Cianciarulo and Sean Cantrell tangled over the over/under bridge and Cianciarulo crashed in a spot that was totally blind to oncoming traffic. Cianciarulo rushed to retrieve his motorcycle, but was forced to dodge bikes like a real life version of the game Frogger. Cianciarulo was hit twice while getting his bike and was only able to charge back to tenth. In the third race he crashed again, but was able to salvage a third. He finished fourth overall, handing seven points to Ferrandis, who now trails Cianciarulo by just five points with two 250SX West races remaining. That means that if Ferrandis wins the remaining two, he wins the title no matter where Cianciarulo finishes.
"I managed to get back in championship position tonight," Ferrandis said afterward. "I will not change my program, and I'll do everything I can to get ready for Denver. I'll do everything I can to challenge AC [Cianciarulo] for this championship.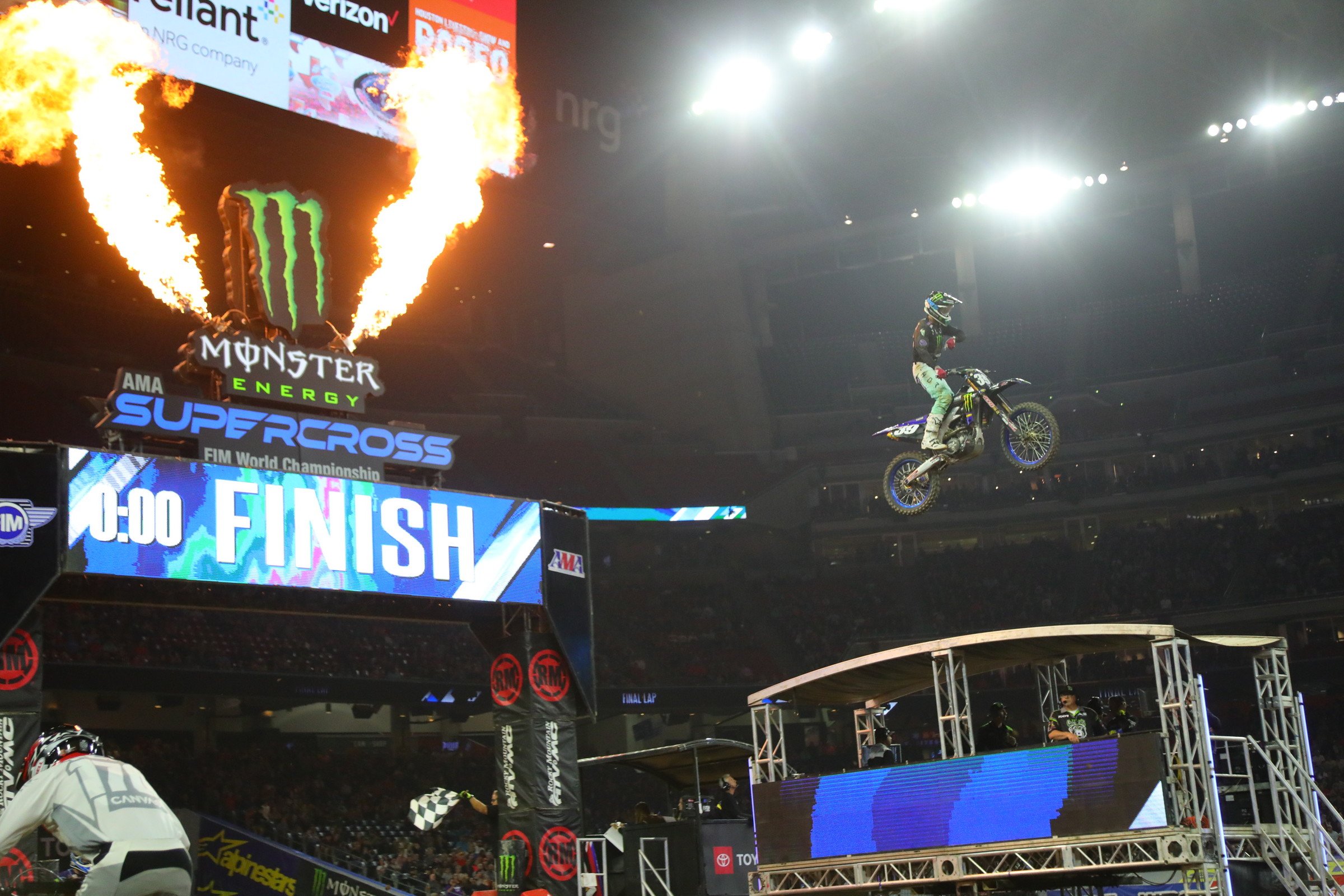 In second was RJ Hampshire, who hasn't been on the podium since his rookie year in 2015.
"It was good," Hampshire said. "People kind of wrote me off for supercross. I felt like I was in a really good spot coming into this year. I have the speed, but I kind of slumped and the last four weekends I don't think I had a top five. It's rough. But we made some basic changes this week with the bike and had some big improvements. I had good starts all night, and that helped get good finishes."
Rounding out the 250SX podium was Colt Nichols, who crashed hard in Seattle and logged a DNF in the main event.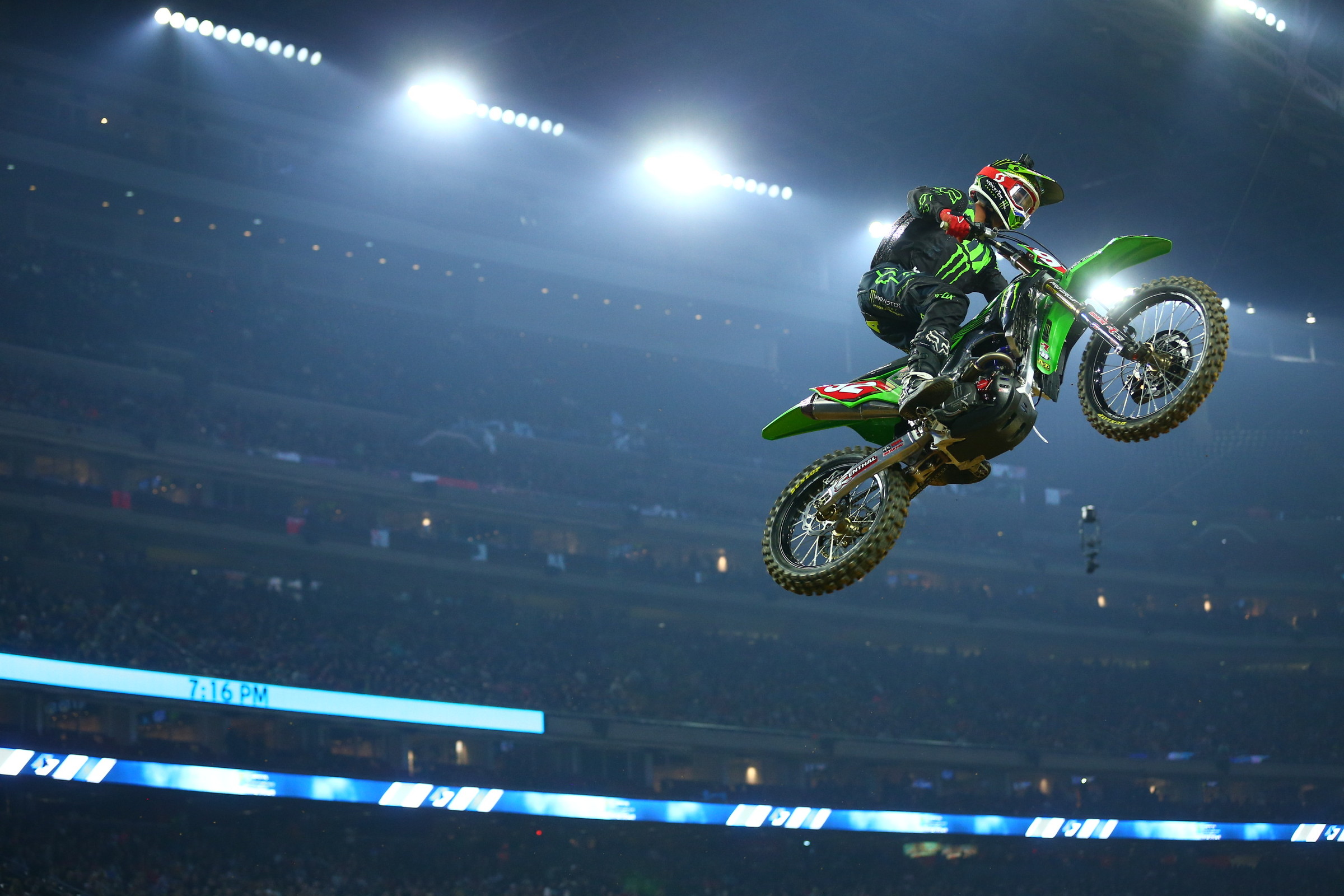 "I had some soreness but I tried to do some light cycling to loosen my leg up a little bit," Nichols explained in the postrace press conference. "I tried to ride on Thursday and felt good enough to come race. I really wanted to come race, I didn't want to miss a weekend after a DNF. Once I got here I just dealt with it. The first two mains weren't great, but I salvaged some decent finishes. Then I was able to holeshot and win the last main, which is exactly what I wanted to do. Overall it felt good to win something again, it's been a while. Overall it was a good night."
The 250SX West region will take a weekend off when the series heads to Nashville next week, but will resume action at round fifteen in November.