Seattle, WA
Seattle
Monster Energy AMA Supercross Championship
By The Numbers
19
Points is what Marvin Musquin was credited with for winning the 450SX main event in Seattle. Musquin was penalized seven points for jumping on a red cross flag.
4th
Place finish for points leader Cooper Webb, ending his streak of six-straight podiums.
4
Straight podiums for Musquin, the longest active streak in the 450 class. He has podiums in nine of the last ten races.
4
Top five finishes for rookie Joey Savatgy through 12 rounds. Savatgy earned fifth on Saturday night.
6-7-8
Finishes over the last three rounds for Zach Osborne.
10th
Place finish for Tyler Bowers on Saturday, his first top ten since round five in San Diego.
4th
Place finish for Michael Mosiman in the 250SX main event, a career-high for the second-year pro. It's his first career top five, as well.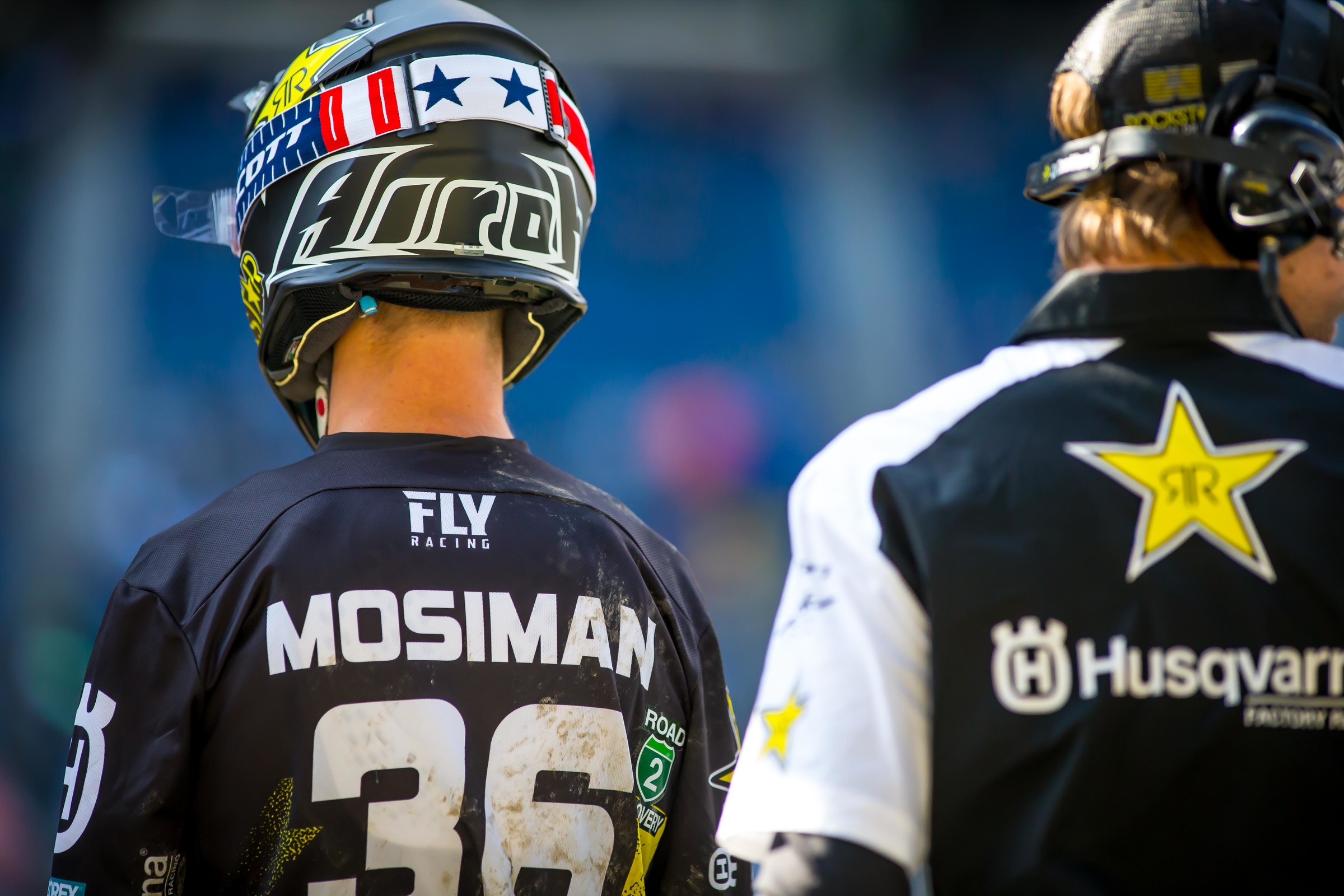 2
Podium finishes for Jimmy Decotis in his last three races. Decotis finished third on Saturday night after failing to qualify for the main event at the East-West Showdown in Atlanta.
5th
Place finish for Chris Blose, who came from outside the top ten in the 250 main. It is his first top since May 7, 2011 in Las Vegas, where he finished fourth in the 450 class.
10th
Place finish for Blose's Gas Monkey/AJE Motorsports teammate Justin Starling, his first top ten finish of the year.
9th
Place finish for JGR rookie Enzo Lopes in the 250 main, his first career top ten.
Quotes From Around the Paddock
Joey Savatgy | Monster Energy Kawasaki | 5th in 450SX
"I'm feeling good. It's great to place in the top-5 and I hope to just continue on this upward trend we're on. I felt I had the speed and I've had so many learning experiences in the past few weeks that I feel I was able to apply tonight. I'm still shooting for my goal to land on the podium before the season ends and I'll just keep grinding until I get there."
Dean Wilson | Rockstar Energy Husqvarna | 6th in 450SX
"Overall, it was a pretty good day. I was the fastest qualifier, which is always a good way to start the day. I've been working really hard during the week and I would say today was a pretty good improvement. I fought to the finish and was very close to a top-five, so overall it was an improvement."
Zach Osborne | Rockstar Energy Husqvarna | 8th in 450SX
"A big step in the right direction for me today and just an overall better day. I got the start in the Main Event, which was really awesome. It's a tough class right now and I know what I'm capable of, and that's to be at the front, so I'll just keep working and it'll come."
Justin Barcia | Monster Energy Yamaha | 17th in 450SX
"It was a difficult day for me. I wasn't able to ride during the week due to my shoulder, so I was a bit rusty. It was also an extremely difficult track. I had a rough start and got caught on a tough block, then I crashed in my heat race which set me back. Then in the main I had a pretty hard crash in the beginning of the race… It was definitely a weekend to forget and move on from."
Josh Grant | Monster Energy Yamaha | DNQ for 450 main
"The bike was great all day. The track conditions were difficult to adjust to though, and there were some really slick spots and we struggled in the whoop section. I'm going to head home, work on a few things and come back to Houston with a little more riding under my belt. Everybody has bad days and looking at that main event, mine still went better than most."
---
RJ Hampshire | GEICO Honda | 6th in 250SX West
"Struggled all day with finding a set up. Crashed in the first turn in the main and actually felt pretty good coming through the pack. Was catching [Michael] Mosiman for fourth with I think four laps to go when I landed off a triple and my hand blew off the bars. I went straight into the tough blocks. Also had a good crash earlier in the night—it's been a rough go these last couple races, going to regroup and try to get it all figured out again."
Enzo Lopes | JGRMX/Yoshimura Suzuki Factory Racing | 9th in 250SX West
"It felt good to be back at the races after Atlanta. The team and I worked a lot during the 250 West break to make sure we were 100 percent ready for Seattle. I felt really good right away. The track was challenging, especially the long set of whoops. I didn't qualify the best, but I had a fresh mindset heading into the heat race and main event. I finished fifth in my heat, which was good. I made a lot of mistakes that cost me a better position. The main event was a completely different story. I had a good start and got into fifth place for half the race. I started getting tight and faded to ninth. I'm happy with the progress, and it's nice to show that I can run that pace. Now I have to figure out why I got tight and work on that part of my riding. I can't thank the team enough for their support and helping me through my rookie year of supercross!"
Garrett Marchbanks | Monster Energy/Pro Circuit Kawasaki | 12th in 250SX West
"Tonight I wanted to come out and ride hard, but the track made that even more challenging. If you got too aggressive, the track would come back and get you. Even the leaders proved that a little bit. I felt good for the most part but need to minimize mistakes, especially on a night like tonight where everyone was making them and I could have capitalized. It makes me more excited to come back next week and race."
Injury Updates
Veterans Chad Reed and Justin Brayton will miss an extended period of time due to injuries sustained in a first turn crash in the 450SX main event on Saturday.
The incident occurred off the start when Reed made a huge mistake and clipped Ryan Breece and Brayton. Reed was immediately landed on by Kyle Chisholm, who had already committed to the jump. Chisholm said he injured his left knee in the incident but hopes it's just a bruise or sprain. We'll have more information on his condition once it's known.
As for Reed, he at first said he'll miss the remainder of supercross after sustaining eight broken ribs, a broken scapula, and a collapsed lung. Reed, who turned 37 earlier this month, had six top tens through 12 rounds. Then last night he posted that he will try to be back to race the Las Vegas finale!
Smartop/Bullfrog Spas/MotoConcepts Honda announced yesterday that an examination on Brayton's knee revealed a torn MCL and strained ACL. Brayton is expected to start recovery next week with light cycling and physical therapy and he's expected to return for round 16 in East Rutherford. Ben LaMay will fill-in for the next three rounds. Mike Alessi will remain with the team for the next two races also. Seattle was scheduled to be Alessi's final supercross race with the team.
Monster Energy/Yamalube/Star Racing Yamaha's Colt Nichols is hoping to race this weekend after a big crash shortly after taking the lead in the 250 main event on Saturday.
"I don't really know what happened. I'd been doing that section all day the same and I thought I did it the same that time but apparently not," Nichols told Racer X. "Just came up a little short on that triple. I caught something on my thigh, I don't know if it was the bar or footpeg or something. I had a little laceration on my thigh and we were kind of worried I'd done something to my femur but it's fine. It's a little bruised up but other than that we're good to go.
"If I can be walking next weekend by the time the race rolls around I'm racing," he continued. "We were worried about my femur, it's the same one I broke before and it has a rod in it, but it's good to go. Just bruised up."
Finally, our thoughts are with the Gage Schehr and his family as he continues to recover from injuries sustained in the 250SX LCQ. Gage is currently in the ICU at a local hospital in the Seattle area. Here is a full update on the privateer.
LAP TIMES
450SX CLASS — MAIN EVENT
| | | | | | |
| --- | --- | --- | --- | --- | --- |
| Lap Rank | Finish | Best Lap | On Lap | Avg Lap Time | Rider |
| 1 | 3rd | 45.961 | 8 | 47.217 | Eli Tomac |
| 2 | 2nd | 45.967 | 5 | 47.047 | Ken Roczen |
| 3 | 7th | 45.980 | 9 | 47.748 | Blake Baggett |
| 4 | 1st | 46.080 | 11 | 46.998 | Marvin Musquin |
| 5 | 5th | 46.259 | 8 | 47.548 | Joey Savatgy |
| 6 | 9th | 46.352 | 5 | 48.330 | Cole Seely |
| 7 | 4th | 46.354 | 6 | 47.241 | Cooper Webb |
| 8 | 8th | 46.593 | 11 | 48.313 | Zach Osborne |
| 9 | 6th | 46.701 | 14 | 47.683 | Dean Wilson |
| 10 | 10th | 46.901 | 9 | 48.713 | Tyler Bowers |
| 11 | 11th | 47.405 | 18 | 49.039 | Justin Bogle |
| 12 | 12th | 47.905 | 11 | 49.777 | Justin Hill |
| 13 | 13th | 48.463 | 8 | 50.925 | Mike Alessi |
| 14 | 14th | 48.716 | 6 | 51.323 | Ben LaMay |
| 15 | 15th | 49.041 | 8 | 51.836 | Carlan Gardner |
| 16 | 16th | 49.142 | 15 | 51.028 | Alex Ray |
| 17 | 17th | 49.336 | 13 | 51.338 | Justin Barcia |
| 18 | 19th | 49.499 | 3 | 52.841 | Kyle Chisholm |
| 19 | 18th | 49.650 | 6 | 52.855 | Austin Pollitelli |
| 20 | 20th | 52.205 | 13 | 55.494 | Ryan Breece |
| 21 | DNF | - | - | - | Chad Reed |
| 22 | DNF | - | - | - | Justin Brayton |
If you quizzed anyone watching the 450 main as asked them who had the fastest lap, would anyone have said Tomac? Would anyone have guessed Musquin only had the fourth-best lap?
Musquin made up his time late in the race, actually. On laps 17-23, he ran times in the 46 second range in six out of seven laps (he ran a 47.1 on lap 20). Contrast that to Roczen, who went into the 47s four times during that stretch, or Tomac, who only had one 46-second lap during that stretch.
250SX CLASS — MAIN EVENT
| | | | | | |
| --- | --- | --- | --- | --- | --- |
| Lap Rank | Finish | Best Lap | On Lap | Avg Lap Time | Rider |
| 1 | 2nd | 46.632 | 12 | 47.524 | Adam Cianciarulo |
| 2 | 1st | 46.699 | 9 | 47.541 | Dylan Ferrandis |
| 3 | 6th | 47.608 | 7 | 48.619 | RJ Hampshire |
| 4 | 8th | 47.819 | 10 | 49.204 | Cameron McAdoo |
| 5 | 4th | 47.829 | 11 | 48.748 | Michael Mosiman |
| 6 | 3rd | 47.916 | 6 | 48.747 | Jimmy Decotis |
| 7 | 7th | 47.948 | 10 | 49.566 | Mitchell Harrison |
| 8 | 5th | 47.951 | 11 | 47.951 | Chris Blose |
| 9 | 19th | 47.980 | 11 | 49.881 | Jacob Hayes |
| 10 | 12th | 47.996 | 10 | 49.752 | Garrett Marchbanks |
| 11 | 9th | 48.099 | 10 | 50.061 | Enzo Lopes |
| 12 | 10th | 49.141 | 5 | 49.141 | Justin Starling |
| 13 | 11th | 49.733 | 6 | 51.292 | Robbie Wageman |
| 14 | 15th | 49.805 | 20 | 51.330 | Martin Castelo |
| 15 | 18th | 50.117 | 6 | 51.662 | Killian Auberson |
| 16 | 13th | 50.237 | 8 | 51.626 | Chris Howell |
| 17 | 14th | 50.419 | 8 | 51.799 | Logan Karnow |
| 18 | 21st | 50.979 | 3 | 51.506 | Dylan Merriam |
| 19 | 16th | 51.115 | 5 | 53.152 | Brandan Leith |
| 20 | 17th | 52.228 | 3 | 53.282 | Bradley Lionnet |
| 21 | 20th | 52.545 | 4 | 53.336 | Jerry Robin |
| 22 | DNF | - | - | - | Colt Nichols |
GIF of the Weekend