Detroit, MI
Detroit
Monster Energy AMA Supercross Championship
Six years ago at the Tennesse National, I was standing trackside watching practice when then-Vurb Moto videographer Jason Crane walked up. We exchanged greetings, and then Crane said, "What do you think the chances are that Cooper Webb becomes the best rider… ever?"
Okay, the use of "ever" was a bit over the top. Of course the Vurb guys, primarily based on the amateur scene, were all pumped on a rider that had just come out of the amateur ranks. Webb had just made his pro debut a month earlier. On that day at Muddy Creek the likes of Ryan Villopoto, Ryan Dungey, James Stewart, and Chad Reed were competing. Cooper Webb qualified ninth and went 5-15 for 10th overall in the 250 class. We're talking best ever, here?
"He's just so smart," said Crane, who is now a videographer for Racer X.
I don't think Cooper Webb is going to overtake Ricky Carmichael or Jeremy McGrath in an argument as the greatest rider… ever. But take that bit of hyperbole away and focus on the other part. This part:
"He's just so smart."
That, right there, is the crux of the Cooper Webb story. Our buddy Jason Crane nailed it. If Webb does indeed become an all-timer (okay, not the greatest… ever, but just really, really good) how will he be remembered? What was his secret sauce?
All the greats have something. Bob Hannah was determined, Jeremy McGrath had next-level skills, etc. We also know today's contenders: Ken Roczen is smart, Marvin Musquin a technician, Eli Tomac has a Beast Mode. What's Cooper Webb's secret sauce?
Many will point to the flashy things like trash talk or brash podium speeches. However, that might not be around anymore. The last two seasons provided a humbling experience and Cooper has matured. Plus, his new surrounding cast implores him to not waste energy or effort on rivalries. Twice this year, Cooper has served revenge on a cold dish to Roczen via last-turn passes. If this happened last year, the finger gun salute over the Anaheim 2 finish would have spilled into podium interviews and social media. But Cooper repeatedly gets teed up with questions about Kenny and he always takes the high road.
Roger DeCoster is happy that Cooper is teamed with veteran mechanic Carlos Rivera, because Rivera keeps him calm. They don't want to take Cooper's fire away, but they want it aimed in the right direction. Rivera worked with Ryan Dungey and Davi Millsaps, never known as rough riders. He implores his man to concentrate on himself and race forward.
As a further example, I heard that the TV crew for Monster Energy AMA Supercross recently wanted to shoot some hero shots with Cooper. You see these shots before a commercial break: rider staring at the camera, with a dark smoky background. The TV folks wanted Cooper to do the usual stuff—maybe shadow box at the camera, maybe point at the camera with a cocky look. His support staff told him not to do this. Champions shouldn't act cocky. Would Ryan Dungey do such poses? Further, Webb came into this season playing the underdog role, and since it's working, he's not going to change course just a few months into a career rebuild.
For now, Webb is going to let the scoreboard do his talking. Obviously, it's speaking volumes. The last two weekends show his full potential. Seventh to first in Arlington was mega. But grinding out a second in Detroit, when he was not on his game, was equally impressive.
Why?
"He's just so smart."
I think this will become the defining factor for Cooper Webb. Few riders I've seen are so good at watching, learning, internalizing, and then applying lessons learned throughout the race day. It's one thing to watch another rider and figure out what they're doing better. It's another to actually figure out how to do those things yourself, and then even harder to execute that in the heat of battle, under the lights. Webb is the rare rider who actually gets better in the races instead of the mid-week motos. He figures it out.
You know what race Webb kept in his mind during his struggles in 2017 and 2018? The Charlotte USGP from 2016. At that race, he ran down and passed Jeffery Herlings for the overall MX2 win. I remember Webb was way off the pace on Saturday, and that Herlings beat him straight up in Sunday's first moto. Cooper started way back in moto two, he pretty much had no chance of winning.
And yet, he found all sorts of crazy speed when he needed it and caught Herlings.
"After practice these guys were quite a bit faster than me and everything so I really had to study what they were doing and apply it to everything," he said that day. He then added about the first moto: "I haven't really ever had somebody in the 250 class pass me and just kind of pull away. It was something that I had to learn and try to stick with him."
He learned enough to be the fastest man in the second moto.
Detroit unfolded in similar fashion. I watched Webb put in a heater lap in practice and end up ninth on the lap charts. He then rolled around for a very slow lap, most likely in frustration.
Detroit featured blitzing whoops instead of the jumpers that we've seen at a lot of races this year. Cooper and his teammate Marvin Musquin have been very effective when jumping, and Webb did go hard blitz in Arlington's final lap to get up next to Roczen. The Detroit whoops were throwing him for a loop, though. He kept tinkering with the bike trying to get it to work better, but the changes only made it worse. In a Triple Crown format, it was up to Webb to use his old stuff: watch, learn, internalize, apply.
"Yeah it was a tougher day for sure, it was more of a struggle for me today in practice," said Webb. "I was messing with the bike a lot and not really getting anywhere, so I went back to what I knew."
Webb has massively improved his starts, taking them from a liability to a strength. That's paid off huge in the two Triple Crown nights, where he nailed all six gate drops. That helped in Detroit, but his riding in the first race wasn't good enough to stay there. Tomac, from 11th, came flying by in those whoops.
Webb internalized it.
"Eli got around me but it was good to at least ride with him because he was obviously the best guy today, by far," said Webb.
"They [the whoops] were a little weird, probably one of the bigger sets this year, real uneven," he explained. "Actually, when Eli passed me in the second one I kind of saw how he was able to get on them and do them, so I was able to get better when he got around me, and I was able to see what I needed to fix."
Webb did get better in the whoops, but he still didn't have his Arlington speed. He would have to use race craft in the final moto to get the win—but that's his strength.
First, Justin Barcia knocked Blake Baggett off the track to take the lead. The hard contact in the bowl berm got the attention (and a warning to Barcia by the race officials). Barcia actually started his move the corner before that, the left-hand 90 after the table tops. He went way high early in the berm, allowing him to angle back to the inside for the next turn. This gave him the slightest opening on Baggett, and then he went Bam Bam to do the rest, slamming Baggett off the track.
Webb was now second behind Barcia, leading to a killer three-lap chess match. Barcia is one of the hardest riders to pass, and Webb didn't have his best stuff on this night. Webb knew Barcia liked the outside of the corner before the bowl berm, so he jumped to the inside and nearly passed him. The next lap, Barcia wisely switched inside to cover the line. Webb followed. The next lap, Webb switched to the outside, to use the same line Barcia used on Baggett against him. Barcia held him off, and then on the next lap, Barcia went back to the outside to block. Now Webb had him—he went inside and got the line he wanted on Barcia. They were side-by-side, so Cooper hesitated in the berm just enough to pin Barcia to his side. Bam Bam had nowhere to go and had to surrender the position.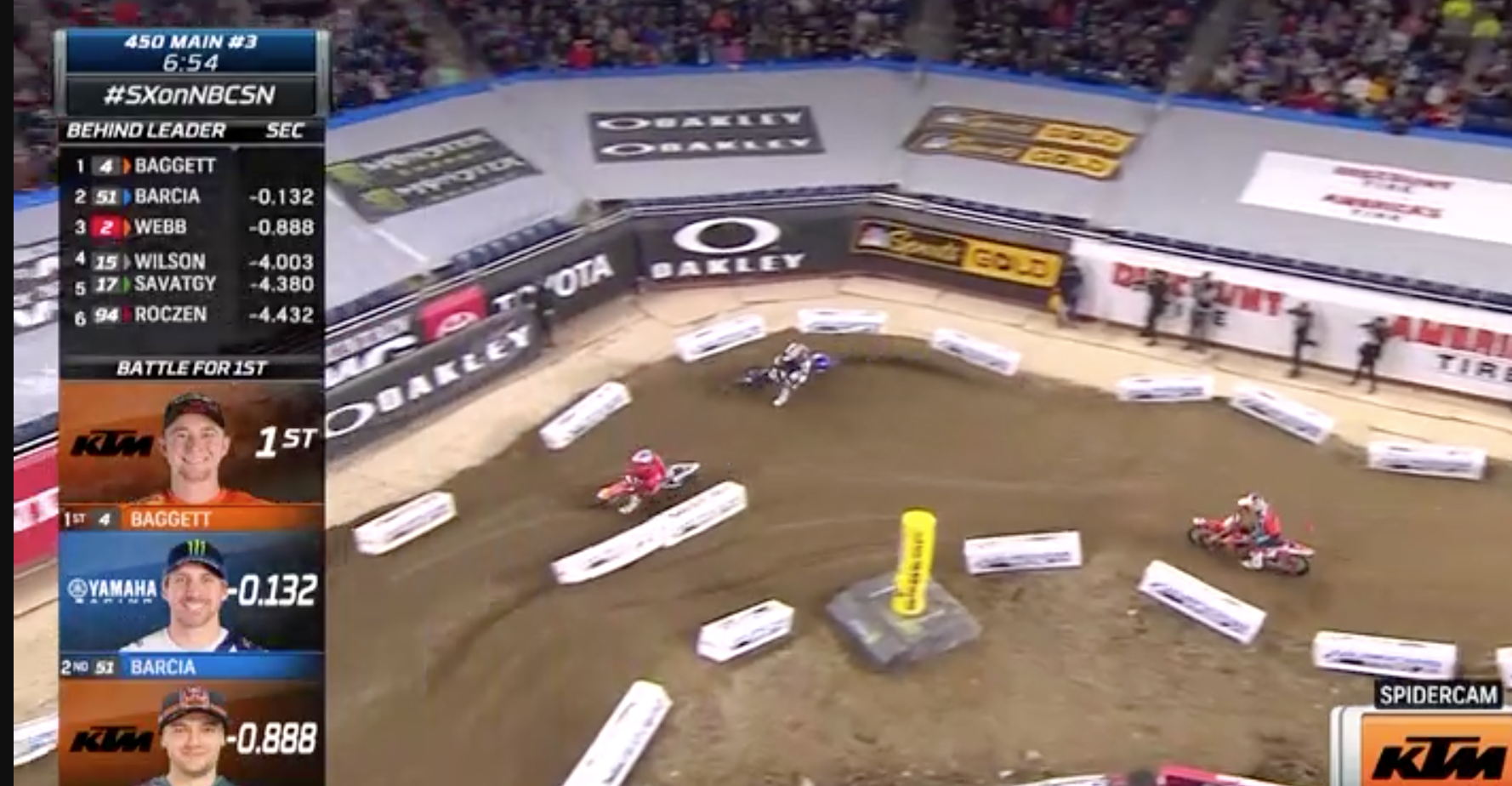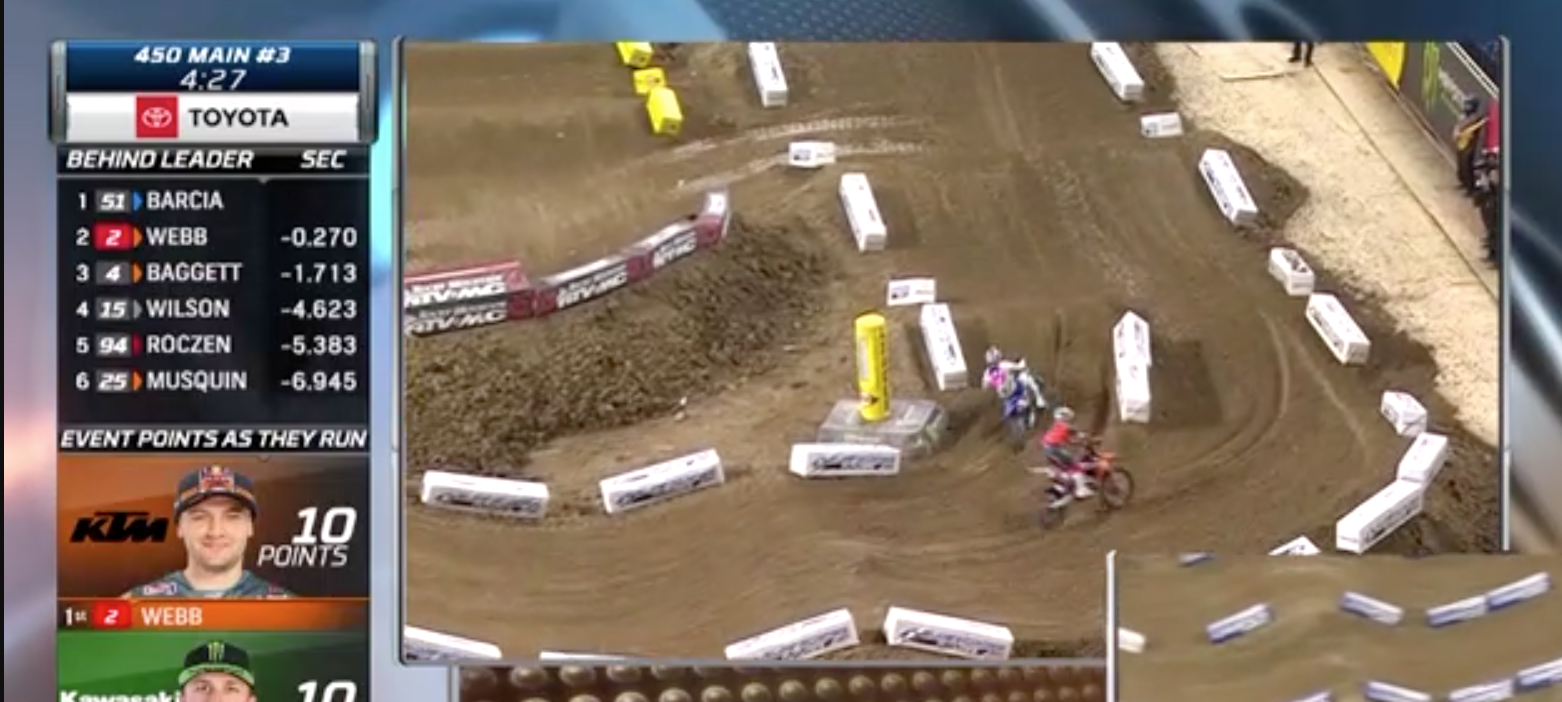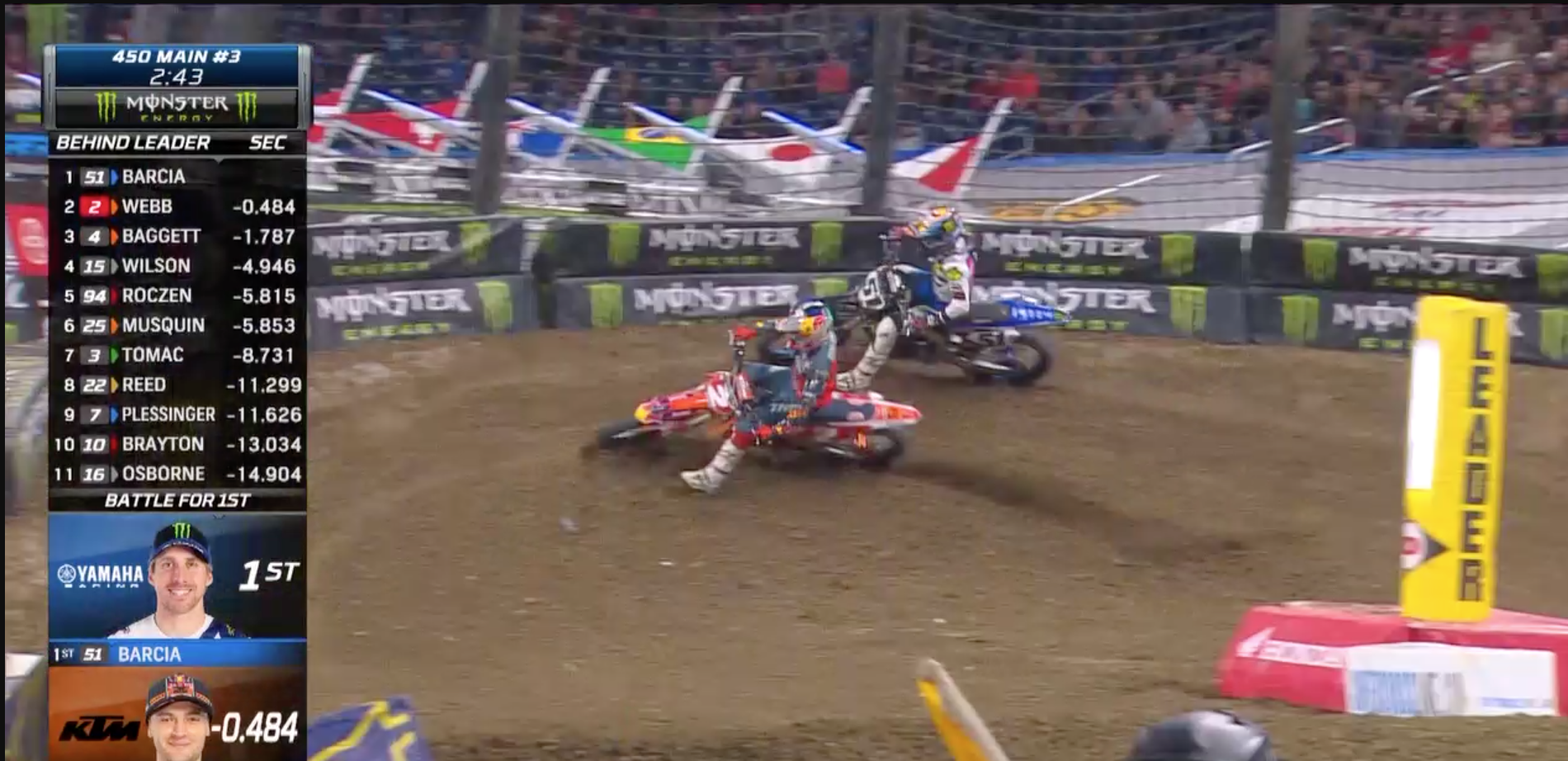 It wasn't over. Baggett was going even faster and caught Webb on the last lap. Webb rode defensively and put his KTM in the right places to prevent Baggett from finding an opening. Over the tabletops, he purposely took the middle so Baggett couldn't tell if he was going to use the outside or the inside in the next corner. In the last turn, he went slow enough so that Baggett got stuck behind him, preventing him from tripling before the finish.
It wasn't blazing speed like last week, it was race craft and smart moves under fire. That is Cooper Webb's "it" factor.
Maybe that's why the one time it didn't happen—when he crashed late at the 2016 Motocross of Nations, while clinging to a team victory—it crushed him. Webb always comes through in the clutch. The one time he didn't really stung.
Usually, though, he comes through when it counts. Because he's smart. And when you can finish second on a night when you don't have your best stuff, you make your case for the championship that much stronger.