Oakland, CA
Oakland
Monster Energy AMA Supercross Championship
There was once a day when the Smartop/Bullfrog Spas/MotoConcepts Honda team didn't enjoy the type of recognition they do today. But in recent years, the squad has made some impressive strides—they have support from American Honda, team rider Justin Brayton won the Daytona supercross last year, and their riders in general usually pull in significantly better results that they did just a few years ago. Before his crash and broken femur at Glendale, Malcolm Stewart was rounding into a genuine threat for race wins, and Vince Friese and Brayton continue to log solid results. Team Manager Tony Alessi has evolved from infamous moto-dad to respected veteran of the pits, and his rep is ratcheting upwards at the same rate as his team.
We talked to Tony in Oakland to get his take on the team's exceptional progress.
Racer X: The team has made a lot of gains and has taken some exceptionally large steps in the last couple years. What are your thoughts on this progress?
Tony Alessi: The progress of the team over the last three years has been a steady pursuit of just being a little better every year. Making those refinements and learning from the year before. We're also very loyal to our riders, and we work really hard on improving them, improving the bike for them, and improving the look and image of the team. These are all things that are always a work in progress. It's always a work in progress, and we're getting better every year. We're not looking to make leaps and bounds at a time. We're looking to improve at a gradual rate.
Are there pitfalls to the leaps and bounds way of doing things?
If you try to go too big too soon it's like a balloon. It pops. We're building our relationship with Honda year by year and gaining their trust in what we do. Obviously we work closely with them when it comes to riders and technical areas of the bike. Having the opportunity to ride at their facility, getting riders on the same components, and all of these things, it makes a huge difference. All the guys are on a very high-level Showa suspension program now. Those are just some of the things that add up. At the end of the day we're all out here racing for tenths [of a second] on the track.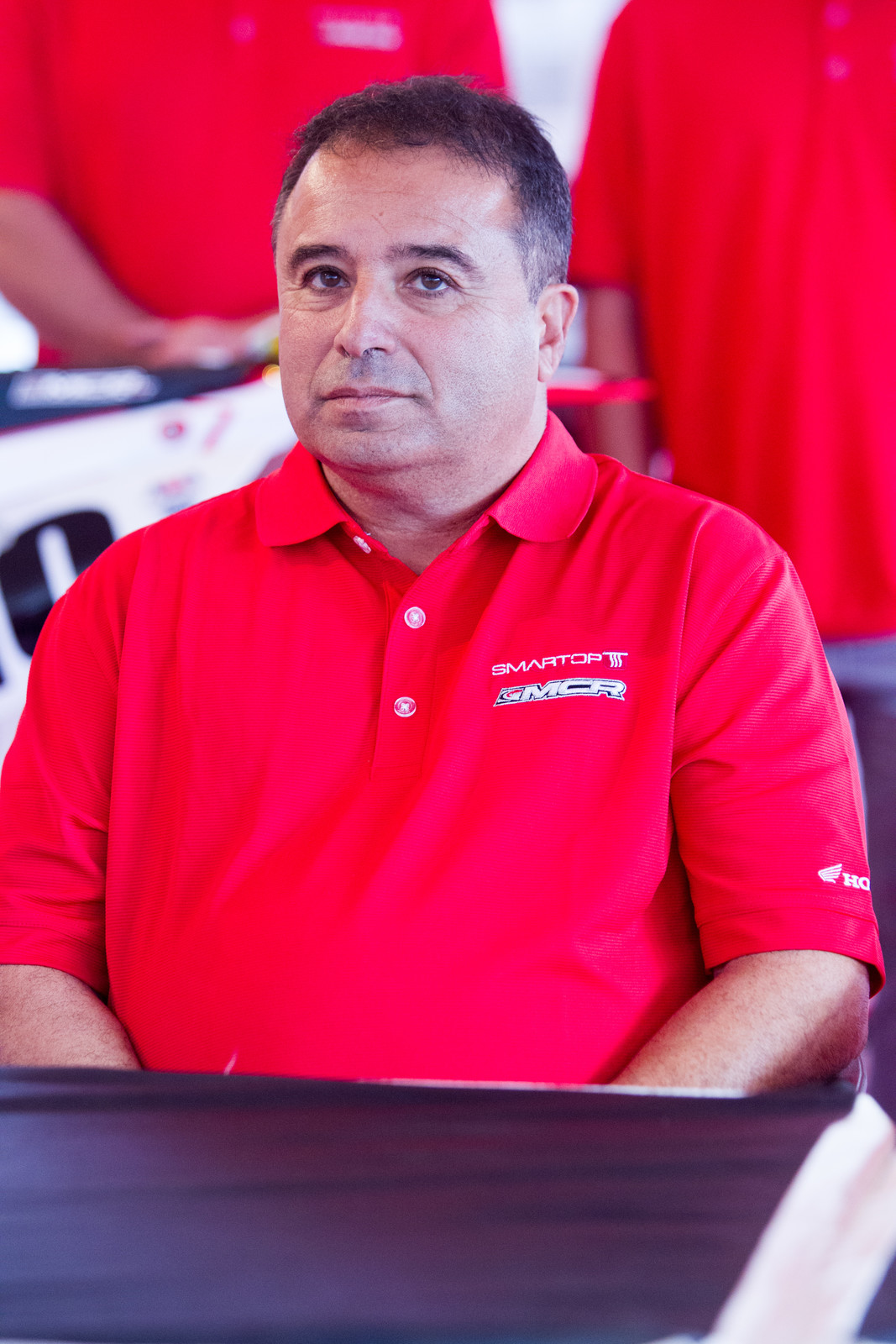 Leaps and bounds or not, from the outside looking in it sure looks as though you have made some leaps and bounds recently.
Well at one point we were a ninth to fifteenth team. Then all of a sudden we got closer to being a top ten team. Then we became a top five team. Now we're, with the addition of Malcolm Stewart and Justin Brayton winning last year, we're trying to find ourselves in the top three and four. So if you go a few years back when we were thirteenth or fourteenth, and now all of a sudden we're fifth or sixth, it does look like leaps and bounds. But in the real word we've just been working on steadily getting better.
Talk about a normal work day for you. What does a day in the life of Tony Alessi entail?
My wife leaves for work at four o'clock in the morning so I'm up pretty early. Then I have two daughters I take care of and I get them going at roughly five to six-thirty. Then grandma comes over and takes care of the kids and I go to work. I make sure I have all the mechanics ready to go, all the materials we're working with ready to go, I make sure the riding facility is ready to go, and coordinate with the riders. A lot of that can get accomplished during the standard two-hour drive to the test track. Then you get to the track and we usually have something or another to test during the day, but obviously at the same time we're trying to get the riders through their motos, which they have to accomplish each day. When that's concluded it's the drive back. We prep the bikes, which is a process in itself, and do it all over again the next day.
So you begin the day with a grind, then you go grind, then you finish it all off with a grind.
Yes.
You're totally committed, even after all these years in this sport.
If you're going to be involved in this sport you have to be completely committed. There is no halfway, it's not possible. You have to be all in.
Well, not everyone thinks like that. You obviously care about the progression of the team.
Well we're a team with passion. We try to keep it subdued as much as possible because for whatever reason it's perceived incorrectly from the outside. We have to keep a low posture, but all of us are burning inside to get to the top of the podium. That's our ambition.
You mentioned things can get viewed the wrong way. The team, maybe five years ago or so, was perceived somewhat as an outlaw team. Not so much these days. Is keeping a low posture the difference in the perception of the team?
When you come in with an attitude of, 'Were going to do whatever it takes to win, get out of the way,' people don't like it. They don't like that approach, it's too strong for them. They don't respect it. You can have that passion and that attitude, but you have to keep it subdued. At the end of the day in this sport, a lot of it has to do with whether you're liked or not liked. So you have to keep it in check. That means we have to go about our program quietly and methodically. As long as we can do that and keep progressing, we're going to inch our way nearer to our objective, which is winning the race.
The way the team is looked at now, that's got to be something the owner, Mike Genova, is proud of after breaking with the OEMs years ago. Getting to where the team is at now, with Honda support and everything, couldn't have been easy.
Before I got here the team was a non-branded bike team. Mike Genova, who runs the team, didn't feel good about advertising a brand that wasn't supporting the team, which is understandable. But at the same time you have to look at it from the manufacturer's perspective too. How can they support someone who isn't supporting them? It's like two heads butting against each other and somewhere you kind of have to give in a little bit. It's way better for us to be a supported team with American Honda, and to be looked at as their satellite 450 team. Overall it's a better place to be.
Your days are long, and the last ten years haven't been inexpensive for Mike [Genova]. Let's close with talking about the motivation that keeps this whole thing going.
There's a certain amount of pride that goes with what we're doing. We're proud of our riders, we're proud of our team, we're proud of our look, and we're proud of the results we've been able to produce. That's a big part of our motivation. We're really proud of who we are as a team. We stand together, all of us. Mechanics, truck drivers, riders, myself, everyone. We're united and we're all striving for the same goal, which is to be the best that we can all be. And you're always chasing that dream, right? The dream of being the best. It's not something I've ever lost. Since my kids were minibike riders, it's always been about chasing the dream and to be the best. That's the pursuit. We haven't lost it and we'll continue to stand together and strive.