Angel Stadium
Anaheim

,

CA
Anaheim 1 (A1)
Monster Energy AMA Supercross Championship
Welcome to the first Race Day Feed of the year, coming to you from Angel Stadium in Anaheim. Today marks the beginning of a brand new season of Monster Energy Supercross, and right here is where you can keep track of all the action. From practice reports to the blow-by-blow from tonight's program, you'll find it all right here on the Racer X Race Day Feed. Updates are posted in chronological order, so be sure to scroll down for the latest info. For even more updates be sure to follow us on Twitter, @Racerxonline.
Morning Report
It's finally here, Anaheim 1. We've been talking about a multitude of storylines leading up to this day, and when the gate drops tonight we'll finally get the answers to the questions everyone has been asking over the last several months. One of the biggest things to watch are the rookies moving up. Joey Savatgy, 2018 250SX West Champ Aaron Plessinger, and 2017 250SX West champ Justin Hill will all be making their fulltime debuts today. It's going to be extremely interesting to see where the fit in early on. 250SX East Champ Zach Osborne was slated to make his 450SX debut today also, but will miss several rounds after a recent crash resulted in a bent plate on his collarbone. For more info on who's in and who's out, check out our Injury Report.
There are plenty of other things to watch in the 450 Class too. Rumors have swirled regarding a back injury to Eli Tomac (he said he was fine in yesterday's press conference), Marvin Musquin had a knee injury during the off season, Jason Anderson is beginning his title defense, Ken Roczen is back in supercross after suffering a terrible injury last year in San Diego, and Justin Barcia is entering his second year with Yamaha after coming in as a fill-in rider for Davi Millsaps in 2018. The riders didn't give us much to talk about in yesterday's press conference, but that's par for the course. As much as everyone would have loved to see some bold predictions or trash talk from the riders, everyone pretty much gave the same "We've been working hard to be ready for the season" type answers we always hear. Not exactly riveting stuff, but it's nothing new and you can't blame the riders for staying focused on the task at hand. We'll get as much entertainment as we can handle when the gates start dropping tonight.
Speaking of gates, they might not be the only things dropping tonight. As of noon, the weather report was calling for raindrops starting at roughly four in the afternoon and continuing on through the night. We've seen the track crew work wonders in the past, but there's not a whole lot they can do if a bunch of rain lands on an uncovered track. Stay tuned on this one.
As far as the track goes, it's not basic as is usually the case at the opener. There are a pair of rhythm lanes, one of them with tight-looking transitions, and two whoop sections that have very deep whoops. One of them consists of twelve whoops, the other seven. There are also a pair of doubles right out of a left hander that plenty of riders described simply as, "big." The landings aren't super sharp though, so the penalty for coming up short won't be quite as heavy as it could be.
Untimed practice is just getting underway, so check back soon for an initial practice report.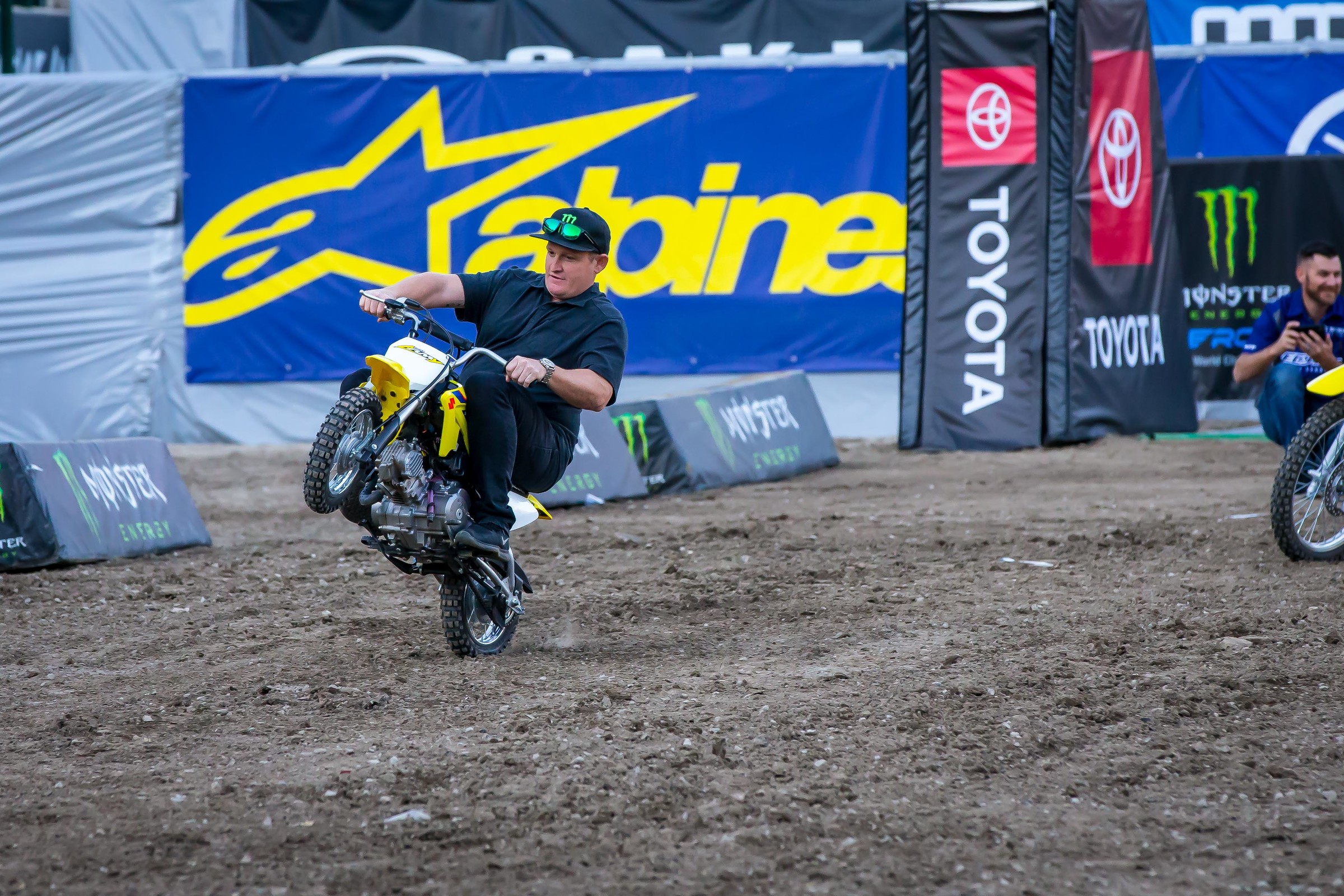 Qualifying – Session One
Adam Cianciarulo led the 250SX field into his first timed practice session of 2019 and immediately started throwing down fast ones. Dylan Ferrandis had the same idea though, and a few laps in, it was his name at the top of the board with a 56.645. His teammate, Colt Nichols, followed with a 57.046.
Roughly five laps into the session Justin Starling had a big crash after getting kicked funny and landing without his bike, well off the side of the track. It looked like he landed on his back and was on the ground for quite a while. He ended up leaving the stadium floor in the back of the Alpinestars Medical Mule. We'll have more on that situation when information becomes available. On the track, meanwhile, Cianciarulo had made his way back to the top of the board with a 55.9. It wouldn't survive though, as Ferrandis snuck in a heater at the very end and logged a 55.789, the fastest lap of the qualifier.
Anaheim 1 (A1) - 250SX West Group A Qualifying 1
Full Results
Anaheim 1 (A1) - 250SX West Group B Qualifying 1
Full Results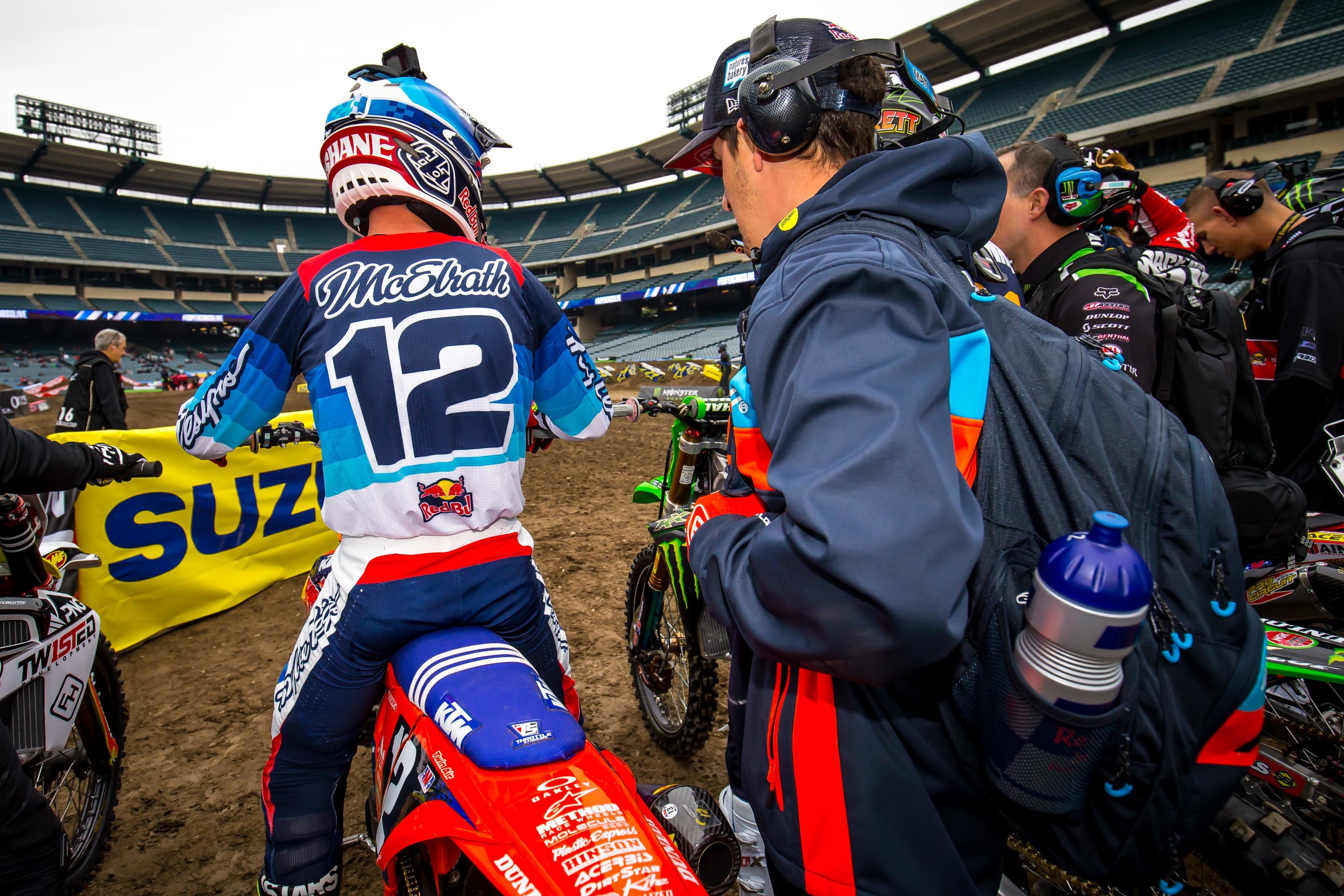 In 450 action it was Eli Tomac who was fast right away, logging a 55.661 almost right away. But with about five laps down Justin Hill started sniffing the top spot, setting a time less than a tenth of Tomac's. The Monster Energy Kawasaki rider responded immediately by laying down a 55.302. Then the usual suspects all started clicking off extremely fast laps, and even though Tomac beat his own time yet again with a 55.125, it wasn't enough to hold off the onslaught of speed his competitors were bringing. Justin Barcia posted a scorching time, a 55.058, just as the session was wrapping up to snag the top spot of the first qualifer. With rain in the forecast for this afternoon, it's entirely possible this first qualifier will be the only one that matters too. If the track gets sloppy before the final round, lap times will increase dramatically. Stay tuned for updates.
Justin Bogle took a tumble in this one, and even though it took him a few moments to get rolling again, he seemed okay.
Anaheim 1 (A1) - 450SX Group A Qualifying 1
Full Results
Anaheim 1 (A1) - 450SX Group B Qualifying 1
Full Results
Anaheim 1 (A1) - 450SX Group C Qualifying 1
Full Results
Qualifying – Session Two
Dylan Ferrandis picked up where he left off in the first qualifier by immediately shooting to the top of the board in the second. It didn't last long though, as Jimmy Decotis would best him by about a tenth of a second right away. About a lap later Ferrandis had a rough looking get-off in a rhythm lane, but fortunately landed right on Tuff Block, turning what would have likely been a painful ordeal into a quick bounce-back. Colt Nichols then held the fastest lap with a 55.312, only to see Adam Cianciarulo top everyone with a 55.155. Ferrandis took it back for a brief moment, but Cianciarulo retaliated and dropped his time by over half a second the next time around. Unlike the first qualifier, there were no final lap heroics from Ferrandis this time and Cianciarulo, who somehow lowered his time again to 53.963, emerged as the night's fastest 250SX qualifier by nearly a whole second.
Justin Starling had a big crash in the first qualifier, ejecting from his bike and landing on the hard concrete on his hip. We stopped by the Gas Monkey Energy/AJE Motorsports pits and were told that although he was in a great deal of pain and was applying ice, he wanted to try to make it back out. He didn't come out for the final qualifier, but his time from the first was good enough to put him in tonight's fast forty. We'll see if he comes out for the night show.
Anaheim 1 (A1) - 250SX West Combined Qualifying
Full Results
Eli Tomac fired the first shot in the final 450SX qualifier, logging a 55.397, but with Cianciarulo dropping into the 53-second range just moments prior it was apparent more speed was on the way. It didn't take long to arrive either, as Tomac quickly bested himself with a 54.795. Behind him the times were jumping around like a kid in a trampoline park. Malcolm Stewart, Blake Baggett, Justin Brayton, Ken Roczen, and Justin Hill were all taking shots at being second-fastest. To make matters more interesting, the rain had started to come down and the times at the top of the board started changing again. First Baggett shoved Tomac off the top of the hill with a 54.436, only to be removed himself by Dean Wilson a moment later with a 54.384. Not to be outdone, Baggett fired back with a 54.346 to edge Wilson and become the night's fastest 450SX qualifier. As far as times, it was a pretty competitive session. Check out the top five—they're separated by less than half a second!
Anaheim 1 (A1) - 450SX Combined Qualifying
Full Results
250SX Heat One
As the first race of 2019 was about to get underway the anticipation grew by the second. The board went sideways, engines got louder, and riders waited intently. And waited, and waited. Until everyone realized the first gate drop of the year was a bust due to a gate malfunction. The problem was quickly fixed and next think you know the board went sideways, again, and when the gate dropped Dylan Ferrandis shot out to what looked like the first holeshot of the year before sliding out in the first turn and going down. That handed the lead to Canadian Jess Pettis with RJ Hampshire all over him. It took about a lap on the slick track, which had seen rain earlier in the day, before Hampshire made the move and took over the lead. Next to pass Pettis was Shane McElrath, but by that time Hampshire had built a solid lead. McElrath gave chase but ran out of time. Transfer spots went to Hampshire, McElrath, Enzo Lopes, Jess Pettis, Dylan Ferrandis, Carson Brown, Thomas Do, Sean Cantrell, and Chris Blose.
Anaheim 1 (A1) - 250SX West Heat 1
Full Results
250SX Heat Two
Just like in the first 250SX Heat, the pack came in way hot in the first corner, this time with Jimmy Decotis going from hero to zero in the span of about fifteen feet when he traded in what looked like a near holeshot for a muddy slideout. A quarter lap later Adam Cianciarulo went off the track, causing the crowd to gasp. He was able to get back on quickly though and it wasn't long before he settled in and went after Jacob Hayes in the lead. Hayes ended up missing a triple, which allowed Cianciarulo to sail by unchecked. Colt Nichols got by Hayes next. Back in the pack Decotis was trying to race back into a qualifying position but ended up going down again. He was able to get going quickly though and made the pass into the final qualifying spot late in the race. Cianciarulo, Nichols, Cameron McAdoo, Hayes, Mike Mosiman, Garrett Marchbanks, Brandan Leith, Martin Castelo, and Decotis transferred to the main.
Anaheim 1 (A1) - 250SX West Heat 2
Full Results
450SX Heat One
Dean Wilson got 2019 going right by shooting out to the early lead in this one, with Ken Roczen all over his tail. A couple laps later Jason Anderson was running third, came up short on a double, and missed the next jump. That allowed Joey Savatgy by, but Anderson quickly blocked him in the next corner, only to have Savatgy repay the favor in the next turn. It was an entertaining exchange.
Up front, meanwhile, Roczen had gone past Wilson and into the lead. Aaron Plessinger ran third, with Savatgy, Anderson, and Seely in tow. Seely made his way around Anderson and picked up an additional spot when Savatgy went down a lap later. On the final lap Plessinger was reeling in Wilson but didn't have quite enough time. Roczen took the win with Wilson, Plessinger, Seely, Anderson, Justin Brayton, Tyler Bowers, Savatgy, and Breece taking the remaining transfer spots.
Anaheim 1 (A1) - 450SX Heat 1
Full Results
450SX Heat Two
The first 450SX lead of the year went to Malcolm Stewart. Justin Barcia gave chase, with Blake Baggett and Justin Bogle about two second behind. Barcia then took the lead and checked out, but there was plenty of action behind him, as spots four through eight were relatively tight. Chad Reed was in tenth doing his best to catch and pass Cooper Webb for the final qualifying spot, but he simply wasn't able to catch the Red Bull KTM rider. Barcia took the win with Stewart, Blake Baggett, Justin Bogle, Eli Tomac, Marvin Musquin, Vince Friese, Justin Hill, and Webb taking the final transfer spots.
Anaheim 1 (A1) - 450SX Heat 2
Full Results
250SX LCQ
The rain returned before the start of the LCQs to ensure maximum mayhem to what's already one of the most entertaining races of the night. When the gate dropped Bradley Lionnet got out to an early lead and immediately went to work on building a gap. Behind him Matthew Jorgensen, Logan Karnow, and Jerry Robin all held transfer spots, but elsewhere plenty of guys were sliding out and going down on what was becoming a slick racetrack. Dylan Merriam was one of them, which ruined his shot of making the first main of the year. As the race wore on it looked like a battle might develop for the final transfer spot, but Robin never let Devin Harriman get close enough to challenge. Lionnet, Jorgensen, Karnow, and Robin all transferred to the main.
Anaheim 1 (A1) - 250SX West LCQ
Full Results
450SX LCQ
There was plenty of jockeying for position up front well into the first quarter of a lap in this one, but it was Carlen Gardner who ended up finally securing the lead. Behind him were Ben LaMay, Alex Ray, and Chad Reed. Kyle Chisholm hovered just outside a transfer spot, but that would change. It wasn't long before he was all over Ray, who'd been passed by Reed, and Chisholm eventually went around Ray in the whoops for fourth. A moment later the crowd absolutely erupted when Reed went around LaMay for second. With one lap left Gardner had about four seconds on Reed, and Reed seemed happy to take second rather than risk throwing it away on a slippery track. Gardner, Reed, LaMay, and Chisholm all transferred to the main.
Anaheim 1 (A1) - 450SX LCQ
Full Results
250SX Main Event
Adam Cianciarulo was oh so close to a holeshot in this one but he came in too hot in the first turn and just kept sliding into the next lane thanks to slick conditions created by a steady rainfall. He didn't crash but he lost a ton of spots. Up front it was Colt Nichols maintaining a slight gap over Shane McElrath, RJ Hampshire, and Dylan Ferrandis. Ferrandis bobbled several laps in and ended up temporarily losing touch with Hampshire and McElrath. Cianciarulo, meanwhile, had recovered nicely and was putting on a nice charge, moving up to fifth from way, way back in just a few minutes. Things went sideways though when he and Hampshire tangled and he went down. Then he nearly went down again after remounting while going through the whoops! Then he did go down again while trying to go around the outside of Hampshire, who ran him wide. Through all that he only dropped to sixth, and it wasn't long before he'd taken fifth away from his teammate, Garrett Marchbanks. The next rider on the list was Hampshire, but he was about seven seconds up and there was already plenty of lapped traffic to contend with, and Cianciarulo seemed to settle in for fifth.
Up front Nichols had a massive lead over McElrath, who was doing everything he could to hold off Ferrandis. The two went back and forth for a bit with Ferrandis eventually taking control. McElrath lost more time when he nearly crashed trying to avoid a lapper. Nichols took the win, a career first, with Ferrandis and McElrath rounding out the podium.
Anaheim 1 (A1) - 250SX West Main Event
Full Results
Supercross 250SX West Standings - 2019
Full Standings
450SX Main Event
The first 450SX race of the year saw Cooper Webb, Joey Savatgy, and Ryan Breece all go down in the first turn. It was the total opposite for Dean Wilson though, who found himself in the lead right away with Malcolm Stewart and Jason Anderson giving chase. Roughly a lap later Justin Barcia had caught Anderson and went around him for third. Ken Roczen and Aaron Plessinger followed suit shortly after, and pretty soon Eli Tomac, who'd started around tenth, was knocking on Anderson's door. The two yo-yoed for a few laps, with Anderson doing a great job of holding Tomac off. The pass from Tomac proved inevitable though, and with roughly half the race remaining Tomac knifed to the inside of Anderson and went by as the two went under the over/under bridge.
Up front Wilson continued to hold a slight gap over Stewart, but Barcia was slowly closing on Stewart. Then the two started closing on Wilson, and a battle for the lead seemed like it was about to unfold. The rain also continued to pour down, making for an extremely slick track and promising to make things even crazier. The slick track probably contributed to Stewart going down all by himself, which gave Wilson some breathing room again. By this time Roczen was closing on Barcia and Wilson, and the battle for the lead was back on. Barcia was the first to strike, going by Wilson in a right-hander with just four-and-a-half minutes plus one lap remaining. In the snap of his fingers Barcia ran away up front, but behind him the battle was still unfolding as Wilson and Roczen cut through lappers. Wilson then made the decision to ditch his goggles, and as he was doing so Roczen pulled next to him and finalized the pass in the following corner.
A few positions back Tomac was continuing to steadily make up ground. He'd gone around Plessinger and Stewart, and with a few seconds left on the clock he put his head down and went after Wilson. With one lap remaining Tomac was all over Wilson and ended up making the pass with three-quarters of a lap remaining. Wilson attempted a last-ditch effort in the final turn but Tomac held the final podium spot. Great race for Webb, who was in just about dead last after the start and ended coming all the way back up to fifth. Barcia took the win with Roczen, Tomac, Wilson, and Webb rounding out the top five.
Anaheim 1 (A1) - 450SX Main Event
Full Results
Supercross 450SX Standings - 2019
Full Standings