Sometimes things don't always go according to plan and sometimes circumstances play out that are completely beyond a rider's control. Such is the case for Michigan's Marshal Weltin.
Weltin spent the last two years racing the FIM Motocross World Championship and had a deal all lined up to compete in the EMX250 class in 2019. That all changed when Youthstream announced that they were implementing an age limit of 23 years old for anyone competing in EMX250. Not feeling completely ready to move up to a 450, Weltin was left without a ride and forced to come back to the United States.
As you'll read in our interview below, at first he was very unhappy when he found out the news. However, rather than dwelling on the matter, he has put together a privateer effort for the 2019 Monster Energy Supercross campaign with the help of some pretty cool sponsors, and hopes to put up results worthy of a fill-in ride if the opportunity presents itself.
Racer X: For those who don't know, why don't you go ahead and introduce yourself and give us a little bit of background on who you are, where you've been, that kind of thing.
Marshal Weltin: I'm from Ubly, Michigan. That's where I grew up. I spent around three or four years in South Carolina. I lived at a training facility called ClubMX. I finished up my whole high school diploma and went all the way through school. My dad owns an insulation business. I have two brothers and they both ride a little bit. My mom is there for me all the time as well. So it's a great family behind me.
I went to Loretta's a couple years and did very well. It basically all kind of kick started at ClubMX and I went from a mid-pack B rider to a title contender in the Pro Sport class. After that, I kind of changed my goals on racing and basically tried to do the privateer thing in America for a while. That didn't transition into much, and I had a pretty cool opportunity to go race the European Championship in Europe in 2017 for Bud Racing. I did the whole year there and I finished sixth in the championship. This year, 2018, I got the opportunity to race the MX2 World Championship, which was pretty cool, and I got to see a lot of cool places and met a lot of great people.
It started out a little bit rough with results and my riding. I was pretty uncomfortable. Things twisted about halfway. I started working with the F&H Kawasaki team beside Marc de Reuver and that whole unit works great with me. I jumped on the green and felt instantly comfortable and started putting in some top ten, top five results at the end of the season. I ended up coming back to the US with expectations to race the European Championship next year, because that's what Kawasaki cut out for me with the F&H team. Unfortunately, they changed the age rule to race the European Championship next year to 23 and I just had a birthday where I turned 23. So I aged out and I don't really have a place to race in Europe anymore unless I race MX1 [MXGP]. So that kind of shut the door of heading back overseas. It's too bad, because I felt like I kind of started to build a name for myself over there, but things happen. Just the age rule changed, which no one can really control besides Youthstream. It doesn't sound like many people agree with it, but it is what it is now. Like they say, one door closes and another one opens. In this case, I kind of sat around for about a week pretty bummed out about not having a ride. I talked to my dad and he was fully supportive of me trying to make an East Coast Supercross push as a privateer. He was planning on kind of funding it all himself, but I wasn't very cool with that. I wanted to kind of do it on my own, like find some sponsors and stuff. Like I said, I tried the privateer thing in the past and it never really worked out, but I made a few calls and got in contact with a few great people and great friends of mine and things have really started to come together with some sponsors. I'm going to train in California with Broc Tickle for the next couple months and try and get as ready as I can for 250 East round one in Minneapolis.
That's kind of where I was going to go. The rule that kind of forced you back… you already had a ride and everything signed, sealed, and ready to go for next year over there, right?
Yeah, basically I ended the year in Imola. I had a top five finish. Everybody was pretty stoked with me, the F&H Kawasaki team and also Kawasaki Europe. They made plans for me to race that European Championship and kind of stay in Europe. I'm on the 250 again because like I said I'm not quite ready for the 450 yet, I don't believe. I think I need a little bit more racing time, a few more years in the 250 class. Because the MX2 has an age limit of 23, the European class was the only one open for me, because they didn't have an age limit, and a lot of past champions race that class. Unfortunately, they wanted to use that as a stepping stone into the MX2 class now as well, which just kind of… the lines are getting blurred because now there's two age classes and there's a lot of really talented racers out there without rides. So you don't really get the full potential lining up every weekend. A lot of people aren't eligible. I had a whole deal ready to go race the European Championship for Kawasaki Europe, and it was a pretty legit deal. The team I was racing for was awesome. Five or six mechanics and a trainer and an engine guy, electronics, suspension tech. It was pretty awesome. I've never really had that much support before. It was really cool for me to experience that with them and see how the top tier of the sport works.
How was the team whenever that announcement came out?
Yeah, they were really, really upset. I think about as equally upset as I was. They tried to get in touch with Youthstream and get a reasoning for changing the rule so late. It's kind of bogus being so late after so many riders had their deal done. They were not okay with it and everybody was pretty bummed out about it. They even offered me beforehand, before I even made the European deal, they said, "If they change the MX2 age rule, we would obviously love you to race the MX2 championship with us, but since we can't offer that, we're going to offer you the European ride." So then after that door got shut, they tried to see if there was any support left for the 450 MXGP class. Maybe get a few bikes and parts to race the 450 class. But they already have three Kawasaki-supported teams in Europe, which is a lot. There's just nothing left for support with the Kawasaki budget, unfortunately, especially this late in the season as well. So there's really nothing for them to do. We're still on great terms, there's just nothing they could really do in their situation. It kind of stinks, but it's just how it is. But they were really supportive of me. I'm sure if any opportunity would come around where I would be able to race for them, they'd give me a chance.
Did you start putting things in motion as soon as you found out?
I actually found out the news in the third weekend of October. I was working with my dad doing insulation and it was just one morning at like 7:00. We just arrived at the job. I got the news that I wasn't going to be able to race. So I kind of sat and sulked for about a week after that, not knowing what to do. We kind of made a plan while I was working with my dad. He was fully on board for helping me out. We wanted to take the right steps and not go too far in the wrong direction. That's kind of how we came up with the whole work with Broc Tickle because of all his knowledge that he has with racing. I met up with Broc one weekend in Michigan for lunch. After that, I got on the phone and started contacting a lot of my old sponsors, and all of them were really supportive of me. Travis Beam with Live It Xtreme stepped up and helped with two 2019 KTM 250s for a practice bike and a race bike, so that was huge. I have my friend Dylan Kent. He's a realtor in Detroit and he stepped up and he contacted all of the people that he works with, like Brad Bidus and Diverse Help Services and Kiefer Logistics. TSo there's a lot of local Michigan companies behind me, wanting to help me chase the dream as well, which is awesome because I wasn't really expecting to hear anything. I was just kind of reaching out just in case.
What made you decide to go with KTM since you have all the experience on Kawasakis the last couple years?
I think predominantly KTM has been at the top both in the US—maybe you can kind of argue that the Yamaha has been up there as well. But in Europe, KTM was at the top of the class. Also we had a couple cool dealerships help us with a good deal on a KTM. Sam Chalk helped get Travis in line with some good dealers to kind of work together and make things happen. It's just kind of how things worked out. I wasn't really specifically looking for a KTM, but I think KTM has an awesome bike. It's just kind of the way things fell together.
How long have you had the bikes? Have you had much time to shake them down and kind of get stuff dialed in, or are you still learning, still tweaking?
Yeah, at this moment I'm still in that process. Today was my second day on the bike. I rode it at Glen Helen on the outdoor track. Tried to get a feel for the bike. With the frame, it's a lot different than the Japanese bikes. It feels a little bit more rigid and a little bit more precise, I guess I could say. But I'm working on trying to get more comfortable right now. I was off the bike from Imola, which is the last MXGP round, all the way until now, and it's almost mid-way through November. So I'm a little bit out of shape, but I think I kind of needed that little bit of rest period because I did a lot of racing this last season. It's kind of nice to take a step back from the racing side of it and do some other things, like be with my family for a little bit. Now I'm back full force in race mode. There's nothing in my way at this moment. So I think one or two more weeks I'll be feeling pretty good on the bike and have everything dialed in.
As far as the team dynamic and setup, what's that going to be like? Do you have a motorhome? Do you have a setup? Or is it just going to be in the van doing your own deal, but you have a lot of support behind you?
I've got a pretty awesome van set up, actually. My dad fabricated a pretty cool Dodge Promaster. That's what I plan on taking to the races. As far as the team goes, it's kind of just going to be me at the races. I plan on driving there by myself. Maybe down the road I'll organize a mechanic. Kind of see how things fall together. It's a privateer effort, but I just have some great sponsors behind me. Like Travis supplied the bikes, and Broc's helping me out with a lot of good companies in California already to help maintain the bikes and parts and everything. So at the track, it's just going to be me in the van. You don't really need a big truck for everything. It's just kind of an accessory at the end of the day.
Live It Xtreme is kind of a popular bike shop for motocrossers and NASCAR guys and that kind of thing. How did you develop that relationship with Travis and to get that deal going?
I think it started in 2014 or 2015. I was working with Justin Barcia. He [Barcia] was giving me some support, which I'm forever grateful for what he did for me. But we were training together at the time. He was just taking me under his wing and letting me ride with him. He helped me out with some bikes at that time. We were living in Davidson and that's right next to Travis's shop. We kind of heard of him through the grapevine and we got linked up together. Travis back in 2015 helped me out with two brand-new bicycles, which I thought was unbelievable. I used those for about a year. Then I ended up going to Europe, so I didn't really need the bicycles anymore. Then after I came back, I kind of got in touch with him to see what was up. I wasn't even looking for support, really, and I was saying, "I might be back in the area. Maybe we can meet up for some lunch sometime." Then he called me back the next day and said, "Hey, what do you think about riding two Live It Xtreme KTMs next season?" That was a pretty cool phone call, because it's like, wow, this is actually happening. That was kind of when the ball started getting in motion, when Travis decided to step up. He's just an awesome guy. I can't say enough good things about him.
As far as the goals for supercross, have you even started thinking of those yet?
For sure the number one goal for the season is I'd like to step into a factory position on a factory team if something becomes available. That's kind of the whole purpose of all these sponsors helping me out. They want to see me on a factory team and see me succeed. So that's goal number one. But as far as results go, I'd kind of like to come out in the first round anywhere between 7th-12th. That's kind of the goal number for me. Try to repeat and be consistent in that range for the first couple races. Obviously, I'd like to qualify good and get in the main straight out of the heat and get good starts. Those are kind of everybody's goals, I feel like. That's kind of the goal for this season. Maybe get into a fill-in position if something comes around if a spot becomes available. That's the main goal for all of this.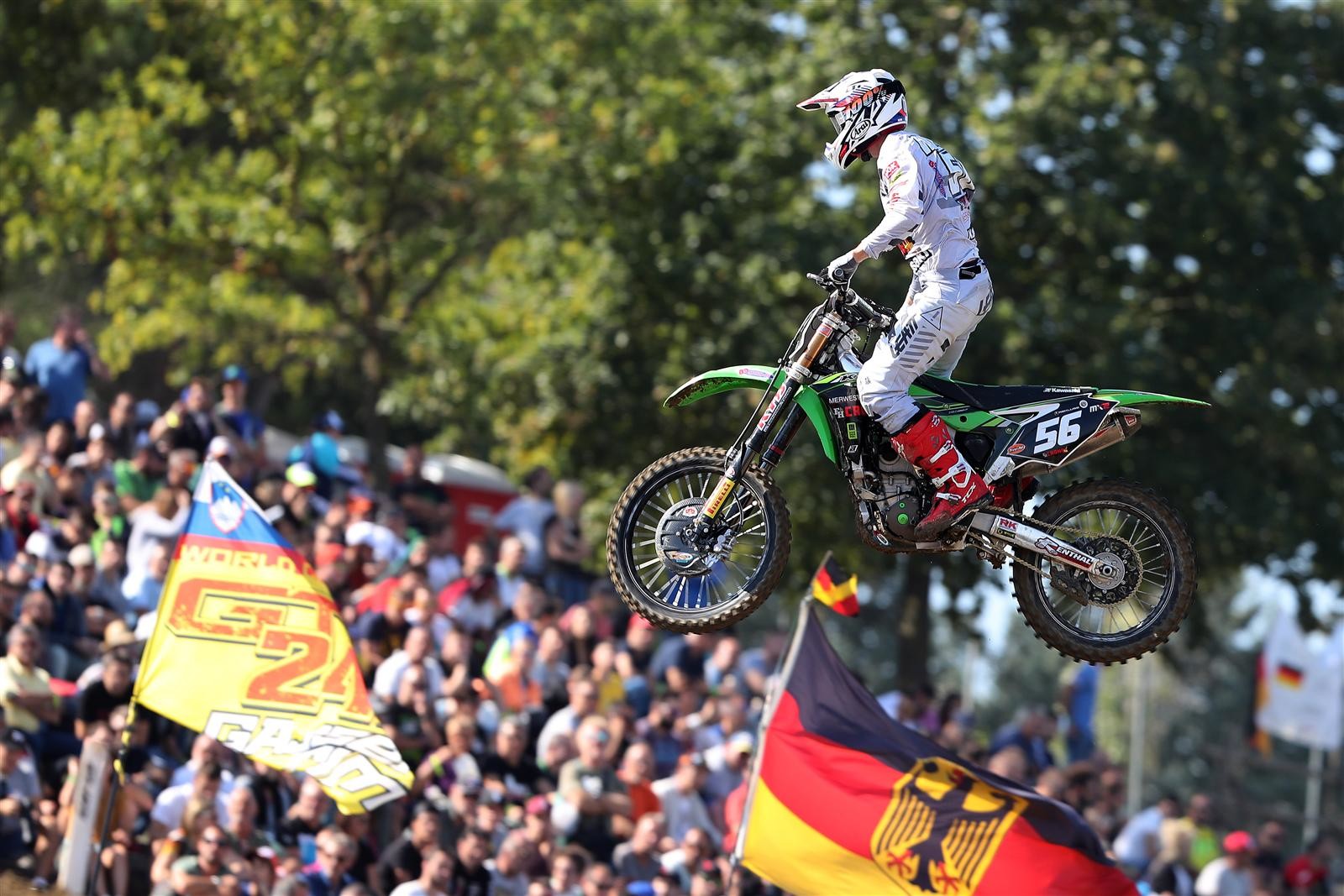 That's the ultimate goal, to kind of land a fill-in ride and maybe eventually land a ride with a full-time deal with a team for outdoors or even 2020?
Yeah. I just want to kind of get my foot in the door and try to prove myself. I've always been a hard worker right from day one. I got that from my dad. He works like an animal. Professional athletes and insulating homes are a little bit different types of work, but both take a good work ethic. Hard work has never been the issue for me. It's just kind of been piecing everything together and doing something smart technique-wise on the bike and also progressing in the right ways and not putting too much energy in the wrong direction. That's kind of what Broc is going to help point me to where I need to be with everything. We both have the same goal. He's been really great and supportive of me already the first couple days we've worked together. I think we're going to be a great fit because we both like to grind. We both enjoy the suffer of training and we like to work hard. So I think it's going to be a good fit.
What's it like training with Broc? You trained with Barcia. You lived with him for a while, and now you're with Tickle. What's it like living and training with top factory guys?
Broc is awesome to work with, just because he's so regimented and scheduled. I'm not comparing him to Justin in any way. Justin is very motivated and detailed as well. I'm not even going to try to compare the two. They're both great guys. I think they both work really hard. But working with Broc, we're up at like 6:00 in the morning. We have our routine that we do. We're not eating any nonsense. He's really nutritious. He's grinding every day. Even since he's not riding and doesn't have a ride, he's been training for the past 11 months just to be ready in case anything happens with his case. So I think that kind of tells what kind of person he is. Everything is scheduled and detailed all the way down to our eating schedule, the whole nine is planned out.
With the way everything went down in Europe, does that kind of give you a little bit of extra motivation to do well next year over here?
Yeah, for sure. I want to come out with a statement. I think I've made a lot of progress the past few years racing in Europe. I can happily say that my moto result in Imola was a fifth and I was pretty stoked with that.
Marshal would like to say thanks to Jim Tussey, Jim Quinn, Diverse Health Services, Dylan Tend Helirealitor, Brad Bidus, Jordan Kiefer and Kiefer Logistics, Weltin Spray Foam, Travis Beam, LiveIt Xtreme Sports and Fitness, Rekluse, Pro Taper, Be-Ray, and 100%.