Welcome to Racerhead and another week down in the off-season, as well as a belated Happy Thanksgiving for everyone. We had some racing last weekend in France, where Rockstar Energy Husqvarna's Jason Anderson got to add King of Paris to his excellent 2018 season haul. Anderson, who missed almost all summer after a practice collision with another rider at Glen Helen, looks to be 100 percent as he gets ready to hunker down in Florida at Aldon Baker's place and really get to work on his form and fitness.
The bigger news out of France was the terrible crash of JGR Suzuki stalwart Weston Peick. After crashing in a little rhythm section off the start, Peick was landed on by another rider, who came down on his head and face. Now Weston is looking at extensive surgeries and a long road back to where he was. Chase Stallo will have more on Peick's situation below.
Now JGR Suzuki has some decisions to make. They will absolutely stand by their man Weston as he recovers, but they also now have a bike without a rider going into January's Anaheim opener and the start of the 2019 Monster Energy AMA Supercross Championship. The first thoughts are that they may be calling Chad Reed back up—he had some great rides with them at the Ironman National and the Monster Energy Cup, as well as the AUS-X Open in his native Australia. There is also Dean Wilson, who is currently without a ride. This could get interesting, though right now the team's primary concern is for Weston and his care in France and return home soon.
With a big college football game in town today (West Virginia vs. Oklahoma), I'm going to cut this intro short so the boys in the office can go watch the last game of the season.
Again, Happy Thanksgiving to all!
The Latest On Peick (Chase Stallo)
As most of you are aware by now, JGR/Yoshimura Suzuki's Weston Peick suffered serious injuries last weekend at the Paris Supercross. He's currently in a French hospital waiting to undergo a second surgery.
According to Road 2 Recovery, Weston underwent a first successful surgery earlier this week "to fix the multiple nose, eye and other facial fractures including two breaks in his jaw and dual dislocation of the jaw bone from his skull."
Doctors have confirmed that Peick did not suffer any brain or spinal damage and is expected to make a full recovery.
R2R has set up a fund to help Peick cover the cost of an "extended international hospital stay, two surgeries, and medically necessary assisted air transfer." If you'd like to donate, you can do so here.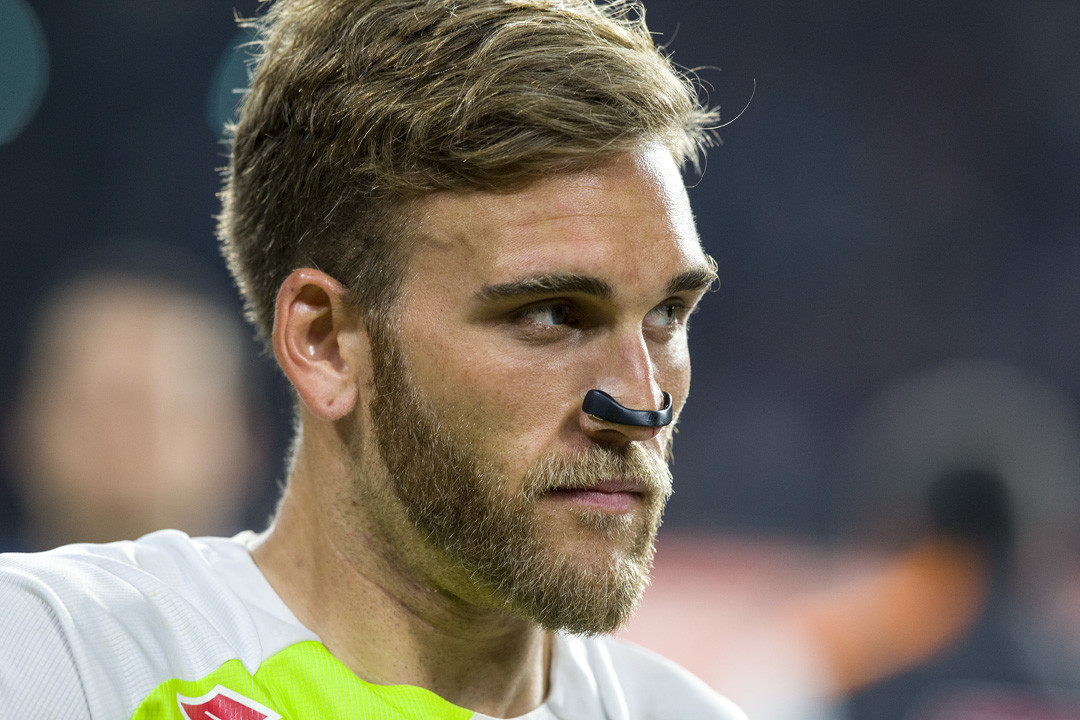 THE VAULT (DC)
If you're getting bored with the off-season and want to brush up on your moto history, check out the Racer X Vault. It's where we list the results of every AMA Supercross and Pro Motocross National, going back to Day One in 1972. (Hopefully before too long we will be able to also add every Motocross of Nations and also USGP races, as well as the old Trans-AMA and Inter-Am results.) The Vault is fun because it solves almost every bench-racing question about who won what, who really raced an outdoor national, and who made a supercross main event. It's also full of fun little nuggets like the fact that there are two riders with exactly one result listed in AMA competition, and each is a race win. I will give you the answer to that a little further below.
All of the 2018 results for Monster Energy AMA Supercross and Lucas Oil Pro Motocross have now been added. You can search via name, year, track, and even bike brand. For instance, check out Husqvarna and all the starts and stops over the years as the brand went from Sweden to Italy to Austria to now the top of AMA Supercross.
And here's something cool: When Thomas Covington of the Rockstar Energy Husqvarna team lines up for his first AMA Supercross in 2019, it will mark his first entry in the Racer X Online Vault. When Covington turned pro, he went directly to Europe and worked his way up into title contention in MX2 Grand Prix racing. He is one of only two riders in the history of Team USA to have been in the Motocross or Trophee des Nations without ever having raced in an AMA SX/MX event—the other being 1970 team member Dick Robbins.
But there is already a Taryn Covington in the Vault. She hails from Arkansas (Thomas is from Alabama) and raced in the WMX a few years back.
And in answer to the "one-line" winners in the Vault, check out these twoentries.
Pro Perspective (Jason Thomas)
The Mini Olympics, or Mini Os as most know this event, are a November staple for the amateur racing world. As I grew up just outside Gainesville, Florida, this race was a big one on the calendar. I was able to sleep in my own bed every night and knew the track, soil, and nuances all too well. I never really viewed these as an advantage in those days, but after a career of racing and perspective, I'm sure it helped to be in familiar confines. The equalizer, however, was the unique racing that the Mini Os presented.
Back in those days, the Mini Os were a four-discipline event. Monday was the TT, which consisted of a very flat, fast course. There weren't many (if any) double jumps, and all the turns were flat. The starts were critically important, and without any ruts or jumps to separate riders, it was mostly follow the leader. It was hard to get a grasp on who the contenders were from this event, and I have seen many championship hopefuls very dejected on Monday evening.
Tuesday and Wednesday, the supercross portion of the event took over, upping the action. The Mini Os supercross track varied through the years, ranging from far too easy to far too difficult. When you have age ranges from 4 to 60+ and skill levels from Novice to Pro, it's impossible to please everyone. Building a track that was safe enough for a first-timer but also gave options to pro riders is not a job I would want. I raced each and every year as I progressed through those levels, leaving on a high note with a 250 A Mod win. The supercross portion is where things really heat up and every OEM scout is looking for the next Austin Forkner or Justin Cooper.
Thursday brought Thanksgiving and the motocross event. By now, there has been three full days of racing. Most riders were feeling the effects already, but with three more days to go, the show went on. The motocross track was the big draw, of course, with Gatorback being on the AMA National schedule until 1997. Gatorback's motocross track is only open a few times per year, so it was a great opportunity to ride the same track that many had watched their heroes compete on. The entries soared for the motocross portion, as kids were finally out of school, parents were off work, and the holiday weekend was in full effect. Some other riders simply avoided the early events strategically as well, making Thursday a packed house. Endless qualifiers resulted in final motos on Friday, a relentless barrage of racing on the national track.
If you were lucky enough to make it this far, Saturday brought the most unique event of the week: the Grand Prix. For this event, the promoters incorporated the SX track, the MX track, an off-road loop, and some high-speed road rallying through the quarry. The SX and MX tracks were ridden backward, though, completely changing the jump combinations, bumps, and feel. There was an authentic Grand Prix start, with the mechanic holding the bike and riders positioned 20 or so yards away. When the gun sounded, riders would sprint to their bikes, start them, and take off. Having a solid routine for this was key, as wasted time kicking the bike could mean a last-place start. The race was typically three laps, or about 25 minutes. It was the coolest event of the week and one I truly would like to see return. Some thought it was hokey, I'm sure, but it was the event I really looked forward to each year. It was the end of six long days of racing. Having raced 40+ weekends a year back then, it was so refreshing to change up the style. It was the perfect end to a grueling week.
Nowadays, the Mini Os are only a two-discipline event. Supercross and motocross are the weeklong activities, but participation has never been higher. Driving into the facility, it looks more like an RV Expo than a motocross event. There are motor homes, fifth-wheel trailers, and full-blown 18-wheelers as far as the eye can see. There are 10-year-olds with more bikes than factory Honda brings to an event. It's truly a spectacle. The event has changed, sure, but many things remain the same. The family atmosphere around Thanksgiving is something I will always remember. The seemingly life-changing pressure of Mini Os results is still palpable down on the starting line. In hindsight, how I finished in the 85cc 12-13 class had absolutely zero bearing on how my future would pan out, but back then, I felt like the world's fate depended on a holeshot. I see that same stress on racers and parents alike in 2018.
That would be my best advice for this week: slow down. Enjoy the time with your family at these races. Kids will grow up and move away, some will stop racing, the real world gets in the way. Whether you or your child gets 3rd or 33rd, their life path won't be determined by a weekday race in Florida. These memories made will live on, though. Make the most of the time together.
Mini Os: Then and Now
Some of the stars of today, and yesteryear, racing Mini Os:
King Jeffrey (DC)
Did you happen to catch the Instagram photo that MXGP World Champion Jeffrey Herlings posted of him working on a garbage truck? I have no idea what the situation is—community work, world clean-up day, humbling off-season side gig—but knowing Herlings, he obviously had fun with it.
We got to speak with Jeffrey a couple weeks back on a wide range of things for an upcoming magazine feature. I asked him about his training setup as well as the off-season and all, and he had some very interesting takes on how he does it, and also how a lot of guys in America do it. It's obviously much different, given the staggered calendars of the AMA's SX and MX and MXGP's 20-race world tour. He did point to his visit to America for the 2017 Ironman National and MXGP of USA at Jacksonville's WW Ranch as being a pivotal time because he got to spend two weeks with Aldon Baker training. He gleaned all he could from the Florida-based training guru, then put it to work last winter and all through his incredible season, where he won 17 of the 19 rounds he entered on the way to the world title.
"I did my own copy of the Baker program this year, and it is physically as well as mentally really tough, so I do understand why they seem to quit at an earlier age," Herlings said. "Your two series are longer than our one series, and if you do Aldon's program, it's really tough and you pay the toll."
"Our season is different than in the U.S. because it's almost all year long over there," he added. "You start in January and go until May with supercross, then it's outdoors until August, then in October you have the Monster Cup and maybe the des Nations, and then it's supercross testing again. It's almost so you go all year long. Over here we just race February or March until October and we have a few months off, so it's a bit different."
Herlings added that maybe that's why we see guys like Ricky Carmichael, Ryan Villopoto, and Ryan Dungey retire early, while guys like Stefan Everts and Antonio Cairoli have much longer careers. "Of course you have a guy like Chad Reed who is still going—I don't even know how old he is, 35 or 36, I reckon—but that's also part of Aldon's program," Herlings said. "You train so hard with Aldon, and train all the time, and then you do get really worn out. But the work is worth it when you win."
How long does Herlings plan on going? He told me motocross is his passion and his whole life right now. "Maybe in five years it won't be, but if I am still having fun, which I am, I am in hurry to stop!" That's great news for fans but bad news for his competition over there and the MXGP record books! I should add that Herlings also races the Dutch National Championship besides the 20 MXGP rounds, and he went undefeated this year against some very good competition.
Head-Scratching Headline of the Week
Farting Controversy Clouds Grand Slam Of Darts Quarterfinal - Deadspin
Random Notes
Racer X Brand is holding a HUGE Black Friday deal! Take 25% off site-wide through next Tuesday, the 27.
Visit www.racerxbrand.com and use code: BLACKFRI25.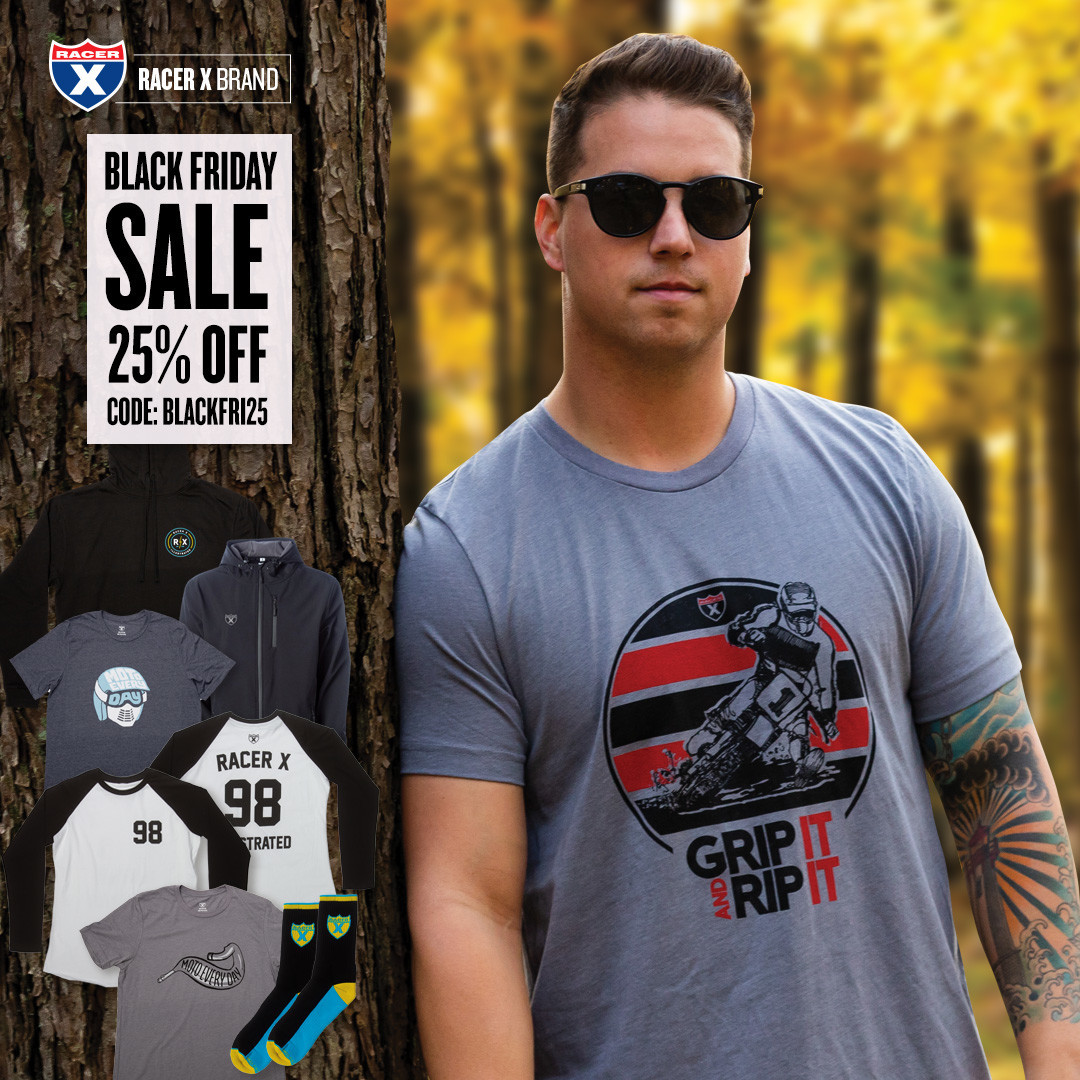 Subscribe or Renew Now and Get a FREE 2019 Racer X Calendar
Subscribe now for as low as $9.98 and receive a FREE 2019 13 Greatest AMA Motocrossers of All Time Racer X Calendar.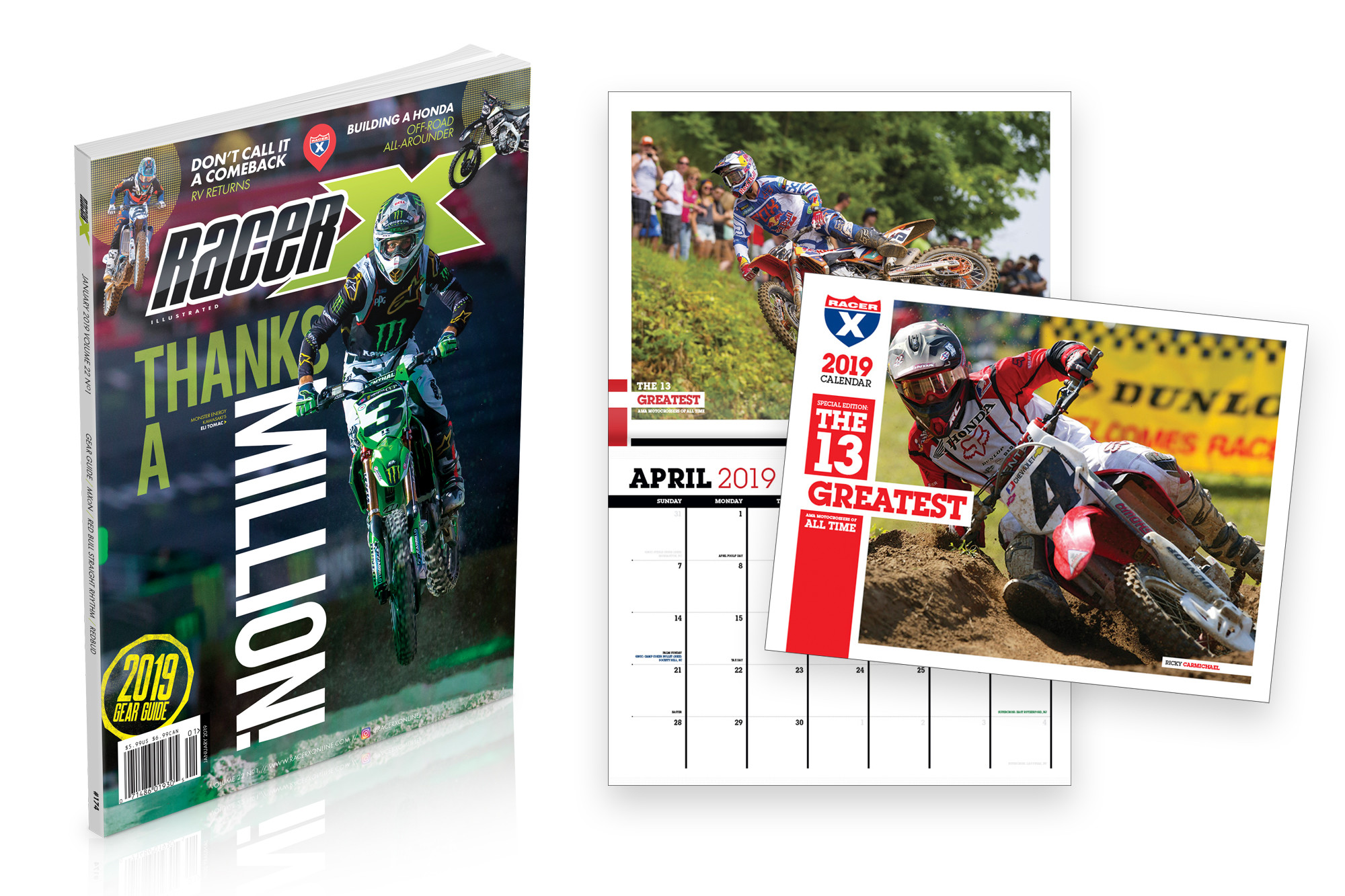 Okay, that's all for this week. Thanks for reading Racerhead. See you at the races.