October 12
1980
Suzuki's Kent Howerton wins the fourth and final round of the 1980 Trans-USA Series in Braselton, Georgia, and in doing so is able to edge out Yamaha's Broc Glover for the points lead by just two points (153-151) after Glover has an inconsistent 15-2 moto tally. But that becomes much more significant when it's announced at the race that the last round, set for October 19 at Sears Point in Sonoma, California, has been canceled due to poor ticket sales. That means that the series is suddenly over, and Howerton was declared champion. Glover had crashed in the first moto with Donnie Hansen, and that left his bike all bent and hard to start. The last moto was winner-take-all for the series title, and Howerton got the job done.
In the 250cc Support class Husqvarna's Mike Guerra won with 1-1 scores but Kawasaki's David Bailey claimed the series championship with 6-2 moto scores.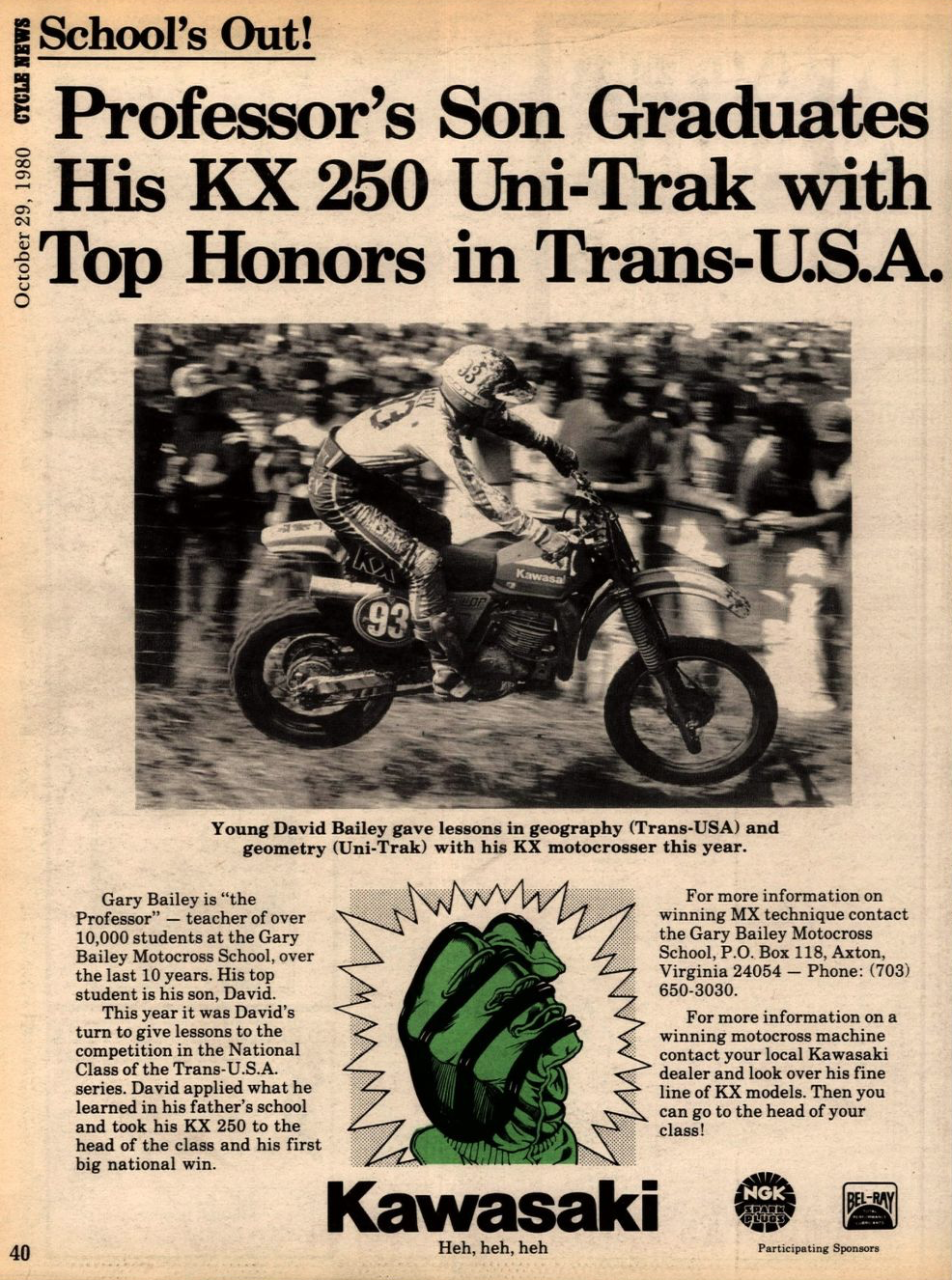 2001
A dubious night for Ricky Carmichael in Las Vegas. The opening night of the 2001 U.S. Open of Supercross marked RC's first race on a Honda. The '01 AMA Supercross Champion had shocked the industry with his decision to leave Kawasaki after dominating the series with 14 wins in 16 rounds, including the last 13 in a row. He unseated Jeremy McGrath as the world's best supercross rider, but not as the King of Supercross—that's Jeremy's title, still. So when the promoters talked RC into being lowered from the roof during Friday night's opening ceremonies, wearing a crown and a cap, the Las Vegas crowd let him know it. Ricky later admitted he wanted to "crawl into a hole" as the crowd booed, but then he quickly put it behind him and went out and became the first rider to repeat as the U.S. Open of Supercross.