Now is the winter of our discontent…. First of all, congratulations to the whole RedBud crew and Youthstream for pulling off a fantastic event under difficult circumstances. The 2018 Monster Energy FIM Motocross of Nations was a huge event, easily the biggest outdoor motocross I have ever been to, and comparable in my mind's eye to only the '09 version in Brescia, Italy. After months of hard work, careful grooming, and lots of prayers for a good weather weekend, it ended up raining cats and dogs for several parts of the weekend, turning one of the most beautiful motorsports parks in the world into a mud bog. Mud was everywhere, but so were enthusiastic fans from all over the world. It was like we went to a motocross race and Woodstock broke out.
Second, congratulations to Team France. They once again overcame late-season injuries to field a team that rode with heart and skill and patience. They had a strategy and they stuck to it, winning the Peter Chamberlain Trophy for the fifth year in a row, tying Great Britain (1963-67) for third on the list of longest winning streaks at the MXoN. (Numbers one and two on that list are Team USA with 13 (1981-'93) and 7 (2005-'11) but that now seems like a long, long time ago.) They have used five different lineups, with a total of eight riders involved in this run. The only man who's been there for all five is the captain, Gautier Paulin. He and his team put up with a lot of criticism for his selection over U.S.-based Marvin Musquin, including from myself and others here at Racer X Online. To their credit, they stuck with their veteran gun, and he once again carried Les Bleus to victory as a team. Paulin's five straight wins ties him with Team USA's David Bailey for being on the most consecutive winning teams. Roger DeCoster won ten in a row in the old Trophee des Nations (1969-'78) back when it was the 250cc race and the MXoN was for 500s. While the veteran Paulin may never win an individual world title, he must be considered one of the all-time best riders in the Motocross of Nations. Salut.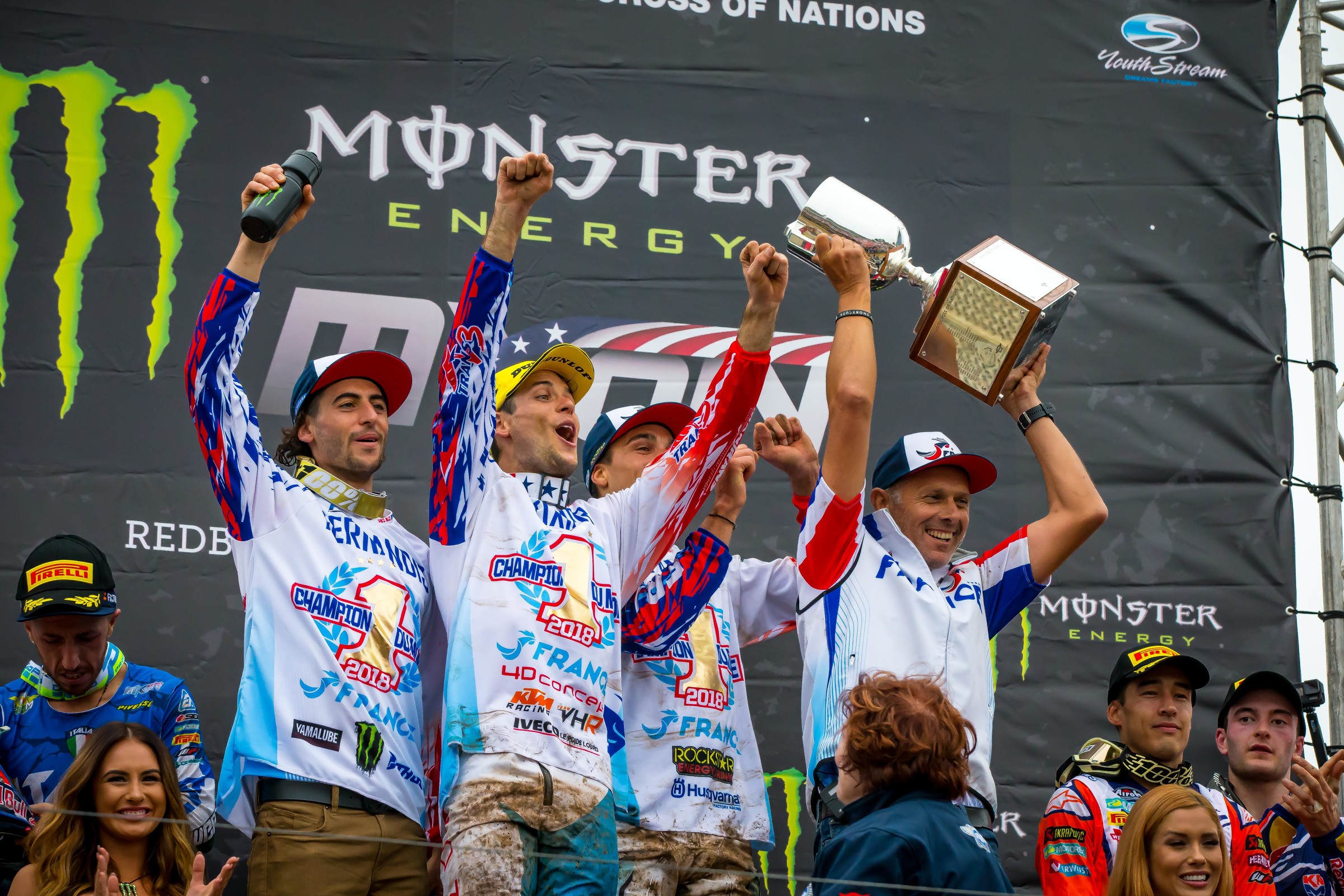 The French also once again had luck on their side, though it didn't seem that way when late addition Jordi Tixier's engine went in the middle moto (MX2/Open). The team scrambled to get a borrowed KTM production motor in place before the start of the last moto, and then he went out did his job by scoring a 15th in the final moto. The luck came in the form of a DNF for the Netherlands' MX2 rider, Calvin Vlaanderen, in the first moto and the inability to start the last moto under doctor's orders after he suffered an eye injury. Because the other two Dutch riders, Glenn Coldenhoff and Jeffrey Herlings, absolutely dominated the three motos—Herlings to no one's surprise, though Coldenhoff was quite the surprise. His 1-1 as the Open rider was akin to what Great Britain's Max Anstie did last year at his home race. The Dutch, who love the sand, would have easily won had Vlaanderen finished better than 29th in either moto. But even with just two riders, they reached the podium! The Dutch are already the favorites for the 2019 race, which will be held on the infield of the Assen TT road racing facility (and here's betting they don't truck in hard-pack dirt for the occasion). And while he also got beat by Coldenhoff on Sunday in the final moto, Jeffrey Herlings is now rightfully being called the fastest man on the planet. I can't wait to see him next year in the sands of Assen. (And just imagine what a party that would be, because while the Dutch held the very first Motocross of Nations back in 1947, they've never won the race.)
As far as Team USA goes, Mike Tyson had a great line once about fighting: "Everybody has a plan until they get punched in the face." For Team USA, that probably started when they rolled into RedBud expecting a track they were very familiar with, only to find it mostly covered in sand. Granted, promoter Tim Ritchie has been adding sand to the iconic track for years, and the extra added for the MXoN probably saved the track from turning into the same kind of quagmire the lower camping area became. But it was a huge departure from what RedBud regulars were expecting. That realization was the first punch of many to come. I'm not going to go into all of the reasons we lost so badly, because there are too many of them, and some are just now coming to light. The long and short of it is simple: we got beat. The rest of the world rode better than us. And by the rest of the world, we can include riders from the three podium countries—France, Italy, the Netherlands—as well others in the field from Belgium, Australia, Canada, Ireland….
Like everyone else, I appreciate the effort and sacrifice that Team USA's Eli Tomac, Aaron Plessinger, and Justin Barcia put in for this race, working through the month of September to stay in shape and keep up on their outdoor skills while also beginning the supercross preseason. The MXoN is never easy, and this year was no different. What was different, however, was the fact that we just didn't seem like there was any "team" to Team USA. Rather, it seemed like we had three individuals out there, both on the track and in the weeks leading up to the race, rather than a close-knit trio. They also all managed to have bad days on the worst day to have one. That's racing.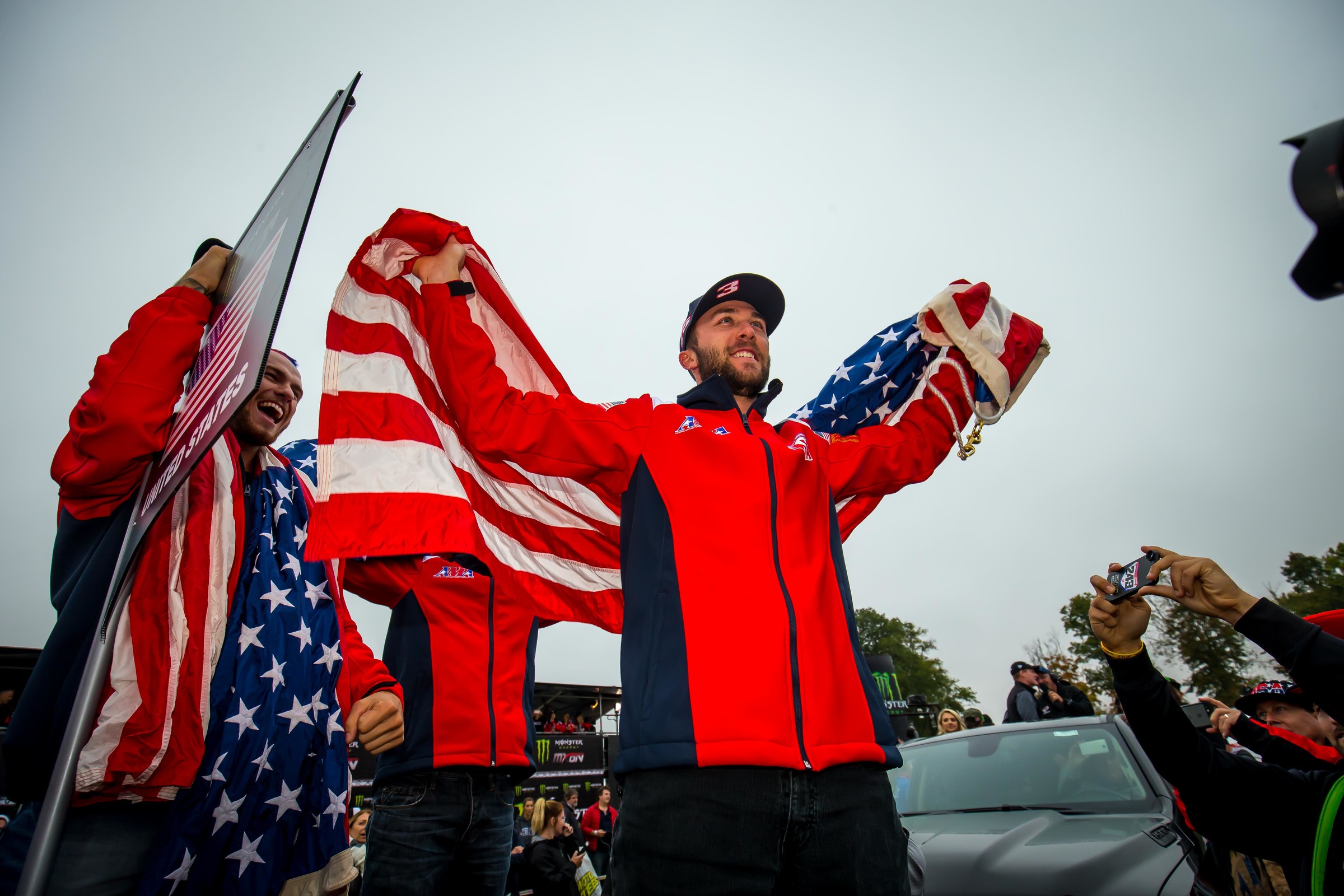 So how do we fix it? Or was this just a snake-bit team that started off with problems on Saturday (Eli's breakdown, AP's heavy crash) and could never get going like we expected, on a track that was rather unexpected? Do we change our race schedule and format to be better prepared for the MXoN? That six weeks off seemed to have its effect, as all three Team USA riders seemed a little rusty—as did the AMA-based Ken Roczen of Team Germany and, to a lesser extent, Dylan Ferrandis of the winning French squad. Should we add two weeks to the calendar and finish up the week after Labor Day to be closer to the MXoN? I think we would get a lot of pushback on that from the rank-and-file of the paddock and industry. Because while we're finished again in August next summer, MXGP will hold three rounds in September before the MXoN at Assen on September 28-29.
While the rest of the world came straight from the last MXGP in Italy, they went home afterward to begin a hard-earned off-season. Our guys went straight to the supercross practice tracks because the Monster Energy Cup is in Las Vegas this weekend, and testing is well underway for 2019. (And after what happened with Tim Gajser in Vegas last year, it should be no surprise that no MXGP riders stuck around to try their hand at supercross.) In America, moto never sleeps.
Here's another tough one: Is the Monster Cup and its million-dollar lure affecting the attention of our top 450 riders come September and early October? Because it's been since the first year of the Monster Cup (2011) that Team USA last won the Motocross of Nations. Do we ask Feld to maybe move the race back in October or forward in September to right after the last national?
Do we go back to two-day formats in the summer so it better mirrors the MXoN format? Do we add a couple of sand tracks to the national schedule in years that we know the race will be held on the silica? Do we bring those metal grids to the outdoors so we have a better chance to get good starts when we're at the MXoN? And what about the works bikes they use in MXGP—do we get rid of the production rule so that the teams can get a little more creative with their race bikes? Because our bikes honestly looked like they were being pulled, even by the remarkable and impressive Jorge Prado, who started up front on his 250 in both motos.
Do we need to reconsider Roger DeCoster as team manager? Or do we just need to reconsider our approach and preparation for this event? Maybe have a mandatory week-long boot camp where the guys all gather at a training facility down south for some team-building tests and training, because it really seems to be working for the French. (Remember when France sent their federation's national coach, Pascal Finot, to RedBud to scout the track and area, as well as get a look Ferrandis and Musquin? I don't think we sent anyone to Assen last month to preview what we will be up against next year….)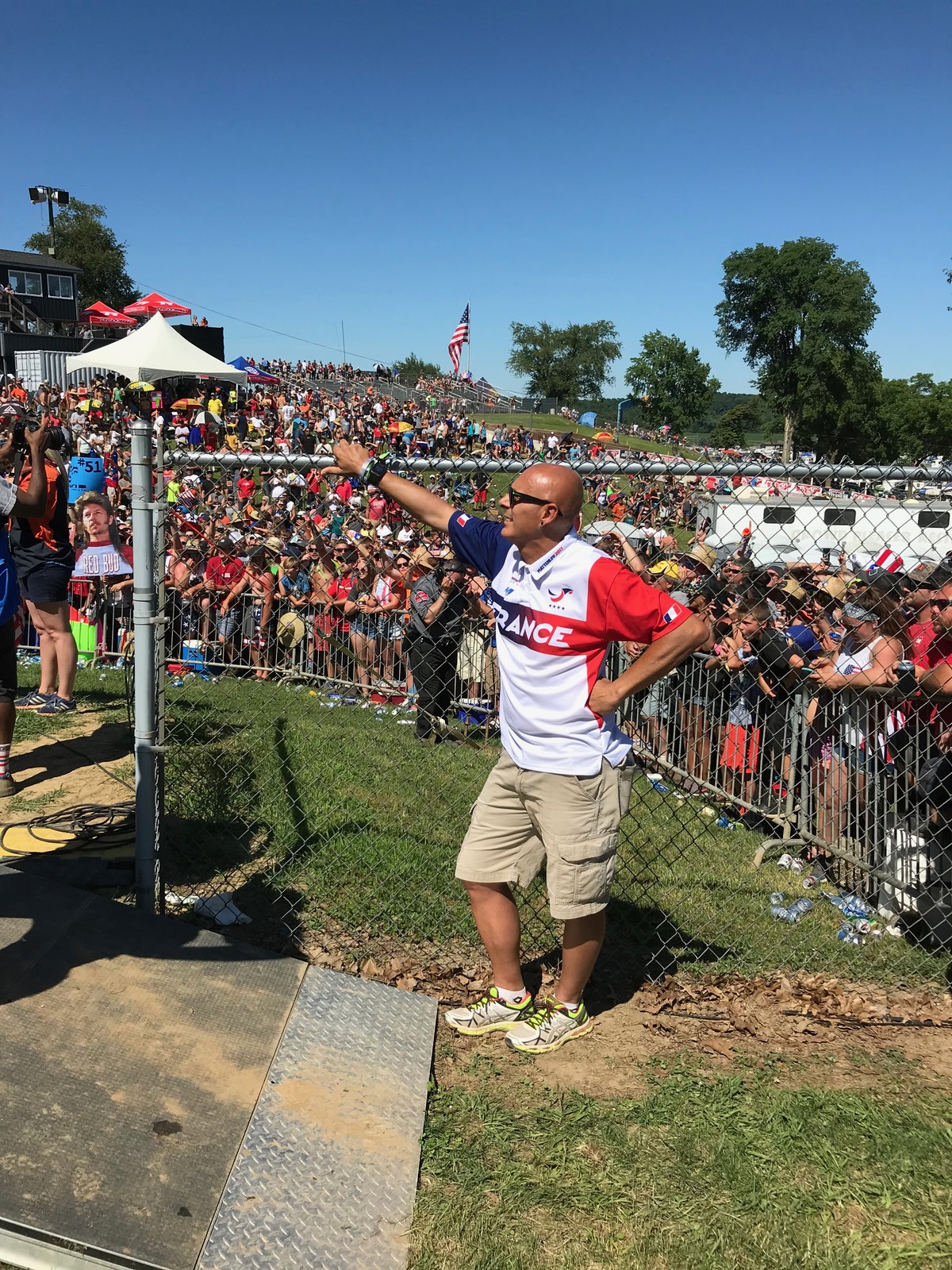 There are a lot of questions to ask, and maybe some compromises to come, but even though it's been seven years since we last won the Motocross of Nations, I'm not sure we need to hit the panic button on everything we do and make drastic changes to the American way of racing. We have some very talented riders on the AMA circuit, be they Americans or imports, and they are good both indoors and outdoors—you have to be to make it here. And to the people who hire and fire those riders, the MXoN does not mean as much as it does to me and you and most of the riders. We may be disappointed in having lost this race again, but come January, when we all get to watch the Anaheim opener, I think we'll be over what happened in October at RedBud.
Which is why we should get together now and come up with a plan to get back on top of the motocross world, while also staying on top of the supercross world.
I started off with a quote by Mike Tyson; I will finish with another, though I have no idea who said it first: "Besides that, how was the play, Mrs. Lincoln?"
The Reason It Matters (Jason Weigandt)
How good was the RedBud edition of the Monster Energy FIM Motocross of Nations? Consider this: While a Team USA loss on home soil could have threatened to ruin the spirt of the entire event, it actually had little impact, with the crowd's enthusiasm and happiness impenetrable by the results or the weather. RedBud was motocross bliss; people were happy about things that normally make people unhappy. The sky was gray all weekend. The mood was never anything but bright.
However, the darkness comes in the aftermath. There's a reason this run of Team USA losses results in so much conjecture. An MXoN battle between any other nation and any other nation is simply a battle between two countries. Italy and France tussled to the final moments, but Italy's close loss didn't result in questions about what this means for Italy's riders, sanctioning body, racing series, tracks, bikes, focus, heart, determination, or anything else. That's because the riders from Italy and the riders from France race in the same series (sans one man, Dylan Ferrandis). There's no reason to split hairs between the prep of these teams, because they all race the same series, same tracks, same bikes. For them, the difference is only who executes better on one race day.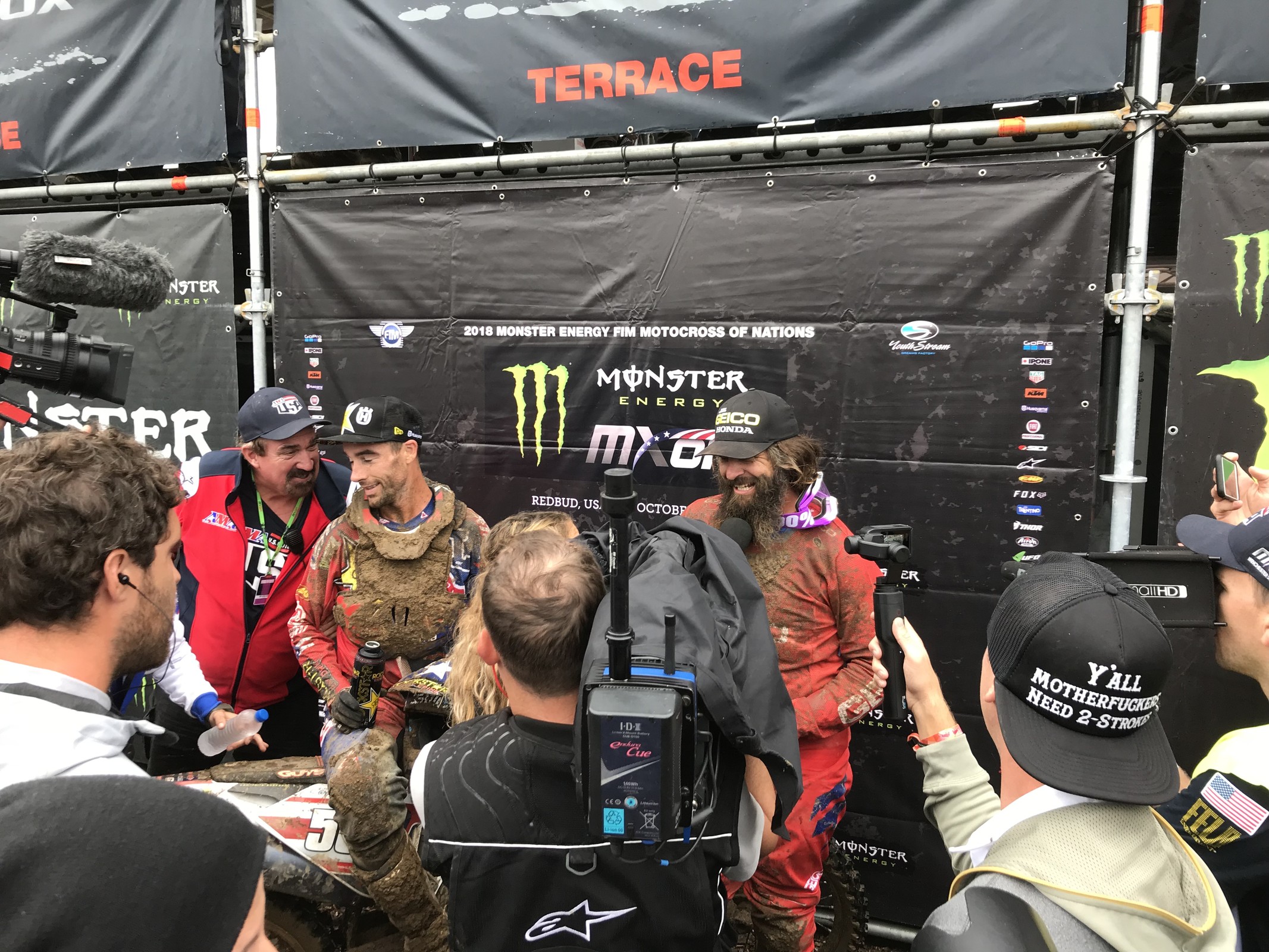 When Team USA loses, it becomes a much larger story. It's a commentary not just on the three riders on the team but on a completely different series of races on a completely different continent. Do "we" focus too much on supercross? Is "our" schedule too long? Does it end too early? Are the tracks too easy? Too similar? Do our riders not care enough? These are the questions that get asked because six straight Team USA losses becomes a condemnation of an entire racing system. The Dutch team keeps getting close but can't get over the hump to win its first one. No one turns these losses into a Q&A session on what's wrong with the Dutch racing system, because its riders race against the French and Italians every weekend in the same series. There aren't many variables to pick apart. Unless one of those nations is Team USA.
Personally, it doesn't really impact my life when the Americans win or lose, as I'm not part of the team. My only hope was that the loss, which you could sense coming as the day went on, wouldn't ruin the once-in-a-lifetime chance to race this awesome race at this awesome place. It didn't. The fans I saw after the event (and I saw many) were still having a great time. I think anyone who bought a ticket for RedBud will still say it was one of the best races they've ever attended. That's a win right there.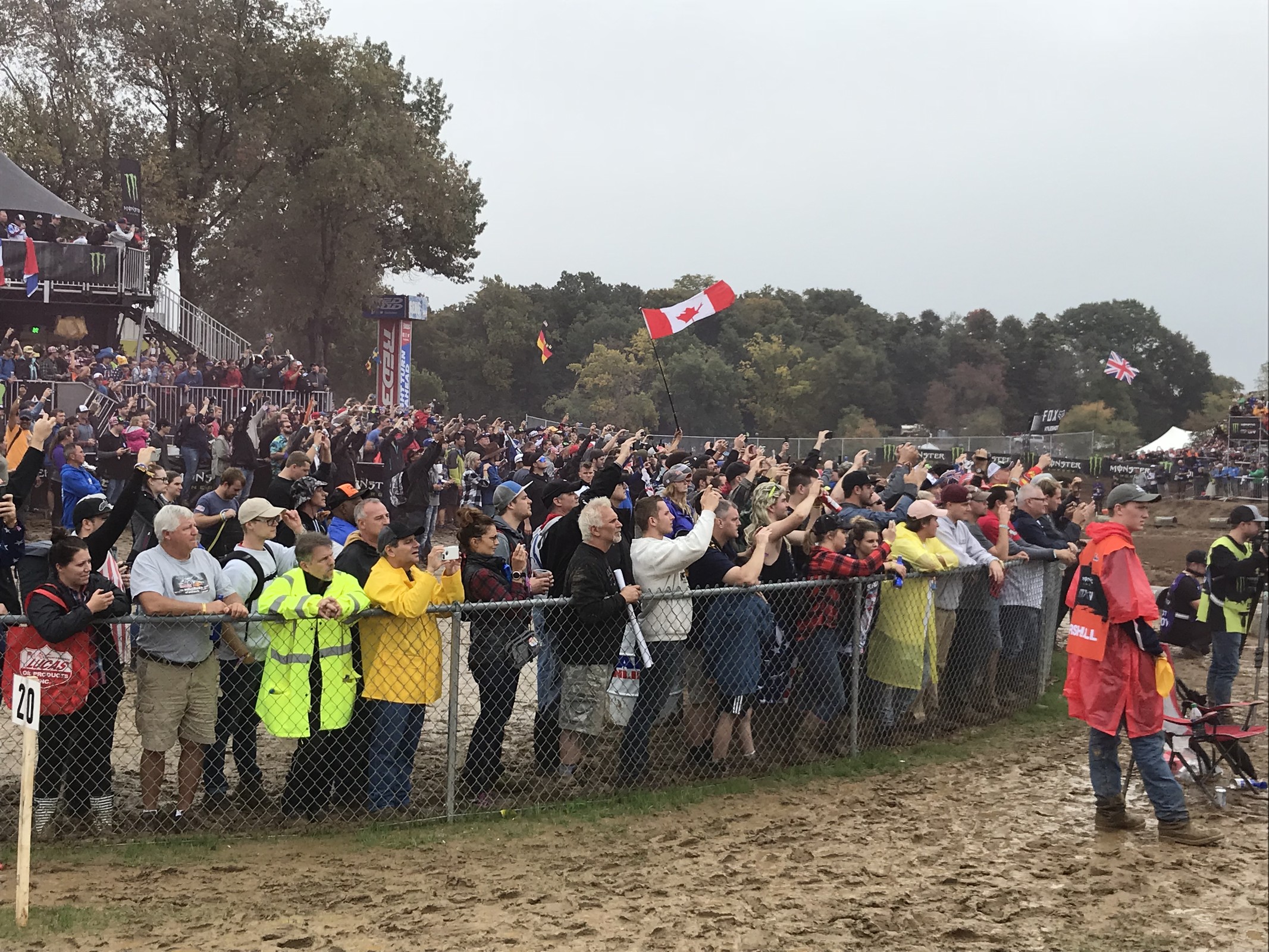 THE EVENT (DC)
Besides the racing on the track, where we saw some impressive performances and a few less-than-expected results, the whole MXoN at RedBud was an amazing spectacle. The U.S. fans came out in droves, doing their best to show their colors just like European fans do when our boys go abroad. The people-watching was excellent, especially with the added elements of rain and mud.
On Friday after the introduction of riders, we helped kick the night off with the RedBud Raceday Show on a stage, organized by Tim Cotter and filmed and streamed on www.racertv.com. We had an amazing lineup of guests, because just behind us was Jeff Stanton's MXoN Experience, a Team USA reunion and Road 2 Recovery fundraiser that had more American motocross stars than I have ever seen gathered under one big tent. Besides "Six Time" himself there was Jeff Ward, David Bailey, Ricky Johnson, Jeremy McGrath, Ricky Carmichael, Kevin Windham, Travis Pastrana, Doug Henry, John Dowd, Donnie Hansen, Chuck Sun, Damon Bradshaw, Ron Lechien, Ryan Villopoto, Ryan Dungey, and more, as well as true pioneers like OG Team USA rider Dick Robbins, "First American" Brad Lackey, "The Professor" Gary Bailey, Michigan's own Mike Hartwig, and a whole bunch of other guys I am probably forgetting about!
On Saturday it was time for "Rocket" Rob's Pit Bike of Nations, and I have to say it was the closest to a full-on riot (albeit a peaceful one) I have ever been in the middle of. I truly thought we weren't going to pull it off, as fans literally covered the entire track, standing on the jumps to wave flags, shoot off fireworks, shotgun beers, and just make noise for a little while. With the riders' help, we were able to clear the place in time for a Team USA win by the trio of Willy Browing, Carson Brown, and Ryan Villopoto. Here are the highlights:
After that, what Tim Cotter envisioned with the whole RedBud Raceday Show idea came true, as it really looked like ESPN's College Football Gameday with all of the flags and signs and just thousands of people gathered around the stage. It was a lot of fun and a great way to spend a wet Saturday night. And it wasn't just U.S. fans but a really big gathering of fans from all kinds of countries, just like it is in Europe.
Sunday, of course, was the race, and with some parking lots impassable, the RedBud crew scrambled to get buses on site and get as many people in and out of the facility as possible, and the fans seemed patient and understanding with the situation—a massive crowd and massive rains make for a tough, slick parking situation. I have not heard the final crowd numbers, but it was every bit as big as the biggest one I ever attended, back in 2009 in Brescia, Italy. The home team was supposed to win there, too, but it didn't quite work out. No matter, the Italians seemed to have a blast anyway, because that's what the Motocross of Nations is—a big celebration of global motocross.
When all was said and done and I was up on the podium with Youthstream's David Luongo and AMA president Rob Dingman, we all agreed that it was a very successful event and that Tim and Amy Ritchie really did a great job of putting on a great big race. If you missed it, you really missed out on a fantastic weekend. Make sure you make it to the next one in the United States, which will be in 2022. Hopefully we will have won the Peter Chamberlain Trophy back by then!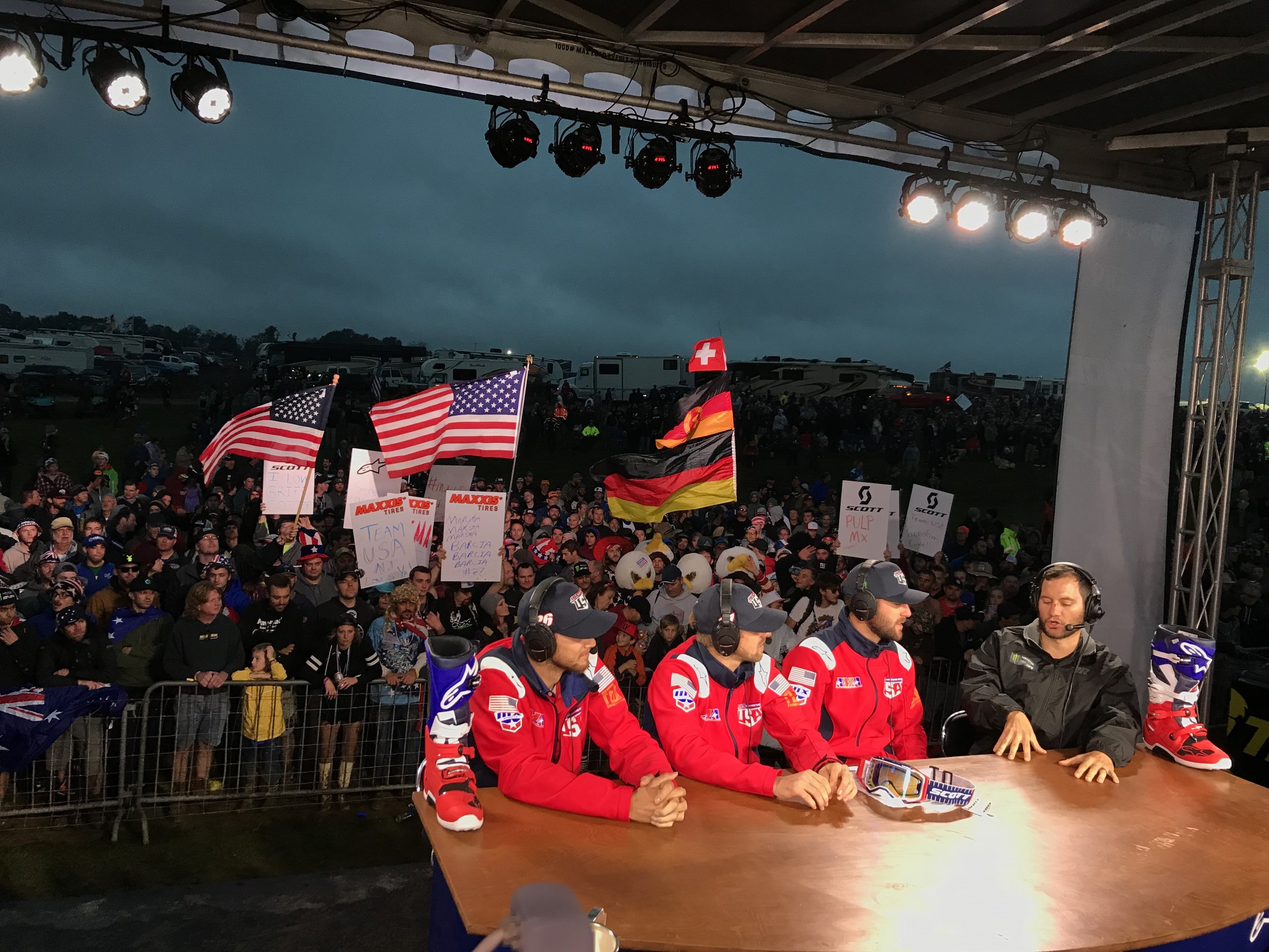 STILL CLEANING MUD (Matthes)
DC and Weege have recapped the MXoN enough here, plus we did enough columns and podcasts on the race. It was one of the more shocking results I can remember in my time on the beat. No win, sure, but no podium ... at Redbud? Wow. Starts were bad, and it pretty much went south from there. Plus I ruined a pair of shoes that were still in good shape. I'll probably send a bill to Tim Ritchie....
So as I still clean the mud out from suitcases, shoes, backpacks, and more let's look back at some of the more memorable things that were from the weekend that didn't involve the racing:
-The RacerTV show was great, a lot of fun to do, and Weege hosting it for 9 hours and 40 minutes over the two days was epic. The guy's just a grinder.
- The Pit Bike of Nations looked like a disaster and it would never happen until Tim Cotter and Doug Dubach (?!?) stepped up and got everyone off the track. They actually moved! Then DC somehow became the official starter and Amy Ritchie the scorer. It was weird.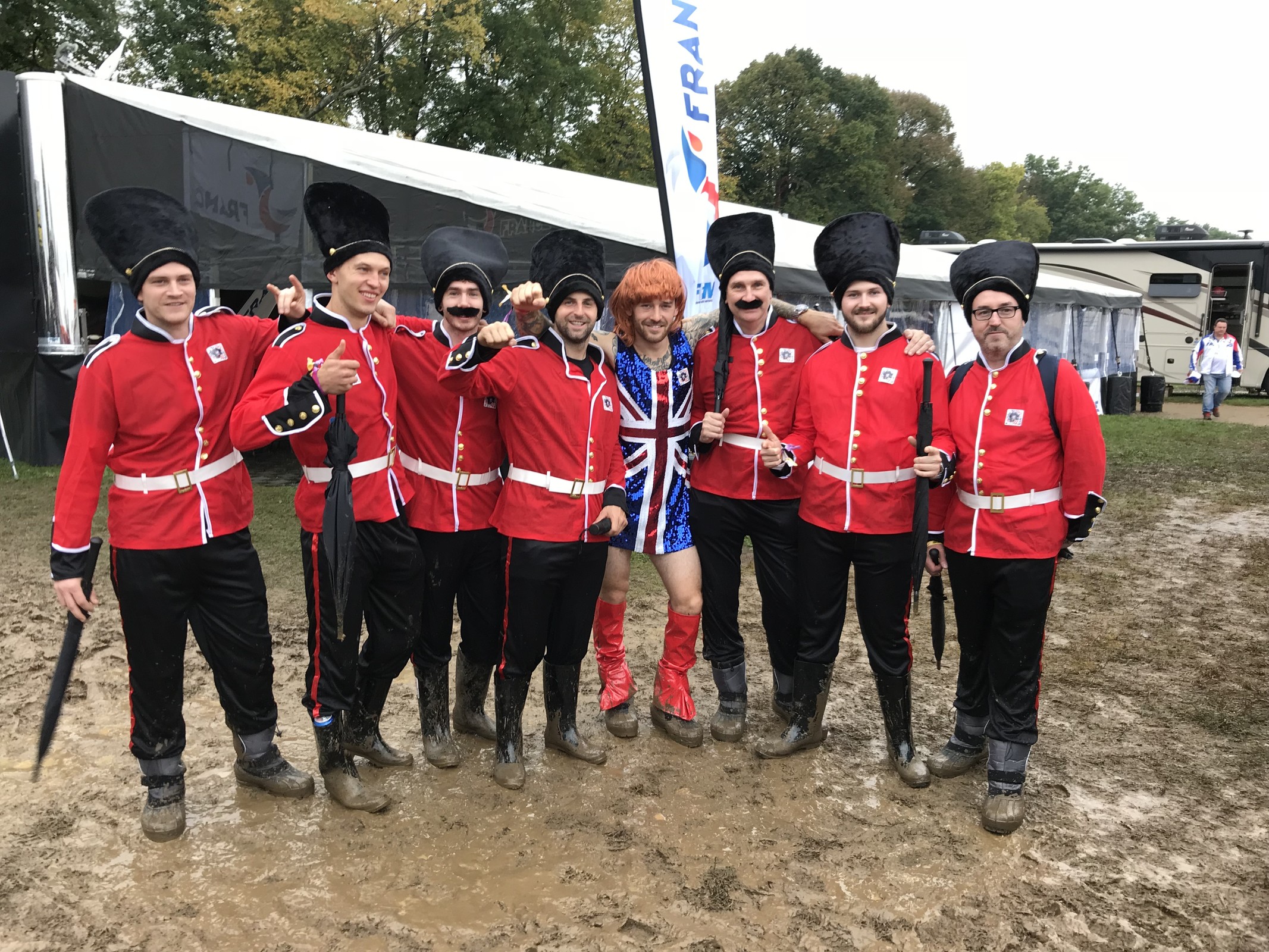 - I took my Team Canada bunch to a third, and even though one of my riders won a Canadian national THIS YEAR, he said the PBoN was perhaps the highlight of his life.
- I thought the fans were going to storm the stage after the PBoN and tear RV limb from limb. It got a little scary.
- The Friday night MXoN legends dinner was great. Anyone and everyone was there, and it was cool to see everyone in a relaxed manner. My only complaint is it didn't go longer and I didn't get seat TF01 next to Tim Ferry like my ticket said! I had to sit three down from Red Dog so I barely got to talk to him.
MEC (Steve Matthes)
So like Bill Belichick who's on to Cleveland, we're on to the Monster Energy Cup now. Race is tomorrow, and if I'm honest, I wasn't that interested in the edition this year other than seeing if Chad Reed is actually fast again (I told him that yesterday at the AIMExpo, by the way). UNTIL, that is, we found out Ryan Villopoto is racing it. So you add in seeing if the buzz about Reed being back to Reed is correct and now RV and hey, I'm into it. Ryan's been riding a bunch getting ready for the AUS-X Open and feeling pretty good about what he's got on the bike (his times at the Yamaha track apparently are very good). So his entry into the race is exciting for this event for sure. Can he podium a moto? Can he get a top-five? You'd think he can make the top ten, right? Things at the MEC just got interesting.
I'm hearing Jason Anderson was out of this race but last night got a text that he's in, which is great. He'll add some fireworks to the mix along with past champion Marvin Musquin, Justin Barcia, Blake Baggett, and of course, Eli Tomac. I also heard that there were plans for a roundtable show of sorts for the broadcast (or maybe the live show, I can't verify that) with all the past winners, and James Stewart had agreed to doing it but then backed out, and I don't think it's going to happen. Too bad, that would've been cool. #FndingStew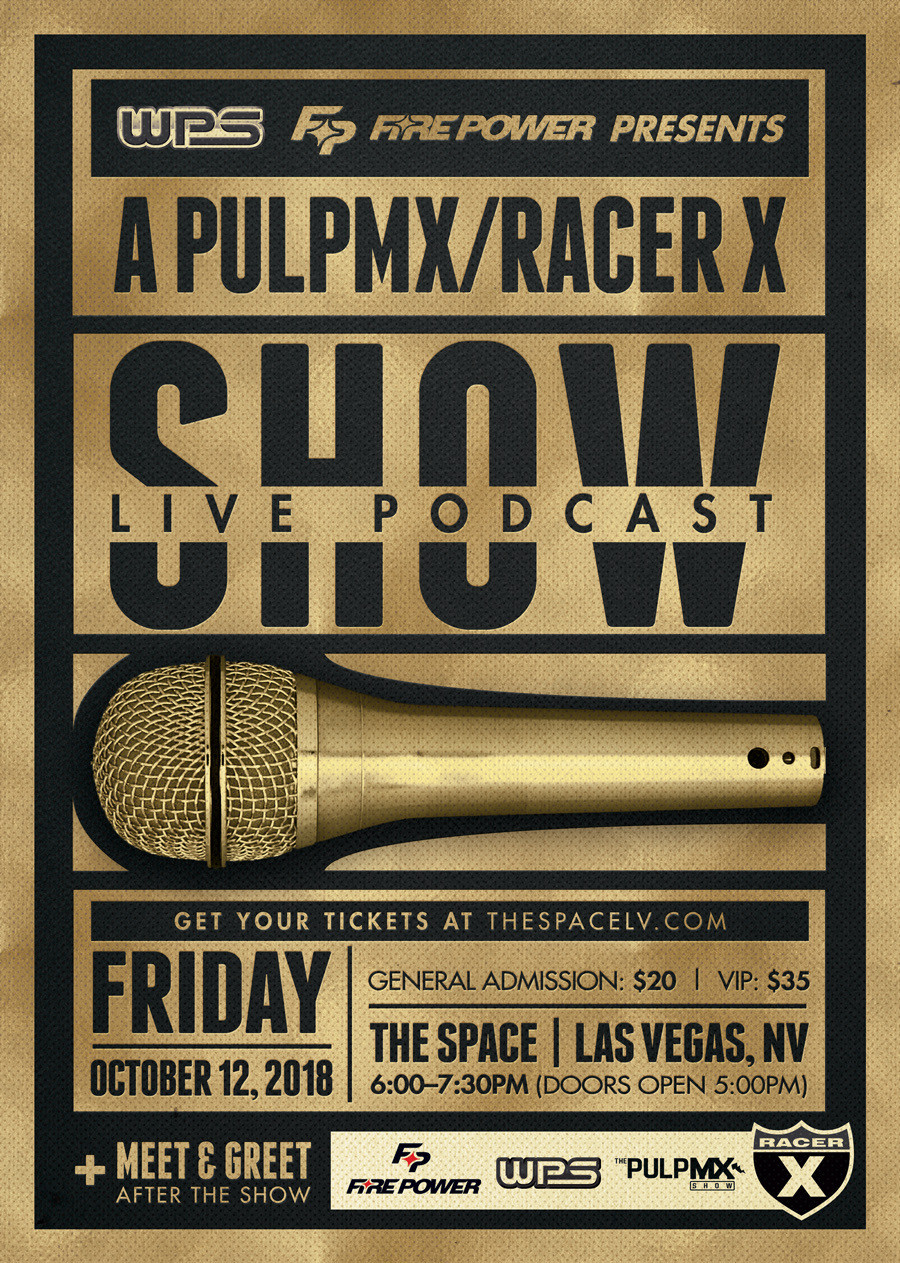 Doors at 5 p.m., Show starts at 6-7:30 p.m. There will be Racer X and PulpMX merch to buy at the front. Tickets $20 at thespacelv.com. We'll hang out afterward over at the Palms hotel, so if you want to buy Weege a drink, he'll gladly accept.
Hey, Watch It!
RedBud Before
RedBud After
Racer X Films: Motocross of Nations | Sunday
Racer X Films: Motocross of Nations | Saturday
Racer X Films: Motocross of Nations | Friday
Racer X Films: Motocross of Nations | Team USA
Racer X Films: Motocross of Nations | Travis Pastrana
Racer X Films: Motocross of Nations | Team Puerto Rico
Racer X Films: Motocross of Nations | Team Netherlands
Racer X Films: Motocross of Nations | Team France
Random Notes
MX Sports and Lucas Oil are pleased to announce that NBC Sports Network (NBCSN) will be broadcasting two one-hour highlight shows featuring the 2018 Rocky Mountain ATV/MC AMA Amateur National Motocross Championship, presented by Lucas Oil. Fans will get an inside look at the 37th annual event held at the historic Loretta Lynn Ranch in Hurricane Mills, Tennessee, which took place July 30 through August 4.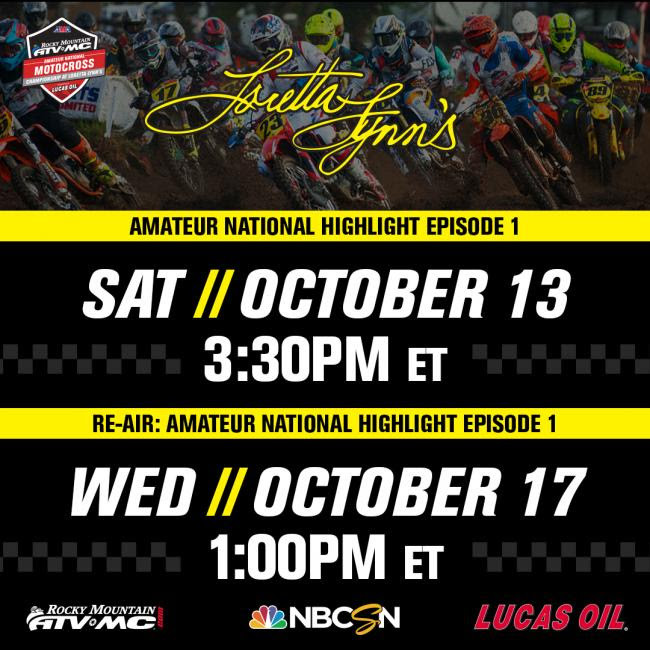 The first feature show will air this Saturday, October 13, at 3:30 p.m. EST, including interviews with Seth Hammaker, Mitchell Falk and Derek Drake, along with complete coverage of the highly competitive 250 A class. Daxton Bennick will be introduced as he was the first rider to go 1-1-1 this year and earn the 85cc (9-11) Limited Championship at Loretta's. John Grewe will reminisce about competing in the very first Loretta Lynn's Amateur National Motocross Championship held in 1982, and discuss this year as he competes in the Senior 40+ and Masters 50+ classes. The newly crowned WMX National Champion, Jordan Jarvis will be highlighted as she maintains going to public school, training and racing at a National level. Episode one re-air date is set for Wednesday, October 17, at 1:00 p.m. EST. More shows and classes will follow, stay tuned!
December 2018 Issue of Racer X Illustrated Digital Edition Now Available
Subscribe to the digital edition now and receive immediate access to the December 2018 issue of Racer X Illustrated and read features about the Masters (50+) Class at Loretta Lynn's and Canada's new supercross series returning to Montreal, plus check out a preview of Roddy MacLeod's new book, Will to Victory. Also read about Ping's weekend in England for the Vets Motocross des Nations, our return to New England for the 2nd Annual Racer X Maine Event, and much more in the December 2018 Issue of Racer X Illustrated.
Subscribe or Renew Now and Get a FREE Set or 100% Moto Socks
Subscribe now for as low as $9.98 and receive a FREE set of 100% Moto Socks, plus immediate access to our current digital edition.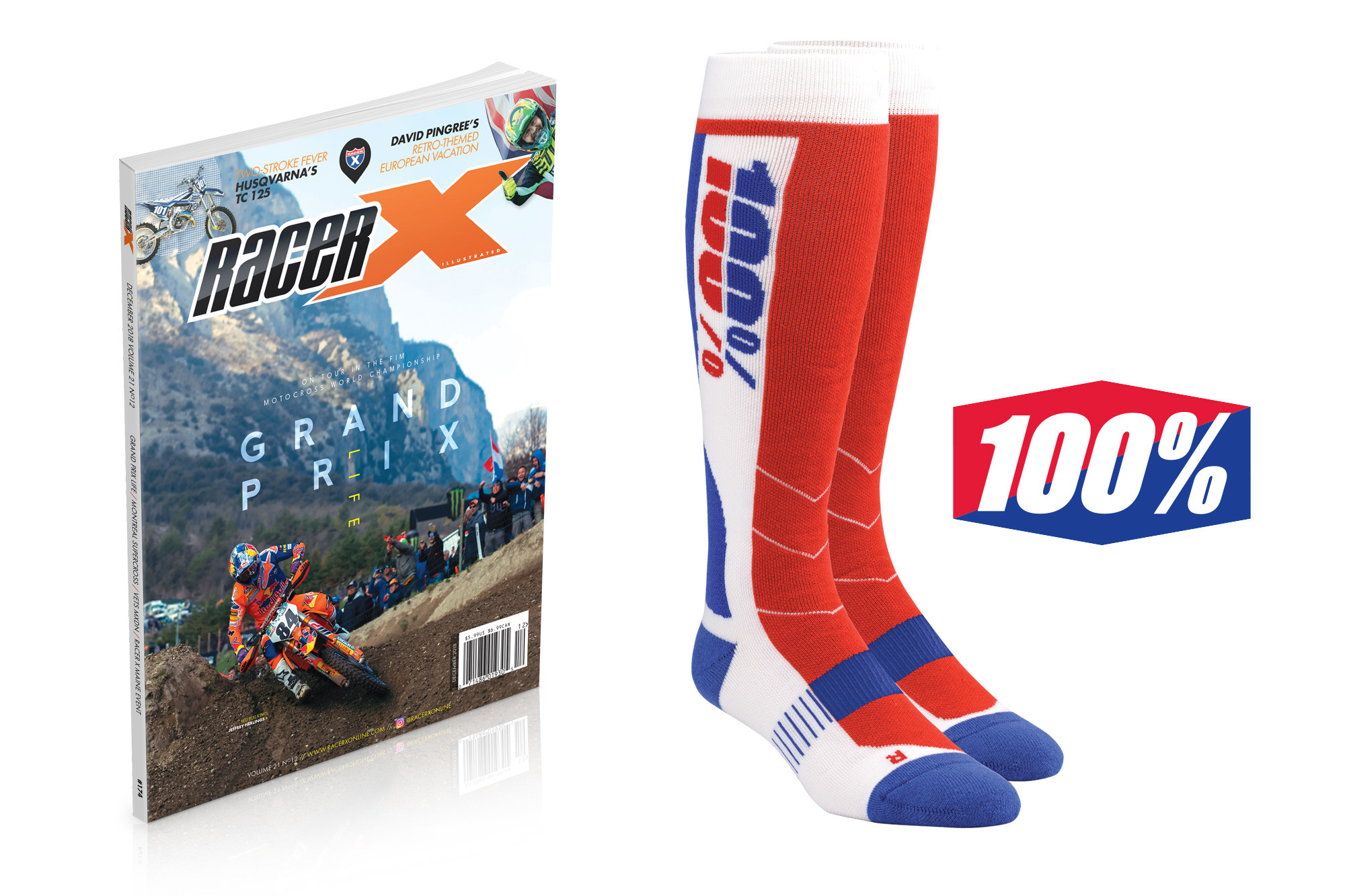 Do you remember a man named Jeff "Iron" Montgomery? He was once a regular around the motocross world, working with Muscle Milk and many other well-known sports nutrition brands. Iron, who was also a triathlete himself, was instrumental in the careers of many others. Now he needs help from others—he has been dealing with a heart disease known as cardiomyopathy for nearly two decades now, and for the most part has kept it all quiet. But now the disease has advanced and he is in dire need of a heart transplant. Friends have set up a GoFundMe page that explains more about his situation and also offers us all a chance to pitch in and help with what will be a very costly procedure and rehabilitation. If you can help out an old friend of motocross, please do.
That's it for this week. Thanks for reading Racerhead—we'll see you at the races.