Buchanan, MI
Motocross of Nations
Motocross of Nations
Prestige, honor, and the chance of a lifetime. Pick any of those, or even all three, as the reason racers take part in the Motocross of Nations. The riders aren't contractually obligated to do it, it typically doesn't generate a paycheck, and it comes during the off-season when most racers would rather relax after a long, hard year than travel thousands of miles to go race.
So why do it? Simply put, it's by far the most prestigious motocross race in the world, and any reasons not to go are vastly outweighed by the opportunity and honor of being part of a decades-old race that's steeped in rich tradition, all while proudly representing your country. While anyone simply competing in the storied MXoN has already won, there will be actual race winners at the end of the day. Here are the teams expected to battle for the Chamberlain Trophy this weekend at RedBud.
FRANCE
2017 Result: 1st
2018 Roster
Gautier Paulin, MXGP
Dylan Ferrandis, MX2
Jordi Tixier, Open
France has always produced a strong contingent of fast racers, and lately they've been nothing short of dominant at the Motocross of Nations. They have won the event the last four years in a row, and have even used different lineups to do it. When last year's squad was devastated with injuries, they plucked a former motocrosser out of the World Enduro Series and the team still won! That said, this year's team is still facing some challenges, from the controversial pick of Romain Febvre over Marvin Musquin, which was turned on its head when Febvre suffered a concussion and had to pull out of the event. This left Jordi Tixier as the next man up, but Tixier has had a trying 2018 season—he didn't even have a bike and team sorted when his invite came. He has cobbled a deal together and rode the final MXGP over the weekend, but finished 15th overall.
Gautier Paulin, who's been on the roster for all four championships, is back this year to lend his expertise and experience to a team already loaded with speed. He was fifth in this year's MXGP rankings. Dylan Ferrandis, who contributed to the team's MXoN win in 2014, has been racing in America and is familiar with RedBud. He's coming off his best season of Lucas Oil Pro Motocross yet, taking four moto wins and two overalls.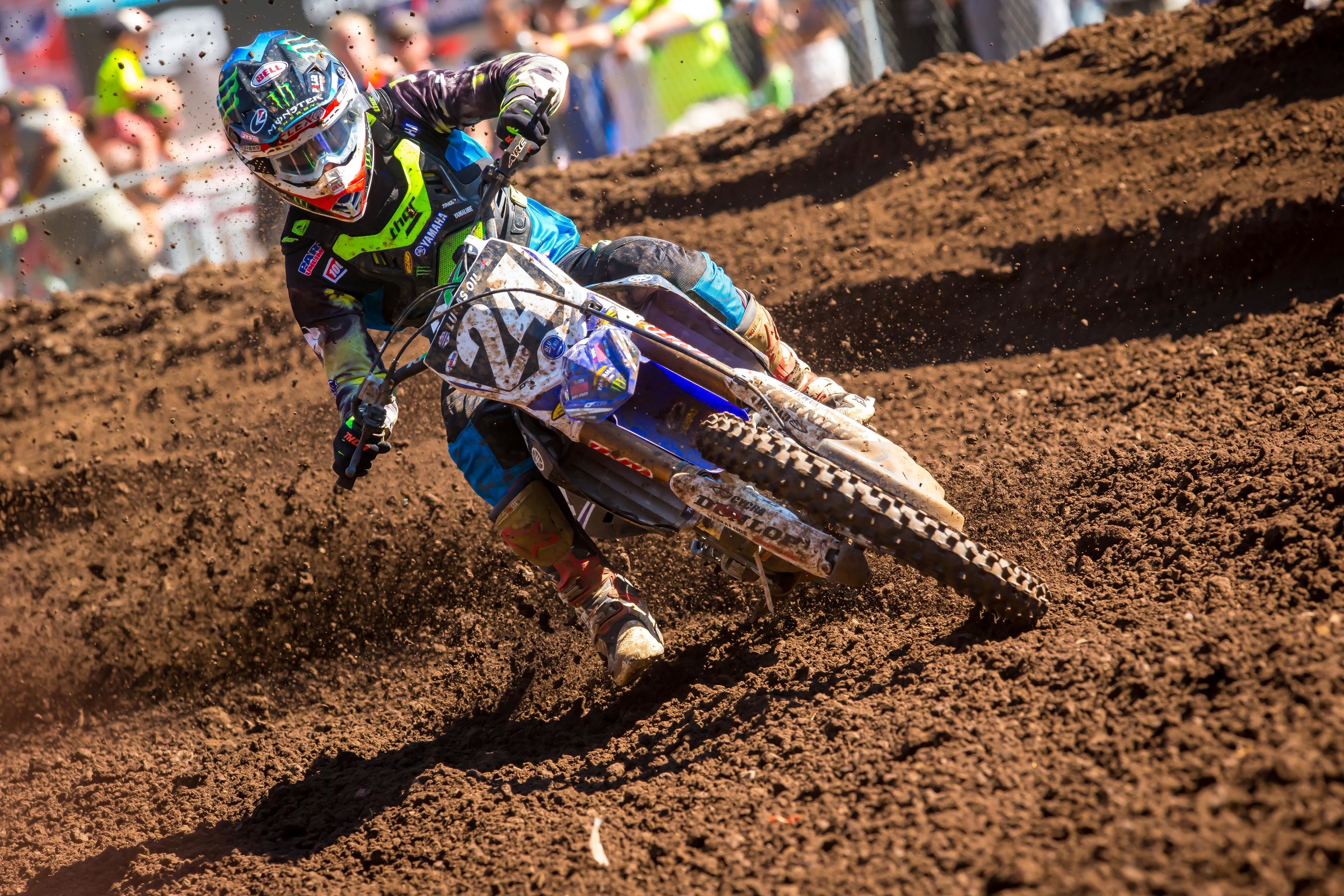 THE NETHERLANDS
2017 Result: 2nd
2018 Roster
Jeffrey Herlings, MXGP
Calvin Vlaanderen, MX2
Glenn Coldenhoff, Open
Plenty of teams have a legitimate shot at winning the 2018 MXoN, the Netherlands among them—thanks in large part to motocross phenom Jeffrey Herlings, who will be racing the MXGP Class. "The Bullet" is one of the most gifted motocross racers in history and just logged one of the most dominant MXGP seasons of all-time. Contesting the MX2 Class is South African Calvin Vlaanderen, who is half Dutch. Due to a disagreement with Motosport South Africa, Vlaanderen decided to race for the Netherlands in 2018. It's a tough loss for South Africa; Vlaanderen is a fast and capable racer and even won the GP of Indonesia in MX2 this year. Rounding out the team in the Open Class is MXoN veteran Glenn Coldenhoff, who's been a mainstay on the team since 2013 and contributed to last year's runner-up performance. The Dutch have never won this event but they have come close over and over and over. Is this their year?
GREAT BRITAIN
2017 Result: 3rd
2018 Roster
Tommy Searle MXGP
Ben Watson MX2
Max Anstie Open
Last year Great Britain got back on the podium for the first time since 1997. They hope to do it again with Tommy Searle, Ben Watson, and Max Anstie. Searle has represented his country an astounding ten times at the Motocross of Nations, making him a true veteran of the event who knows exactly what to expect. Watson is making his MXoN debut at RedBud. Don't let the inexperience fool you, though: he's had a breakthrough season and has been earning top-fives in MX2 for most of the year. In the Open Class is Anstie, who rode brilliantly in front of his home crowd last year at Matterley Basin to win both of his motos and top the MXGP Class. He's had an up-and-down regular season in MXGP, a turnaround will be needed this weekend for the Brits to contend for the box again.
BELGIUM
2017 Result: 4th
2018 Roster
Clement Desalle, MXGP
Jago Geerts, MX2
Jeremy Van Horebeek, Open
If you're having a conversation about legendary Motocross of Nations teams, you've got to include Belgium. The Nation has been a contender forever, from the Roger DeCoster days of the 1970s through modern times, with six wins since 1985. And even when they haven't won, they've still done incredibly well. In fact, the last time Belgium finished outside the top five was in 1989; since 2000, they've only been off the podium three times! Team riders Clement Desalle, Jago Geerts, and Jeremy Van Horebeek will look to keep the streak of excellence alive this year. Desalle, who hasn't raced the MXoN since Belgium last won it in 2013, will pilot his Kawasaki in the MXGP class. With 23 career GP wins and third in points this season in the MXGP standings, he's one of the team's most important assets. Geerts is making his first appearance at the MXoN, while Van Horebeek, who has been a part of Belgium's MXoN success for years, is back again to handle business in the Open Class. Van Horebeek was ninth in this year's MXGP series.
SWITZERLAND
2017 Result: 5th
2018 Roster
Valentin Guillod, MXGP
Killian Auberson, MX2
Jeremy Seewer, Open
Switzerland has never won the Motocross of Nations, but their results have been on the rise in recent years. The 2017 team scored its best result ever, placing fifth overall, and the team finished in the top ten in each of the prior four years. Guillod, who has three career MX2 wins to his credit, has already flown the Swiss colors at the MXoN five times, giving him plenty of experience to help keep Switzerland's upward trend intact. Seewer, like Guillod, has five MX2 wins and is returning to represent Switzerland for the fifth time. The sticking point came with the third mainstay of the team, Arnaud Tonus. A shoulder injury will keep him from racing, so Killian Auberson, who has qualified for three Lucas Oil Pro Motocross Nationals and has raced a handful of Monster Energy Supercross rounds in America, takes the MX2 spot.
AUSTRALIA
2017 Result: 6th
2018 Roster
Kirk Gibbs, MXGP
Hunter Lawrence, MX2
Mitchell Evans, Open
Australia, long known for gifted riders, is looking to improve on last year's sixth-place finish. Doing their best to make it happen are Kirk Gibbs, Hunter Lawrence, and Mitchell Evans. Gibbs placed sixth individually in the Open Class last year and is the 2015 MX1 Australian National Champion. Lawrence, riding MX2, put in a pair of brilliant rides at last year's MXoN to top the MX2 division. He had a strong close to this year's MX2 FIM Motocross World Championship after a trying first half of the season. Evans began his rookie season in Australia in 2017. After taking third in the Australian Nationals in MX2, he moved up to the premier division in 2018, where he recently finished second overall. The problem is that current Australian National MX Champ Dean Ferris is not racing—the Australian Supercross schedule had a date on top of the 'Nations, and then Ferris got injured. Former star Michael Byrne will be managing this year's squad. Byrne brings a unique and invaluable perspective to the team—he's raced the Motocross of Nations before and has competed at RedBud many times, even taking a podium there in 2008.
ITALY
2017 Result: 7th
2018 Roster
Antonio Cairoli, MXGP
Michele Cervellin, MX2
Alessandro Lupino, Open
Though Italy last won the Motocross of Nations in 2002, they've boasted pretty solid results—usually between fourth and sixth—in recent years. Armed with the talents of Antonio Cairoli, Michele Cervellin, and Alessandro Lupino, they'll be looking for more solid finishes in 2018. Leading the charge is the blazing-fast Cairoli, already an absolute living legend in the sport. With his 12 years at the MXoN, nine world championships, and 85 GP wins, he brings a wealth of experience and a truckload of speed to the team. Cairoli did get banged up a bit in this year's MXGP tour; he finished second in points but had to skip the final race last weekend due to a practice crash. In the MX2 class it's Cervellin, who earned 11th in MX2 for Italy last year. Lupino, who also represented the team last year, is back to contest the Open Class, where he was invaluable to the team in 2017, notching a fourth-place individual finish.
ESTONIA
2017 Result: 8th
2018 Roster
Tanel Leok, MXGP
Hardi Roosiorg, MX2
Harri Kullas, Open
This northern European country has quietly produced some solid results over the years at the Motocross of Nations, landing in the top ten at eight of the last ten races. That's due in part to the veteran Tanel Leok, who's flown the Estonian flag at this event a remarkable 17 times. That adds up to a whole lot of MXoN experience, which in some ways is just as important as speed at this event. But Leok's got plenty of that, too, which he'll put on display in the MXGP Class. Hardi Roosiorg, who's racing in his first MXoN, will handle MX2 duties, while Harri Kullas will return to the team, this time to hold the reins in the Open Class.
UNITED STATES
2017 Result: 9th
2018 Roster
Eli Tomac, MXGP
Aaron Plessinger, MX2
Justin Barcia, Open
The most dominant country in Motocross of Nations history, the United States has won the event an astounding 18 times since 1985 (and four times before that in the Trophee des Nations era). Things have been a bit rocky in recent times, however, as the Americans are winless at the MXoN since 2011. Team riders Eli Tomac, Justin Barcia, and Aaron Plessinger will certainly be looking to break that losing streak on home soil this year. Tomac was supreme over the summer in Lucas Oil Pro Motocross and wrapped up his second consecutive 450 Class Championship. Barcia, the next-highest American in the 450 standings, finished his best season in years by winning the final race of the year. Plessinger did the same in the 250 Class and won the 2018 250 National Championship. This is one of the most potent teams fielded by the United States in recent memory, and they get to race on home soil.
SWEDEN
2017 Result: 10th
2018 Roster
Filip Bengtsson, MXGP
Alvin Ostlund, MX2
Anton Gole, Open
Leading the Swedish contingent into the 2018 Motocross of Nations is Filip Bengtsson, who will be competing in the MXGP Class. With seven years of racing the MXoN under his belt, Bengtsson is by far the most experienced member of the team. He's also known as a tough MX1 competitor in Sweden. Joining him is Alvin Ostlund, who will be taking care of business in the MX2 Class. Ostlund has been to the MXoN before (three times) and was able to put in a nice ride last year to take sixth in the MX2 Class. Rounding out the team is Anton Gole in the Open Class. Gole has raced the MXoN once before, in 2016, and has contested multiple MX2 races in the Grand Prix series this year. Last year the team earned tenth overall, Sweden's best result since placing fifth in 2002.
Other Notable Teams
CANADA
2017 Result: 13th
2018 Roster
Colton Facciotti, MXGP
Jess Pettis, MX2
Tyler Medaglia, Open
As the Motocross of Nations has never been held in Canada, this year's event at RedBud will be the closest thing the Canadian squad has to a hometown race. Representing their nation for the contingent of fans who will no doubt make the voyage south are Colton Facciotti, Jess Pettis, and Tyler Medaglia. Faccioti is the only returning rider from last year. He's also coming off a great motocross season in Canada, in which he won four 450 Pro races and topped the field in points. Pettis also put in a fantastic season in the Canadian Nationals, earning more points than any other MX2 competitor. Medaglia rode well over the summer in the Canadian Nationals and was a late replacement for the injured Kaven Benoit; his past MXoN experience should help Team Canada put in a solid showing.
PUERTO RICO
2017 Result: 17th
2018 Roster
Travis Pastrana, MXGP
Ryan Sipes, MX2
Kevin Windham, Open
Plenty of Americans have raced for Puerto Rico—its status as an unincorporated territory of the United States means American riders are allowed to be on the team—but the 2018 group has to be the most powerful (and colorful) yet. Consisting of former 125cc National Champion Travis Pastrana, Ryan Sipes, and former factory Yamaha, Suzuki, and Honda pilot Kevin Windham, the team is packing as much star power as any other. And while they're bound to have a lot of fun, that's not the only reason they're racing. Their goal is to raise money via donations and merchandise sales for Puerto Rico, which was devastated by Hurricane Maria, the worst natural disaster the island has ever faced, in 2017. The team is working closely with the Federacion de Motociclismo de Puerto Rico to ensure the funds raised make as much of a difference as possible.
SPAIN
2017 Result: 18th
2018 Roster
Jose Butron, MXGP
Jorge Prado, MX2
Carlos Campano, Open
Spain hasn't been a Motocross of Nations powerhouse, but the team warrants mention because new MX2 World Champion Jorge Prado is on the squad. Prado is the first rider from his country to ever win a world championship in one of the premiere divisions, and he'll be in the hunt for the MX2 overall for the weekend. One thing about Prado is his starts—he grabbed nearly every holeshot this season. We'll see how his 250F pulls against the 450s. Butron was 20th in this year's MXGP rankings, and Carlos Campano is a veteran racer who brings plenty of experience to the table.
GERMANY
2017 Result: 20th
2018 Roster
Ken Roczen, MXGP
Henry Jacobi, MX2
Max Nagl, Open
This year, Germany is sending two-thirds (Ken Roczen and Max Nagl) of the team that snapped America's seven-year winning streak in 2012. Roczen, one of the best riders to ever compete for Germany, has multiple titles to his credit, including an FIM MX2 Motocross World Championship and a pair of Lucas Oil Pro Motocross 450 Class Championships. Kenny made a valiant return to form this summer after a pair of devastating arm injuries, and while he didn't get an overall win, he was certainly close. This will be Roczen's first MXoN appearance in several years. Nagl isn't quite in his prime like he was back in '12, but he will be solid if he can avoid bad luck. He was set to represent Germany the last two years, but injuries suffered during qualifying prevented him from doing so. Returning to the team from last year is Henry Jacobi, who will contest the MX2 Class.
NEW ZEALAND
2017 Result: DNQ
2018 Roster
Cody Cooper, MXGP
Hamish Harwood, MX2
Rhys Carter, Open
New Zealand has enjoyed some Motocross of Nations success in the past, taking third overall in 2001 and 2006, but the team hasn't performed as well lately, failing to even qualify last year. Cody Cooper, Hamish Harwood, and Rhys Carter will do their best to turn things around at RedBud. Cooper has been racing in the States all summer (he finished 11th in the 450 Class) and has raced at RedBud three times, taking 13th overall this year and fifth in 2009. Harwood's spot on the team was announced after Dylan Walsh couldn't secure a valid New Zealand passport in time—a requirement for the MXoN. He's been racing the Australian Nationals and is ready to take on the MXoN for his country. Rounding out the team in the Open Class is Rhys Carter. Like Harwood, he's been racing the Australian Nationals and is ready to use his talents to get New Zealand back in the show in Michigan.