Jeffrey Herlings has hardly been short of a word or two in 2018. Aside from the Grand Prix of Ottobiano in Italy (round 11 of 20) where he was still convalescing from collarbone surgery after a training crash, the new MXGP World Champion has been present in every post-race press conference this year, 16 times as a GP winner. Instead of the 24-year-old talking about his memorable campaign and first title in the premier class in just his second term on the 450 SX-F, we asked for some background from the people around him.
Valentina Ragni, Red Bull team coordinator: I've been working with Jeffrey for many years, but I have never seen him this focused and concentrated on his goal. He has always been very professional in his job, motivated, and working hard, but this year is a new level. The story of him living like a "monk" is almost true! This year, all we have heard about is the amount of time he is riding and the effort to look at details like his nutrition. At some moments I was a little worried he was over the limit, but he told me he needed to watch his weight and maximize his strength. As a joke, he sends me photos of the weighing scales and, for his height, I doubt there are many at the same weight but with the same strength.
Ruben Tureluren, training mechanic, assistant, and confidant: He is mentally strong and knows his abilities and works so hard. Don't forget that he has a very strong commitment and desire to win. I've never seen anyone else like that.
Glenn Coldenhoff, teammate: I think he has a speed that nobody can come close to and just manages to hold it for quite a long time. What he showed this year is, for me, a little unbelievable. It is an extreme level of strength. I would also see him in practice and he is always that fast, not only in the races. It is something phenomenal. I'm in a luxury position: I'm practicing with him and I can see I am a little "off," but it gives you something to continue to work towards. From his side, he is trying to make that gap bigger, so it also gives him something to work with. We can both try to step up the level.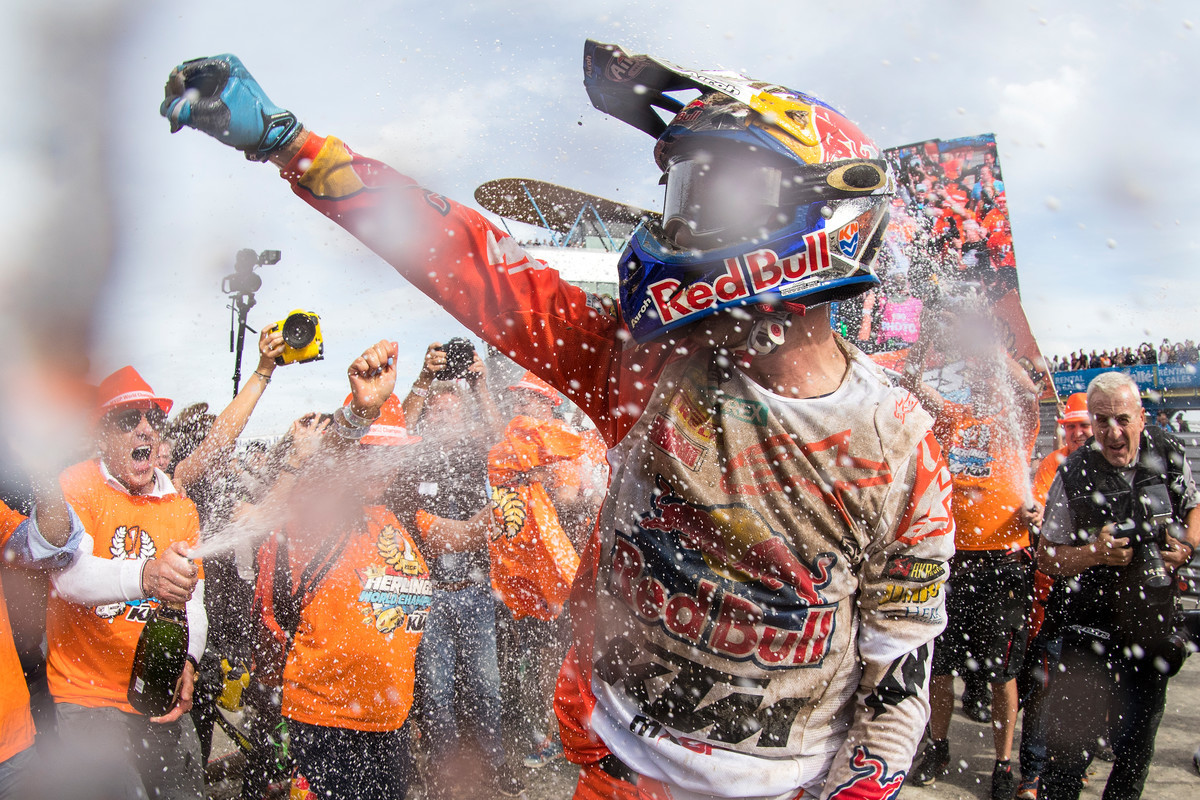 Wayne Banks, Red Bull KTM race mechanic: I thought he has been more committed than ever in the off-season. He had an almost perfect winter and just decided to dedicate his life to it. Not to say he slacked off with that before… but I think in terms of training, eating, and thinking about the sport, he upped his game. It was the foundation of this year, and the routine during the week just carried it on.
Robert Jonas, VP of KTM Group Off-road: I still think Jeffrey is growing and hasn't reached his full potential.
Dirk Gruebel, Red Bull KTM MX2 team manager and technical coordinator: The starts were a big problem, and we developed those with him over the years. He's a maniac now with those, especially during the week. I doubt anybody puts in as much practice as him, and he's improved a lot—top five lately, and mostly top two. Within a couple of corners he is first, and then it is all about the incredible pace he sets from the first lap until the last, which is not possible for most of these riders. Tony [Cairoli] tries his best and does really good, but it is such a high level that even he struggles to stay with him. If they battle each other, then there is usually a gap of 30-40 seconds to the next guy in third, and that's not normal for this sport. He is excelling no matter the ground, or even if it's a new track. It's impressive.
Banks: It's been incredible to watch that confidence come back with the starts. We added the RPM light indicator by round five, and that provided such an improvement in terms of consistency. He is also believing a lot more in his starts now; for instance, in France he saw a little bit of a drier line completely to the outside of the gate and believed that if he put his mind to it, then he can take the holeshot, and he was right there.
Jonas: He was not known as the best starter in the field, and this was something the team worked on: the setup, technique, and looked for improvements everywhere. I think we can say he is a good starter now because most of the time he is [up] there.
Ragni: When we text each other, all we hear is that he's at home or out riding. He's a good-looking boy! And famous in this world… so there were some adventures in the past with girls, but these issues never came up this year.
Gruebel: He normally rides three times a week between races. If there is no race, then on Saturday or Sunday there will be another practice.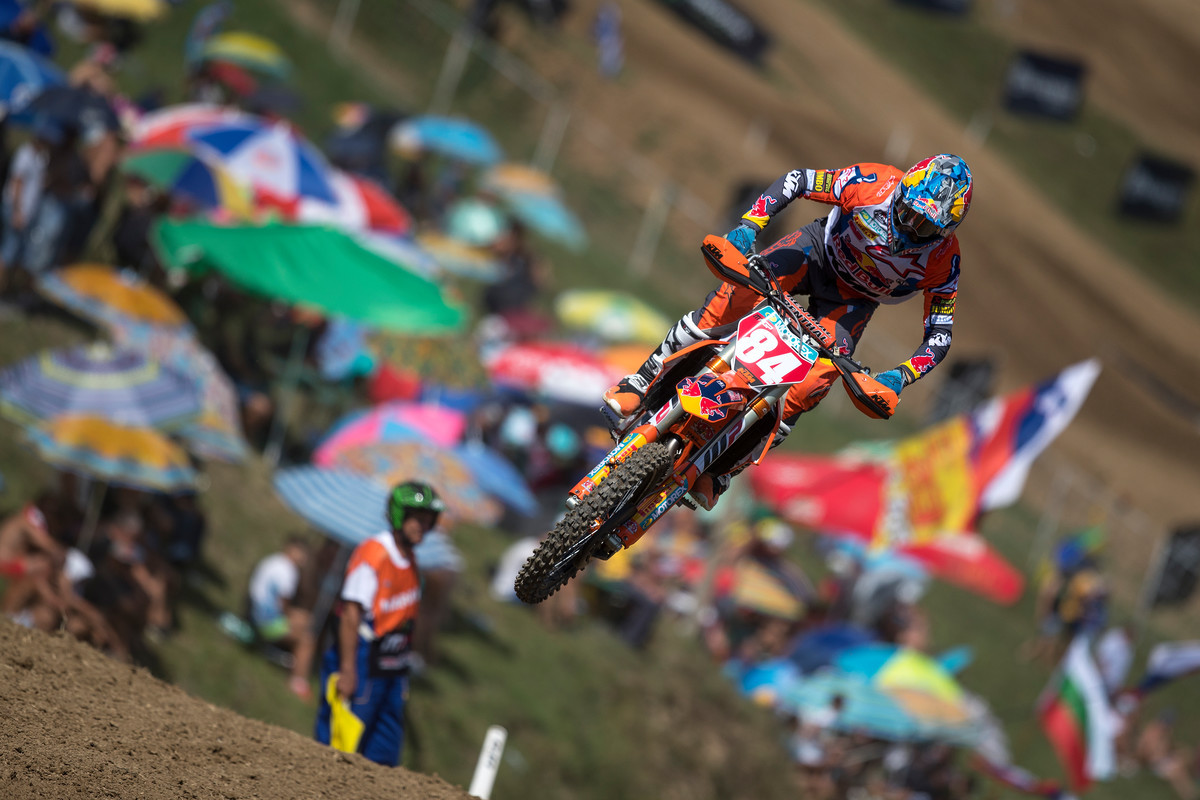 Banks: From my own personal opinion, I think this is the best of Jeffrey so far. Apart from the collarbone break and a couple of small mistakes here and there, I don't think he has put a foot wrong.
Ragni: I had the feeling—from the first moment of hearing about the injury—of being relaxed. We found out directly from him that it was just the collarbone and not the ribs like we had first heard. I think it is because I'd been through tough times with him, like the broken femur and the dislocated hip. I know that he is like a warrior: There are not many people who could race in Mexico [2014] with a femur that still hadn't healed. A collarbone might be an issue for some… but for Jeffrey, it didn't seem to be much of an issue.
Tony Cairoli, teammate: The [2018] speed was unbelievable, and when we were close, we pulled each other and always made a good gap over the rest. It means we are riding very fast, so I'm happy with that, but not so much about my condition through the whole moto with Jeffrey, and this is the only point I need to work on a little bit. I don't think I've had such a strong competitor and the age difference is quite big, so it was difficult. He pushed the level a bit higher, and at this age it is difficult to make these little clicks all the time to keep up with the new guy. I tried to stay as close as possible, and mostly it worked and we were matching. I need to work a little bit harder on the total race. It's an honor to finish behind Jeffrey because he is the fastest rider in the world at the moment, and I didn't finish second to a slow guy.
Banks: We don't take any weekend for granted, and the initial goal every time is just to do our best… but he's achieved incredible results, and it is amazing to have done that with him. I think there have been guys nibbling at his heels; he might be close to his peak, but the others are not slowing down. We just cannot take it for granted.
Gruebel: Some guys do have that big goal of a championship and then they take a step back or fall into that hole… but I don't think that will happen with him. I think we'll continue to see the best of him in 2019.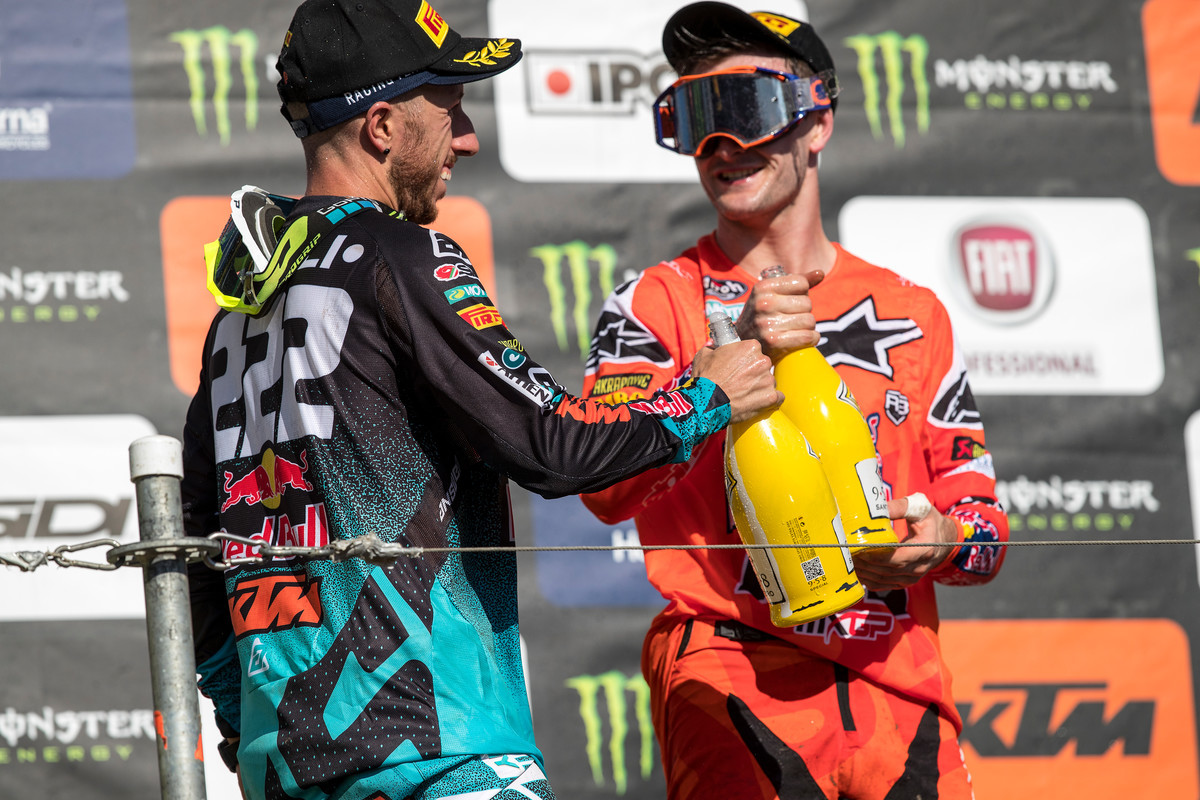 Ragni: I think it depends on how much motivation is there and how long he wants to live at this level. I believe he has the right attitude and the energy. He has all the right cards. Maybe he will look at all the sacrifices and choose another way. He's always said, "I won't ride for long…" but knowing him, he loves what he does so much that I don't think it will be easy for him to suddenly think of doing something else. Especially at a relatively young age. People change, though!
Pit Beirer, KTM motorsports director: People are always talking about "Red Bull KTM: two teams," but I see it as one big team with five riders. These boys and girls are all so professional; the whole operation is an example of how a perfect team should work. At the end of the day, motocross is not a team sport when you are all down at the start line, but the guys were working fantastically in the background. We have many involved who work for the athletes, and we tried to keep this 2018 battle neutral and on the racetrack. I think the boys came really close to each other twice this year and we had two crashes to talk about in the team, but even then, we managed it. I think there is huge respect between the riders, and they know there is only one #1 position. I don't think we could have handled it better, and it makes me very proud that they are under one umbrella. I think the team is only as strong as the human input and behind-the-scenes effort that goes into it. Jeffrey has been with us since 2009 and we have been through many ups and downs, so it's a special moment for all of us.