Colt Nichols! Great racer, but he doesn't get to race enough. Off-season injuries have plagued the Monster Energy/Star Racing Yamaha rider in recent years, but he's healthy right now following a solid close to Lucas Oil Pro Motocross. Over the weekend he grabbed a YZ450F and headed to the Montreal Supercross, taking second behind Malcolm Stewart. Colt has serious supercross skills, and by getting in some gate time up North, he might be that much more prepared when 2019 comes around—hopefully this time he gets through the off-season clean and gets to do more of these international races.
Our Steve Matthes talked to Colt after his second-place performance.
Racer X: Have you ever been to Canada before?
Colt Nichols: I've been to Canada—Toronto 2017.
That doesn't count. I mean outside of the world supercross.
No, definitely not then. No.
Nice job tonight. 2-2-2. Malcolm just slightly better than you in each main event, huh?
Yeah, it was a day full of two's for me. Second in practice, second in all three mains. Hats off to him, though. He was riding really good. He was aggressive on me the first few laps and kind of got a little bit of a gap. Then just maintained throughout each one of the mains. So that was kind of the story of the night. I wish I could have gotten in front of him and just at least mixed it up with him a little bit more, but I'm happy. We came up here and thought it would be a good opportunity to get three gate drops. I was healthy, stayed off the ground. That was the main thing.
And the one main event that he got a bad start in, you were right there with him, so that didn't work out.
Yeah, that was very unfortunate. I was hoping at least I could start in front of him. He was going to get a bad start, but we were right there, so that sucked. But made it interesting the second main. We were pretty far back. Me and him both made a lot of passes. So that was pretty cool, to go through and kind of pass a lot of the guys. But overall, a good night.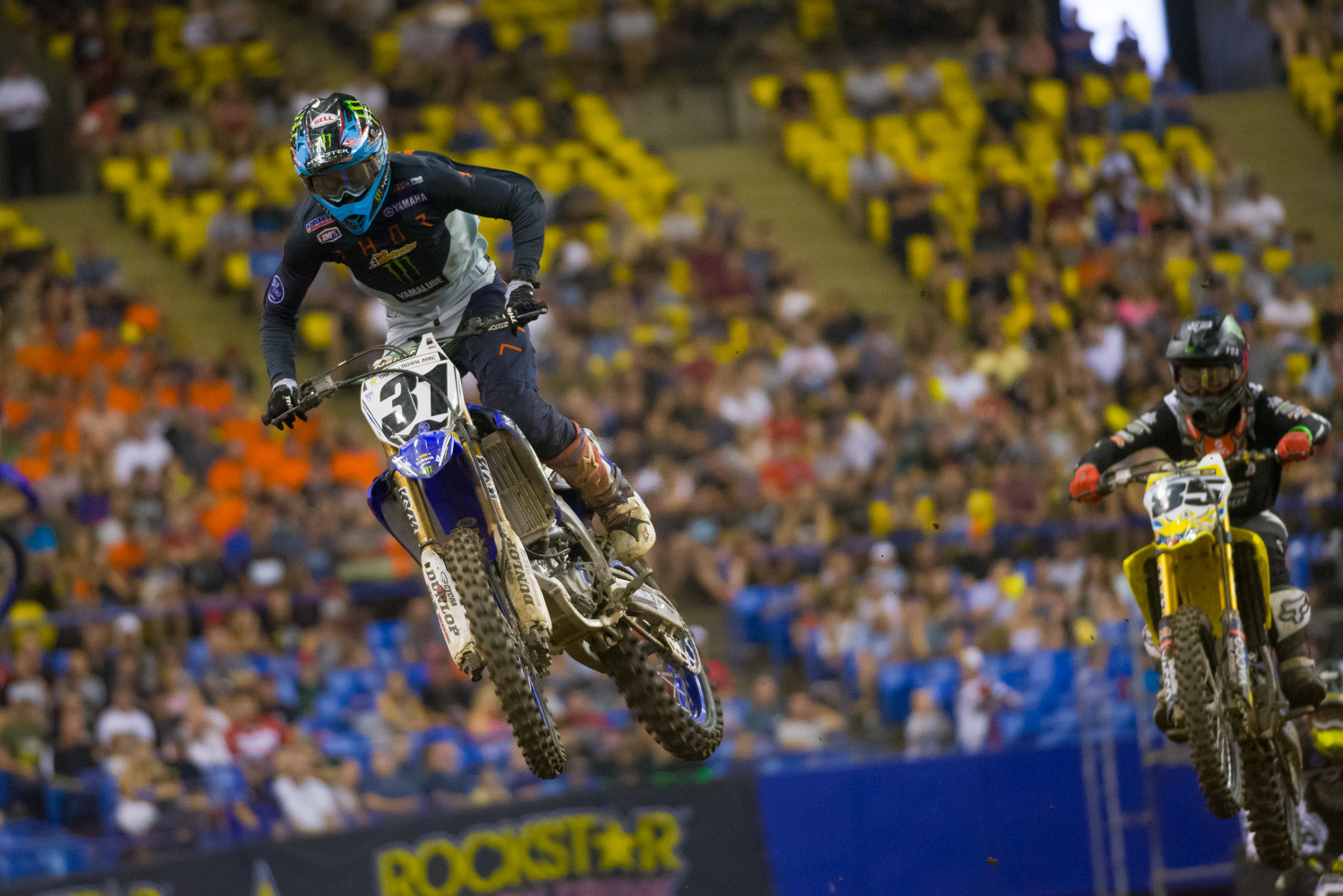 Were you marking him that second main and being like, okay, he's right there. Were you kind of looking at that?
I definitely actually was. The first lap I had to double the triple, so I looked up real quick. It was me and Alex [Martin] that had to double the triple, and I seen Malcolm was ahead of me. So I was really watching what he was doing. Needed a few more laps on that one. I felt like we could have made it interesting, but that's all right.
Track? What'd you think of it? I thought it was pretty cool.
Yeah, it actually turned out a lot better than I thought. Walking the track yesterday, I was like, man, this might get kind of hairy, but the track crew actually did a really good job. In between every single one of the practices and mains, they worked it a little bit. It was better and better and better every single time we went out. So overall, the track was legit. It was a good supercross track. If they have another one of these, I'll be pumped to come back up.