Welcome to Racerhead, where we're already counting down the days to the 2018 Monster Energy FIM Motocross of Nations, just like everyone else—at least those not affected by Hurricane Florence. We're just on the edge of it all, but the Carolinas are getting swamped right now. Good luck to everyone in the path of the storm.
Team USA has been prepping together out west, and our own Eric Johnson was on hand Tuesday at Glen Helen to talk to Team USA manager Roger DeCoster on how it's all shaping up. According to EJ, Eli Tomac sounds and looks comfortable on his new 2019 Kawasaki KX450, Justin Barcia is always up for a challenge, and you couldn't find a more enthusiastic rider right now than Aaron Plessinger. It seems like the chemistry is right, and of course the motivation is there to win on home soil at RedBud come the first weekend of October. These guys will have to have their A-games ready if they're going to get the Chamberlain Trophy back from France.
(In fact, in yesterday's interview that EJ did with Roger DeCoster, he mentioned racing there in a snowstorm one year at the Trans-AMA. That did in fact happen on October 9, 1977. Bob Hannah actually won, but as you can see from this photo of the finish line, it was a cold afternoon...)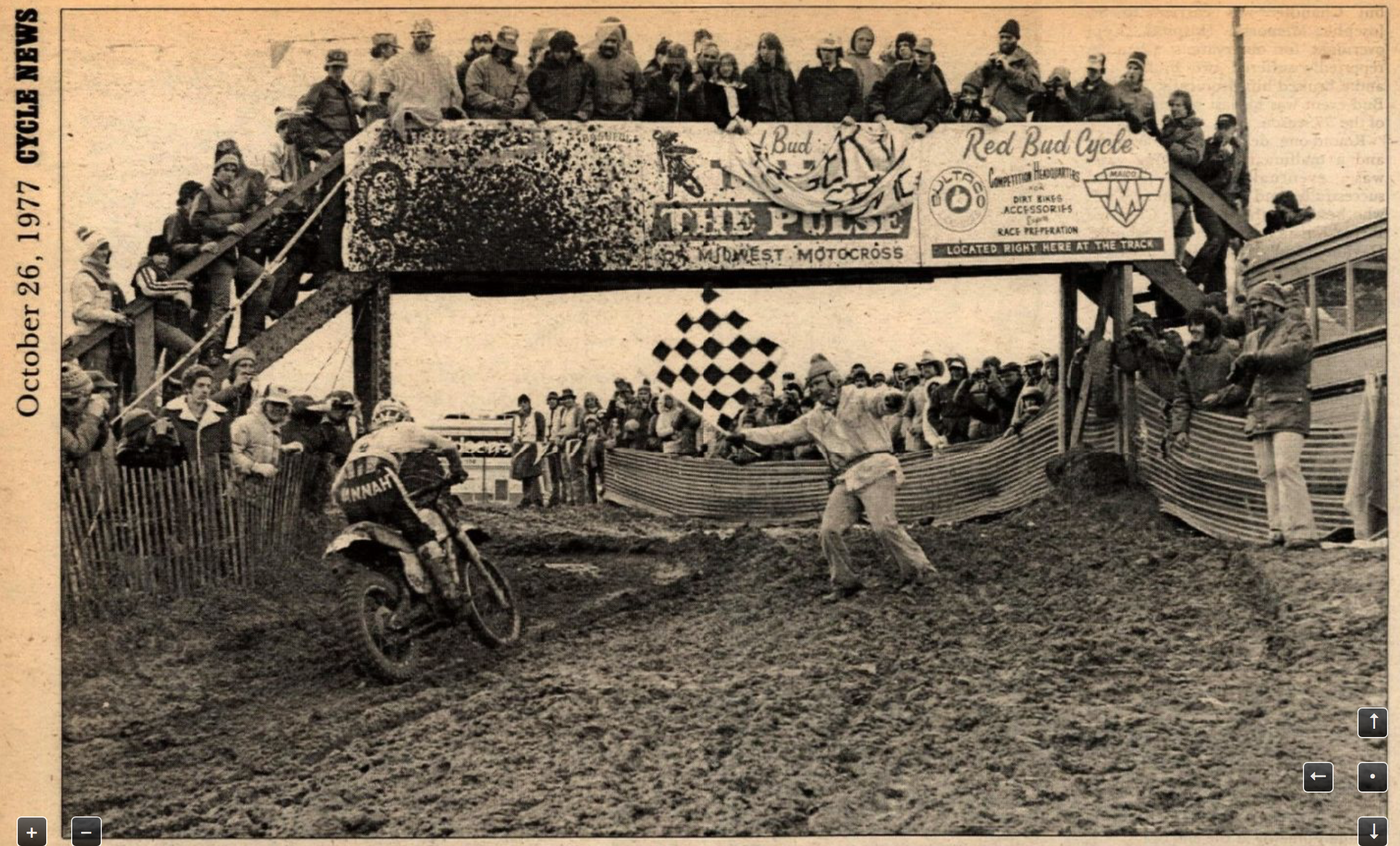 Speaking of France, have to give them credit for being consistent. After the controversial call to leave Red Bull KTM's Marvin Musquin off the team in order to keep the unity and chemistry that's led them to four straight wins, they've now told yet another U.S.-based Frenchman that he's not really welcome under their tent, either. David Vuillemin posted that he has been told that the team prefers he not work with his rider Dylan Ferrandis at the event. DV12 has been outspoken as always on his opinion of the Musquin decision, and it apparently did not go over well with the team. I'm guessing at this point LeBigUSA is probably not on the French guest list anymore, either. (No word on Sebastien Roncada's access.) No matter—the French are going to be tough to beat, with or without Marvin. (And Vuillemin.)
And then there's Team Puerto Rico. One of their riders did a pretty smart thing last weekend by heading up to RedBud to check out the new track changes and also participate in their Edge of Summer race. Ryan Sipes got some quality track time and is hoping he can help his teammates Travis Pastrana and Kevin Windham at least get into the A main at the MXoN. I called Ryan this morning to see what he thought of the track.
"I like the new start. It's not as fast as the old one and seems a lot safer," the versatile Sipes said of the shorter start, where the starting gate was moved to the right of where it used to be and pointed straight to the second turn, which is a sweeping hairpin right. "I started on the inside middle and it seemed pretty good, though I think for the guys on the outside, it will a little tougher to get a start."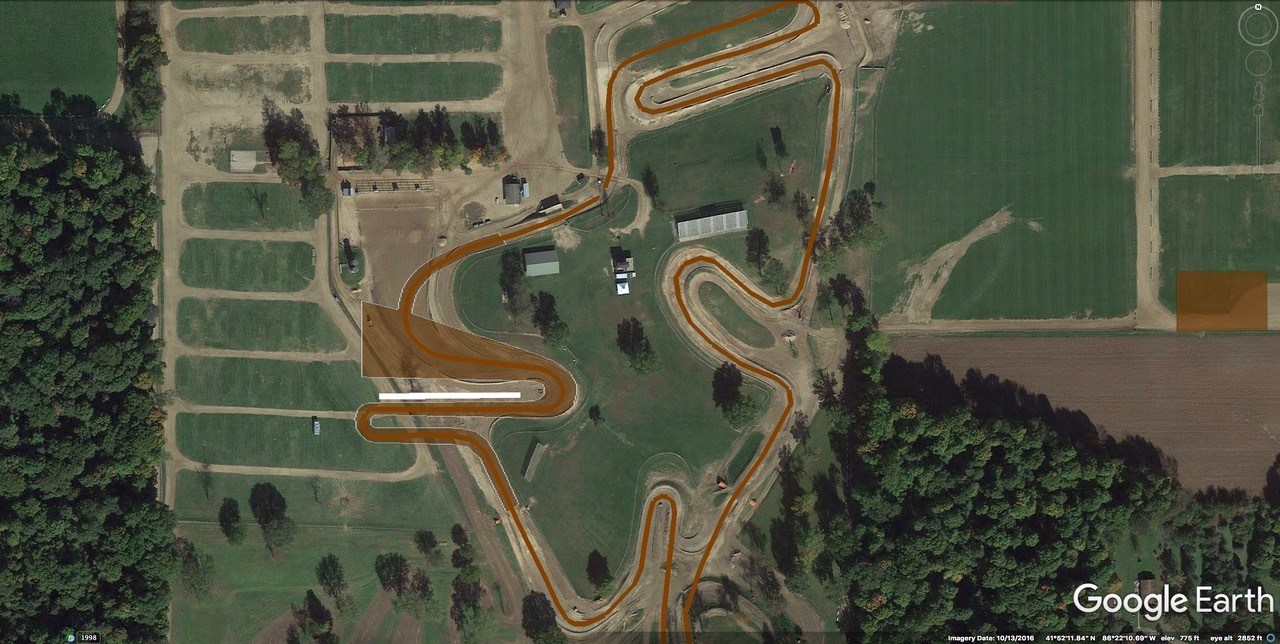 Sipes explained that from the new first turn, there's a long straight run before it hairpins back and gets back on the regular track with a left at the old mechanics' area, then you hit the ski jump down into the valley. "I like it better because guys aren't so bunched up like we are at the national," Sipes said. "The rest of the track has just a few changes, including a kind of sketchy off-camber that Tim [Ritchie] told me the FIM wanted to leave in."
Last question: Is LaRocco's Leap still in the configuration? Absolutely. Sipes and Pastrana and Windham are all racing to help raise money for the victims of last year's Hurricane Maria that had a direct hit on the island. (And the Windham-as-Gump training video is one of the funniest motocross-related things we've seen in a long time.)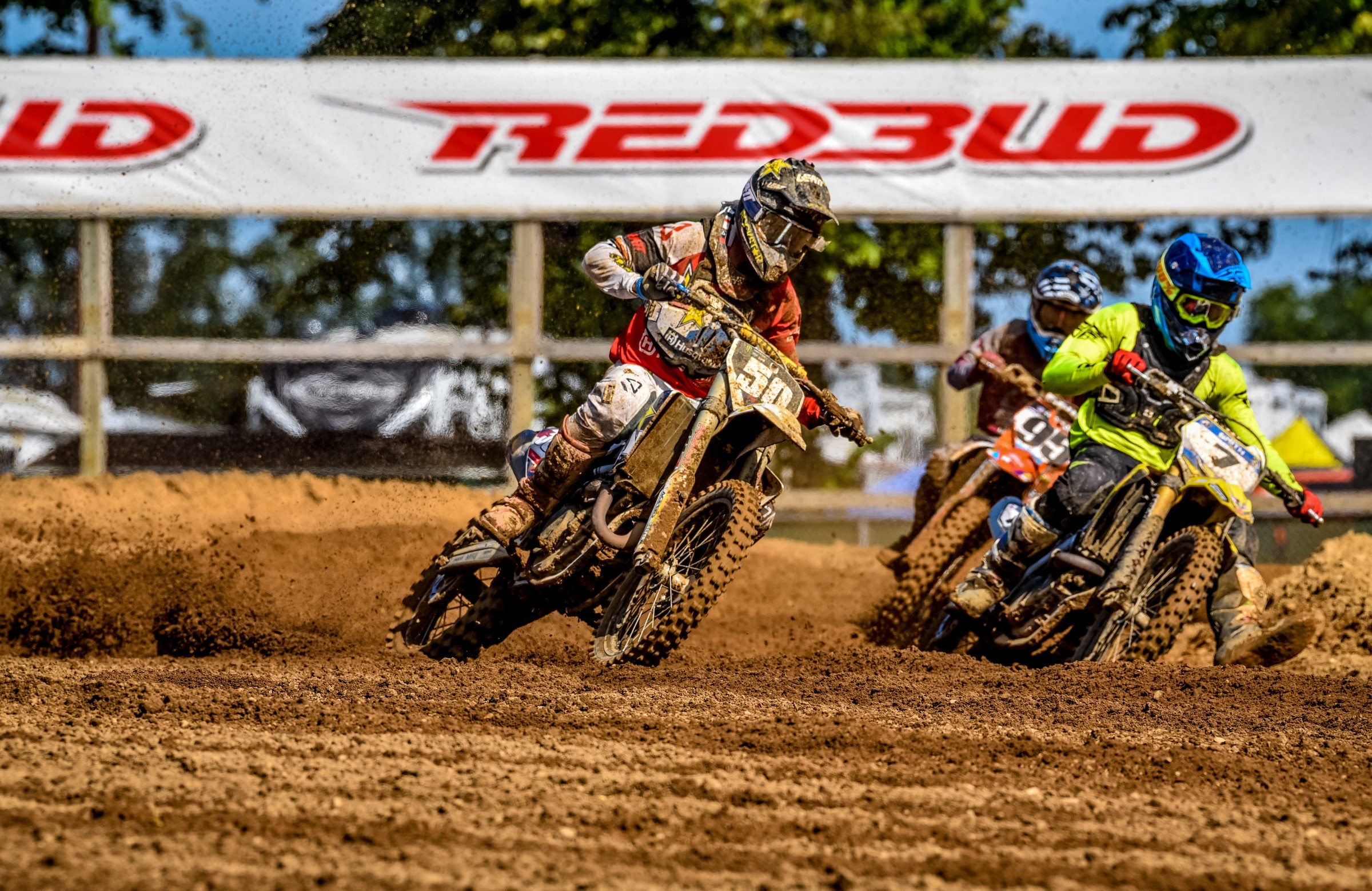 The GNCC race set for New York was canceled, though the rain that flooded the parking area wasn't actually part of this hurricane. And there's a supercross in Montreal that Steve Matthes is attending, and he will have an update down below.
Finally, a tip of the visor to Jake Weimer, the multi-time AMA 250 National and 250 Supercross winner, as well as a member of the winning 2009 version of Team USA. After 13 years on the circuit, the fastest man to ever ride out of Idaho is moving on to the next chapter of his life. He announced his retirement yesterday by Instagram and also spoke to Matthes about his decision. Jake was always a pleasure to work with, on and off the track. He rode hard, he was always supportive of his teammates, and always great with the fans. His professionalism and enthusiasm will be missed at the races. Good luck with whatever comes next, Jake.
MONTREAL (Steve Matthes)
As DC alluded to, the off-season racing officially begins this weekend with the return of the Montreal SX. For a long time, the Montreal Supercross was the longest consecutive supercross in North America before it went away around five years ago. Pierre Corbiel was the promoter of the race for, I think, all of them, and he's not involved this weekend, but he has given the promoters his blessing. Probably most famous for giving the winner a pound of gold (Jim Holley still has his brick!), Montreal was always a great time with good riders, some quad racing, some buggies, and whatever else Corbiel could think of.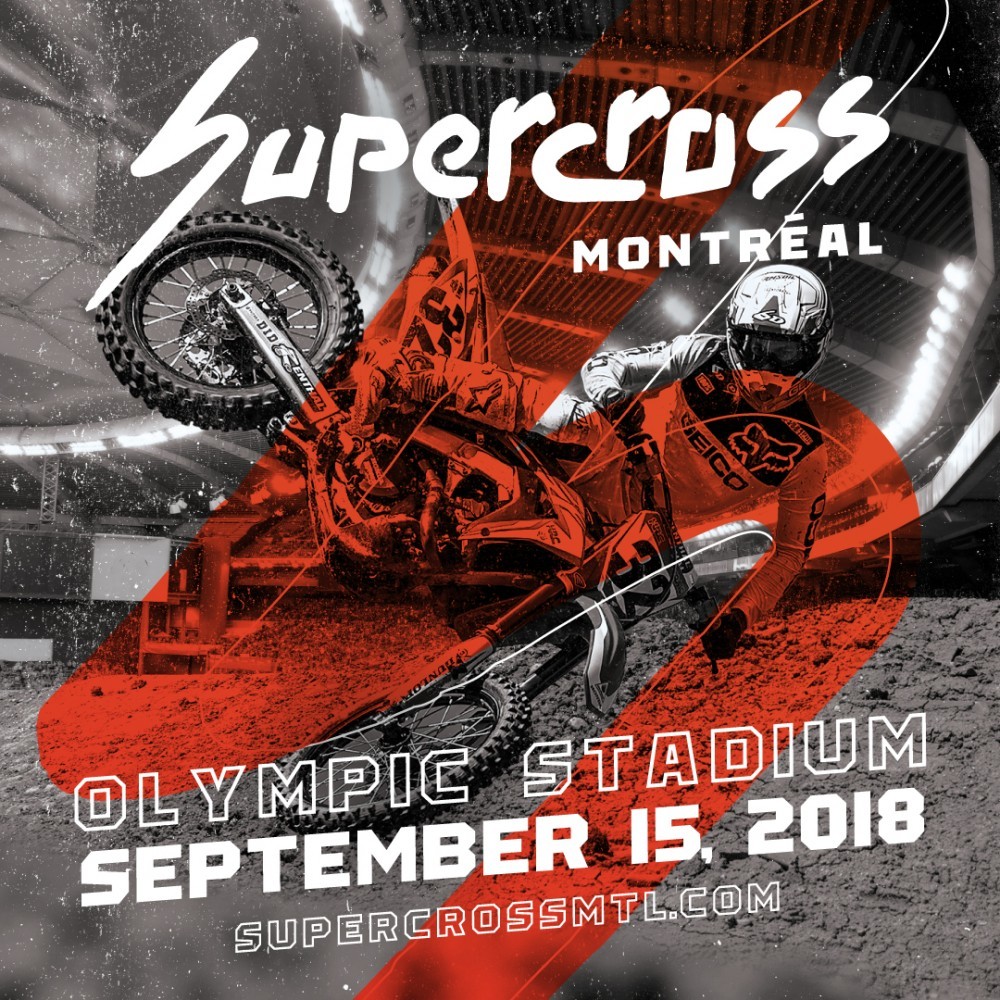 This weekend, the organizers are just using half the enormous stadium floor for the track, with the pits on the other half and what looks like a high fan experience for the ticket-buyers. No more quads or UTVs so it's a straight supercross track that the Canadian promoters, Jet Werx, added to its four-round fall Rockstar Energy Triple Crown Supercross Series. The usual Americans who race up in Canada, like Matt Goerke, Dillan Epstein, and Mike Alessi, will all be there, as well as ringers like Malcolm Stewart (debuting on his Smartop/Bullfrog Spas/MotoConcepts Honda), Alex Martin (debuting on his Autotrader/Yoshimura Suzuki 250, riding the 450 class because he's ineligible for Canadian MX2), Phil Nicoletti (debuting on his OTSFF Rockstar Yamaha), Josh Hansen (debuting on his, er, Honda marketing ride?), Colt Nichols, and RJ Hampshire. Of course, the man behind these riders coming up is Eric Peronnard, who has been the man for promoters to work with for a long time now.
There's not an obvious guy here who could win the 450SX main event, which is awesome. It could be a "regular" Canadian rider, like hometown hero Kaven Benoit or Colton Facciotti, which would be great for the Canadian fans. When French Canadian racers like Carl Vaillancourt or Jean Sebastian Roy won this race in the past, the fans would lose their minds. Perhaps Stewart would be the slight favorite, I'm not sure. I spoke with Tony Alessi this week about the MCR Honda off-season deal with Stewart, and he remarked how funny it is that he was coming up with Stewart to try to win, and therefore beat, his own son, Mike! Oh what a weird world we live in sometimes, huh?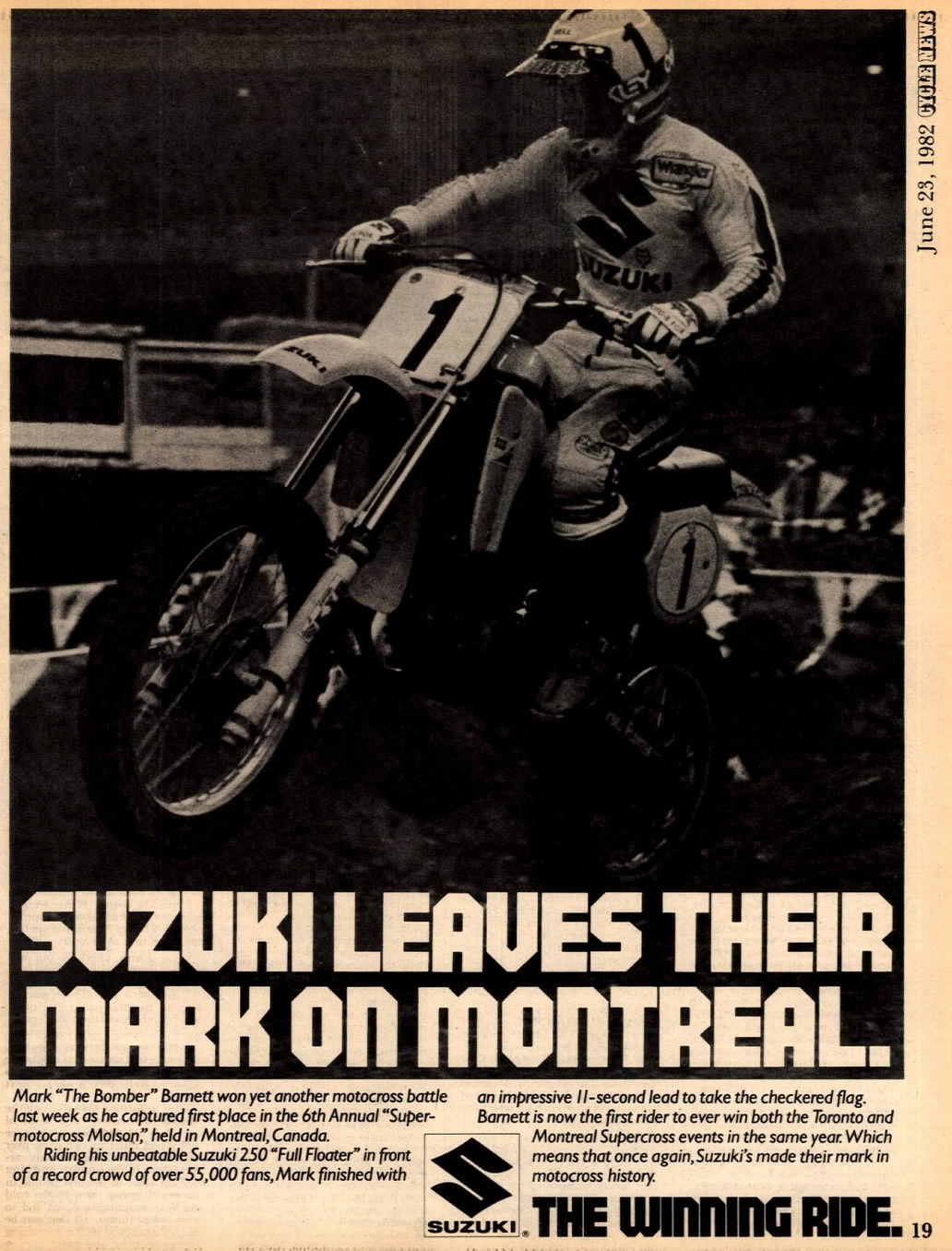 Speaking of Mike, he beat some good guys at a race at Milestone MX in California that rhymes with "Schmans-schorld Schmotocross," so good to see the #800 back on the bike after he departed the Canadian series early with an injury.
WEIMER (Matthes)
Something I think I've known for a while dropped this week—Jake Weimer officially announced his retirement from pro racing. Jake had a tough 2018 with injuries and had been a fill in rider at RCH Suzuki and Autotrader/Yoshimura Suzuki the last couple of years. He could never really get going with a good team and a full off-season the last few years due to injuries and being a fill-in. Weimer had a fantastic career coming from Idaho—this is a guy who won a 250SX title, 250 Class races, podiumed 450SX and 450 Class races, and won 450SX heat races, not to mention his MXoN ride in 2009.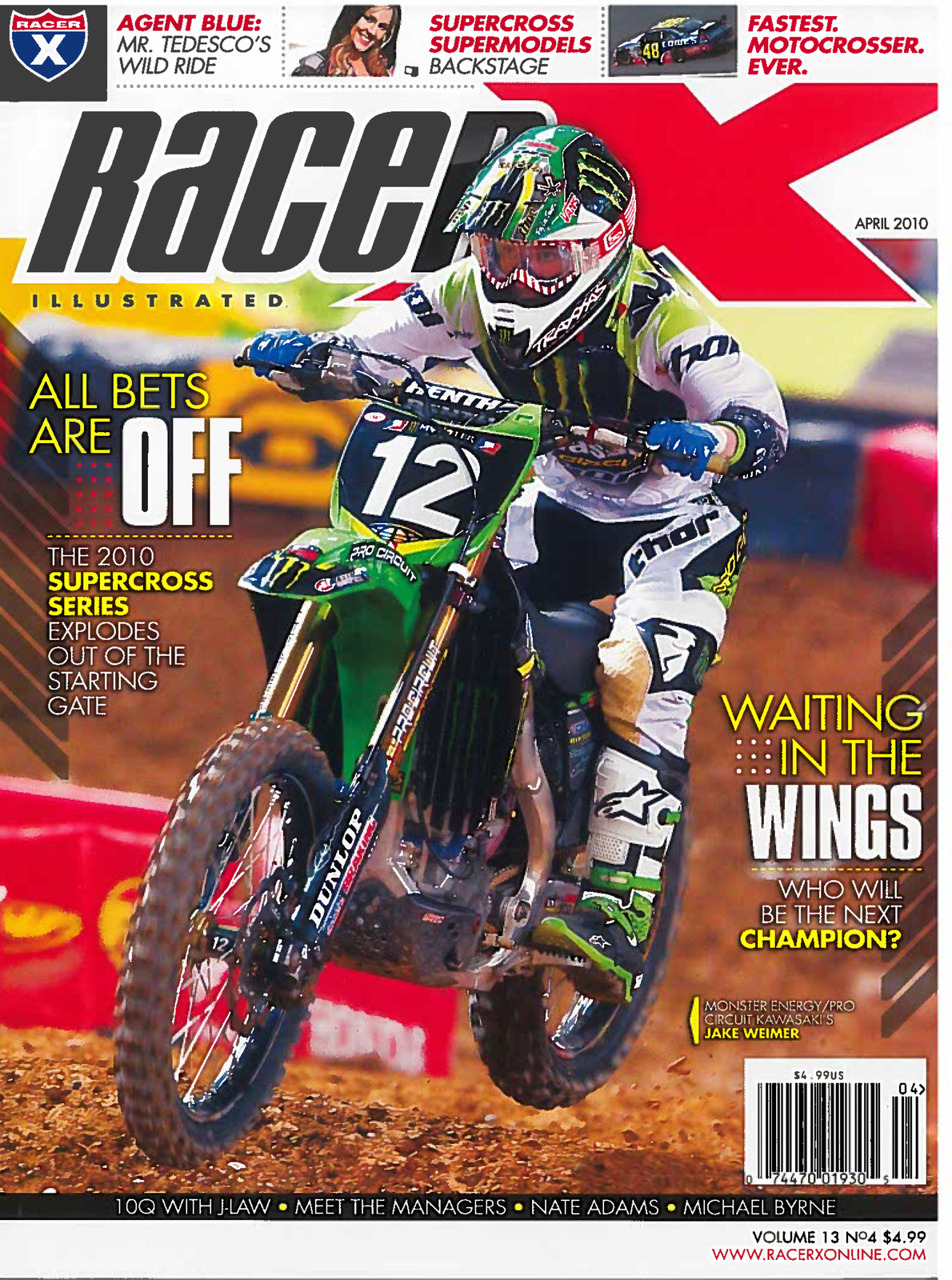 I don't count too many racers as, like, actual friends of mine, but Jake would be one. He was always refreshing to talk to about the sport and sometimes he got a bad rap about "whining" about his profession when all he was doing was answering questions honestly and giving people a look behind the curtain. If you're a plumber or a professional dirt bike racer, there are things about your job that aren't fun. Jake would elaborate on these things and not just talk about how good his tires hooked up. He raced at a high level for a long time and made a lot of money as well, so mission accomplished, I'd say. Congrats to him and wife Nicole, and as he told us this week in an interview, he's still going to be around the sport.
Maine Event Time (Jason Weigandt)
The motocross off-season has now covered an entire two weekends now, so obviously it's time for folks to get back on the track. Two weeks! Come on! For our staff here, that means a trip to MX207 in Maine for the second annual Racer X Maine Event, presented by Uni Filter. We've been pumping this thing up for a while now (we're backing the event, so yes, we're giving it excess coverage), so you might already know the details, but if you have a bike and you're within motocross-driving distance of Maine, you need to go. What's "motocross-driving distance" you ask? I think everyone in this sport knows a track is close if it's less than ten hours from your driveway. This is why people call Thunder Valley Eli Tomac's home race, even though he lives so far away that he flies to Denver. This is why Jason Anderson used to claim four races per year as his home race—because four races were within motocross-driving distance of New Mexico.
Why drive that far? First, the track will be prepped to perfection and the weather is going to be perfect. If you're in the pro classes, you'll get a shot at the $15,000 purse. This week, when we saw the Black Sky GNCC in New York had been canceled due to weather, I tried to convince Luke Renzland to drive (eight hours) to Maine. He says he has a 300 two-stroke Husky set up for the woods. I told him he should just run it on the moto track and be a hero! Not sure he's going to do that, but man, that would be cool.
Even if you're not a pro like Renzland, you'll get to hang out with our staff all weekend and maybe see yourself in some videos, photos, or stories from the event—because we're going to cover it hard. I plan to be there myself, providing my plane takes off from Charlotte tomorrow. I had a blast at this race last year. But, um, we're having a bit of a hurricane in the area. Have you heard? Hmmm—to me, if you live in the Hurricane Florence zone in the Carolinas, you might as well load up and head for higher ground. In Maine. To go racing.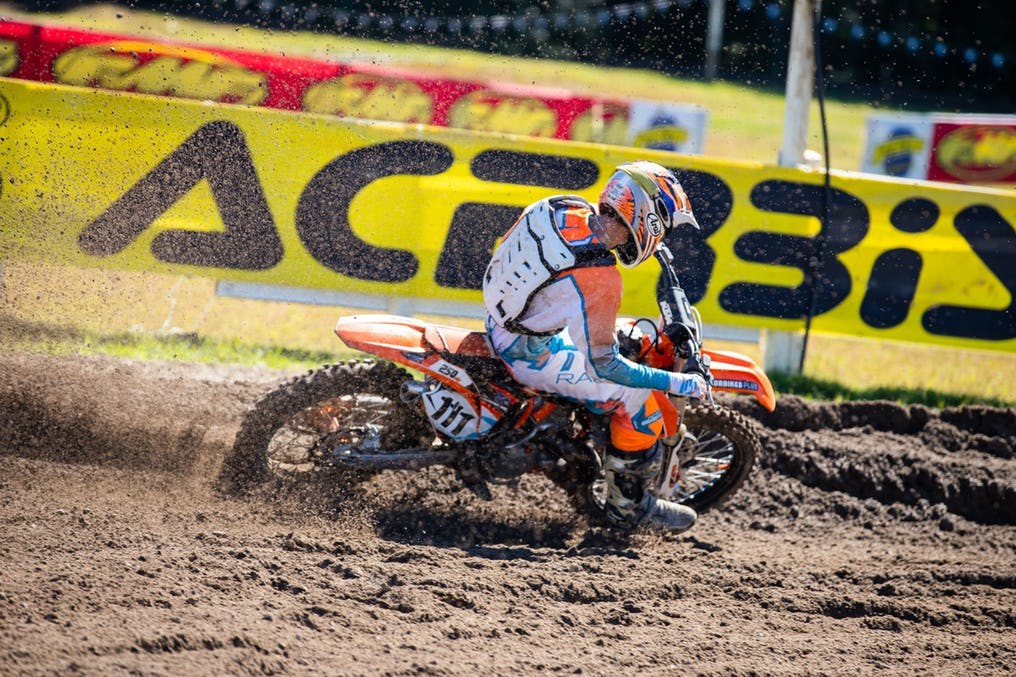 Speaking of Hurricane Florence, most of us Charlotte-based moto folks (like the JGR gang) should be okay; we're about 150 miles from the coast. I expect some heavy rain and maybe flooding, but the massive storm surges for folks on the coast is the real concern. I noted Morehead City popping up quite a bit in the local news as a possible spot that will take on damage. That's where Cooper Webb is listed as being from in the AMA results sheets—I believe that's where he grew up and where his parents still live. Hopefully everyone is out of there and going to be okay. No one is quite sure how long this storm will last or how much damage it will do, but all anyone in the Carolinas can do now is hope for the best.
Home, Sweet Home (Andras Hegyi)
The Dutch superstar Jeffrey Herlings has never clinched any of his three FIM World Championships while racing in front of his home crowd in the Netherlands. This weekend at Assen, the site of the MXGP of the Netherlands and the next-to-last round of the 2018 FIM Motocross World Championship, Herlings has the perfect chance to make up for what he has missed so far.
Of course, Herlings is the most successful Dutch motocrosser ever. His three world titles and 82 GP wins are far and away records for his country. Eleven of those wins for Herlings came in his homeland: eight wins at Valkenswaard, two at Assen, and one at Leroy. But when Herlings took the MX2 world title in 2012, it was in Faenza, Italy. One year later, he got his second MX2 world title in Loket, Czech Republic, and then clinched his third MX2 title in Charlotte, North Carolina, in 2016. This Sunday at Assen, Herlings is likely to get his maiden world title in the premier MXGP class.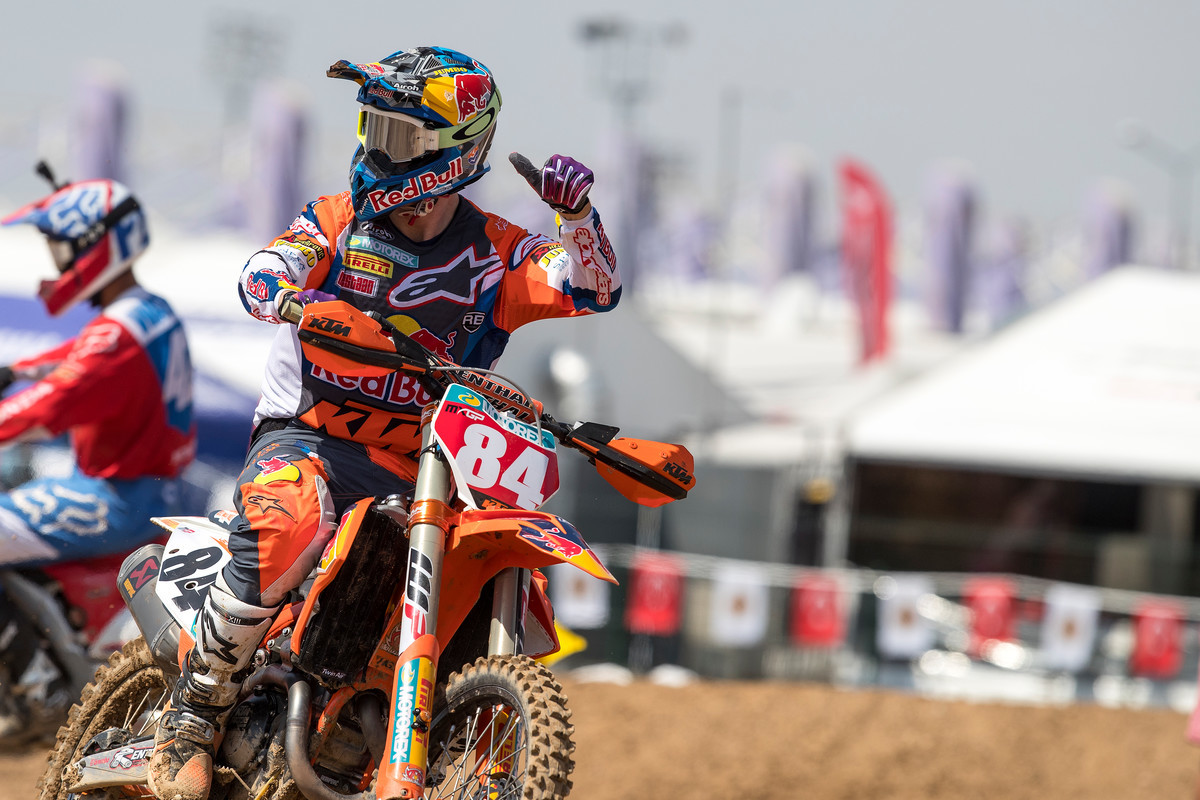 With its hourglass sand that is trucked in to the stadium-like setting of the Assen TT track, this weekend will be one of the roughest tracks in the world, which suits Herlings just fine. He already has two memorable victories here from both 2016 and '17, first in MX2 and then last year in MXGP. Herlings has a massive points advantage of 95. That means that he would clinch the title if he finished just 15th in the first moto. Here's guessing that he will go all-out and win in dominant fashion, which may also send a message: Assen will host the 2019 Monster Energy FIM Motocross of Nations, and the Netherlands has never won the MXoN. Now, they already seem to be the favorite for 2019!
THE VAULT (DC)
The off-season got even more off-season with the cancelation of the GNCC this weekend in upstate New York due to flooding in the pit area, so we decided now would be a good time to add a new wrinkle to Racerhead. The Vault is our exhaustive records—and results—collecting database where we have every AMA Supercross, every AMA National, and every AMA Amateur National result from Loretta Lynn's Ranch. From time to time we've spotted some very interesting entries, and it usually means there is a story that needs expanded upon.
For instance, there is exactly one rider with a single entry in the Vault for AMA Motocross with exactly one race result, and it's a race win. Can you name the rider?
Same goes for AMA Supercross: One rider has a single entry in the Vault for AMA Supercross and it's a win. Can you name that rider?
We will show you both further down.
Hey, Watch It!
Taylor Congdon and his crack film crew were at it again, and the result is MOTO 10 The Movie, featuring some familiar faces and some new ones all riding (and jumping) the wheels off their bikes. Daytona SX winner Justin Brayton, minicycle sensation Ryder DiFrancesco, Autotrader/Yoshimura Suzuki's Justin Hill, the off-riding Abbott family, 125cc gunslinger Carson Brown, the versatile Kevin Rookstool—they are all a part of the cast of MOTO 10. Here's a preview:
Order your copy right here: www.motothemovie.com.
Racer X Films: 2010 Honda CRF250R Build
Racer X Films: Garage Build: 2018 Kawasaki KX450F
Racer X Films: 2019 Yamaha Cross Country InTRo
Head-Scratching Headline of the Week
"No beer allowed at Red Bud MXoN" — Thread started in Vital MX Forum
Fortunately, that's not the case. The website actually reads:
"NO ALCOHOL MAY BE TAKEN INTO THE TRACK AREA. Beer and sangria will be available to purchase at the track. NO GLASS BOTTLES OR CONTAINERS. Adults age 21 and over may bring your own alcohol in non-glass containers to the campgrounds."
"Australian PM apologizes for using explicit rap song in tweet" —CNN.com
THE VAULT (Cont'd)
In the Pro Motocross Vault, you only have to go back to the 2017 Ironman National and visiting MXGP star Jeffrey Herlings, who went 1-1 in his one and only cameo appearance on the AMA Motocross schedule.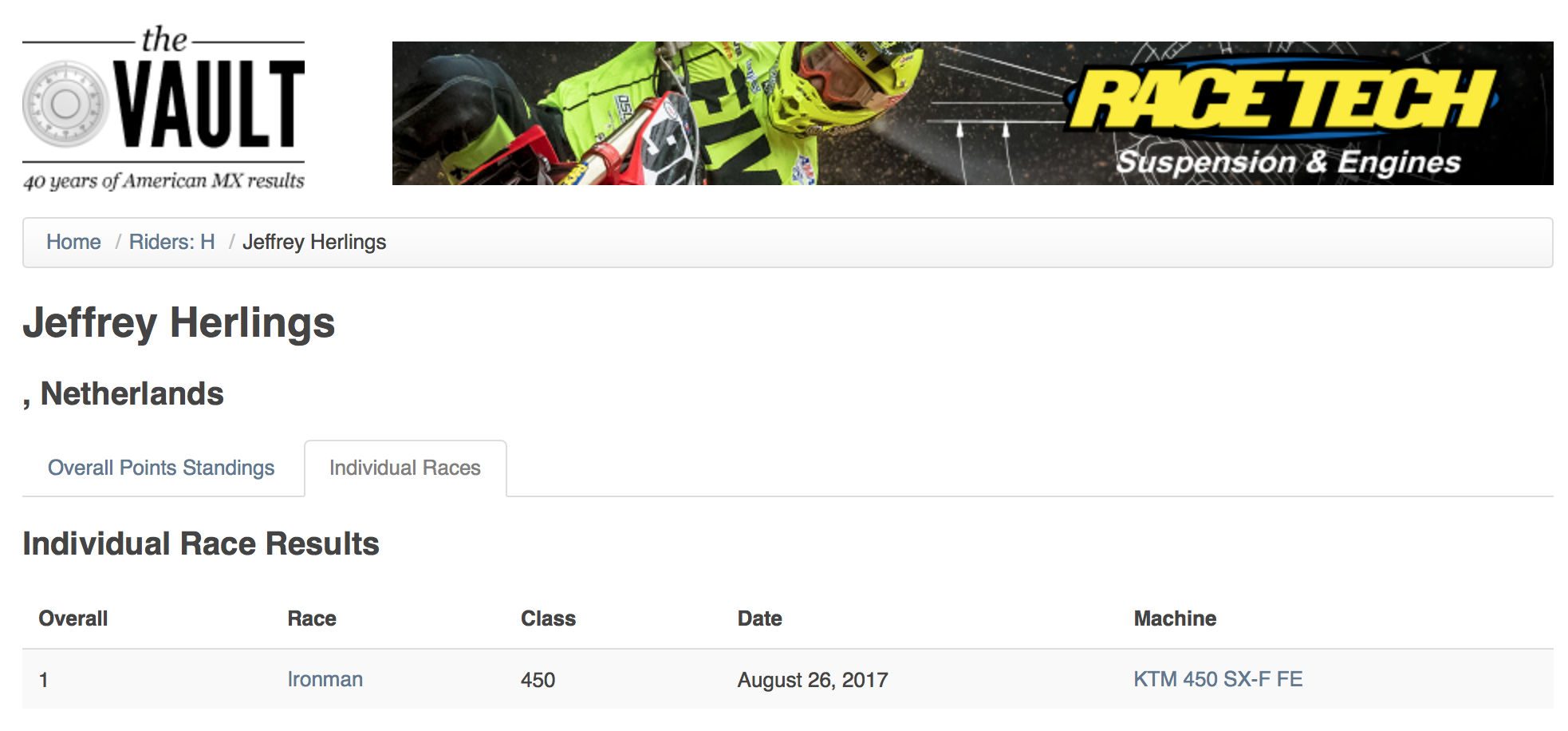 For the supercross answer, one must go back to the 1974 Superbowl of Motocross at the Los Angeles Coliseum, where Czech CZ rider Jaroslav Falta was the overall winner. It was the only time Falta raced an AMA Supercross, though he did visit the Inter-Am Series in 1973 and '74.

Random Notes
Check out what 100% has cooking for Team USA fans who are ready for the Monster Energy FIM Motocross of Nations at RedBud here.
And that's French motocross icon Jean-Michel Bayle running the "Where's Marvin?" limited edition T-shirt that was only available in France.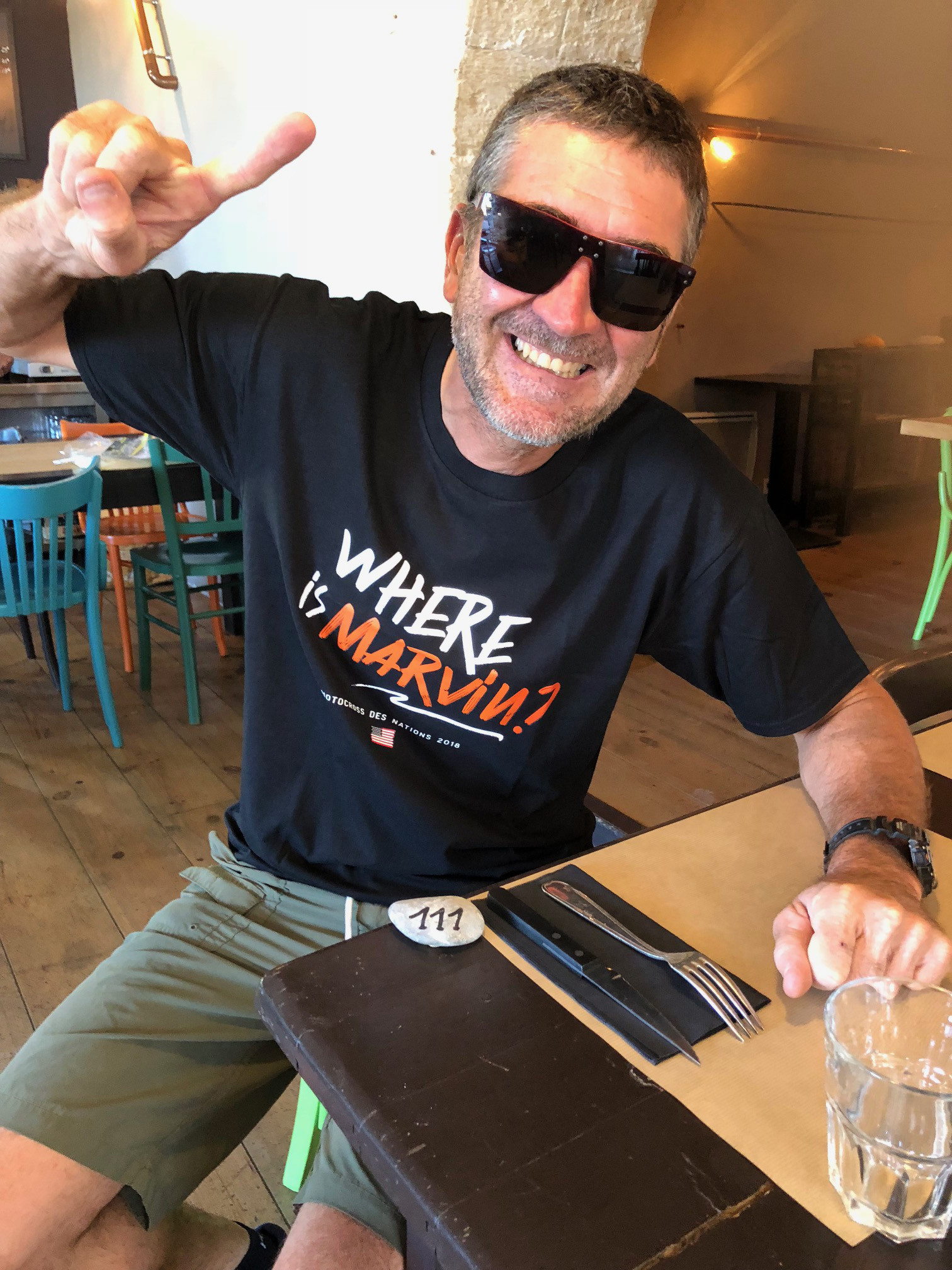 Sidecarcross and Quadcross of Nations will be held September 22-23, 2018, in Slagelse, Denmark. To find more information and watch live, go here.
Subscribe or Renew Now And Get a Free Set of 100% Moto Socks
Subscribe now for as low as $9.98 and receive a FREE set of 100% Moto Socks, plus immediate access to our current digital edition.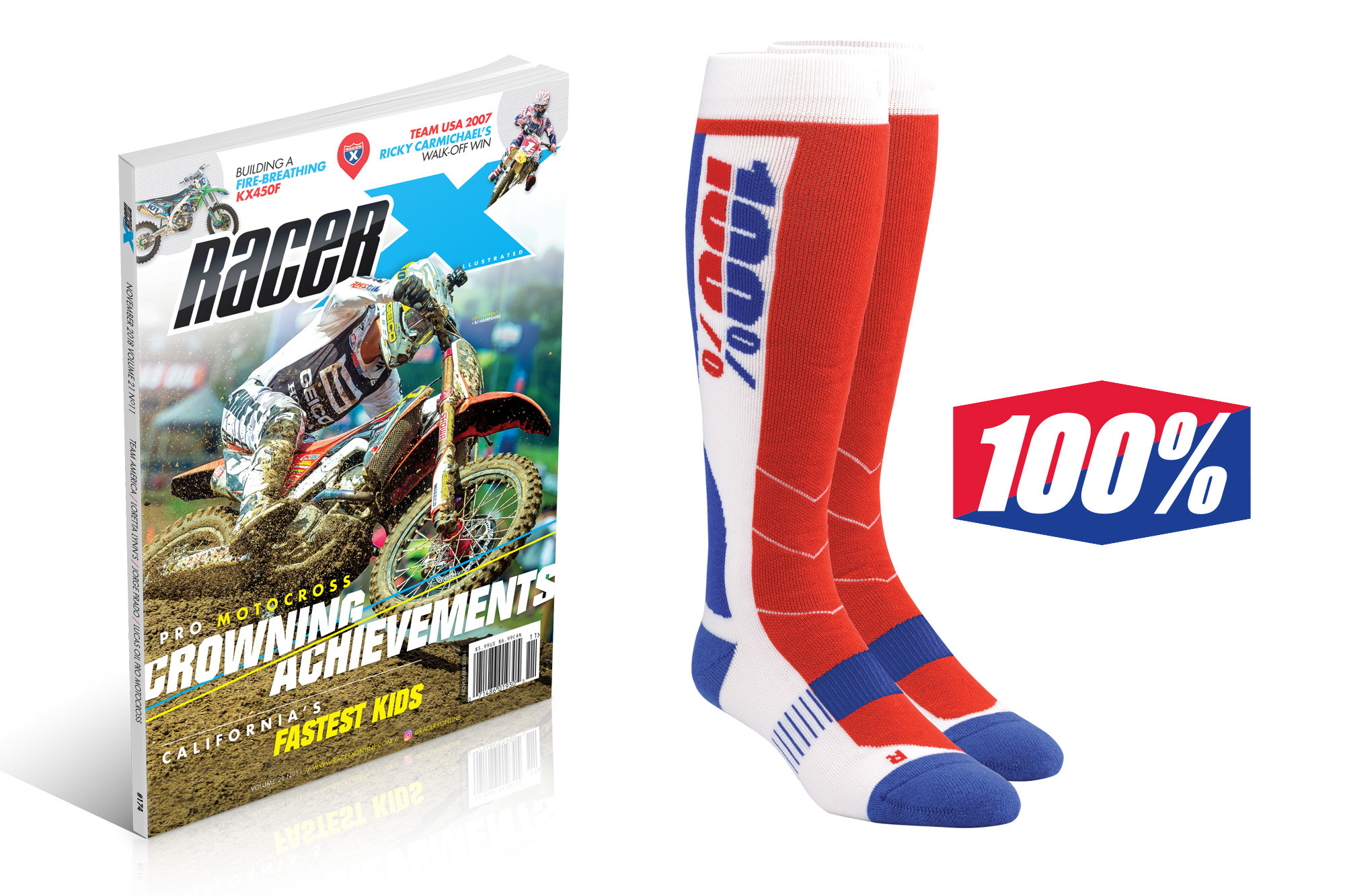 Subscribe at the Racer X Maine Event And Receive A FREE Event T-Shirt
Are you headed to the Racer X Maine Event this weekend? Make sure you stop by the Racer X booth, located in Sponsor Village, and subscribe to receive a FREE Event Tee. You will also receive a complimentary magazine and free Racer X stickers. Be sure to check out our Racer X Brand items on display and grab some gear. See you at the races!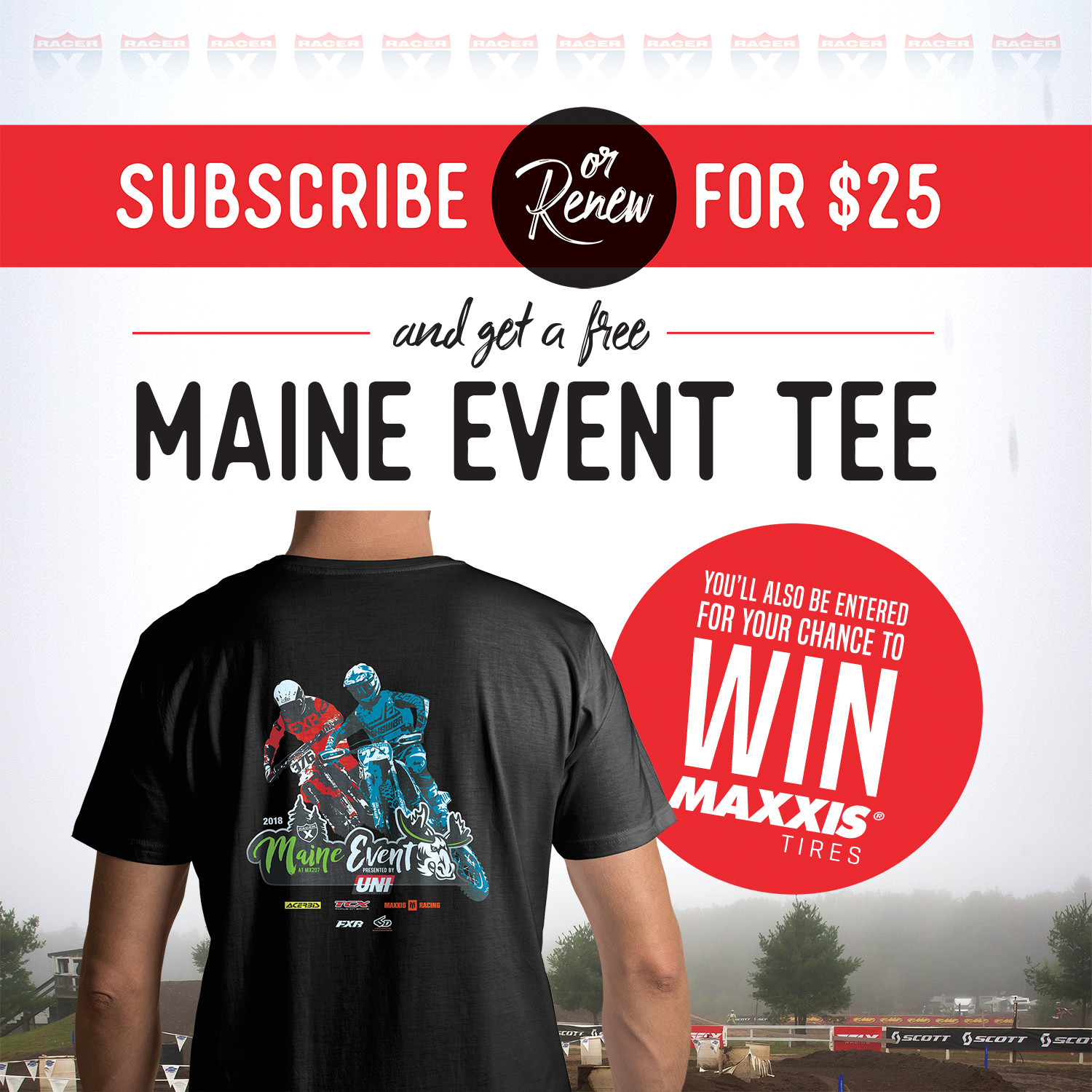 Racer X Brand | Patriotic Collection Now Available
Show your support for Team USA at the Motocross of Nations this year at RedBud by picking up one of Racer X Brand's tees from the Patriotic Collection!
Thanks for reading Racerhead. See you at the races.