September 12
1982
It was the second leg of Danny "Magoo" Chandler's incredible fortnight, where he became the one and only rider in history of the FIM Motocross and Trophee des Nations to sweep all four motos in a single year. Having already won the 250cc Trophee race in Germany, this time Magoo led Team USA into Switzerland and once again stomped everyone—only this time on 500s. Chandler's 1-1 was backed by 4-2 finishes from David Bailey—who was a last-minute replacement for the injured Donnie Hansen—and the 12-7 of Johnny O'Mara, despite a broken foot. Jim Gibson was the fourth man of the squad and ran 9-14. The Americans had a low score of 24, while runner-up Belgium was at 40 after the two lowest scores were dropped.
Chandler's performance came in his one and only year as a member of Team USA. After two years with just Honda riders (they stepped up when other manufacturers lost interest in the race), the next year the team would be open to all four brands, and the only Honda rider picked was Bailey, the 1983 AMA Supercross and 250 AMA Pro Motocross Champion. No matter—Team USA would dominate again, but no rider would have such a single spectacular run as Danny "Magoo" Chandler.
1993
Team USA reaches a remarkable 13 straight Motocross des Nations wins with a very close one in Schwanenstadt, Austria. The team of Mike Kiedrowski (500), Jeremy McGrath (250), and Jeff Emig (125) takes on the rest of the world in the hopes of keeping the winning streak intact. It was McGrath's first time with Team USA, the second for Emig, and the third for Kiedrowski. All rode well, but it was their combined scores and consistency that got them in the running. It was a late charge by Kiedrowski for third in the final moto that cinched the win. Italy might have had them after the first two motos, with Andrea Bartolini winning the first 125 moto and Alex Puzar second in the first 250 moto, but the team was late to the parc ferme impound area and was not allowed to start the final moto!
1976
The FIM Motocross des Nations was held at sandy St. Anthonis in the Netherlands, and Belgium won once again, led by individual overall winner Roger DeCoster, the five-time 500cc Motocross World Champion. DeCoster actually lost the first moto to former 250cc World Champion (and soon to be twice more) Gennady Moiseev, but came on strong to win the second. Roger's teammates here were 125cc World Champion Gaston Rahier, former 250cc World Champion Harry Everts, and the tall KTM rider Jaak Van Velthoven. Team USA was on hand and placed fifth: Harley-Davidson-mounted Rex Staten, Yamaha's Bob Hannah, Suzuki's Tony DiStefano, and Husqvarna's Kent Howerton.
There was a bit of controversy at the start of the second moto. According to FIM rules, each nation was only allowed two riders on the front row. Team USA had Rex Staten up there, but his bike wouldn't start with the kickstart and had to be pushed away and bump-started. When he returned to the gate, Belgium's Van Velthoven was in his spot and wouldn't move. Rex was waving his hands when the starter made the signal to drop the gate. The AMA's Mike DiPrete later protested the start and the FIM decided that the Americans had a point, but they only docked Van Velthoven one spot, which made no difference in Belgium winning or Team USA still placing fifth.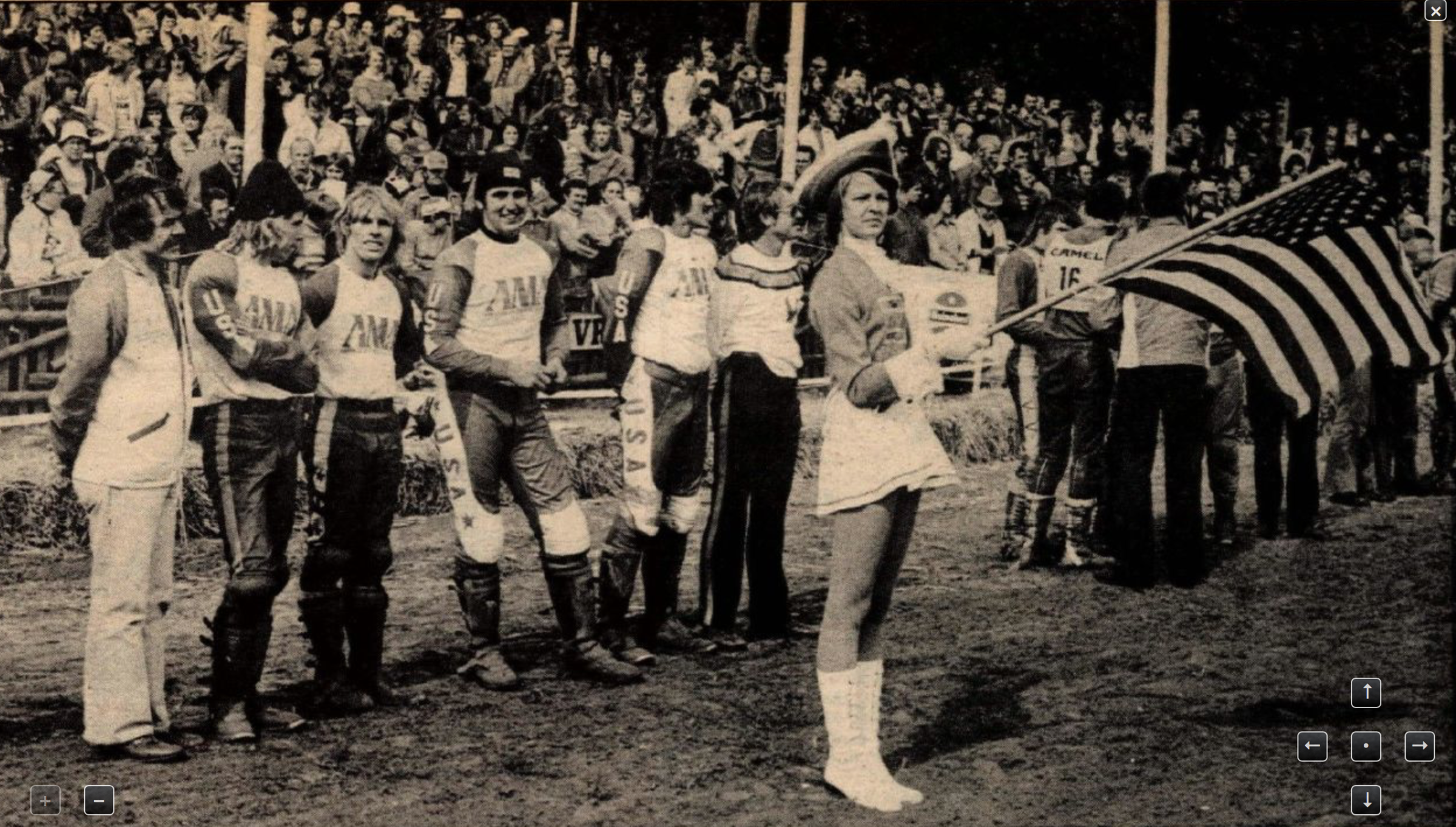 1971
The FIM Motocross des Nations took place in Vannes, France, and Swedish rider Ake Jonsson won both motos aboard his German-made Maico, bettering Belgian Suzuki rider Sylvain Geboers both times. That made the overall difference as Sweden won by two points, 32 to 34. Also in the field was a makeshift Team USA consisting of Gunnar Lindstrom, John Barclay, Barry Higgins, Bryan Kenney, and Sonny DeFeo, all of whom had to pay their own way to get there. They finished eighth despite DeFeo not getting to race because the bike that was arranged for him did not arrive in time for the competition.
2018
And finally, happy 24th birthday to Jeffrey Herlings, who is likely to clinch his 83rd Grand Prix win and first MXGP world title at his home race in the Netherlands. If it all happens, that would be quite a birthday present!