Afyonkarahisar, Turkey
MXGP of Turkey
FIM Motocross World Championship
By The Numbers
15
Grands Prix overall wins in 18 rounds for Red Bull KTM's Jeffrey Herlings after another 1-1 finish on Sunday. Herlings has only contested 17 rounds (collarbone injury) and was runner-up in the other two rounds.
13
1-1 finishes for Herlings on the year.
95
Advantage in points Herlings has on second-place Antonio Cairoli with two rounds remaining.
9 years, 4 months, 21 days
Between MX2 overall wins for American riders at the MXGP of Turkey. In 2009, Zach Osborne claimed his sole Grand Prix win in Istanbul with 3-1 finishes. On Sunday, Thomas Covington secured his first GP win of 2018 with 1-3 finishes.
3
Times in 18 rounds that Red Bull KTM did not win the MX2 overall.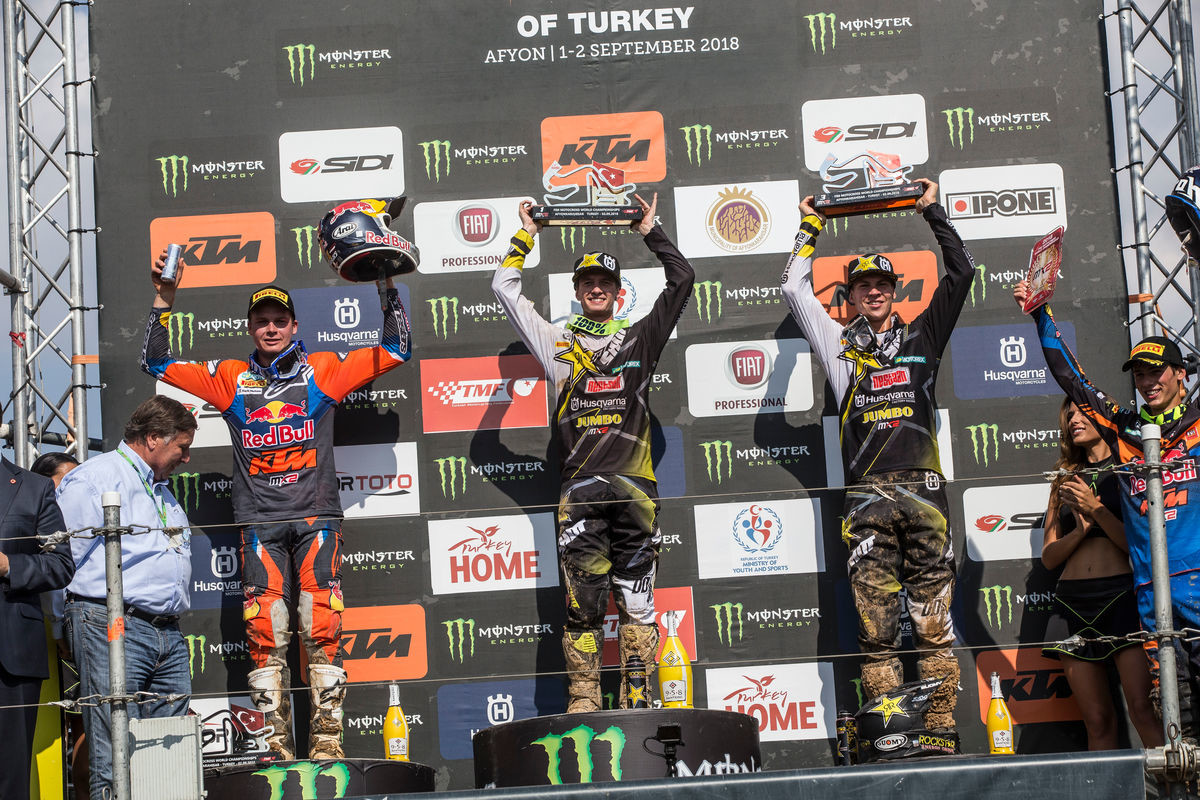 25.5
Win in seconds for Herlings in the first moto over Cairoli.
4.6
Win in seconds for Herlings in the second moto over Tim Gajser.
15th
Finishing position Herlings will need in two weeks at Assen if Cairoli wins to clinch his first premier class title.
Quotes From Around the Paddock
Jeffrey Herlings | 1-1 for first overall in MXGP
"Absolutely a great weekend for me, and that's 'three in a row' of qualification heat and both moto wins, so I have to say a big thank-you to the team for their great job. They have made a great sacrifice, and I wouldn't be where I am today without them. I'm looking forward to Assen because we are really close to the championship now, and I hope to finish it off. Like I said, it will be a dream come true to win it at my home GP. The chances of taking this title during a rider's career are small anyway, but to potentially do it in my home country would be amazing. We'll just go out, do our best, and try to stay healthy to get it done."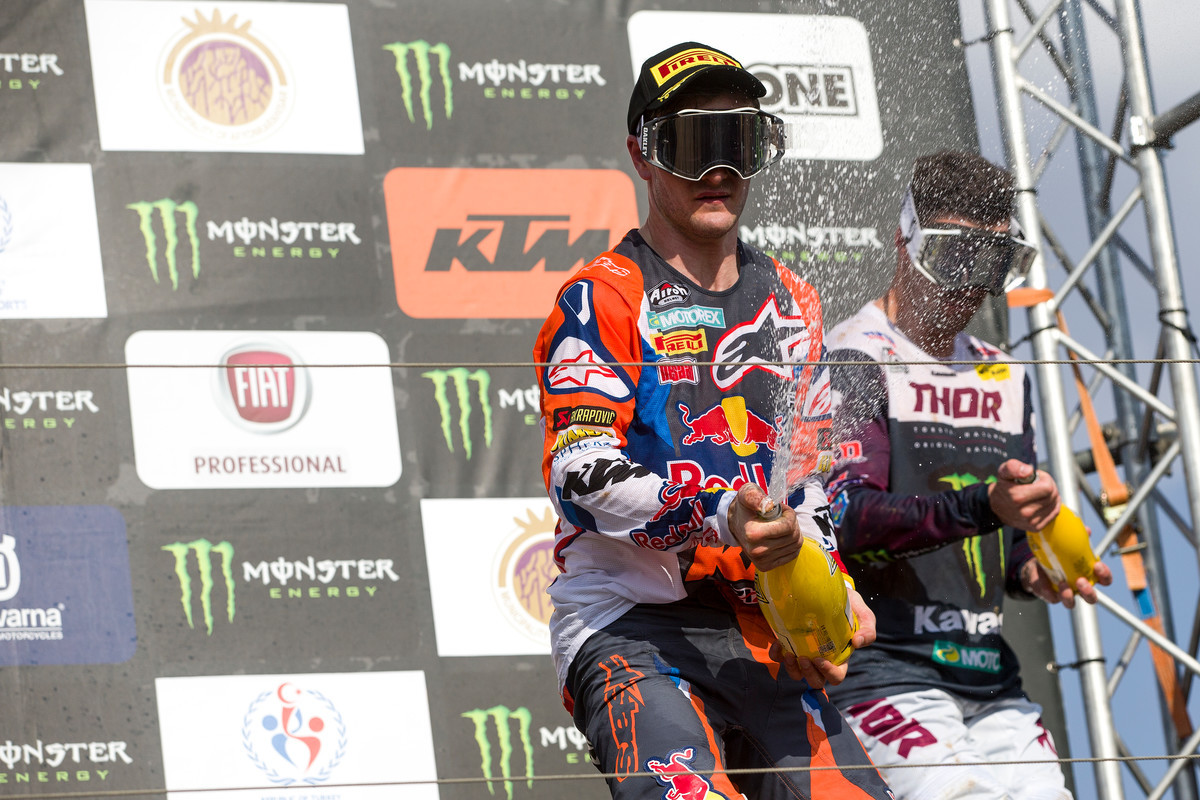 Tim Gajser | 3-2 for second overall in MXGP
"It's been a good weekend and I really enjoyed it. The track was nice and I was feeling good on it; together with the team, we worked hard and found a good setup—and I felt as one with the bike. The qualifying race was good yesterday, but in race one today, I struggled to find good lines and ended up pushing too hard. The second race was much better, and I made some passes at the beginning and then tried to close the gap to Jeffrey. In the end I got really close to him, but I couldn't make a pass. Still, second overall is a great result, especially as it's the second time in a row, and I'm now looking forward to Assen."
Clement Desalle | 4-3 for third overall in MXGP
"I'm really happy with my third podium in a row. I didn't feel so good yesterday because this new track was so fast and we were on the limit, but the track developed really well through the weekend; today it was really technical and I felt better every time I rode. The team has been working really hard on small details to get us ever closer to the win, but it is not easy against Herlings. It was a good feeling for the team to get another holeshot award today after my teammate also got one in Switzerland."
Gautier Paulin | 8-4 for fourth overall in MXGP
"I'm satisfied with my performance in moto two. The weekend started with me not getting a good position in the qualifying race, and this made my life harder for the final motos. Starts are really crucial, and I had to dig deep to make the best out of my starting position. In the first moto, I struggled a bit with track conditions and my lines were not the best ones. Luckily I managed to get a good start coming from the outside in moto two, so placed myself in a much better position for the rest of the moto. Getting fourth in moto two for fourth overall at the GP is quite positive. My bike is working great at the moment and I hope we can continue with the same momentum at the next two GPs."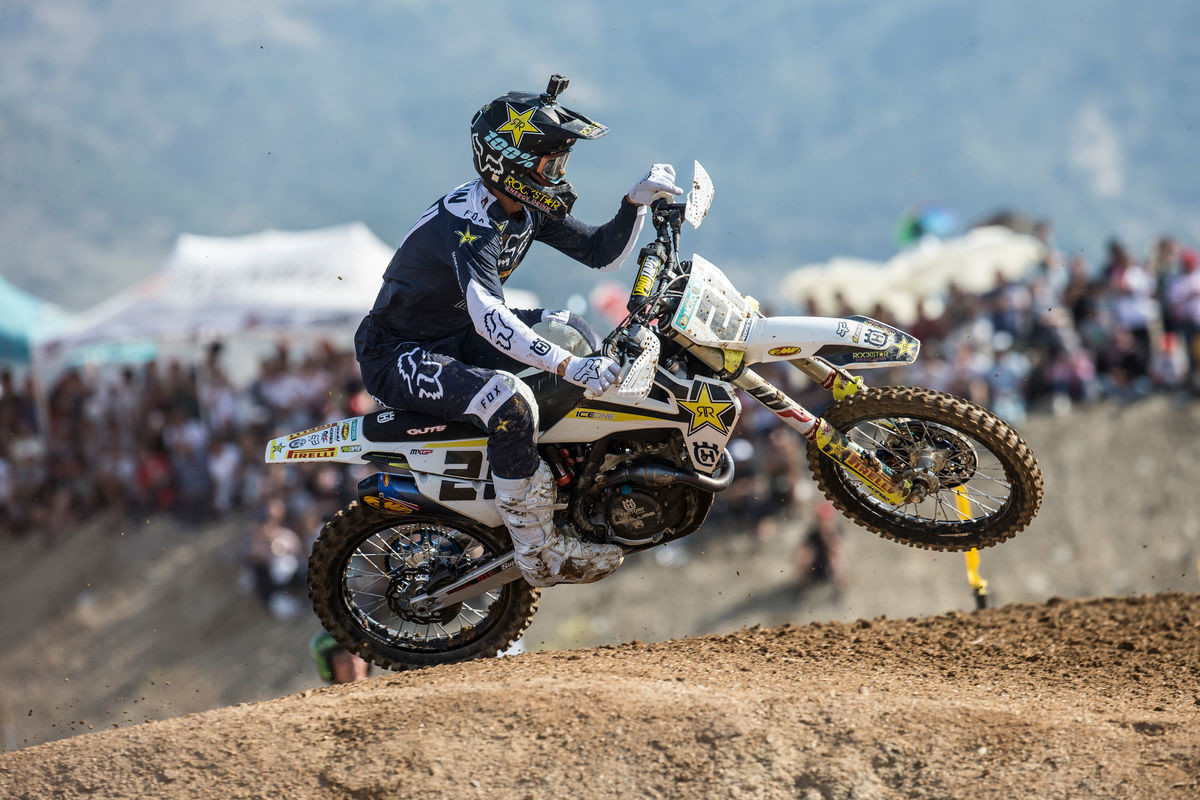 Antonio Cairoli | 2-15 for eighth overall in MXGP
"It was a bad weekend, one of the worst until now. I had a slight injury from Switzerland and then twisted my other knee in timed practice on Saturday. I tried to do two good races, but in the first moto I hit the bridge and I think I broke something in my hand. I was able to finish the moto with some pain and because the adrenaline was flowing, but the second moto was difficult even before it started. I then crashed with Anstie again on the first lap; I tried to avoid him and lost the rear wheel and hit the ground hard. It took a long time to restart and start to pass people. A long time to focus and deal with my hand. Fifteenth and a bad weekend, but we are still on our feet after a lot of injuries lately, and we have to stay concentrated for two more GPs and then the Motocross of Nations. The next goal is to confirm second in the championship—because Jeffrey is in front by a lot of points—and to win some GPs if it's possible."
Thomas Covington | 1-3 for first overall in MX2
"I've been waiting for a long time for this overall victory. I feel like I should have had a few of these by now. Me and my trainer Joel Roelants have been grinding away each week, and it's finally good to get a win in the bag. Overall, it's been a good GP for me. I got two holeshots here in Turkey and was able to find a good pace in both motos. After getting the win in moto one, I tried to put in some solid laps in the second moto to wrap up the weekend with a double-moto victory. That was my motivation for most of the moto, but a small mistake two minutes before the end had me settle for third in moto two. I'm really happy with my performance and looking forward to the next round in The Netherlands."
Pauls Jonass | 6-1 for second overall in MX2
"I was feeling really good all weekend and managed to lead the first moto. Hitting Jorge [Prado] on the jump was really unfortunate and I was really disappointed about that. I did not see it coming from his side. It was a huge crash, and I was lucky to walk away with only a stretched ligament in my knee. It was then difficult in the second race to find the flow in the first laps. I was a bit scared for the knee because I did not want to catch it in a rut and make it worse. I managed to put pressure on Covington all the time, and eventually he made a mistake. It is not nice to see a rider crash, but he made the mistake and it's part of racing, so I could win. Second again and a six-point gain in the championship—better than last week and better than nothing. It's still not over; four races to go and still some points."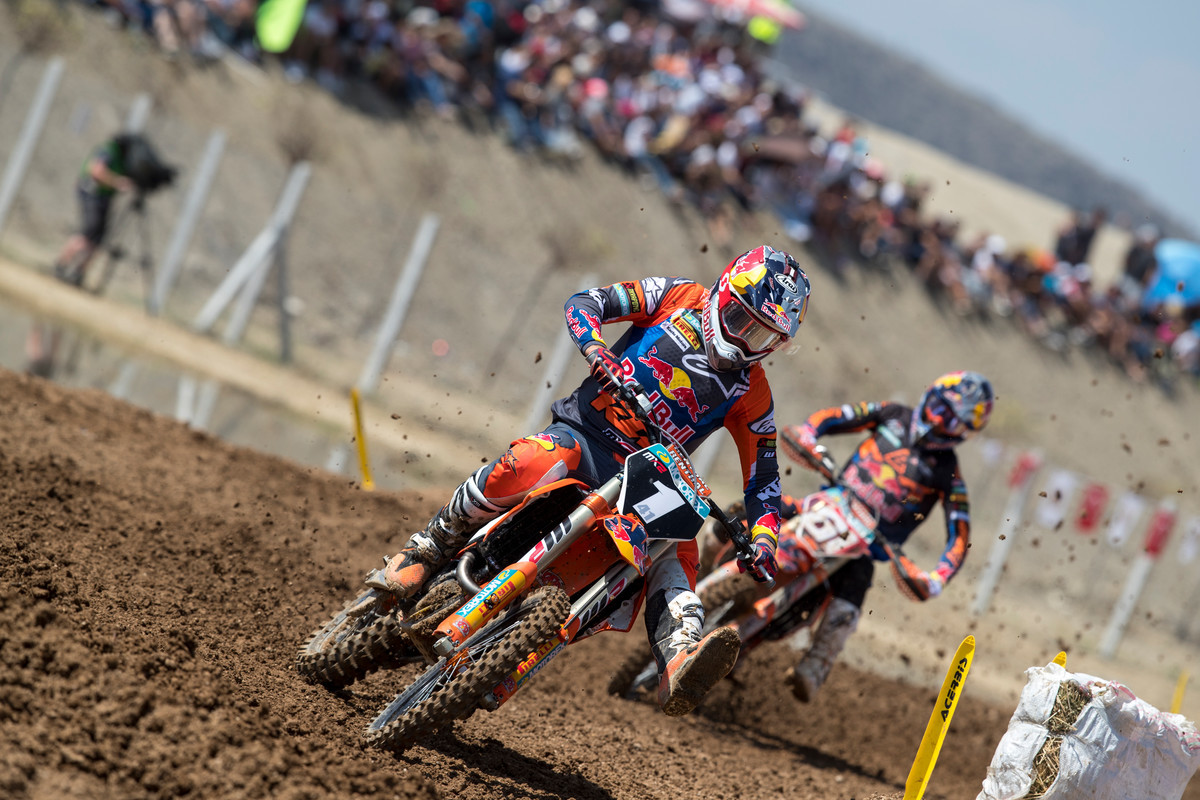 Thomas Kjer-Olsen | 5-2 for third overall in MX2
"I'm really happy about my ride in Turkey. In the opening moto I struggled a bit to get into the groove of things, but we made some good changes in the right direction so I could come back a lot stronger in moto two. The bike was great and I could just hit my lines perfectly. I could follow Thomas [Covington] and Pauls [Jonass] for most of the race, and when Thomas made a mistake, I got up to second. I'm just so happy with this podium, and I've got to give it up to my Rockstar Energy Husqvarna team and all the people who support me."
Hunter Lawrence | 2-5 for fourth overall in MX2
"The first moto was really positive; I was second and I felt my riding was good. I did have to push pretty hard, though, to keep up with Thomas Covington, and I think that hindered my riding in the second race. I got an average start in that race, which didn't help, and I wasn't able to move forward as quickly as I wanted to, but I felt pretty fatigued. It turned into a bit of a survival mode, and although I came close to the podium again, I was quite feeling as good as the two previous rounds. Now I'll recover and get in some sand training before the next round in Assen."
Jorge Prado | 3-7 for sixth overall in MX2
"It was a bit of a strange GP, but I am going home quite happy. We are leading by 24 points, which is still good. I had a good first moto and was the fastest guy, so it was a bit weird to go from that to struggling a lot in the second. I did what I could. I did my best. If I raced again now, it would be the same, so I need to learn from that second moto and when the track was challenging and hard for me. I was not feeling that great. It was up-and-down this weekend, and I'm happy I was not hurt in the first moto. Assen is a good track for me and I haven't finished off the podium there. For sure, Pauls and I will both be pushing, but we'll be happy to be back in Belgium and I'll be confident going there."
GIF of the Weekend
Teammates and MX2 title rivals Jorge Prado and Pauls Jonass had a huge collision in the first moto on Sunday. Adam Wheeler broke it all down here.
Video of The Week
Covington was able to recover for this spill to take third in the second moto and his first overall of 2018.