Crawfordsville, IN
Ironman
Lucas Oil AMA Pro Motocross Championship
Well, that's a wrap on the 2018 Lucas Oil Pro Motocross Championship. Just like two weeks ago, the skies opened up and let us know that Mother Nature wasn't going to let us have a bright and beautiful day in Crawfordsville, Indiana. Nope, it seems to be a tradition at this race (the finale for four years now) to get some rain at some point in the day—or all day, for that matter.
Lots to talk about when it comes to this race, even though one title was in hand and one was close. Let's dive into it, yeah?
Eli Tomac is your 2018 450 Class champion, and there was no doubt about him being the fastest man in the class. Tomac crashed in moto one in the mud and his bike was smoking, which made me think about all the horrible things that could happen to him. He brought it home in second, but thanks to a late Marvin Musquin charge that kept the title alive, Eli still had to get a top 20 in moto two IF Musquin won. Eli held steady and put it in the top ten, despite a bad start when the #25 cut him off down the start straight.
Back-to-back championships for the Monster Energy Kawasaki guys and Eli Tomac, and surprisingly Eli is the first guy to win two-straight since Ricky Carmichael did it in 2005-2006. Like, huh? Yeah, I guess so: James Stewart, Chad Reed, Ryan Dungey, Ryan Villopoto, and Ken Roczen all took turns one-upping each other each year. I was surprised at this stat.
Anyway, Tomac was, from the first moto to the last, the best guy in the class. He showed some amazing speed at times and was just steady and consistent at others. There was the mechanical DNF at RedBud that made this a lot closer than it really was. Southwick second moto and RedBud second moto wasn't ideal, but other than that, he was the guy in the class. Last season Musquin gave him all he wanted at times, but this year, it was lights out for everyone.
Will he win 450SX in 2019? Well, yet again—he should. There's my VERY early 450SX preview for you people.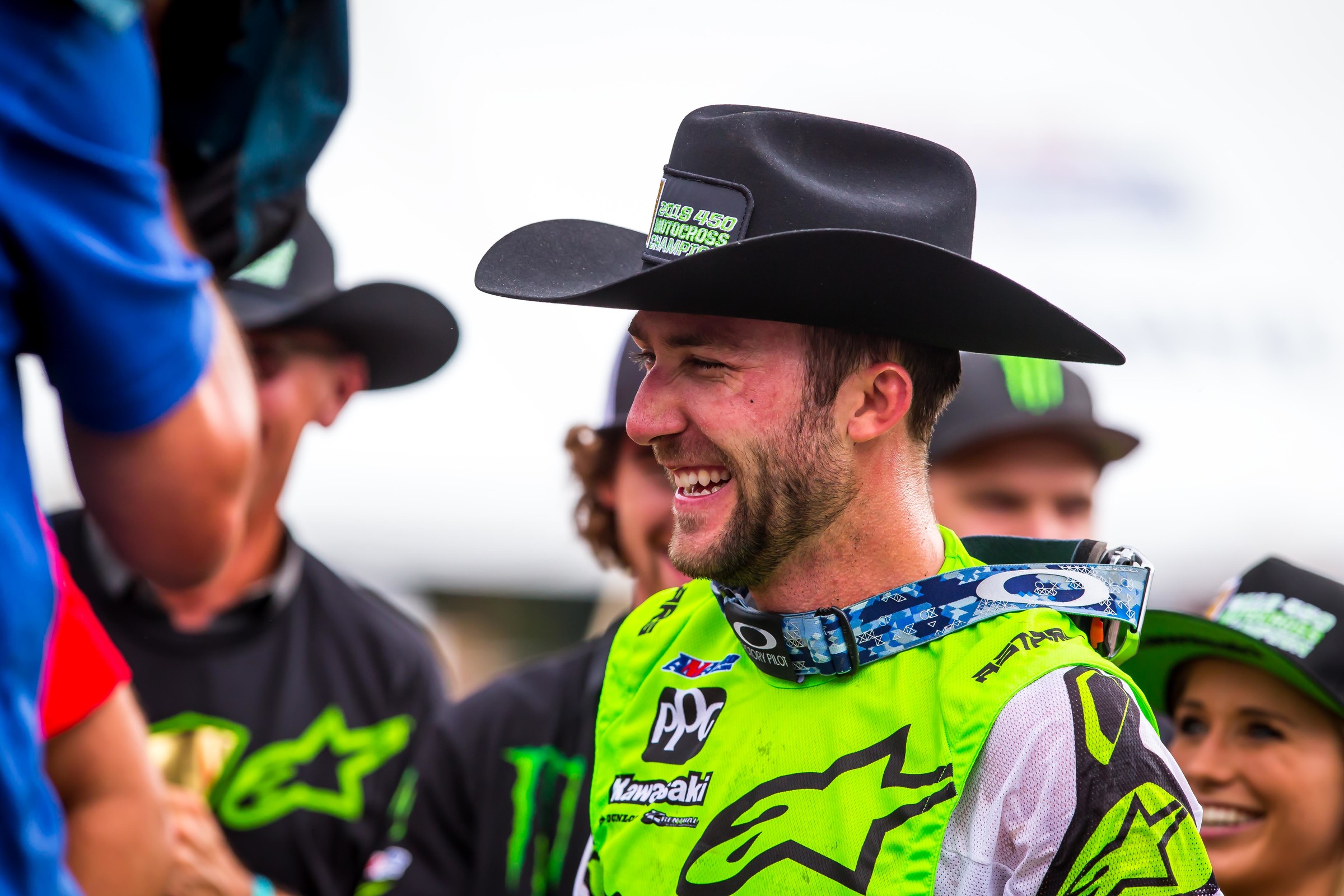 Well, well, well, look who showed up! Chad Reed, that's who! Somehow Reed tested with Autotrader/Yoshimura Suzuki and agreed to come out to race the last national of the year. Reed would like to race for this team in supercross next year, so Jeremy Albrecht, team manager of JGR, put out a phone call about three weeks ago asking Chad if he'd like to try a national. I think to his surprise, Reed agreed to come out and ride the bike. It went well enough that Reed raced and thereby gave all the different shows I do a ton to talk about. Not many riders in the sport's history move the needle like Chad Reed, and judging by all the fans outside the JGR pits all day, that theory was again proven on Saturday.
Reed did pretty well with 5-8 scores. Better than I thought, if I'm being honest. Reed's last go-around in the nationals didn't go well, but he had a lot on his mind with a team he was folding up and so on and so forth. Still, it's been a long time since he won that 2009 450 Class crown. Even if it was dry, I think Reed would've been good. As Albrecht explained to me before the day, this kind of thing—with Reed jumping on a bike and racing one national—might've been impossible for an OEM-controlled team. JGR being open to new ideas, Suzuki being cool with whatever, and Reed's willingness to give it a go made it all very interesting for everyone.
I have no idea if this one-race audition will lead to anything for Reed in terms of SX 2019, but it does give everyone at JGR and Reed a chance to feel things out and see if there's a fit going forward. Albrecht said that just the Reed test ride caused almost all their sponsors to reach out to Jeremy, but none of that resulted in extra money for JGR to put Reed on the track in 2019. The team has Weston Peick and Justin Hill already inked for 2019 450SX/MX. I was brainstorming a bunch of ways to make this deal happen, and Jeremy was already ahead of me with my ideas (including going back to Suzuki Marine division, which is what RCH did their final year).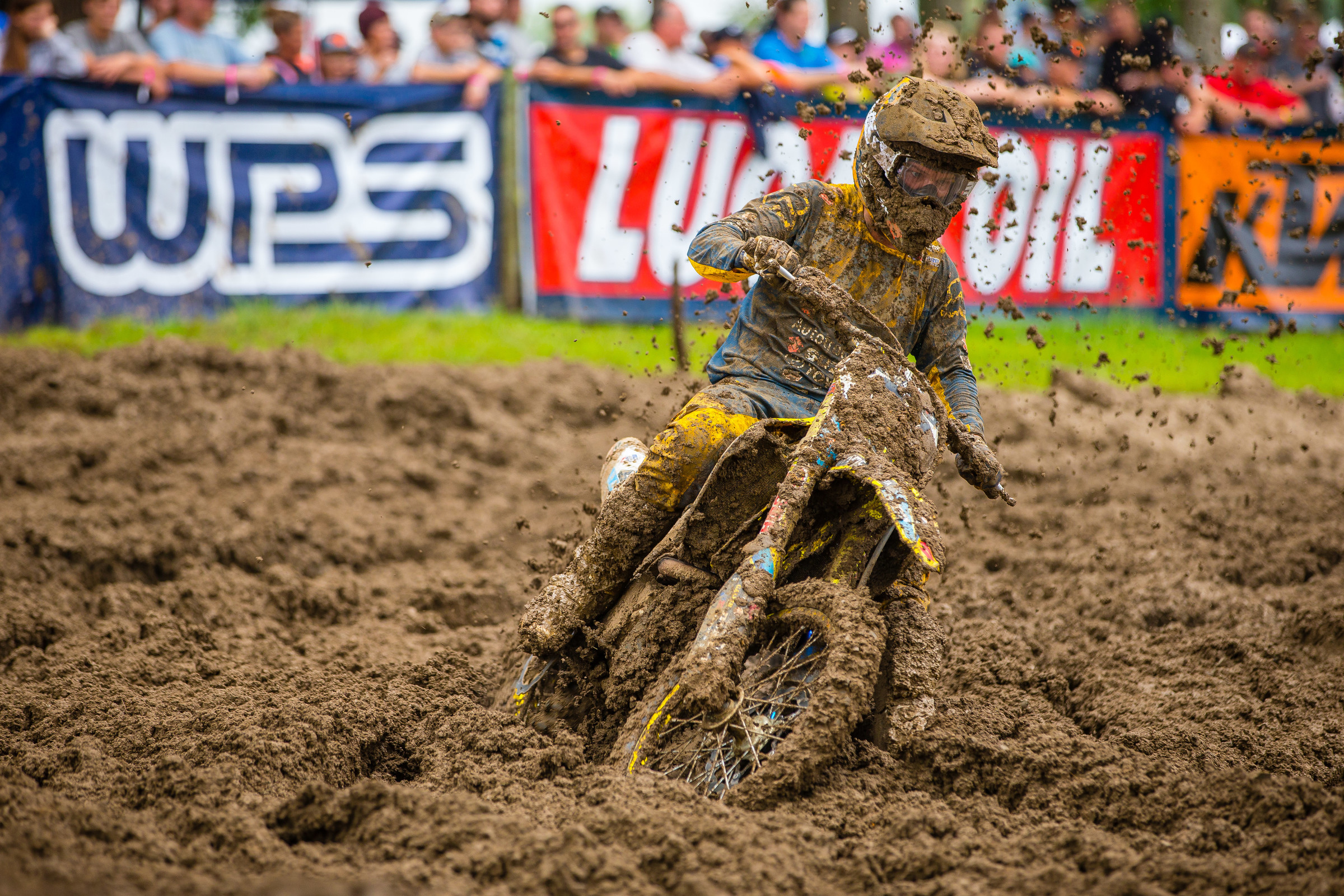 Reed himself raised the idea of being a test rider/fill-in guy for the team like Phil Nicoletti has been the last few years, telling me, "If I had to step in next year or help the team like I did this weekend in a situation, it would be nice to stay in shape, ride," and I guess I hadn't thought of that. Reed is a good tester (although he changes too many things for my liking, he does know what a bike does and doesn't do). A higher-up at Suzuki requested Reed's gear after the race, and I suggested signing it with a "see you at SX 2019," but no one thought that was funny. I don't know; I see this all being a good fit for JGR and Reed, but when Reed and Albrecht asked me how much money PulpMX can pitch in, I realized this is not going to be easy.
I did have to laugh when Reed was interviewed on the line before moto two and told the crowd he's hoping to "have Bogle's starts, Hill's speed, and Peick's consistency." That's a good line.
Aaron Plessinger was going to come into Ironman one of two ways. Scenario one: The pressure was off him because he clinched the title last week, and since he's good on this track, he would just wipe the floor with everyone. Scenario two: He was just going to be all gentle-like because he didn't ride all week while he was drying out and doesn't want to push it that much. Well, it was the former. On this track, he shined out in the conditions in which he shines on. Aaron is an awesome mud rider and this thing was over. He led every lap but one to go 1-1 and close out his 2018 season in style.
Maybe this is something his fellow competitors should follow when it comes to pre-race rituals.
I asked Aaron about this and he replied, "They were playing some music, and once they get the music playing, you can't stop my hips."
Alrighty then….
Speaking of 1-1, Yamaha's Justin Barcia also did that. What a day for the #51, who rode very well at the last mudder in Unadilla but didn't have much to show for it due to early-race carnage. At Ironman, he absolutely owned both motos with great rides to cap off a very unlikely year. I mean, his performance at last year's USGP was abysmal. He wasn't happy on the bike and with the team, and it showed big time. He couldn't get a ride with anyone in the off-season…seriously, no one was going to touch him with a ten-foot pole. When he wasn't injured, he was also getting called into meetings with the FIM about riding dirty at supercrosses. He was in a bad place with his career and maybe his life, I'm not sure. We weren't talking then.
He buys a Honda for the Monster Cup, and on press day, 30 feet out of the first time he hits the track, he crashes at the bottom of the start. That was pretty much the low point for the #51. He then got a break as a fill-in rider when Davi Millsaps was injured. He shows up at Anaheim on the Yamaha and looks good… like, real good! And from there, despite an injury that held him out of some supercrosses, he continues to get back to his old level. Now he has a multi-year deal with Yamaha and appears to be on track for bigger and better things. Amazing story, really, and one that you have to respect, no matter how much you like or don't like Barcia.
I asked him about this transformation that became complete with the 1-1.
Justin Barcia: [I've] definitely matured a lot mentally with just racing in general, and the basic thing was never give up. I was close to calling it quits because I was just so over it.
Steve Matthes: For reals? That close?
Barcia: Yeah, I was over it. I didn't want to race anymore after the GP. It was just miserable. But luckily I found a good woman by my side and she very mentally helped me get through that situation. Just never give up. That's the biggest thing. If I would have gave up, I wouldn't have been here today.
Barcia's been tamed by a chick! Well, whatever it is, keep it up because it's working. He's a real factor to win races and make podiums week to week. Imagine if he would've hung it up?
Something you might not have noticed but a few people mentioned to me was the performance of Blake Baggett in the first 450 Class moto. Look, Baggett's not had the year he wanted to outdoors. He just can't seem to get it back to where he was last year. On the first lap of the first moto, he absolutely sunk his bike into a mud pit. Like, it was up to his number plates. He was screwed. He's also fifth in the points with zero chance to move up or down, it's the last race of the year, he's standing in mud up to his butthole, and life pretty much sucks for The Chupacabra at that point.
It would've been SO easy to pull it into the truck for that moto and call it a day. He was a lap down two laps into the race! So yeah, pull it on in Blake and we'll get 'em in moto two. Not Baggett, though. Nope—with the help of track workers, he got it pulled out and started racing again. He rode his nuts off to pass a whole bunch of dudes back and finish 16th. I like that attitude; it says something about Blake that he raced the moto. I guarantee you no one really would've cared if he DNF'd the moto. He didn't have to go out there and eat mud for 30 minutes to get a lousy 16th, but you know what? He's a racer, and that's what racers do. Bravo, Blake Baggett, bravo.
There was a real cool story happening up in the Canadian Nationals this year with Tyler Medaglia. The veteran racer, a two-time MX2 champion, won his first 450 Class overall in ten years and had a strong season. There are flashier names up in Canada, but Medaglia is a consistent top-five or podium threat, and again, this year he won an overall. Medaglia headed to Ironman in his van with his dad and a mechanic to see what he could do. I had talked him up in PulpMX Fantasy podcasts because with rain in the forecast, I knew Tyler was good in mud. He's in great shape, he doesn't quit, he's been on it this year.
But even I was surprised with his 7-6 ride! Medaglia used great starts and serious speed to put in a career-best finish for him at an AMA National. The second moto, he was far ahead of Reed and Nicoletti and was keeping pace with Baggett, who was a ways ahead of him until Tyler fell late in the race. I feel like I probably deserve maybe 5 percent of this finish by Medaglia. I was walking to the announcers' tower when I saw him on a bike getting ready to watch the seeded 450 practice head out. You knew the track was getting progressively worse with each session that hit the track (shout-out to the 250 unseeded heroes!) and Medaglia would have to ride the worst practice and not get a good gate pick. Truthfully, he should've been in the first practice, which is for the top 20 in points and anyone else that shows up and is fast, like Chad Reed. So I grabbed an MX Sports official, who agreed that a Canadian National winner should be in the seeded guy practice, and Tyler quickly cycled off to get changed. So, in a sense, he was in the good-guy practice because of me, got a good gate pick, and then got good starts.
Also, if you don't think I wasn't over at the Monster Kawasaki team trying to get T-Dags some suspension, a motor, anything from those guys after he was top finishing Kawasaki in moto two, well, you just don't know me that well.
I want to mention Kyle Cunningham here. He finished tenth in the final 450 Class points. Good for him. The JGR and Suzuki guys have helped him with some transport this year, but don't let the JGR tent over his head fool you—he's a privateer. Kyle and his dad have been there every week just grinding away. It's a cool story, and I did a podcast a while ago with Kyle about his deal, his desire to do outdoors, his dad helping him, and more here. You should listen; it's a cool story.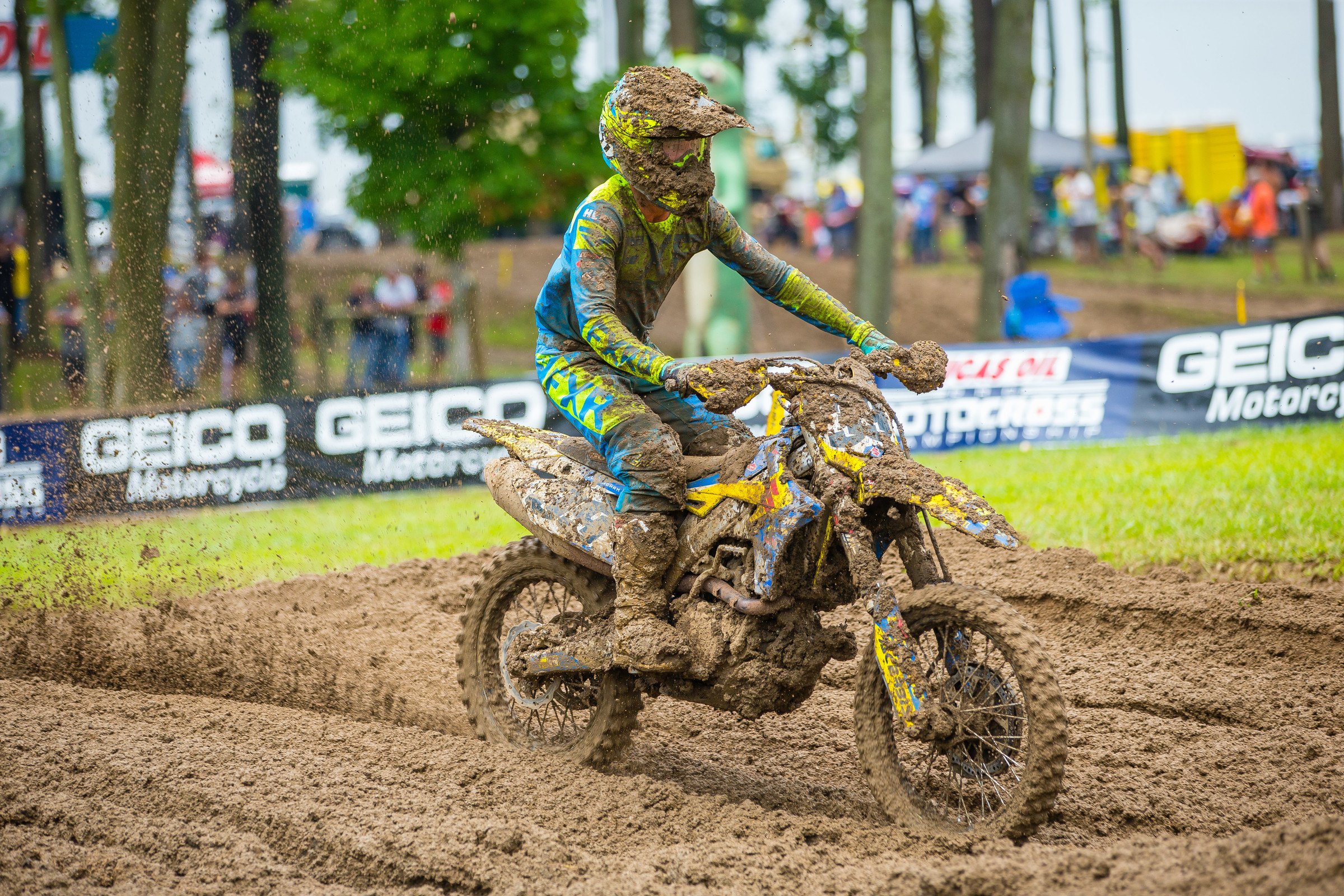 Filthy Phil shined in filthy conditions yet again. Nicoletti didn't end up on the podium like he did at Unadilla, but he led laps and rode well despite a pit stop in moto two. Nicoletti ended the year sixth overall in the 450 Class, which is a good deal for him, considering he did it on two different bikes! I mean, seriously, when has a guy finished this high in a series while riding two different brands of bikes?
And yet, there's nothing for Phil in the USA for 2019. Nothing set in stone as of now, anyway, and truthfully, nothing that will be that good for him anyway. That's why he's looking north to Canada or to Europe for a ride in 2019, and I can't say I blame him. Times are tight here; he's getting older and needs to start making money. I can't really bear the thought of not having Phil at the races every week, though. My entertainment will go down dramatically. I asked him about this process and he admitted it's painful: "Yeah, depending on what deal, I'm trying to work all that stuff in. That would be pretty cool. I wouldn't get many off-weekends in, but it's hard because it's the American dream you're giving up. There's a lot of prestige to it. There's other things in life, like money, that you need to survive and live off of. It's just hard here in the States. We'll see. But as of right now, it's kind of hard to talk about. I just want to get shit-faced at the moment and have some fun with the boys. So we'll see."
I hope you got shit-faced, Phil. You deserve it.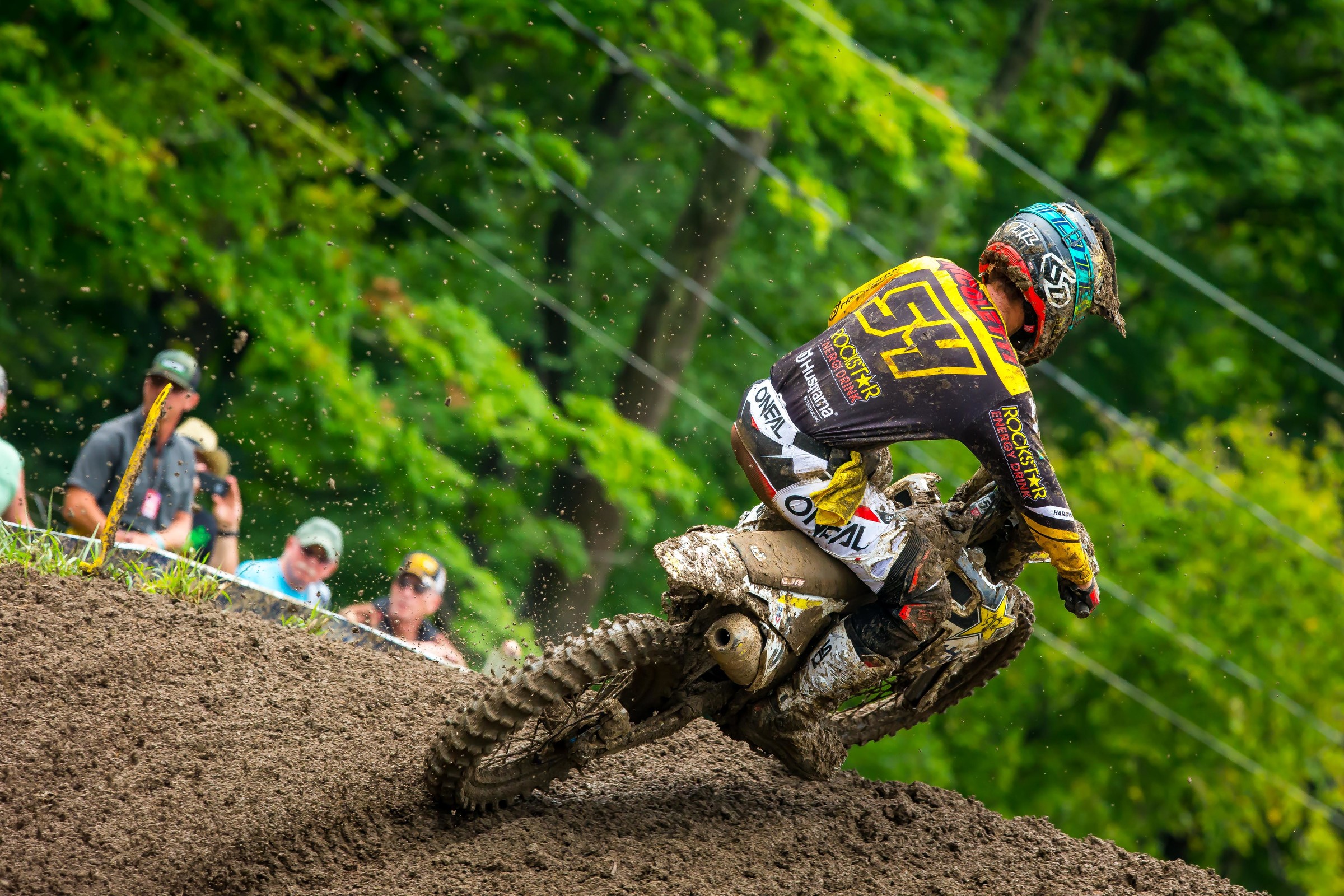 more news and notes
If anyone knows why French rider Valentin Teillet just decided to race the final national for the Teddy Parks Experience, let me know. Weird deal. Maybe he had family in the area? Anyway, on a Husky 350, he did pretty well, finishing in the top ten overall.
Hunter Sayles will always be able to say he qualified fastest at a pro national, which is cool. I would print out the qualifying sheets, laminate them, put them in my wallet and carry it around forever if I was him.
Speaking of Sayles, it was amazing that due to track conditions, riders like Jordon Smith, Austin Forkner, Mitchell Harrison, Shane McElrath, Jimmy Decotis, and Enzo Lopes all didn't qualify! Yes, you heard that right. The top ten in points getting automatically seeded saved Forkner, Smith, and McElrath (Smith didn't race anyway due to a sore knee), but still, what a shocker.
Speaking of shocker, trust me when I say there's a LOT of work that goes into getting ready for a national, and to have your two guys in one class NOT qualify like JGR did is a tough blow. So much money there, they should have just lit it on fire before the race to keep warm.
Wow, Cooper Webb looked like he wanted to destroy Marvin Musquin when the Frenchman caught him in 450 moto two. This race quickly went from "last moto of the year in the mud and I don't care" mode to "I hope I break this asshole's tib and fib" REAL QUICK. Weird for sure, and even weirder knowing they're going to be teammates and training partners REAL QUICK.
GEICO Honda guys have figured things out. Now, the tricky part is to keep it up throughout the off-season, because there's no 13th national next weekend. Big credit to the team for improving the bikes and for the riders to make it happen. Dan Betley, team manager, was on the PulpMX Show on Monday and said that at Millville, one of the riders (I think it was RJ Hampshire) really chewed him out for the bikes needing more power. Uh, wow. As it turns out, the bikes did get faster, and RJ ended the year with a first and a second at the last two races. RJ is probably the only guy wishing the season kept on going right now!
Thanks for reading this week, and every week for that matter. We'll be back this off-season with different OBS columns for the off-season stuff. Email me at matthes@racerxonline.com if you want to chat about this race or any others.