This past weekend, at round 11 of the Lucas Oil Pro Motocross Championship at Budds Creek, Monster Energy Yamaha's Cooper Webb scored a couple of respectable moto finishes in the 450 Class, going 8-7 on the day. He started slightly worse than that both motos and worked up a bit. Most racers would take those scores out there, but Webb's different. Webb was supposed to be fighting for podiums at the very least and get a couple of wins here and there. I bet most of the spectators at the race would have a hard time telling you anything that Webb did to stand out from the crowd. That's the problem for Cooper Webb and his time at Monster Energy Yamaha: unremarkable for a remarkable talent.
Webb's going to take his talents to Red Bull KTM for 2019 and beyond, so we'll see if a bike switch and taking up with super trainer Aldon Baker is the fix for Webb and his stalled attack on the 450 Class. In Webb's defense, he could point to the fact he's yet to compete a full 450SX or MX series in either 2017 or 2018. The closest he came was in 2017 in the 450 Class, when he raced 11 out of 12 races. He even came into 450SX this year nursing an injury from a practice track crash.
We had Cooper on the PulpMX Show last year and he admitted that jumping into the 450 Class right after his dominating 2017 250 campaign, where he clinched both SX and MX titles, might have hurt him. Webb did the AUS-X Open, the Paris Supercross, and the Motocross of Nations, where a late fall by him cost the USA team the win. Webb was devastated after that race and admitted it took him a long time to get over it. Combine injuries, crushing defeat, and, from what I hear, issues with getting the 450 set up that first off-season, and you have some logical reasons why Cooper Webb has yet to hit the heights so many have pegged him for.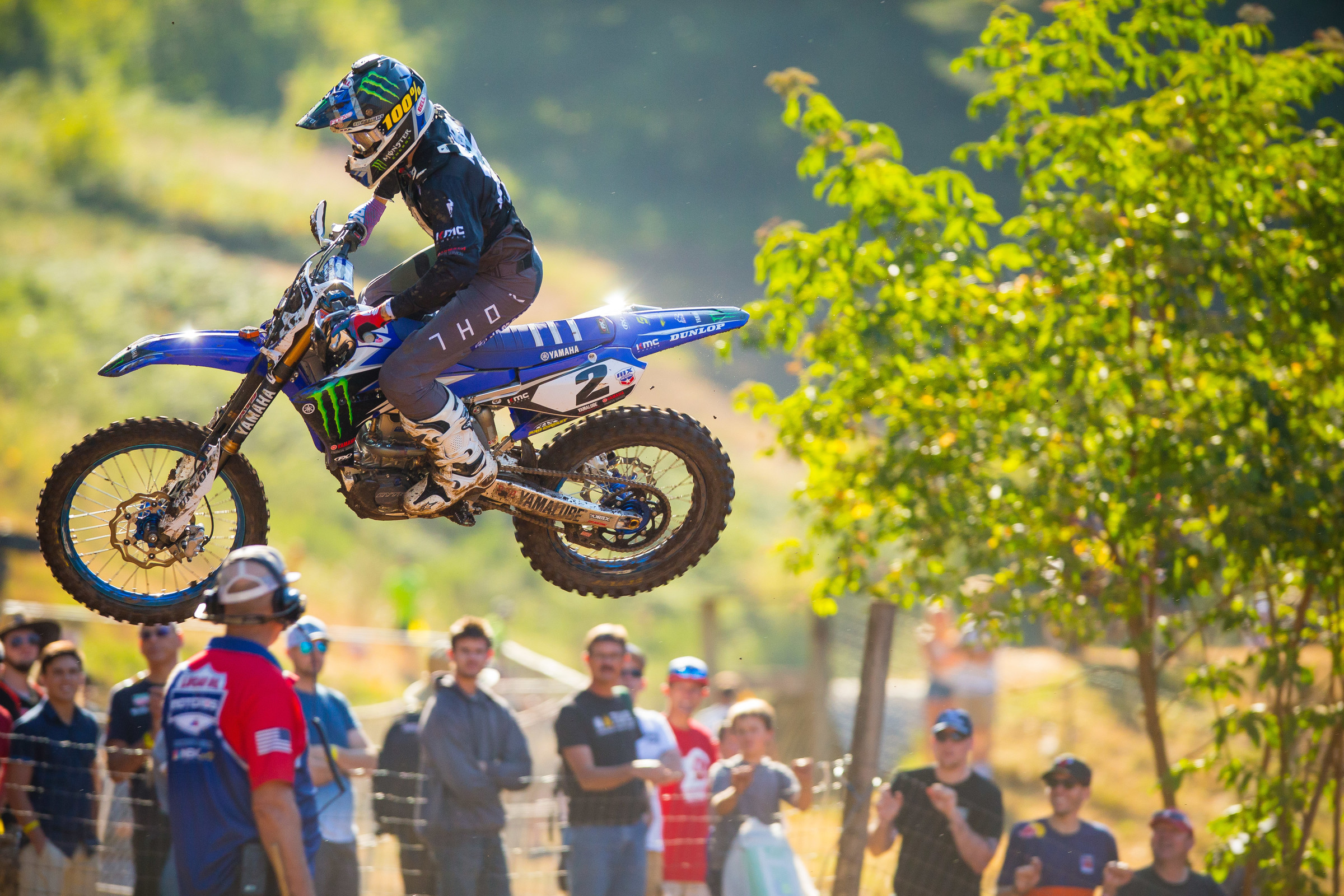 A source close to the blue team had this take on Webb's time with them: "I think it's been a variety of things... you can't point the finger at just one. Everyone points the finger at the bike because it's the easiest to blame. I think for one, underestimating the level of competition in the class was a huge mistake.
"Then there have been a lot of untimely injuries that were kept hidden and not many knew about. It's hard to build momentum when you're hurt. A lot of new purchases and adult decisions to make, that also weighs on you. Could the bike have been better? Yes, it can always be, but that's not the reason. Add that all up and that's what you get."
Webb's 250 career record and three championships put him in the company of riders like Ivan Tedesco, Ryan Dungey, and Christophe Pourcel and below all-time talents like Ryan Villopoto, Ricky Carmichael, and James Stewart. In Dungey's case, he elevated his results in his rookie 450 campaign and captured two titles; in Pourcel's case, he couldn't find a factory 450 ride that was suitable for him, and in Tedesco's case, he scored some podiums on factory Suzuki and also accrued some injuries in a career that was pretty successful. So far, Tedesco's case most matches Webb's, with two 250SX titles and one 250 Class title before being the most sought-after 250 rider by 450 factory teams. Webb does have Tedesco covered in career 250 wins 18-12, though.
Through the first two years of their respective 450 careers, both Tedesco and Webb produced two 450 podiums. There have been flashes for Webb here and there—sometimes he was on top after a practice, but too many times, like this past weekend, you didn't really notice him. It's funny in that the Yamaha YZF250 and 450 share the same frame, but Webb on both looks like two different guys out there. He seemingly could put the 250 wherever he needed to while he looks like he's just sort of hanging onto the bigger bike.
"My first year on a 450 went really good. I ended up getting fourth in supercross," Tedesco told me. "Got a couple podiums and was competitive; just wasn't able to run the pace of that top three. I got hurt and missed outdoors but ended up filling in for Carmichael at MXoN and ended up helping the team get the win. I carried that over and had the best off-season I ever had. The best I ever felt on a dirt bike.
"I went up to Toronto for the World Supercross round and got landed on by [James] Stewart in practice. That happened at the wrong time, with it only being five or six weeks before Anaheim. On top of that, I was the main guy on the team. RC was part-time that year and it was on my shoulders to be "the guy." I lined up at A1 with two days on the bike and definitely shouldn't have been there. I still ended up fifth in the series, but that season killed my confidence and never really felt like I got back to where I was that off-season. Confidence is a funny thing and you can't fake it."
I wonder if that last line could apply to Webb at his time at Yamaha.
So does the move to KTM wake Webb up and he gets the form back that got him the huge contract from Yamaha? Well, first he has to stay healthy. That's priority one, two, and three for a professional motocrosser.
"If he can stay in it and keep the egos in check during the week, it'll go extremely well. The reason I really think it'll go well doesn't have anything to do with KTM or [Aldon] Baker. It's because the fire is back and the desire to prove people wrong is there," another person, who's around Webb's circle of friends, said.
Moving to Clermont, Florida, and following the Aldon Baker program is a huge change for Webb, who's been with trainer Gareth Swanepoel and has his own property with tracks for the last couple of years. The move signifies that he recognizes that what he's been doing isn't working, and it's a serious commitment for Webb. That alone is a good sign. Some riders, like Zach Osborne, have seen their results take a big step up when working one-on-one with Baker. Others, like Broc Tickle before he was suspended, didn't seem to be able to get better. Riding with Marvin Musquin, Osborne, and maybe 450SX champion Jason Anderson should help Webb. Ricky Carmichael and Chad Reed would never have imagined riding day-to-day with your main competition, but it's a different time now. Pushing each other during the week, whether it's on the track or on the bicycle, is the new thing.
Next year is a huge year for Cooper Webb to show us which way he's going to go in his professional career. He's got way too much talent to fall out of the top ten each week, but can he get to the elite level of 450s? That might be the biggest question mark of the entire off-season.