RedBud MX
Buchanan

,

MI
Motocross of Nations
Motocross of Nations
There appears to be nothing that can make Aaron Plessinger unhappy, so a little friendly rivalry with a teammate is just going to add to the fun. Team USA and Team France have been announced for the Monster Energy Motocross of Nations at RedBud, and it's now official that Aaron will steer the 250 for the American squad. On Team France, it's up to Dylan Ferrandis to handle business in MX2. Both Plessinger and Ferrandis, of course, race for Monster Energy/Yamalube/Star Racing Yamaha here in the U.S.
They were asked about this during the post-race press conference at Unadilla, but both were all smiles—and laughs—about the upcoming matchup. Further, they finished 1-2 on Saturday, including a big battle for the overall win in moto two that went to Ferrandis. Plessinger, of course, wasn't bothered.
"Yeah, that was fun," said Plessinger. "We don't get to battle often, but when we do, it's pretty cool. We had a really gnarly battle. I like racing this guy—he's a really good rider, so I like riding with him."
"Yeah, definitely, it was good racing for the three of us," said Ferrandis of the fight between him, Plessinger, and Mitchell Harrison (who races for Rockstar Energy Husqvarna now, but was a teammate of Plessinger and Ferrandis last year). "I found the opportunity to pass Mitchell, and I took a line nobody had taken and it was all mud. I knew that if he [Plessinger] won and I finished second, he would grab the overall. And he's grabbed too many overalls this year! So I did everything I could to pass him again. He opened the door a little bit and I just went for it. Yeah, that worked, so I'm pretty happy about it."
Both Plessinger and Ferrandis laughed through this exchange. Plessinger laughs at everything. He also made Harrison an offer to stay in his camper during the Motocross of Nations so they can hang out.
The Nations, though, will be serious business at race time. Plessinger will likely lighten the mood with a unique look. Earlier this year, he said he would die his hair red, white, and blue if he were picked for the team. During the Team USA announcement on Saturday, he told the fans "he's going to surprise some people."
"If you know me, you know representing the red, white, and blue is part of my lifestyle," he said in an AMA press release. After Unadilla, he said he might even debut his look at the Ironman National, when a team press conference is to be held the Friday before the race.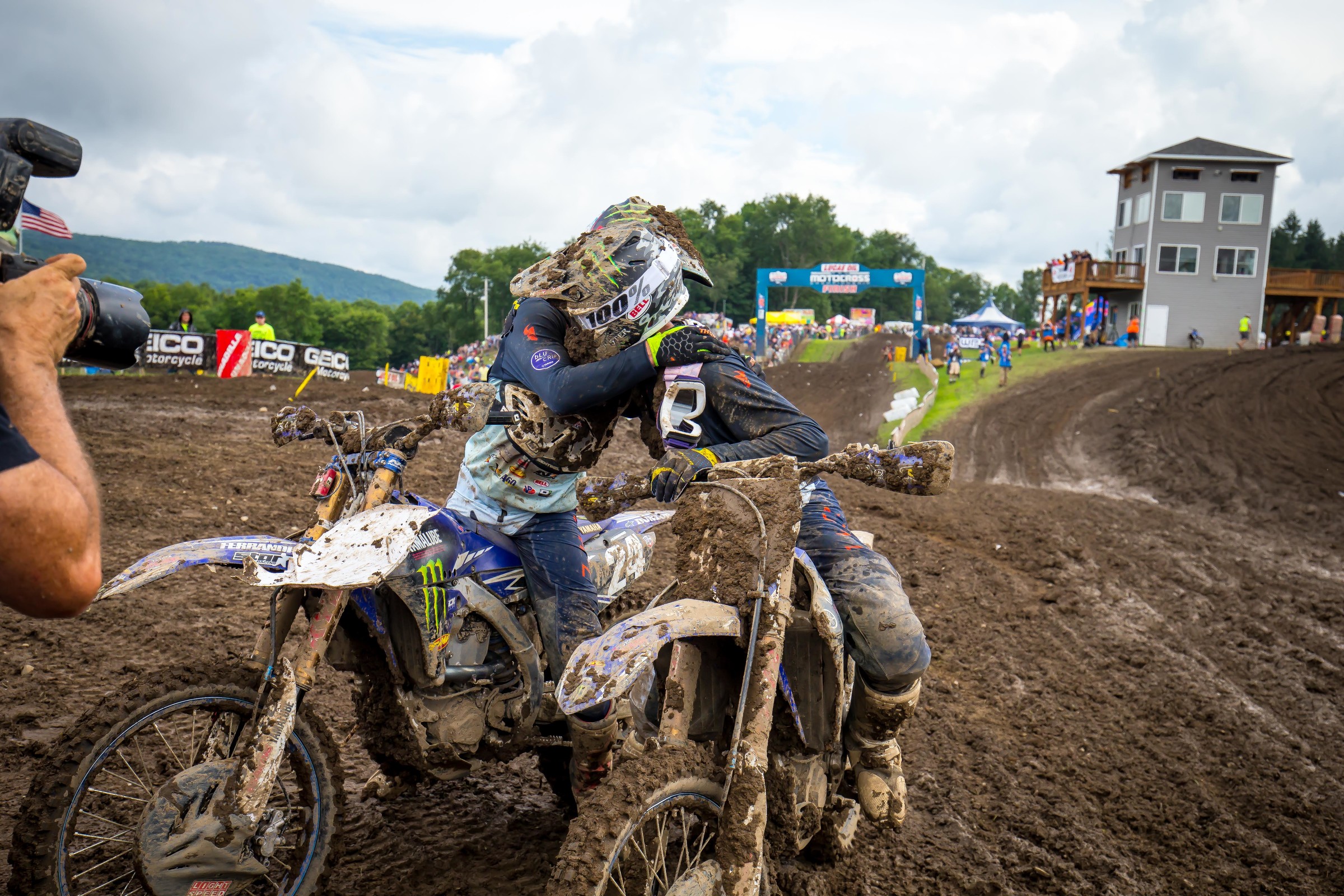 As for battling his teammate there, Plessinger joked, "It's going to be tough, but I think we can hang with these guys."
To add some flavor, Ferrandis explained that, in his opinion, the 250 rider is the most critical in the event. Smaller engines mean bad starts when pitted against 450s, and the rider who can slice through best can give his team a huge advantage.
"Yeah, it's awesome to be selected for the Nations," said Ferrandis. "I did it in 2014 in Latvia, and I can say to Aaron that the 250 rider is the most important on the team. We have to do the job—the guys on the 450s can start in front, start top three, top five, easy. For us, it's just a rough day. It's going to be not easy for us riding against the 450s. Yeah, I think the real win in the Nations comes from the 250 riders. It's going to be interesting because we've been battling all season together, and we'll be battling again one more time. I think American versus France will be an awesome battle."
---
Show your support for Team USA at the Motocross of Nations this year with Racer X Brands Patriotic Collection! Shop now!