Lommel, Belgium
MXGP of Belgium
FIM Motocross World Championship
By The Numbers
10
1-1 performances from Jeffrey Herlings through 15 rounds after another 1-1 sweep at Lommel.
51.5
Seconds between Herlings and third-place finisher Romain Febvre in the first moto.
33
Seconds between Herlings and second-place finisher Antonio Cairoli in the second moto.
32
Of 32 laps led in MX2 by Jorge Prado, who went 1-1 on the day.
34
Of 34 laps led in MXGP by Jeffrey Herlings.
4
Moto wins by American Thomas Covington on the year. He had five in all of 2017.
17
Runner-up moto finishes by Antonio Cairoli. The Italian went 2-2 on the day at Lommel.
17
Points lost by defending MX2 champion Pauls Jonass to Jorge Prado at Lommel.
1:55.142
Lap time set by Jeffrey Herlings on the first lap of moto one.
2:09.295
Lap time set by Herlings on the last lap of moto one.
1:57.512
Lap time set by Antonio Cairoli on the first lap of moto one.
2:10.932
Lap time set by Cairoli on the last lap of moto one.
Quotes From Around The Paddock
Antonio Cairoli | 2-2 for second overall in MXGP
"Overall, I'm happy because I know in the sand and on this type of track, Jeffrey is very fast. It would have been nice to be a little bit closer, but I've had issues with my thumb and could not train exactly as I wanted in the sand lately. I know how to ride it, but to keep this kind of speed, the whole moto is very tough. Two-times second is okay, and for the rest of the season we'll try to stay as close to Jeffrey's wheel as possible and make a win where we can. A lot can still happen in the races to go. I'm looking forward to Switzerland. It is a track I really like, and hopefully we can have a better result."
Max Anstie | 4-4 for third overall in MXGP
"It was a tough GP and I was pleased to get on the podium. Overall we're making steps forward, and we showed that this weekend. Getting fourth in qualifying gave me a good gate pick, and my starts were great in both motos. In the first moto, I made some passes before settling for fourth. Then in the second moto, I got another good start, but I was running a little bit low on energy so had to give it my all until the finish. We had a great battle with Glenn [Coldenhoff] for third. Soon after I passed him, I crashed and had to do it all over again. I kept pushing as much as I could and managed to secure my second podium result for the season."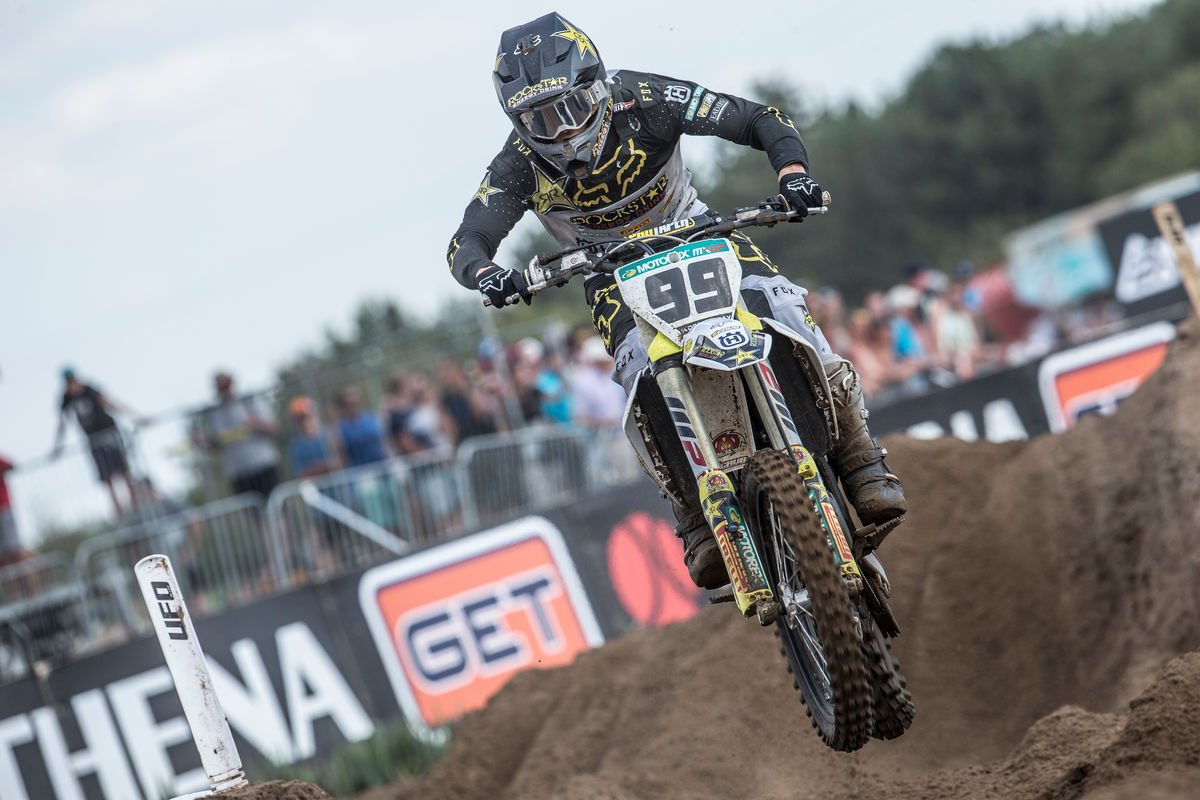 Tim Gajser | 7-7 for seventh overall in MXGP
"It was a difficult weekend and I'm glad it's done! The good thing about it was definitely the starts, as I was up there in all the motos. The first 15-20 minutes of both motos were okay, but I made too many mistakes. After I crashed in race one, it was hard to get up to speed again, and in general I felt like I was fighting against the track. Nevertheless, we scored some important points and got closer to third place in the standings, so we now look forward to be back at a hard pack track in Switzerland. Thank you to the team for their amazing job, as usual."
Clement Desalle | 10-8 for ninth overall in MXGP
"It was a difficult weekend for me. It can be perfect if you have a good feeling with this track, but it can also be dramatic if you don't find this feeling. I finished twice in the top ten, but I can't be happy with that; some guys can take risks to get a top result at this period of the season as they need results, but I can't bring myself to do that on a track like this one. At least I didn't lose so many points against the guys who are behind me in the standings, and this race is behind us; I remain positive and can focus on the next ones."
Jorge Prado | 1-1 for first overall in MX2
"A great weekend and I was feeling very good today, even from warm-up with the bike and the track. They left it pretty rough for today and it was a bit weird in some places in the second moto, but I was enjoying it. We train really hard, so when we get to a track like this, then you can see who is really fit and who can keep the focus. If you lose focus, then it is so easy to make a mistake. I think I did well in this way and to go 1-1."
Thomas Covington | 2-3 for second overall in MX2
"I'm really happy with second overall at this tough GP. A few years ago, I couldn't even think this would be possible over here in Lommel. There's been a few weekends where I felt I should have won the GP, but this weekend Jorge [Prado] was just better. I could push him during the first part of the motos, but after that, I decided to keep it steady and ride safely for the overall podium. I just can't thank the whole Rockstar Energy Husqvarna team members for all their hard work. We've been able to get some great results during the last few GPs, and it's onwards and upwards from here."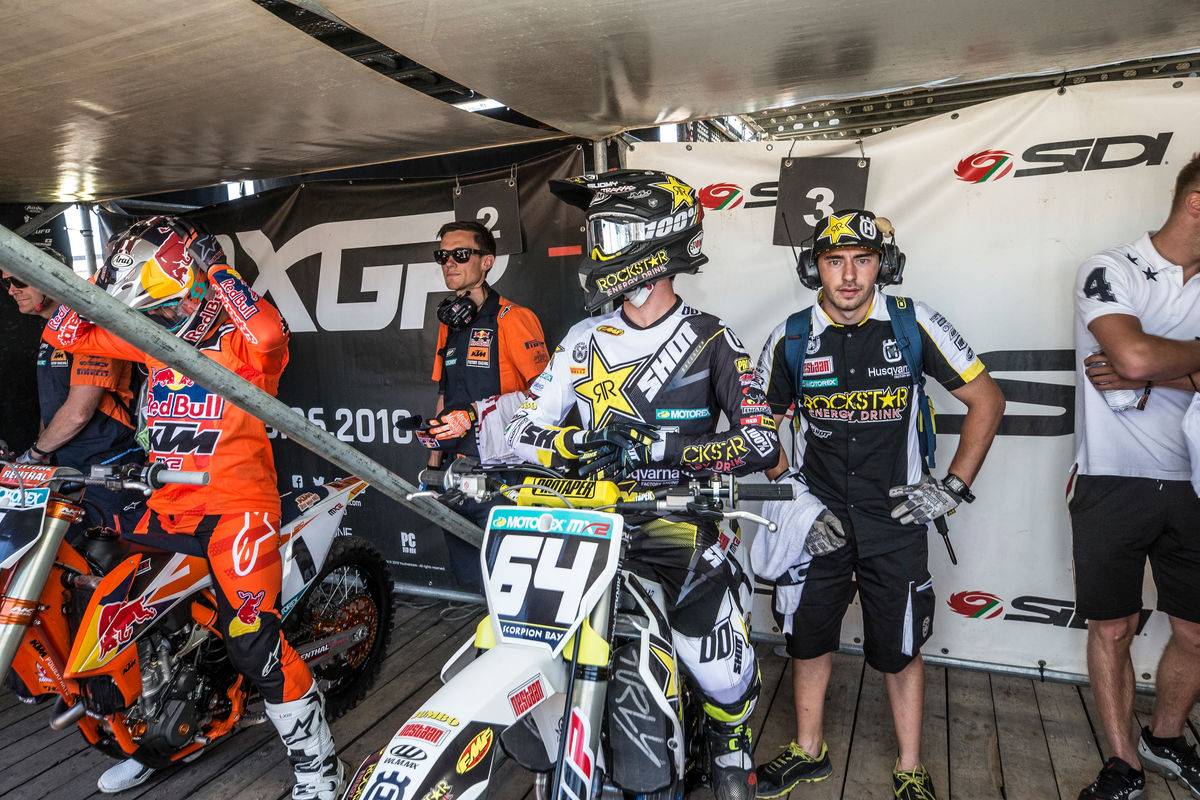 Thomas Kjer Olsen | 3-4 for third overall in MX2
"It feels good to be back on the podium. The track was brutal during both motos, and the heat made things even harder. I got a decent gate pick from Saturday's qualifying and my starts were good in both motos. I did the best I could in both races, and I'm happy with third overall for this GP. With Thomas [Covington] getting second overall, it just shows how hard all the members of the Rockstar Energy Husqvarna team work. It felt good to be on the podium with my teammate. It was great to end the weekend like that, and I'm looking forward to more times like that in the future."
Pauls Jonass | 4-6 for fifth overall in MX2
"I actually felt pretty good all weekend, and my speed and fitness was there. I felt good behind Jorge in the first race, where I was waiting until the end to attack, but a small mistake with the lapper in the waves meant I went a bit sideways trying not to touch. I landed in and out of the rut, crashed, and lost a lot of time. I still got back to fourth. Van Doninck jumped out of the gate at the start of the second moto and I was a bit shocked. I completely lost my concentration, and then after the first jump, I lost the blisters on my left hand. It was tough and painful. For the first ten-15 minutes I was trying to find the position to hold the handlebars, but in the last 15 minutes, I was again good. Sixth is not what we wanted and we're 28 points behind Jorge now, but there are five races to go and 250 points on the table. I'm looking ahead."
American Switching Teams
As we reported yesterday, American Marshal Weltin has parted ways with Vamo Honda and will finish out the season with F&H Racing Kawasaki. Weltin, who is currently 25th in MX2 points in his first year in the class, rode for the team on a one-race deal at Lommel. After finishing 11th overall, Weltin said he signed with the team to finish out the remainder of the season.
"Update: For the @mxgp of Belgium, @fhracingteam stepped up and helped me out with a fill in spot for the race," he wrote on Instagram. "Im grateful for the opportunity they gave me and want to give a big thanks for all they have done so far. I have decided to part ways with my previous team and it's looking like I will be finishing the season on Green!"
Video of the Weekend
Check out this battle between AC and Anstie: