Times they are a-changing, constantly, for the Autotrader/Yoshimura Suzuki team, which is now late into its second year racing Suzukis and its first as the brand's premier Suzuki outfit. Integrating into Suzuki's factory arm includes building up the squad's 250 class arsenal and even reaching out to Suzuki's RM Army amateur riders in hopes of developing future stars.
But each team is only as good as the equipment they compete with. The JGR team hopes to get a head start on 2019 by getting some prototypes of the new RM-Z250 in early and going to work. While Suzuki has told the moto media to wait until September for more details on the new bike, JGR already has theirs and put Jimmy Decotis to work testing this week.
The team sent us this interview with team manager Jeremy Albrecht so we can catch up on all things JGR.
Racer X: Jeremy, last week Suzuki and JGRMX hosted the first annual RM Army week, where Suzuki's top amateur racers traveled to North Carolina for a few days. What did you think of the event?
Jeremy Albrecht: First off, it was cool to do something that we haven't done before. Talking to Chris Wheeler [Suzuki MX Support manager] and trying to figure out ways to be better partners, we came up with the RM Army week idea. You never know how it's going to play out. It was actually better than any of us expected. At first, you wonder if the kids are going to think it's cool and exciting. It's tough for the parents because it's extra time away from work, and there's also the travel part of the equation. It is a commitment on everyone's part. We threw the RM Army week out there to figure out if there was interest, and there was. We went ahead and made it happen.
Please talk about the various activities on the first day of RM Army week.
The families either parked their motorhomes on the property or stayed in hotels. The first day's event kicked off at 9 a.m. with warm-up and practice, followed by breaking down the track into sections and working with the kids. Justin Hill and Kyle Peters taught one group, while Buddy Antunez taught the other. The big bikes were in one group, while the RM85s made up the other group. We tried to keep things fairly simple, because a lot of the riders are already working with their own trainers. We didn't want to change what they were doing too much; rather, we wanted to give them pointers, as well as a good place to ride in the heat and humidity. It was a really fun time. We had catered lunch and dinner on both of the riding days. My friend Matt Jording owns a few restaurants in Hilton Head, North Carolina, and he knocked it out of the park with gourmet food. It was unreal.
Mother Nature threw everyone a curve ball on Monday night with a torrential downpour that should have cancelled Tuesday's riding session—yet it didn't.
Spencer Bloomer and Mark Barnett put in a lot of time and work to prepare our turn track so the kids could still ride. It turned out to be the best conditions ever for the turn track, which was awesome. Hill, Peters, and Buddy again worked with the kids, focusing on cornering and also practicing starts. It was another full day of riding and fun. We ended with dinner and encouraged the parents and kids to ask us questions during that time. The questions covered a variety of topics, from training and fitness to working with professional racers and bike maintenance. It was a very interesting discussion, and I think everyone got a lot out of it.
The event wrapped up on Wednesday with a variety of unique stops. Talk about that.
We opened our doors to the families and took them on a tour around the motocross shop. They were able to see the engine rooms, suspension area, and anywhere else that they wanted to check out. I think they were pretty blown away by what we have here. Then we took them over to the JGR Cup Shop, and Coy Gibbs [owner of JGRMX] gave them a personal tour through the building. We concluded the RM Army week with lunch and a presentation on the importance of social media.
Suzuki has a renewed focus on the amateur level and farming kids up through the ranks, with the goal of one day being on the Autotrader/Yoshimura Suzuki Factory team. Is this something you and Chris Wheeler previously discussed?
Absolutely. That was one of the topics we covered last year when the factory program came about. We were looking long-term and turning this partnership into something truly special. Our goal wasn't to switch to Suzuki for one year; our goal was to be with Suzuki for good. We want to build together. Of course, there will always be ups and downs, along with challenges that every business faces. However, we will be better together because of that level of support. Chris and I talked about the process of building, and while we have a long list of things we want to accomplish, you can't check off all the boxes at once. We do the best we can each year.
We started in 2017 with the 450 support program, and then we became the factory team for 2018. We took on the 250 team in-house this year, whereas last year we shared the 250 program with Yoshimura. We had to move a lot of people here to North Carolina and double our staff. I feel like we're all doing a good job. I have to remind myself not to rush things. Larry Brooks is managing the BarX Suzuki amateur team, and he's been doing a good job. He's been at the highest level and knows what it takes. Hopefully his kids turn into the 250 factory riders on this team, and then they become the 450 factory stars here. That is the pathway and the plan that we would like to see. We need to guide and help the kids. It's a process, and while we're not winning a bunch of races, things take time. People like to pick out the negatives, but I feel like things are coming together pretty well, even though we're just starting out.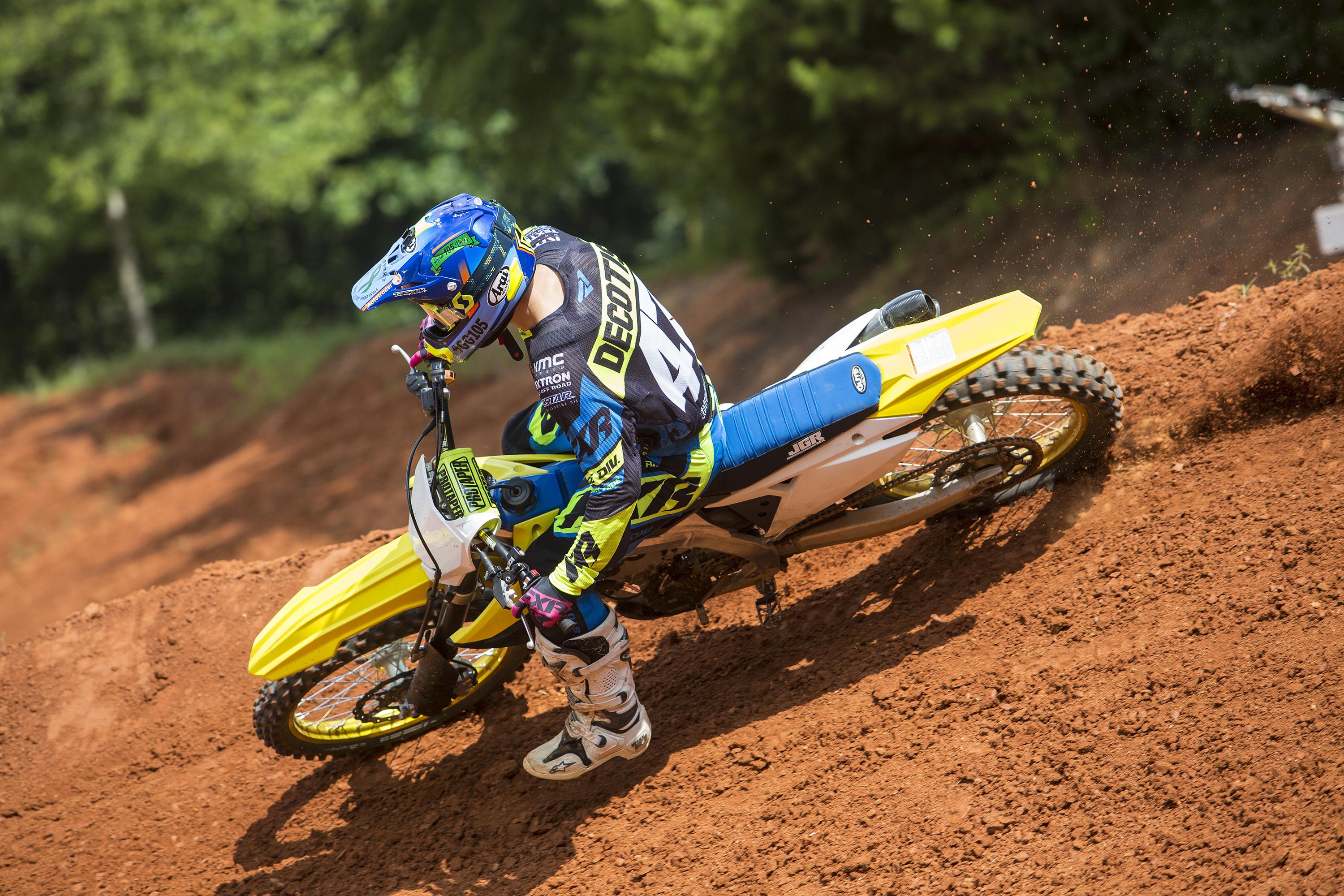 There has been a 2019 Suzuki RM-Z250 hidden away at the JGRMX shop for some time now, which is pretty special considering the bike was just recently released.
Absolutely. It's really cool to have Suzuki's trust as far as in the U.S., and also from Japan. Trust is usually the hardest part of a partnership. We did get a 2019 Suzuki RM-Z250 cylinder head early that Dean [Baker, head engine builder] was able to flow bench, dyno, and start getting ready for racing. This was the first week that we have been on the track; however, we've had time to prepare. We have already made parts and designs for the 2019 Suzuki RM-Z250. In the past, we had to wait until the bikes hit dealer floors. Last year was the earliest we had ever tested for supercross, and that was in September with the Suzuki engineers. I was impressed that we were on the track testing supercross so early. That helped the success of the 2018 Suzuki RM-Z450, which was a whole new bike. We didn't really have any growing pains during supercross from starting that early. This year, with the 2019 Suzuki RM-Z250, it's the earliest we've ever done anything! It's crazy to be testing supercross at the end of July [laughter].
Jimmy Decotis is the test rider on the 2019 Suzuki RM-Z250, but that wasn't the original plan, was it?
No, it was originally supposed to be Kyle Peters. However, he needs a little more time to let his knee heal up from surgery. Kyle could have done it, but Jimmy D jumped in and offered. Jimmy didn't want his teammate to ride and possibly re-injure his knee. Kyle set a goal to be riding by now, but it's cool that the guys care about each other. Jimmy rode motocross on Monday and supercross on Tuesday. He will ride supercross for the remainder of the test, which will end right before the Unadilla National. We're getting a jump-start on 2019. Really, though, none of this is being done for the current national season. It's all for supercross next year. Normally we wouldn't ride a new bike this early, especially being as different as it is. Jimmy was excited to get some supercross laps under his belt and try something different. He doesn't feel like this test will mess him up for the outdoors. We're moving right along.
Weston Peick is sixth in the points standings, despite the fact that he's dealing with a nagging hand injury.
He has been doing really well, considering that he wanted to get his hand fixed. I told him that he could get his hand fixed, but he wanted to tough it out. Last weekend at Washougal was his most difficult race yet with his hand. We're hoping it's just because there wasn't much room to rest on that track. He seemed to feel better in the second moto when he had a gap on the riders behind him and was able to relax. I told Weston that if he wants to get surgery at any point in order to be prepared for next year, then he should do it. Sixth in points is not where we want to be, but he's doing well considering the injury. He's not really healthy enough to push for what he's able to. That's the bummer. I think he would be pushing for podiums if his hand was right. If he wants to fix his hand in a few weeks or wait until the end of the season, that's his call. He can get his hand fixed when he feels it's the right time.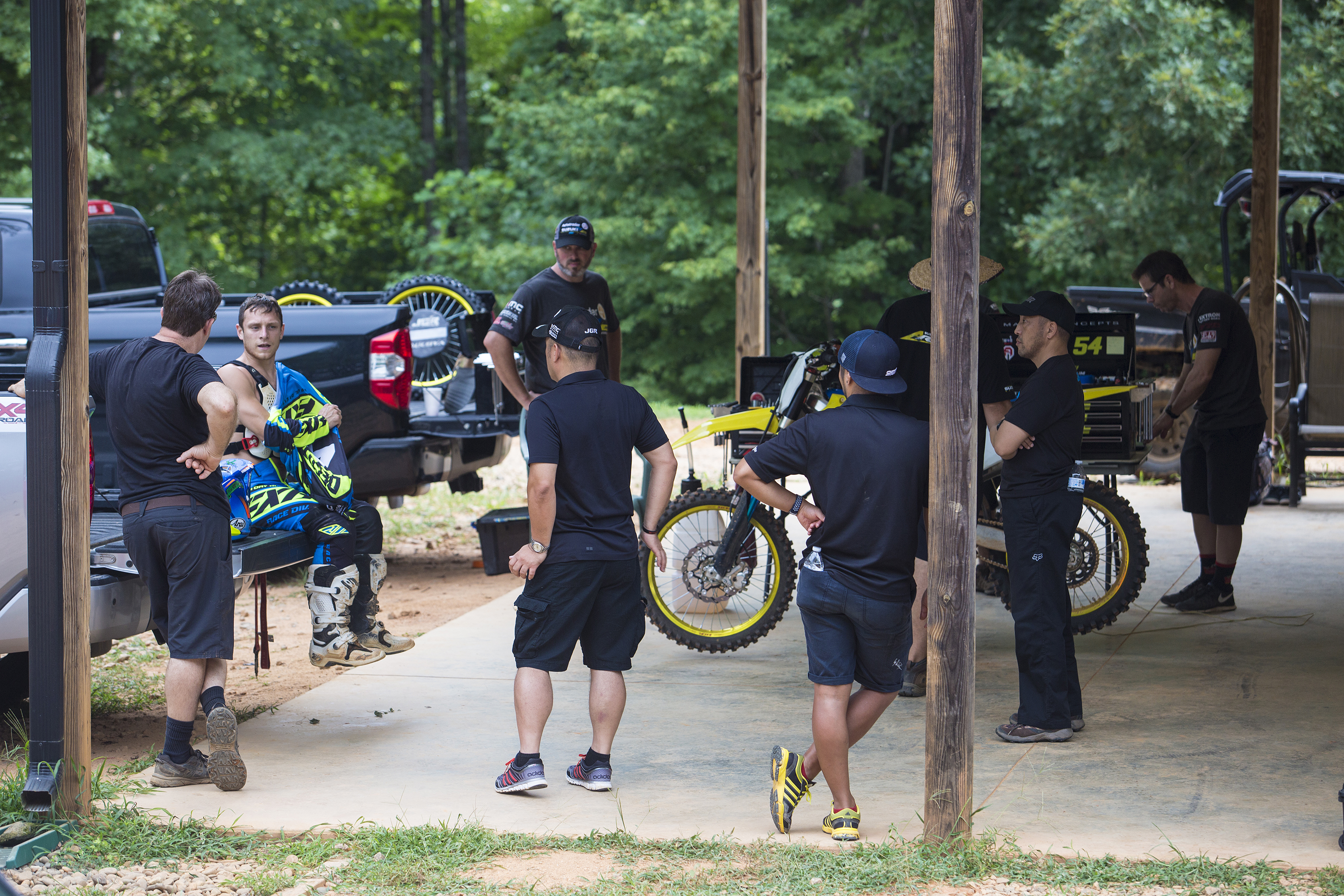 Justin Hill was impressive at Washougal, logging the second-fastest qualifying time, finishing fourth in the first moto, and running third early in the second moto.
Justin has been getting better. I'm really happy we moved him up to the RM-Z450. It's funny—Justin and I sat down and talked after the supercross series. He asked if he could get on a 450, but the timing wasn't right. Kyle Peters had just blown out his knee and Jimmy Decotis wasn't back yet after his crash. I told him that I wish I could let him ride the RM-Z450, but that I needed him on the 250. Enzo Lopes was going to ride, but I didn't know what to expect with him being a rookie. I knew that we needed a solid guy on the RM-Z250, and Hill would provide that. He raced the 250, but things weren't going as well as we wanted. That's when Phil Nicoletti ended up doing something else, so it opened things up. It only took me 15 minutes to come up with what I thought was the best plan, so I called Wheeler at 6 a.m. his time in California to make a plan. I also asked Coy what his opinion was, and everyone was on board.
Really, the only negative was that Justin didn't go out and get the results on the 250 that he wanted to. However, having him ride the RM-Z450 is helping him prepare for next year. I figured that if he did well outdoors on the 450, then it would build confidence. If not, then he would know what we needed to work on prior to next year. Things have ended up working well. He's very comfortable on the bike, and he rides it very smoothly. It's funny how every rider says that they are better on a 450. Justin Hill actually is! I'm happy to say that Justin was right [laughter].
Justin Bogle has scored six holeshots out of the past eight motos, but he has been dealing with the after-effects of an upper arm injury and is sidelined for the remainder of the national series.
Yeah, it's a bummer. Justin's starts were on point. He actually gave the other guys confidence that they can get great starts, too. All three 450 guys were right up front in both motos at the last race. I'd like to say that we stayed up front, but Hill hit a tree, Bogle over-jumped something and hurt his arm, and Peick was dealing with his hand. As for Bogle, I was excited to see him return at Southwick, especially with his good starts. Unfortunately, his arm injury held him back, so he underwent successful surgery this week to repair a damaged nerve. As a team, we keep hitting roadblocks, but it's all stuff that's going to make us stronger in the end. I think that we're getting better every week. This sport is tough.