Washougal MX Park
Washougal

,

WA
Washougal
Lucas Oil AMA Pro Motocross Championship
Tyler Bowers hasn't raced very many nationals lately, but he's made a habit of hitting Washougal in the last few years. He did pretty well, too (15-9 for 11th overall in the 450 Class), especially considering he hasn't raced since supercross. We caught up with him to chat about his return to Lucas Oil Pro Motocross for this week's Privateer Profile.
Racer X: Tyler, what's up?
Tyler Bowers: Nothing much, just getting to the track. Getting ready to start my job. It's a rough one today. Had to drive all the way back from Washington [to Southern California] and I'm struggling still.
Let's swing right into this, then. Haven't seen much from you lately, but then you show up and go 15-9 for 11th overall at Washougal. How was that?
It was pretty good. Obviously, the second moto was a little better than the first. I'll be honest, I went out for the first moto and rode like I didn't know how to ride a dirt bike, like I've never even been in a race. The gate dropped and it was chaos for a few laps. I guess I'm a bit rusty after being out of racing since supercross, and I haven't raced an outdoor race since the same time last year. I tucked my tail behind my legs and let everybody pass me and dropped back down to like 25th. Then I was like, "Dude, I need to just get over this!" So I figured it out about halfway through the first moto and pulled my head out of my butt and started riding like I know how to ride. Got a little bit of a flow and got up to 15th. It was a little bit of a bummer that I wasted half that first moto, but I took away some positives in knowing that I still knew how to ride a dirt bike, and that I just needed to do that the whole time in the second moto.
Second moto I got off to a mediocre start, which is usual for me. I was also running a stock engine that I borrowed from Curt Wharton, one of the local guys up there, because I grenaded my race engine a couple days prior at the Thursday night race at PIR [Portland International Raceway]. So the starts weren't ideal and I had to keep working my way forward. I think I was up to eighth, but [Cooper] Webb passed me toward the end. I was pumped to end up ninth in the second moto.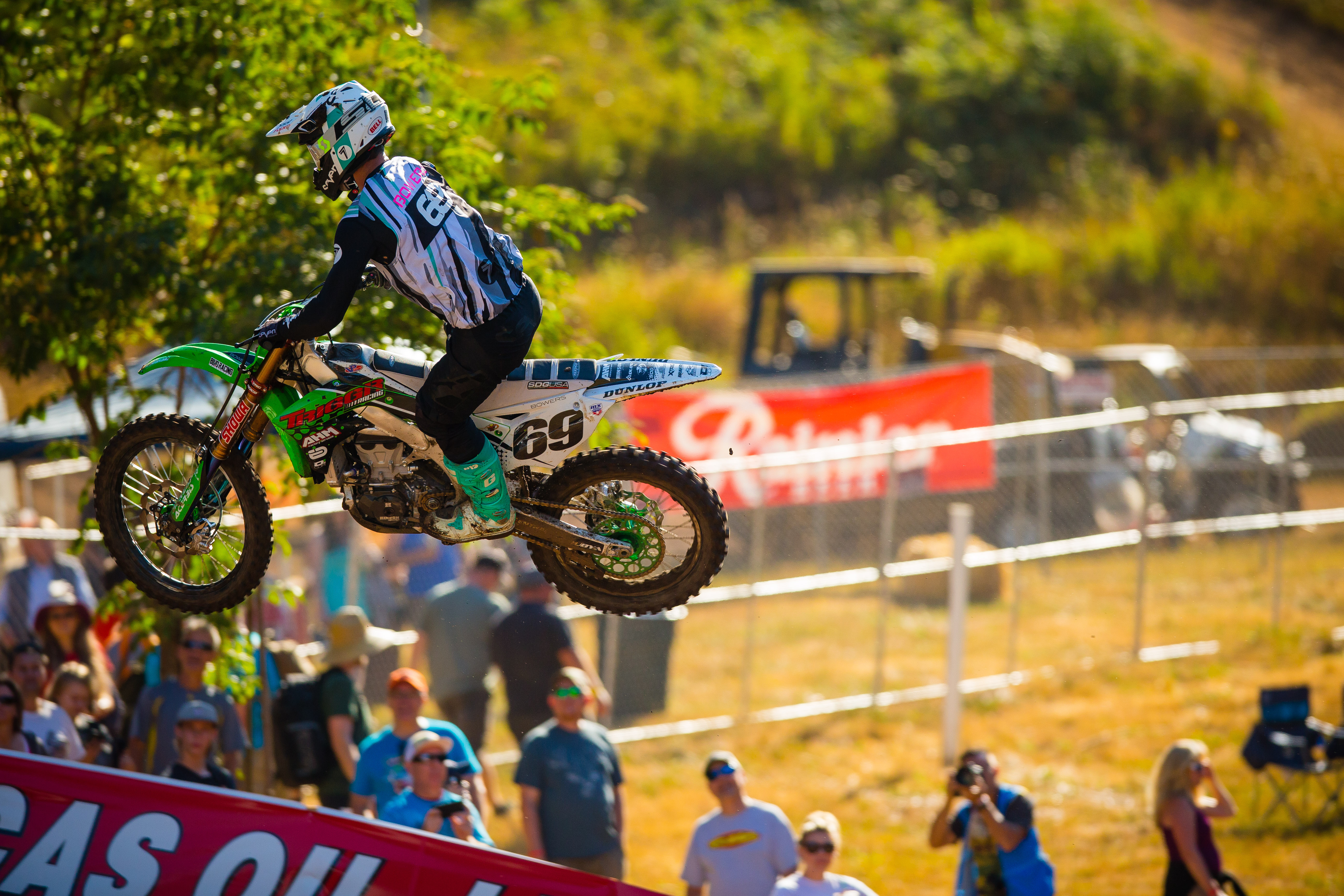 When you blew your motor, did you start thinking things weren't meant to be for the weekend?
Totally. I went up Friday, a week before Washougal, and rode a money race up there [at Mountain View MX Park], then I did the Thursday Night Motocross at PIR. That's pretty good money, too—even the top three, you make some good dough. Those races are the reason the trip makes sense. To do the national, I'm just spending money to race; I do it because I want to. So I got second at Mountain View, which I wasn't too pumped on, and then at PIR, the bike blew up while I was leading with two laps to go. I felt it getting slower and slower. I tried to limp it through, but finally it just went. I was like, "Wow, something's going on here." I do some testing for the Kawi guys and they didn't really want me to race the national anyway. I was thinking maybe God had a plan for me, maybe he doesn't want me to race the national or something. Then of course, somehow some things fell into place on Friday morning and I was able to get an engine. I was like, "Maybe there is still hope."
I was just planning on going out and having fun, and that's what I did. I had a blast out there. It had been a year since I've raced a national—it was Washougal last year, too—and it was a whole year before that since I'd raced one. I enjoy the nationals, but a lot of people don't. They're rough and they beat you up. It's kind of a love/hate thing—you definitely feel like you've accomplished something after a national, and it was pretty cool to do it.
Well, you just have to do more of them…
I really want to! I work really closely with Chad Kadlec of Triggr Racing, and he helps out Henry Miller. Unfortunately, Henry took a digger this week and he's not sure if he's going to be able to do the last few. Chad was happy with how my weekend went and he wants me to do the rest of the nationals. I'm thinking about it. I'm trying to figure out how to make it work. I'd love to, but I've got some other things on my plate now with Kawasaki and I don't know if everything will fit together.
What do you think you'll do?
That's the million-dollar question right now. I'll for sure keep working with Kawi, I'm just trying to figure out how I can do both. What I'm doing with them is very important to them and very important to me. They've been great to me and I love working with them. Fortunately, we've got this weekend off and we've got a little bit of time to figure it out. I got home from Washington on Monday at about 6:30 a.m., slept for about an hour, then went over things with my wife trying to weigh our options so we can decide what to do. If I do the rest of the nationals, it'll strictly be because I want to. I just have to make sure it's smart for everyone and that everyone is getting 100 percent from me. I'm not going to go out there and half-ass racing or testing.
Why would you?
Exactly. Everyone has to get a full 100 percent from me. I just need to figure out how.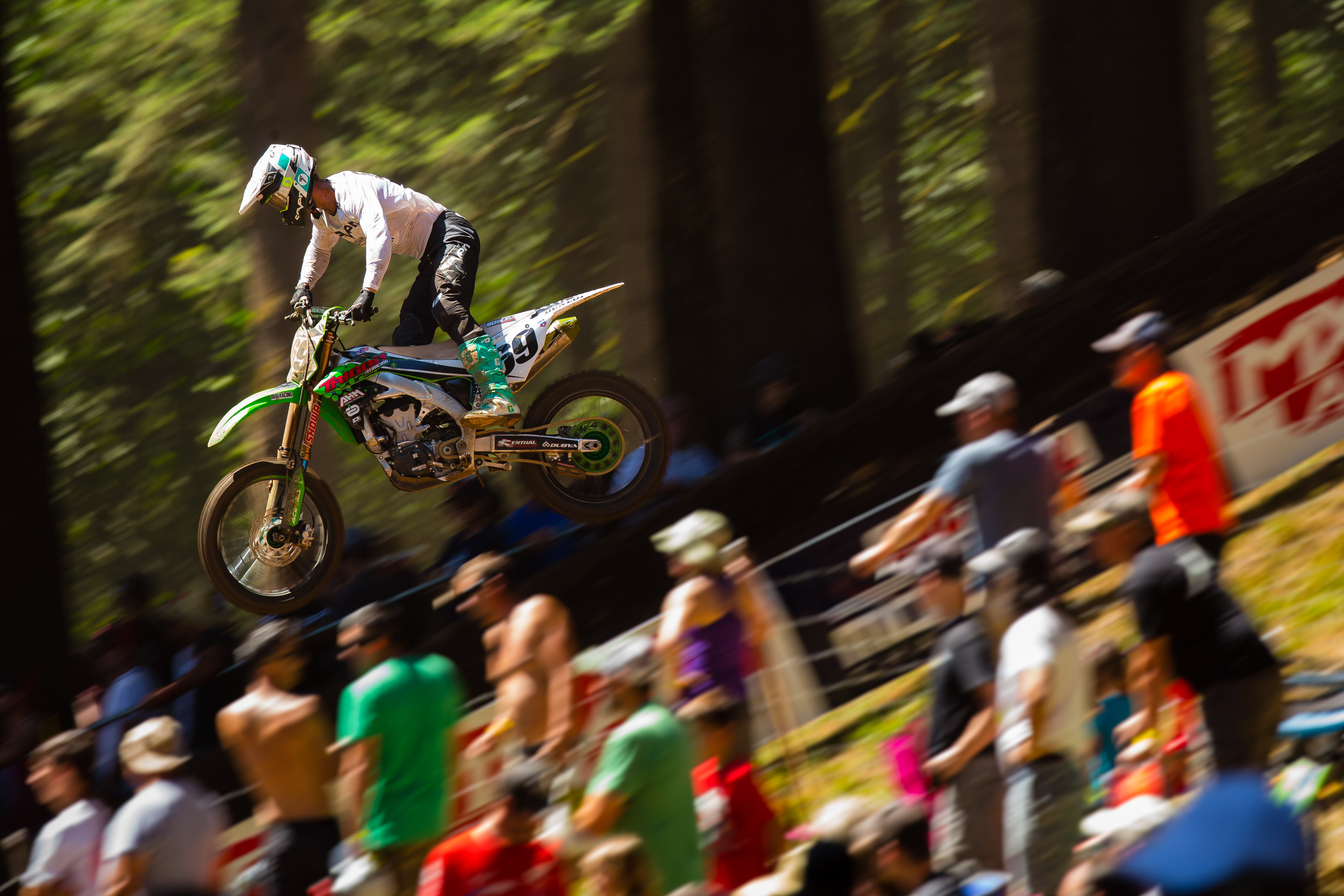 Talk about what you're doing with Kawasaki.
We're working on shaking down the 2019 for the race team. It's a new bike and is quite a bit different than the previous models. We're trying to get it ready for the new season for them. They're pretty busy with Eli Tomac and Josh Grant racing, especially with Eli, who has a championship to win. He's got bigger things to worry about right now. Fortunately they've got a guy in me, who's somewhat fast and can go through whoops and stuff like that and can work on the bike with them.
What'd we miss?
I think we're good. I do want to say hats off to the Triggr Racing guys and the Kawasaki guys for helping out. Also, Curt Wharton for letting me borrow his engine this weekend and abuse the crap out of it for two 35-minute motos. That really saved me for the weekend and made things a lot more positive than if it had ended on Thursday night.