Washougal, WA
Washougal
Lucas Oil AMA Pro Motocross Championship
Yeah, Washougal! Great part of the country, great track— well, pretty good, anyway, and always a fun race. After a bit of a lull in attendance (all estimates done by my eyes only) when the series moved to Saturdays, I feel like Washougal is as packed as ever. Last year was insane, and this year—to me, anyway—wasn't far off.
The 2018 Lucas Oil Pro Motocross Championship is in the home stretch, as only three races remain. The 250 title is basically done, but the 450 title… well, as we've seen lately, plenty of stuff can happen.
Here is Washougal by the numbers:
2:14.395
Eli Tomac's fastest lap in the second moto at Washougal. He also did a 2:14.412 the lap before. He was simply ridiculous in coming from a so-so start and a fall to win the moto and go 1-1 on the day. On a track you supposedly can't push on and have to be careful on due to the shadows, Tomac was throwing caution to the wind. His aggressiveness was next-level, and if you're Marvin Musquin or any of the competition, you've just to shake your head at the guy. As I wrote last week, Eli Tomac's going to determine whether Eli Tomac wins or not. How he wakes up and feels, whether he self-destructs or not, affects all the other riders. If he's on, it's over for everyone else.
30
Percent difference between Eli Tomac's holeshot percentage in supercross (35 percent) versus outdoors (5 percent), as he's pulled just one official holeshot through 18 motos this year. Tomac didn't have a great percentage in 2017 supercross, either, but that series instituted a metal grate which seemed to really help Tomac. So grate = great starts for Tomac. Dirt = not so great.
2
Laps that Ken Roczen was away from winning his first overall in two years. The "Tomacenator" hadn't gotten a great start, had fallen, and it looked like Roczen had a nice lead. But then, well, you know. Eli's gonna Eli, and that was it for Roczen's win. I mean, come on, Eli, couldn't you have let the German win? No matter—Roczen had Marvin Musquin covered, which is impressive, and he's gotten three straight second-places here. Remember when he was so bad at the Hangtown second moto? Then so good at Thunder Valley? Then so bad the next couple of races? And now, he's so good again.
4-3
Scores for Monster Energy/Yamalube/Star Yamaha's Aaron Plessinger to take the overall win at Washougal. Last year we had Joey Savatgy take the overall with a 7-1, so clearly, weird things are happening in 'Shougal. Plessinger rode well all day but not on the level of his last nationals, but hey, that's okay. You're living right when you win with a 4-3.
4
Approximate number of times Pro Circuit's Joey Savatgy said he "needs to enjoy it" on the podium after winning his first moto of the year at Washougal. Admit it—after his teammate Austin Forkner squeezed by for the lead, you didn't think Savatgy would muster the speed to get back by the kid. In fact, with the way his year has been going (and Pro Circuit's in general), you thought the teammates would hit and both go down. They didn't, and to Savatgy's credit, he grabbed the win. That had to feel like an anchor lifted off him. Second moto, he rode great to come from way back after a crash. Don't be surprised if he's a podium threat every moto from here on out.
100
Percent chance that Tomac was the rider launching the farthest off the single into the sand section. Sweet Jesus, he was soaring off that thing.
104
Points that Plessinger has over third-place Justin Cooper with just 150 up for grabs. He should put Cooper out of reach after Unadilla, then clinch the title over Alex Martin at Budds Creek, leaving Indiana as a race where he could maybe race a WR or something.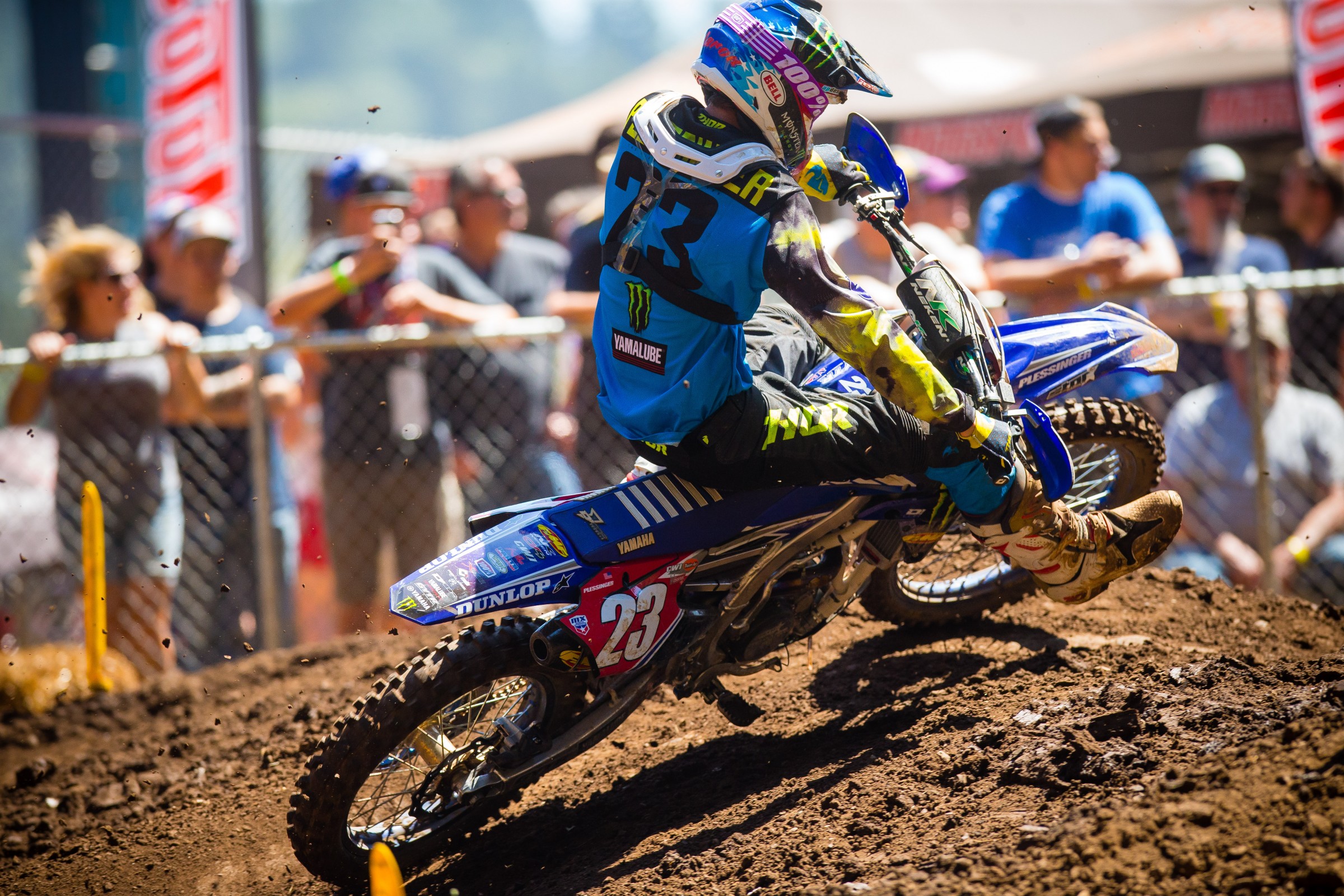 1
Number of career moto wins for Shane McElrath after his second-moto win at Washougal. And it was impressive, as he just pulled away from the field early and maintained that gap throughout. McElrath wasn't that good to begin the season, but he told me that some testing after Thunder Valley made a big difference (and being more familiar on the East Coast tracks), and hey, whadda ya know: Shane's won an overall and a moto this year and sits fourth in the points. Maybe, just maybe, he's an outdoor guy also.
6
Number of holeshots that Autotrader/Yoshimura Suzuki's Justin Bogle has pulled in his eight motos that he's raced this year. That's simply ridiculous, folks. He hasn't had the type of comeback to racing that he would like, but the starts are on point.
[Ed note: Bogle announced that he will need surgery following the season to fix ulnar nerve issues he's been dealing with. According to Bogle, the issue has been causing arm and hand numbness.]
1
Tree hit by Justin Hill at Washougal. Man, his crash was scary. In a fairly high-speed section, Hill cross-rutted and shot off the track. There was a hay bale on the tree so that part is good and outside of a swollen knee, Hill will be fine, but man, that's gnarly. I didn't see it live but I heard the crowd over by there all groan loudly. Up until the tree, Hill had been riding very well and was in place to get two top-fives on the day.
17
Spots that Cooper Webb made up in the second moto on his way to a seventh. You know that he was probably even further back than that. Impressive ride. Webb's comeback, like Bogle's, probably hasn't been what he thought it would be, but I was talking to Yamaha team manager Jimmy Perry before the race and he seemed to think the week off would help Webb and that the bike is where he, and Cooper, want it to be.
2
Factory team spots that were open but look to be filled by the same riders. Honda's Cole Seely and Yamaha's Justin Barcia both told me that things look good for them to re-up with their current teams.
4, maybe 5
Times that Eli Tomac's Alpinestars pants have broken this year. A-Stars is an awesome company that puts out some real cool and protective stuff, but this is getting a little silly that they can't figure out these side straps on their pants. For half the second moto, Tomac kept having to reach over and pull them up.
$940.00
The amount that I paid for privateer Alex Ray's flight and hotel to Washougal, thereby becoming his title sponsor. The goal was to help Ray get to the race, go 1-1 (or something like that), and have factory Yamaha add a third bike to the semi for the last three nationals. The only condition I had was I had always wanted my face on some rider's jersey, which Ray agreed to and O'Neal was happy to do. And to have Jason Weigandt and Rob Buydos refer to Ray on the "PulpMX Yamaha" on TV and at the track was incredible. Thanks to CycleTrader/Rock River Yamaha and mechanic Dylan Curtis for the help to make my dream come true.
0
Percent chance that after Ray's crash-filled, flat tire day (why didn't Dunlop put a mousse in his rear tire? I don't know, but as team manager, this probably falls on me) that Monster Energy Yamaha puts a third bike on the truck for Unadilla. "We" were running 17th in moto one and looking good, but it all went downhill from there. My days as a team owner are over.
1
Clutch needed for my rider Alex Ray after practice. Yes, he went through a clutch in 24 minutes of riding. "We" gotta work on this moving forward from here.
2
Times that Weege mentioned Alex Ray on the "PulpMX Yamaha" on the broadcast when Ray was getting lapped. Yeah, it's not ideal to be mentioned that way, but it's better than nothing. Watch for PulpMX.com to explode now!
$5,000
Amount of money Weston Peick offered Ray after practice to take off the PulpMX graphics and gear. Thankfully Ray refused and there were no confrontations. Peick did say that if things went well, he might give Ray some help for Indiana National, but afterward said he was pulling his offer off the table.
23
Points that Kyle Cunningham scored at Washougal, which matched a season best (RedBud). Cunningham has been flying under the radar for much of the season, and although JGR is carrying his bike and his SX team, H.E.P. Motorsports, is helping with equipment, he's as privateer as it gets. And he's tenth in the points! I know it doesn't look like it, but trust me, he's a privateer.
7
The number of races Josh Grant has suited up for this year, the latest coming this past weekend. It's been a tough year for the vet, but of course he showed speed early in the first moto before ending up tenth. He couldn't start moto two due to soreness in his ankle, but it was a glorious ten minutes early on in moto one for the 33.
1
Win for Yamaha's Ryan Villopoto at Washougal in the 125 All Star race. It matches his career win total at Washougal when he raced the pro classes. It had been quite a winless streak for Villopoto since he started dabbling in racing post-retirement. He lost Red Bull Straight Rhythm to a guy named Stank Dog, he lost X Games Aspen Snow BikeCross, he lost to a 15-year-old at the Hangtown 125 race. Whew… I'm glad he's still got it! His YZ125 sounded sick, by the way.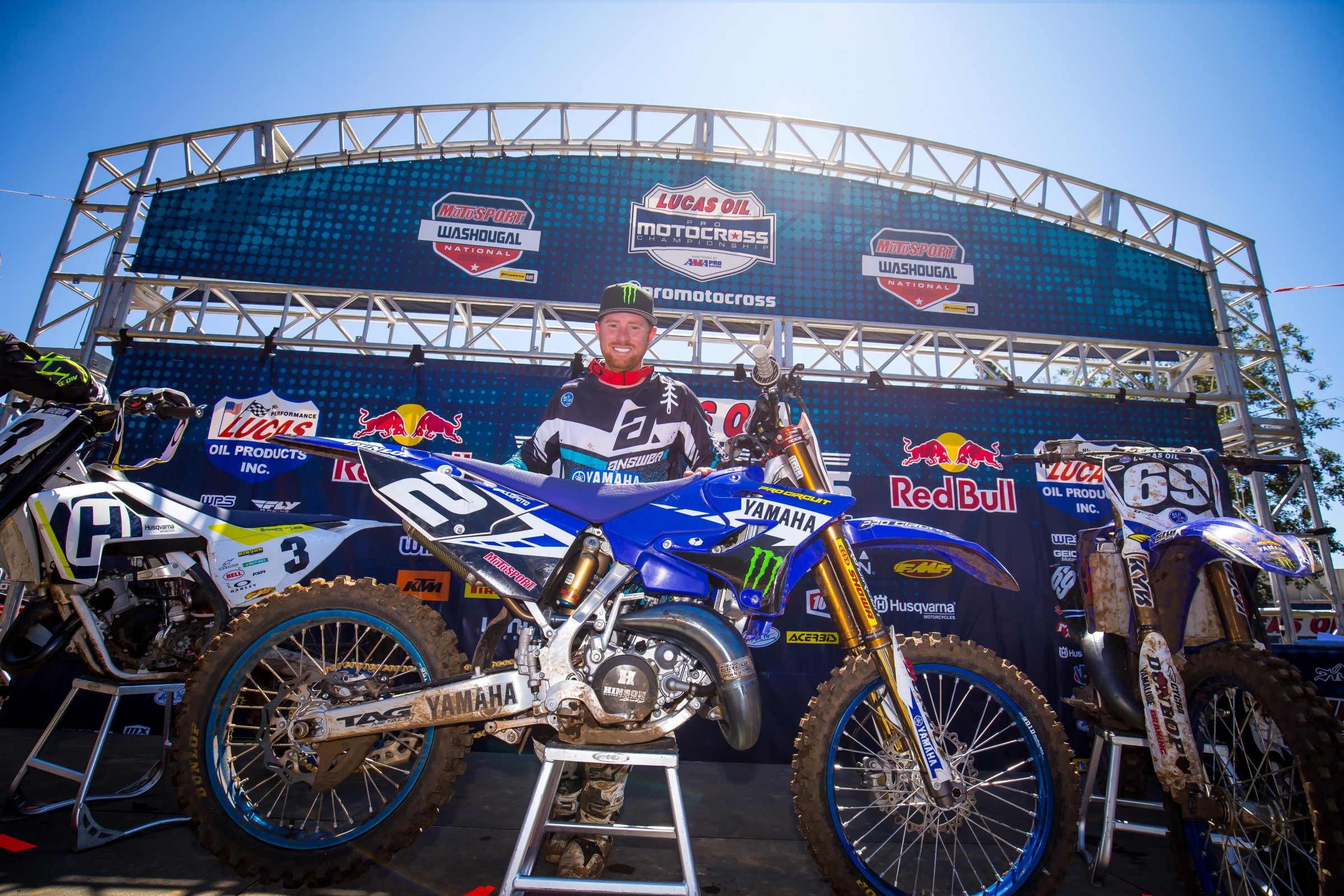 0
The number of times Heath Harrison will ride for Phoenix Racing Honda the rest of the year after he and the team agreed to part ways. It hasn't been going that great for Harrison, who's had some impressive privateer rides here and there with the team. So the team put Carson Brown on the 450 and the kid responded with his first national point with a 20th in moto two.
8
The number of post-race interviews I lost when my SD card in my H6 Recorder decided to take a dump. Too bad, the convos I got from Payton, Betley, Lopes, Bloss, McElrath, Cooper, Enticknap, and Bowers were absolute gold and they're lost forever.
9
Potential points lost by Lorenzo Locurcio at Washougal as the hard-luck Venezuelan was riding well in moto one when his chain broke late in the race while in 14th. With a crappy gate pick for moto two, Lorenzo fought hard to go from 35th or so to 18th when a crash did him in. He rode well, but has zippo to show from his day.
1,038
Amount of air miles from Boise, Idaho, to Las Vegas. Why does this matter? Because earlier this week, I was up in Boise for Fly Racing with Blake Baggett and other riders looking at the new gear. When it was time to come home, there was Baggett on my flight. He was heading to Washougal but was going south from Boise to Vegas, then turning around and going north to Portland. Blake Baggett needs a new travel agent.
Thanks for reading, everyone; see you right here after Unadilla where we can chat some more as this season winds down. Email me at matthes@racerxonline.com if you want to chat about this or anything else.