It was a shocker to see Ryan Villopoto under the Yamaha tent this January when Monster Energy Supercross went to Anaheim. The long-time Kawasaki pilot is back on a brand he raced in his minicycle days, and the promise back when he made the announcement is that he would ride a variety of Yamaha machines at a variety of events.
That has included a YZ125 two-stroke, which he used over the weekend to win a stacked 125 All Star race at Washougal. He's also raced a snocross machine at X Games Aspen, and he plans to do some flat tracking on a big Yamaha Bolt in the fall. On Friday evening at Washougal, we found RV hanging out with buddies around his pimped-out moto van and asked for a few minutes for an interview.
This was before he won Saturday's 125 race—you can watch the aftermath of that craziness on our Best Post-Race Show Ever. Here, we ask about his Yamaha relationship on a more serious note.
Racer X: You shocked everybody at Anaheim. You showed up under the blue tent with blue colors. We are a half a year later or so. How's it going?
Ryan Villopoto: It's going really good. As far as I know they're stoked, and vice versa. I'm pretty happy. It's been good. Up here at Washougal for my second 125 race, which is cool. Hometown, but I was able to kind of road trip up here and make a little edit about it and cruise up.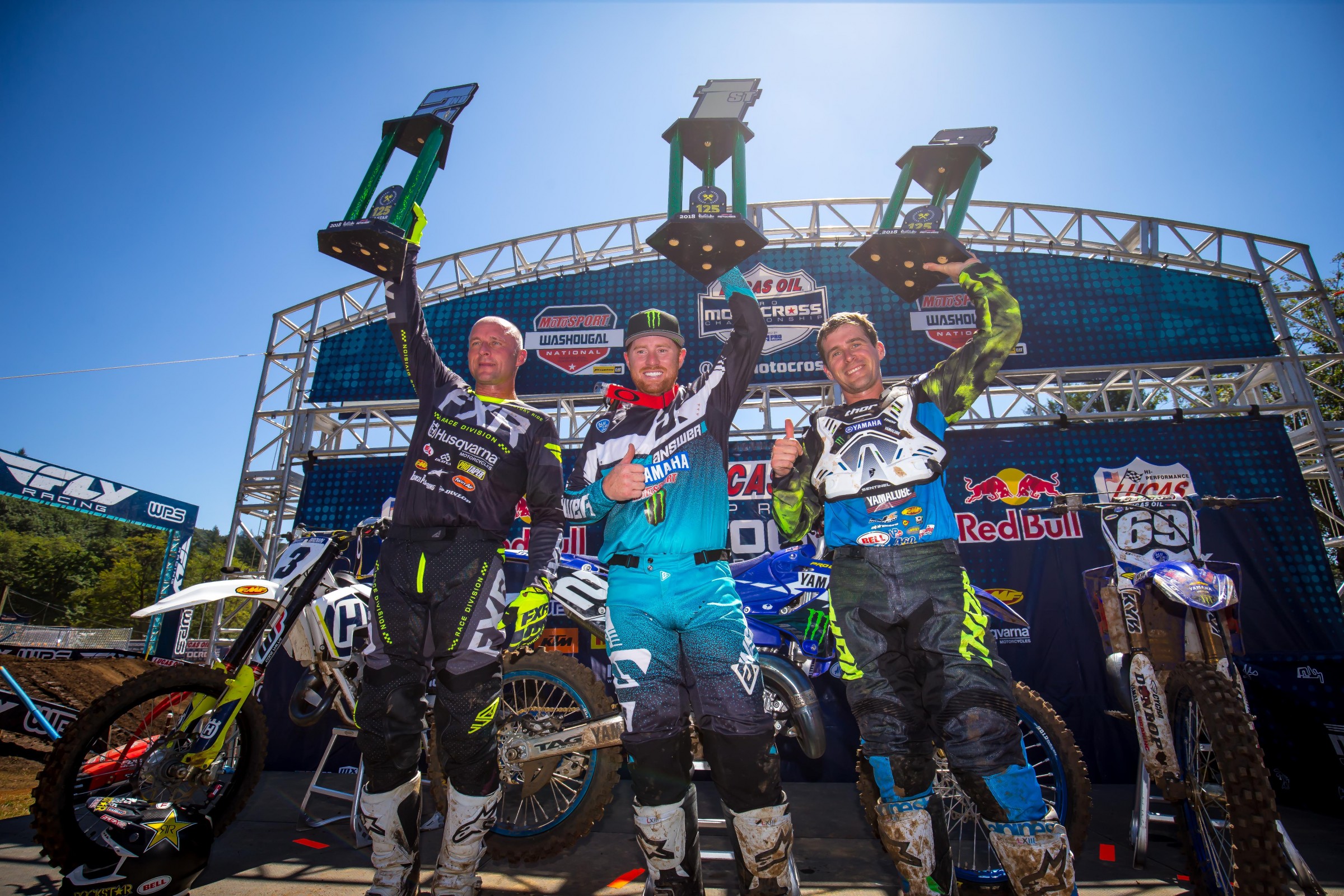 Are you busy-busy, or are you still like, "I'm retired. I do stuff here and there?" Or are you constantly doing stuff? How would you rate it?
Pretty busy. August is a real busy month for me. Between the kids and everything else, yeah, I'm busy.
What kind of stuff have you done? Obviously, we've seen you ride these 125 races. Give me an idea of some of the other things you do.
The kids, that takes up a fair amount of time. Then we have Loretta's right after this.
What are you doing there?
Just showing up for Yamaha, for all the little guys.
You did snocross.
Yup, X Games for snocross. Right after Loretta's—actually, August 13—we do that RV summer camp up here for the kids and, actually, for anybody. So, busy month for August. Then just the normal riding during the week. Sometimes I don't ride during the week, but other times I'll ride two to three days a week. You never really know.
Do I hear some flat track racing, possibly?
I'm scheduled to do Huntington Beach Classic, which is, I think October, September.
So not one of these Sturgis ones coming up?
I was going to do Sturgis, but I thought that with the amount of publicity and how many people were into me racing the 125 at Hangtown, and Loretta's being kind of the same time as Sturgis-type thing, we opted to switch Sturgis out for the 125 race here at Washougal.
Flat track has kind of caught your fancy. It's something for a while you've been talking about.
It's a lot of fun. The Huntington Beach Classic is a big Yamaha Bolt, maybe, or something. It's hooligan racing, so it's not a 450-style machine.
Have you done this before?
No. I haven't even rode it yet. Just the YZ450 is what we've done.
What I've noticed though when you go to these events, X Games you were fast. You were legitimately good, but it just didn't work out.
Yeah, there was no last chance [qualifier]. Realistically, I had not even two days of riding. It equaled out to being like four hours total of riding that thing, which is not an easy machine to ride, by the way. It's really hard to ride. It was fun.
What I'm getting at is, you don't seem to care how you do. You just show up and have fun. You don't seem bummed.
I didn't make the main there. Actually, I didn't even make the show.
Hangtown, you did well. You didn't win it, but you didn't seem like you were pissed off about it.
No. I've done all my racing and beat everybody already. I'm here just to have fun, race my YZ125, and hang out, hang with the fans, and just do whatever. No pressure. Sure, I'd like to win, but it doesn't matter.
I think that's what people like. Straight Rhythm, you were still smiling even though you got eliminated in the semifinal, and you were like, I'm just having fun now.
I've been doing a lot of losing lately!
I feel like you're living up to what you said. "I'm just having fun." You didn't all of a sudden start turning crazy with testing and training like a madman. You're not trying to take any of this too seriously.
No. I've already done that, and it takes the fun out of it. I think maybe some guys might want to do a 125 race, but they're thinking too much about what people think about losing. I don't really care. Everybody likes to see me out there.
Even today, it's press day. It's not packed, but people still had their phones out and people were cheering.
[Laughs] Yeah, they loved it.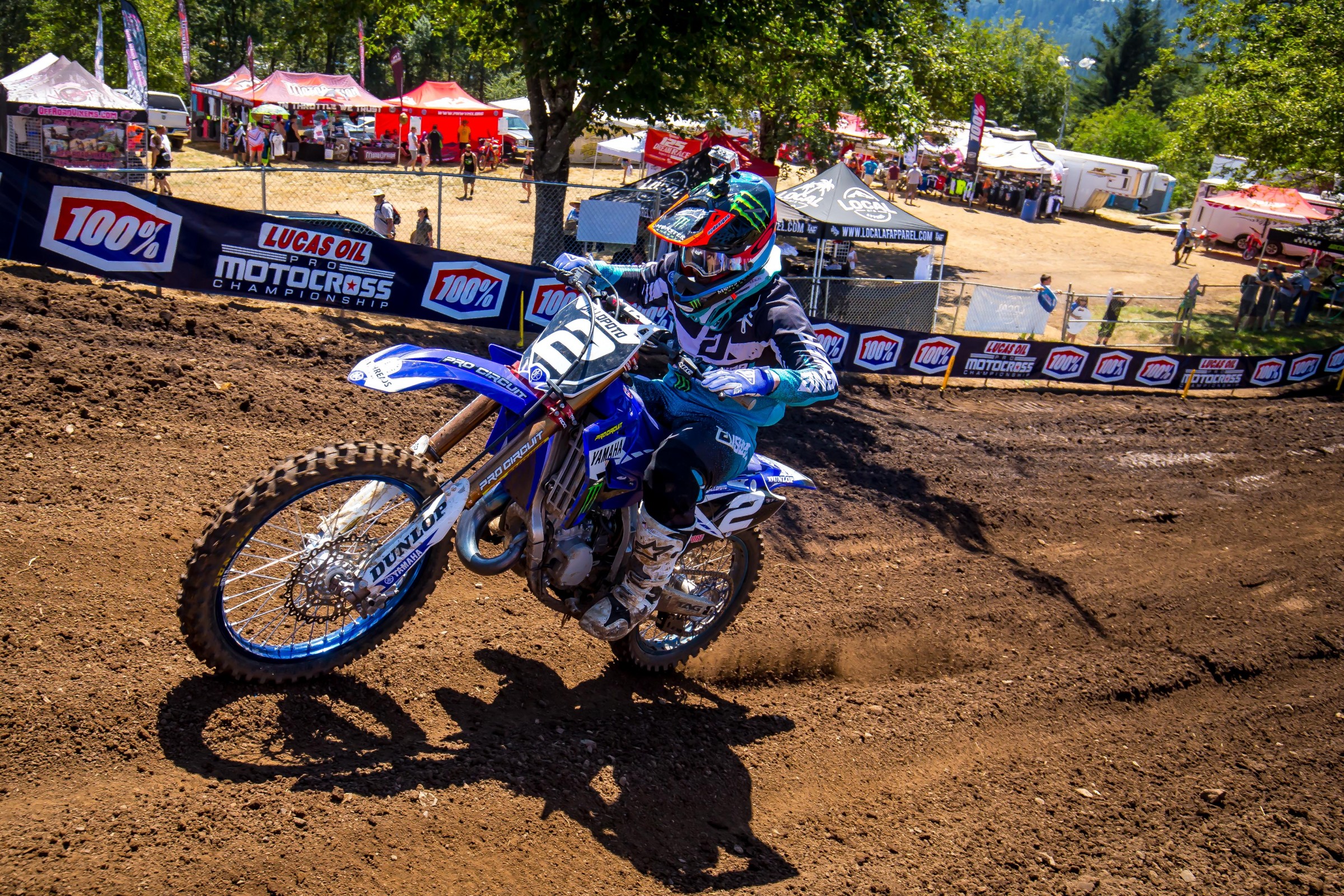 You have your own wing at Pro Circuit, I heard. You got your own little R&D section?
Yeah, I got my own bay. Water, lights. I have the whole nine yards. I told Mitch [Payton] I was going to put a little couch and a TV and a fridge with beer in it.
Is that just where you work on different projects?
That's where I keep all my bikes. My garage at my house is set up as a playroom. No garage for me, really. My garage is my Sprinter van. I asked Mitch, I was like, "Hey, in building B over there, can I set up an area?" Mitch was like, "No, just outside the race shop there's a work bay that's not being used. Just work there."
So do their guys work on your stuff, or do you actually go in there?
If I need something major done, I go up to Craig; he works service. My old mechanic, John, he used to work service, but he's not at PC anymore. He went to KTM, I think. But Craig has been there for a while; he's Ben Townley's old mechanic. So if I need anything major, they obviously do it. As for graphics and Scotch Brite and washing and changing oil, to a certain extent, I do all that.
You're doing that?
Well, I'll go in and say, "Hey, can you guys help me change my oil?" But all the looks and the washing and all that, I do.
How fun is the 125? What was the race like at Hangtown, and what was it like today? How cool has that been?
It was a lot of fun. The Hangtown deal was, I didn't get to ride very much, so I was out of breath in those four laps! I'll admit it. I've been riding a little bit more now, so I should be better here at Washougal.
The fan response, though? Has it been what you've hoped? You got your little setup over here. It's probably going to be packed tomorrow.
Yeah, come on over. It's been good. I think people like it. What am I supposed to do? Not race ever again because I'm worried about getting beat? My job now is to do cool things, sell Yamahas, but also have a good time at it. Be able to just hang out here and have everybody come over and just check it out.
I feel like when you left or retired, whatever you want to call it, people were like, that guy will probably be a lot happier once he doesn't have the pressure of racing. And that's almost exactly what happened! Now it seems like you're the happiest guy here when you come around. It's quite a difference.
It's cool. I took some time off and didn't do anything. I didn't go anywhere, race-wise, for two years, basically. Now I'm back and more involved. It's good to be back involved. Just burning the candle at both ends—after a while, I was over it. I didn't want to see a dirt bike. But now it's cool. I'm more involved.
Do you still go bust on the Kawi guys a bit?
Oh yeah. Big B and Kurt [Rood] and the guys over there, I like those guys a lot.
Still busting balls?
Oh yeah. I helped Big B [Kawasaki rig driver] actually set his tent up yesterday.