Millville, MN
Spring Creek (Millville)
Lucas Oil AMA Pro Motocross Championship
The last time we spoke to Joey Crown, he had just graduated from the amateur ranks and was getting his feet wet in the professional pool. Nearly a year later, Crown has gained some experience, but doesn't yet feel like he's reached his potential.
A regular in the Rockstar Triple Crown Canadian Motocross Nationals this season, Joey still finds time to compete in the Lucas Oil Pro Motocross Championship here in the States whenever there's a weekend off up north. This past weekend at Spring Creek Crown logged a top 15 finish in the 450 Class on a KTM 350 and even ran inside the top 10 for much of Moto 1. We caught back up with the rider out of Michigan to see how things have been going.
(This interview was conducted via iMessage and has been lightly edited for clarity.)
Racer X: Hey, Joey. How's your day been? Motos, training, what's a Wednesday like for you?
Joey Crown: It's going good so far. Went for a cyclecross dirt road ride this morning and just got home from the track. Today at the track I did a moto and some sprints.
Cyclecross? Sounds gnarly. What is that?
Yeah, it's just the type of bicycle it's similar to a road bike with dirt tires on it for dirt roads or grass tracks you race on. It can get sketchy at times with the skinny tires. [Laughs]
Sounds awesome. You're living and training at ClubMX, right? Who do you ride/train with down there and how long have you been there?
Not at the moment actually. Since the Canadian Pro Nationals started I've been staying at home and flying/driving to the races from here. Sadly here at home there isn't to many people to ride with, but before the nationals started at ClubMx I was riding with Cameron McAdoo, Cade Clason, Henry Miller, Tanner Stack, Marco Cannella, and sometimes Justin Brayton. I've been going there on and off for the past two years. Before the nationals I was there for about two months.
Let's talk about Canada a little bit. How's that been going for you? How are the tracks? And how have your results been up there?
It's been going alright; the tracks are quite a bit different then the tracks down here in how they are prepped and how they form which I've struggled a little with. My results haven't been as good as I would like but I've been on the podium four out of the six races and am only ten points out of the points lead.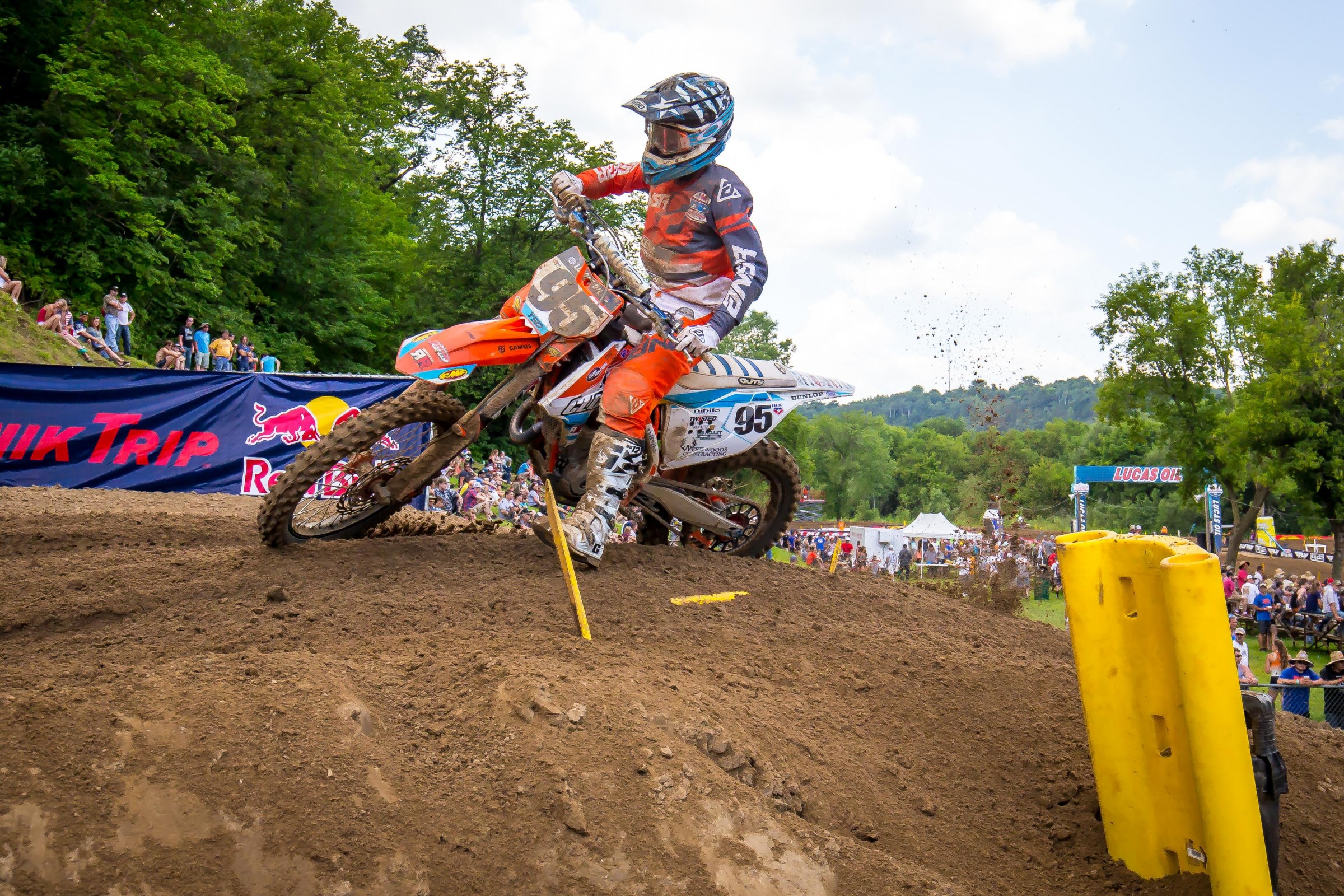 You're doing all of those nationals then?
Yeah and racing down here in the AMA nationals on my off weekends for up there.
What's the biggest difference between our nationals and Canada's?
Our nationals are just on a bigger scale. There are more riders more spectators and the tracks are a bit bigger.
Spring Creek seemed to go pretty well for you last weekend. Happy with it?
Yeah I'm happy with how it went, felt great to run in the top 10 for half the first moto till my arm pump kicked in unfortunately. In the second moto I rode good but crashed twice, but still managed to get 15th overall. Definitely positives to take from it and I know what I need to do to stay in that top 10 for the next one.
What made you choose to ride the 350 instead of a 450?
Originally I was planning on racing the 250 Class at Muddy Creek, Southwick, and theses other rounds but wasn't able to get my bike from Canada to race. So last minute decided to race my 350 that I had for practicing in the 450 Class at Southwick and it went pretty well and I ended up 13th overall so decided to keep with it.
Now that you're a little more experienced as a pro rider, do you feel like you're where you belong? I'm sure the goal is to land a ride for down here, right?
Not yet. I feel like I have a lot more in the tank and learned a lot so far this year to work on to be able to unleash my full potential. Yeah, to land a ride down here is my goal. Here is where I want to be racing.
How many more U.S. races will we see you at in 2018?
The plan is to do Unadilla and Ironman.
Anyone you'd like to thank before we wrap this up?
Yeah I would like to thank ClubMX, Championship Powersports, Redemption Racing, Answer Racing, Dunlop, Mika Metals, Oakley, Gaerne, Mobius Braces, Nihilo Concepts, Boyesen, DT1 Filters, Wiseco Piston Inc, Cycra,YNS Designs, Powerband, Pablo Fitness, MCR Suspension, Shoei, Tamer, Evans Coolant , CV4, Rims Plus.