Millville, MN
Spring Creek (Millville)
AMA Pro Motocross Championship
Ah, Millville! Round eight of 12 of the Lucas Oil Pro Motocross Championship took place on an absolutely gorgeous day. Seriously, it couldn't get much better. Great racing, great track, and lots to talk about. Let's get into it, yeah?
Honestly, any listener of the podcast knows that I think Millville is the best track of the series. I know you RedBud people are frothing at the mouth right now, but sorry, not sorry. You're not the best track. Maybe the best fans, maybe the best atmosphere, I'll give you all that, but you don't have the best track. RedBud even put in some sand whoops to rip Millville off! They know it; it's completely obvious. Millville rules.
Don't talk about how it's hard to pass there. That's just our dirty little secret.
Weird deal with the sand whoops at Millville this year. They were basically flat on press day and on race day, not much bigger. As I said, it's the best track on the circuit, and one of the reasons why is the great sand whoop section that has challenged many a rider over the years. You can make up or lose three or four seconds a lap right there. But in 2018, they were as tame as I've ever seen them, and I've been going there since 1988. Yes, they got bigger by the second moto, but they didn't start that way, and so I don't imagine they got bigger than other years' when they started out bigger (yeah, Phil!). Then at the end, there was a S-turn put in that made no sense at all. Alex Martin even agreed with me on that.
By the way, as I said, I've been going to Millville since 1988 as a fan, racer, mechanic, and now media guy, and the list of the best riders I've ever seen through those whoops are:
1. Ricky Carmichael and James Stewart (tied)
2. Every other rider in history.
After RedBud, I wrote that Eli Tomac had to manage himself a bit better in the second moto when, after his bike blew up in moto 1, he didn't get a great start and then fell two more times. I pointed to his main rival Marvin Musquin, who fell in the first moto and came from basically last to a second. This is managing a moto, and Tomac needed to do that.
Well, there was no managing anything at Millville for ET3. He simply blew everyone away. I know he only led nine laps on the day, but he logged amazing rides in both motos. Somehow he caught Musquin late in moto two, when the track is the gnarliest, and I'd bet if you put some truth serum into Musquin, he'd admit that he thought there was no way Tomac could get him. But Tomac just Tomac'd him and took off to turn a three-point deficit going into the day to a seven-point lead.
It was just simply a ridiculous bit of riding. Going into the weekend, people wanted to talk about Marvin being so good at this track last year, but once again, for the fourth straight series, most weekends Eli Tomac is going to determine how the other riders do. If he's on and doesn't beat himself, it's a race for second.
Having said that, the pre-injury Ken Roczen would be right there with Eli, in my opinion, but for now, as he told me after the race, he's working and building for 2019. The last two races, we've seen Roczen be back to a potential race-winning rider. He led the first moto for a while until Tomac got him, and second moto he was in the mix for a second overall. Roczen's 2016 ride at this track on his RCH Suzuki was one of the best days I've ever seen a rider have.
Aaron Plessinger is simply amazing right now. He showed up at Millville, the track that Alex Martin lived at, and went 1-1, including passing Martin on the first lap of moto one. He extended his lead, and only a disaster is going to keep Aaron from being a double champion in 2018. What a riding clinic he put on, especially down the hills. On the uphill triple—whose face measured at a 46-degree angle, by the way—Plessinger was getting over it with ease, and he's probably one of the heaviest riders in the class. This just in: The Monster Energy/Yamalube/Star Racing Yamahas are no joke in the motor department.
After the race, I interviewed Alex and Aaron at the same time here, and here's a little snippet of it.
Me: Do you have any questions for Aaron Plessinger?
Alex Martin: I'd like to see some video footage of what he was doing down that downhill.
SM: Maybe he was cheating.
AM: Or how he was getting over the uphill triple better than I was, and I got 30 pounds lighter on him.
SM: That's an excellent question. The uphill triple, you were fantastic.
Aaron Plessinger: I was going around the outside and I was like, tucking my body. Then just downsiding that little double and then just matting it all the way up the face and pre-loading.
AM: I can add to that, as I was doing the same thing. I was going like that, and then I was matting it, but I was coming up five feet short.
AP: I got the leverage of the legs to pull me up that extra five.
I also asked Aaron about any changes he made to his bike before RedBud, because remember when he was in a bit of a slump? HAHAHAHA, those days are over. Aaron told me that team manager Wil Hahn tested a new fork setting that seemed to work pretty well. I hope Wilbur doesn't hear about this or I'm never going to hear the end of it.
For his part, Martin wasn't making any excuses on how Plessinger beat him at his house. He did ride two totally different motos, though, and when I asked why he gave me the reason.
"I kind of made a call for the tire to go away from the paddle. Second practice it was really slick, and I was fighting the bike a lot. Qualified 11th, which set me up terrible for a gate pick. I went back off the paddle tire to the normal tire that we usually run on whatever tracks, and it was a bad choice. I got ate up on the start terrible. Just fighting. Didn't seem to have the power.
"Second moto we went back to the paddle tire and I holeshotted. Honestly, the first moto, I feel like it was my error just going away from that tire. It seemed like as much as it was slick and hard pack in practice, it actually came around for the motos and there was a little bit more loam and it was sandy, like a typical Millville. Bad error on my part there."
Normally I'd shake my head at this, but Martin knows Millville so well, you have to think the tire did make a difference here. Also, Millville, for as great as it is, isn't easy to pass on, so once he didn't get the start, it was struggle street for Troll.
Minnesota has had some great riders over the years. For a long time, it was Michigan that pumped them out and had everyone wondering how riders that couldn't ride for five months of the year could be so fast, but now we're wondering the same thing about the D-23 folks. Since it was Millville, I thought I'd rank the all-time Minnesota riders for you folks.
1. Ryan Dungey. Well, duh. Dungey's a legend in the sport and got out after winning his fourth 450SX title to go with his three 450 Pro Motocross titles, his one 250SX title, his 250 Pro Motocross title and three Motocross of Nations wins. In short, he won everything one could, and it all started from humble beginnings. Dungey was no one's pick to be one of the all-timers.
2. Donny Schmit. Donny was the first rider to really put Minnesota on the map with his finishes as a factory rider for Suzuki. Unlike Dungey, Donny was a can't-miss amateur kid for Team Green. He left America early because he didn't want to race SX anymore (although he won a 125SX title) and won two FIM Motocross World Championships. An animal off the bike with his training, Donny left us all too soon. I was honored to call up a bunch of his friends and have them tell me about Donny here.
3. Jeremy Martin. Jerma has had an unlikely career in moto also, talking to those who saw him when he was young. Brother Alex was, early on, the one people thought would be a top pro. But Jeremy proved to be a quick learner and has won two 250 Pro Motocross titles and some supercrosses. His career is far from over, so if he gets a 450 win either indoor or out, he jumps Schmit in my eyes.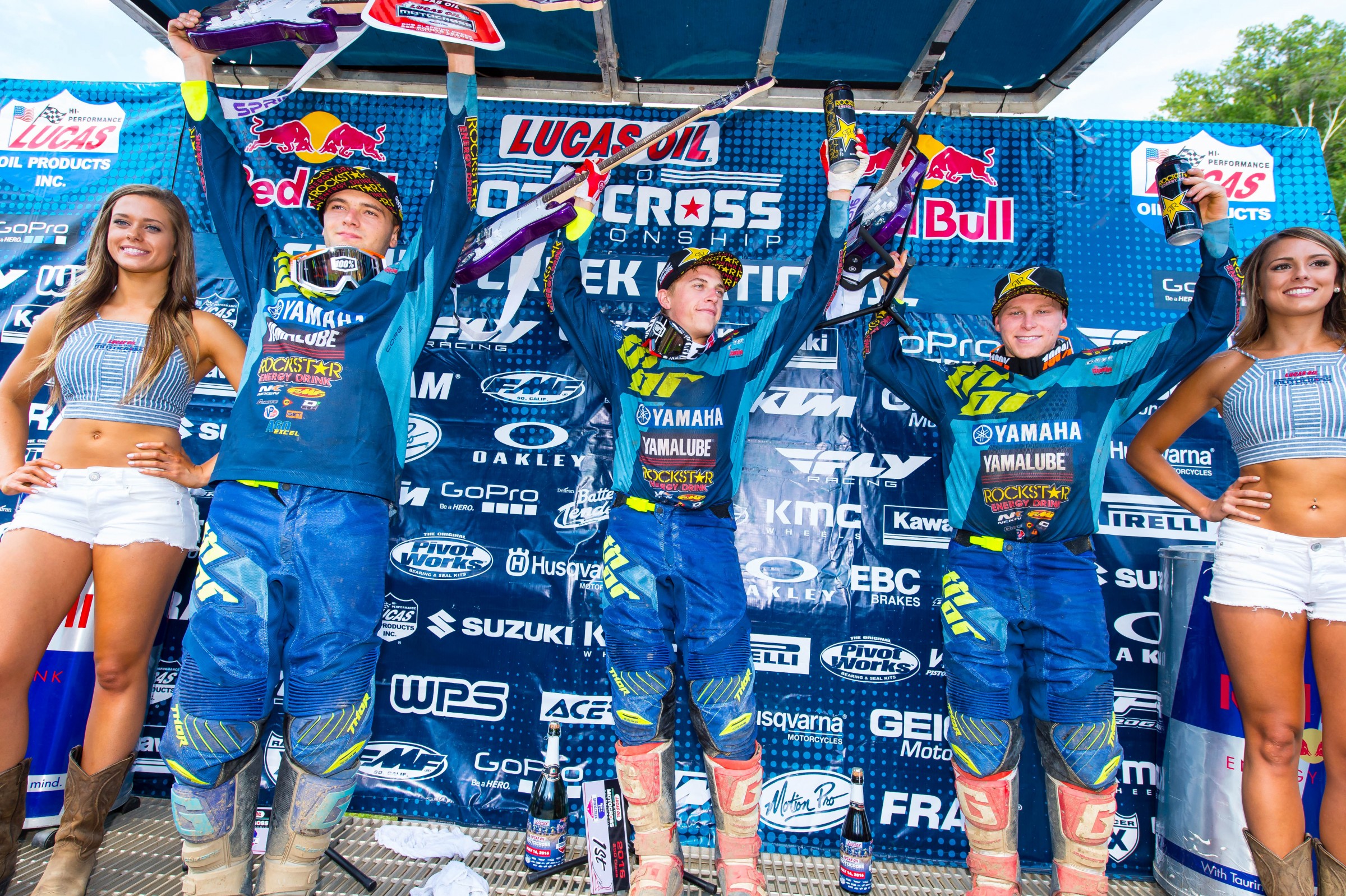 4. Heath Voss. Yeah, that's right. Voss was a factory Yamaha rider and even won a World Supercross title (although he didn't race the best of the best), which was pretty awesome. For a long time, Heath Voss had some really good results. Go look them up.
5. Alex Martin. The older Martin brother doesn't have any titles, but he's got a couple national 250 Pro Motocross wins (I mean, flip a coin between him and Voss if you want) and 250SX podiums. He's had to grind to get these accomplishments and nothing's come easy for Alex, but he's shown great speed the last few years.
6. Tom Benolkin. Benolkin seemingly raced forever in Minnesota and almost every local has a story about him. He made a podium at Washougal in 1981 and finished top five in the 125 series that same year, so yeah, #6 seems right.
7. Cory Keeney/James Polvolny. Keeney had better results but way shorter of a career while James was a working man's privateer for a long time, making mains and scoring points. Keeney had me drag him down in '96 as his mechanic in MX before he fired me, so to get back at that unjust move, I'll only put him in a tie with Polvolny.
8. Bruce Gates. Gates never ventured much out of Minnesota, but he was fast and a local legend. He did do well in some 125SX races back in the day. Raced for 30 years, it seemed like.
9. Tucker Hibbert. I don't know where to put a guy that was a Snowmobile God on this list, but he was plenty fast on a dirt bike, so he's got to be here, right?
10. Pat Donaho. It's my list, so I went with a wildcard here. I used to race in Minnesota a lot back in the day (I felt so old on Saturday when a listener told me I raced against his dad and he looked, like, ten years younger than me. #FML) and Pat was this four-foot-five kid on a CR80 that was hella-fast. He made the KROC one year out in Vegas but never did anything as a pro, but man, was he fast back on eighties. It's my list, so suck it. Pat's on it.
(I don't know, I guess I could've put Mitchell Oldenburg on this list, but I heard he left Minnesota really early to go to Texas. He's out.)
Other News and Notes
Jordon Smith had a good day at Millville, leading some laps and ending up fourth overall on the day. His team manager Tyler Keefe told me that on the break, they went and tested some new suspension settings with Smith that made him happier, and clearly, it did. Smith, like RJ Hampshire, are veterans in the class now and on good equipment, but can't seem to find that consistency they need. I think Smith's got more speed upside than Hampshire, but both guys need to get into that almost-every-race-podium-potential level soon.
Privateer Austin Root trains and rides with Roczen, Chase Sexton, and Adam Cianciarulo (when he's healthy) and has been plugging away after an injury-filled winter to get himself established in the 250 Class. He's had some ups and downs, and at Millville, he ended up pulling into the mechanics' area in the first moto to fix his front end and still got 23rd. Weird. Second moto he got 17th and has 14 points on the year, which should get him a national number.


I was talking to Blake Baggett and his dad Tom before his first moto and, as usual, Tom was calling me "CNN" and we were having a good laugh. Then I asked Blake about his holeshot to endo on the first lap at RedBud and he said that he never saw that bump, and before he knew it, he was visiting cartwheel city. I told him that it's just not his outdoor season; no matter what you do, the motocross gods aren't letting things go your way. I know it's nothing official, but I am a believer in that sort of thing—karma, luck, momentum—whatever it is, man, you have it or you don't. Baggett's been unbelievably fast at times this summer, but it's just not working out. Crashes, starts, whatever it is, something happens. For more on this, see: Savatgy, Joey. Both Tom and Blake agreed with me, saying everyone on the team is working hard, Blake's been working hard, but when he won his 250 Pro Motocross title, things went his way at times. Things like that make covering this sport hard, but that's why you also love it. Anyway, Baggett got a third in the first moto, which was good, then fourth in moto two to stay just off the podium.


Baggett's teammate Benny Bloss didn't have the kind of day he would've liked, but he's had a good season overall. Last week he asked me to ask him what he's got going on for next year to, you know, put the word out that he's looking for a ride. Then on PulpMX Show he was mad that I said that he told me ask him that. Whatever, bro, there's no promotion like self-promotion, and this week he told me he's close to signing something (I assume with his same team), so it worked! You're welcome, Benji, I'll take the 7 percent now as your agent.
I'm not typing anything out about Pro Circuit's day. Once again, the anvil fell on the team, with Austin Forkner throwing away a sure second overall late in moto two and Savatgy crashing while leading moto one early. It's simply incredible what's going on there this outdoor season. Normally both guys would be top four in points with Garrett Marchbanks in the top ten in his rookie year. Instead, it's all poop outside of some flashes from Forkner here and there.


Filthy Phil had a garbage day, according to him, and was in a pretty foul mood after the races… which means he's great to talk to. After he called himself names and questioned why he races, I got him to give me this exchange about having Osborne's wrench Dave Feeney working for him and also how Alex Martin is now embracing the nickname "Troll" that Phil gave him years ago:
Me: How much royalties are we getting on this Troll Train shirt? I believe you gave Alex the nickname Troll, and I started Troll Train. Now there's a T-shirt.
Phil Nicoletti: I told Alex because at first, he hated the nickname Troll.
My wife used to get mad at me for calling him that.
I remember Pookie getting pissed about it. But now he embraces it and makes stickers. "Yeah, I'm just a troll. All right, cool."
How much are we getting on these shirt sales?
What I have to do is find the original photo back from like 2011 of him why I started calling him Troll. He had a little funnel I put on his head. His head was completely bald and he was super thin, but he looked like a troll. We need to get that picture and put it on T-shirts. Not like actual trolls that look cool. He looked like an ugly little f*&ker. It was cool. I'm glad he's embracing it.
Was Feeney your mechanic today?
Yeah, Mr. Dave was my guy.
He's a legend.
I love old mechanics. I really enjoyed C-Low [Chris Loredo, Jason Anderson's mechanic] as well. It was awesome. It's pretty cool. Got their own little quirks on how to do things. I like the older guys because they've been around for so long, nothing really bothers them. I loved having Lee McCollum as my guy, too. They're kind of angry in their certain ways.
You'd probably like me.
No.
First time I met Feeney in '95, he was working for Phil Lawrence.
He's got some stories, too. He loves packing the gates. I don't want to call him an old fellow, but he's got some swag to him. It was cool. He'll finish the rest of the season out with me, so I'm pumped.
Thanks for reading, everyone; appreciate it. Good times indeed at Millville, and we're onto Washougal. Email me at matthes@racerxonline.com if you want to chat about this race or anything else.