Buchanan, MI
RedBud
Lucas Oil AMA Pro Motocross Championship
By The Numbers
649
Days between moto wins for Ken Roczen. Prior to winning moto one at RedBud, Roczen last won a moto in Lucas Oil Pro Motocross at the Iroman National in 2016. He swept both motos that day.
532
Days between Roczen suffering a career-threatening arm injury at Anaheim 2 in 2017 and his next moto win.
3
Overall wins for Aaron Plessinger in the 250 Class. Prior to this year, Plessinger had just two career overall wins since turning pro in 2015.
2nd
Finishing position of RJ Hampshire in the first 250 moto on Saturday. It tied a career-high finish for the GEICO Honda rider, who also finished second in a moto at Washougal in 2017.
1-20-35-2
Finishes over the last four motos for Austin Forkner. The Monster Energy/Pro Circuit Kawasaki rider led in both motos where he finished 20th and 35th.
2
Moto podiums for Blake Baggett through seven rounds. In 2017, he had ten moto podiums through seven rounds.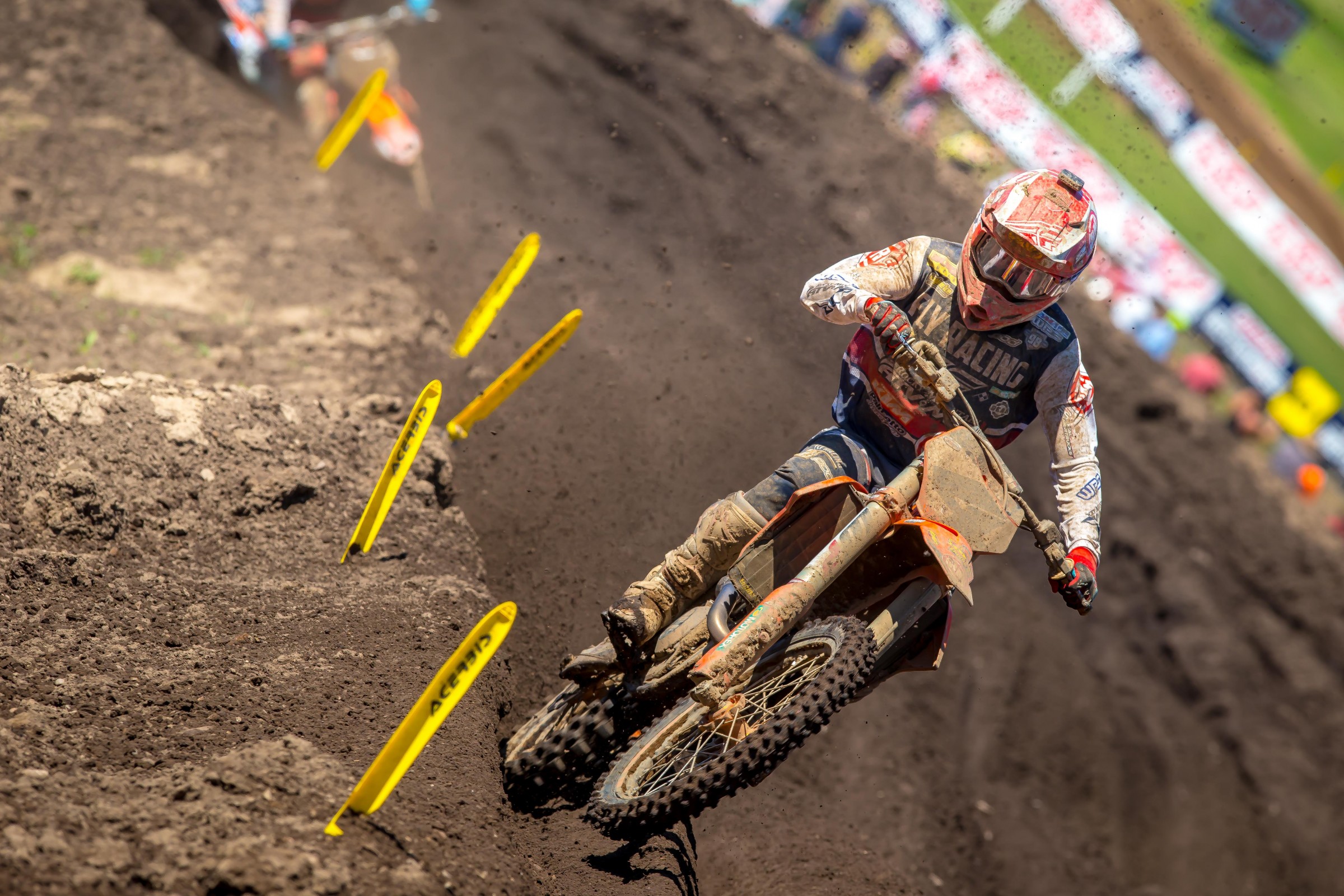 6
Podiums in the last eight motos for Justin Barcia. He had zero moto podiums in all of 2017.
3rd
Finishing position in the first 450 moto for Benny Bloss. It was the first time in his career he's landed on the podium in a moto.
6-6
Moto finishes for Phil Nicoletti at RedBud. They were his best moto finishes since going 4-6 at Budds Creek in 2016.
QUOTES FROM AROUND THE PADDOCK
Phil Nicoletti | 6-6 for firth overall in 450 Class
"It felt really great to get in the top five. It's been a long time coming and we made great progress this week. The track was brutal, and it wasn't easy by any means. I ran in second for a long time in the first moto, but I'm not quite used to that pace. If I keep putting myself in that position, I'll keep getting better. I'm happy with everything and I'm going to keep plugging away."
Justin Hill | 10-4 for seventh overall in 450 Class
"I only rode practice and the first moto at Southwick, and then took the entire week off from riding. Given the condition I was in with my arm, I chalked up the weekend as a win. I want to be on the podium, and I believe I can achieve that. I booked my flight for RedBud thinking that I was going to go to the signing, and that would be about it. I didn't have feeling in my hand until Thursday. Practice didn't go well in Michigan because I had been off the bike for so long. Honestly, the suspension guys were the shining spot for me. Every motorcycle was getting thrashed on the bumps, but we made good changes all day. Johnny Oler and Ryo Okuda listened to what I had to say, and they made the necessary changes [to the suspension]. I was stoked to have them there to help."
Cooper Webb | 7-7 for seventh overall in 450 Class
"RedBud was good for me, it was a step in the right direction. I got a pretty good start in the first moto and was able to pass some people and get into seventh. Second moto, I got a better start and had a good battle with some guys, kind of fell off the pace a little bit, and then made my way back forward toward the end and got seventh again. It was a nice building day, but I'm looking forward to this off-time to get a little faster, get a little more endurance, and try to go into Millville and get a top-five."
Weston Peick | 8-11 for ninth overall in 450 Class
"We did some testing during the week and thought we were in a better spot. Then I got to RedBud and the track was extremely rough. I had a different thought on changing the suspension, and I personally went the wrong way for the first moto. We switched back to where we were in the beginning of the day for moto two. I'll focus fine-tuning the suspension during the off weekend. Other than that, I was under the weather after Southwick. I walked out of RedBud with finishes that I'm not happy with. I will regroup, get some more seat time in, and come to Millville ready to battle."
Eli Tomac | 36-9 for 15th overall in 450 Class
"Obviously today didn't go the way we hoped. It's unfortunate because I felt really good on the bike in moto one, and to come away with no points was tough. Moto two was frustrating as well, but I focused on salvaging any points I could. We'll take advantage of the week off and come back strong and ready to get back to our winning ways."
Justin Bogle | 24-18 for 20th overall in 450 Class
"My day was basically the same as at Southwick. I struggled. At least I can still get starts. Had one good start, but struggled through the motos. I felt better going into the second moto, but I fell on the first lap while in the front. I thought it would have been better. I worked my way back up. It was not ideal, but we're making progress."
Michael Mosiman | 9-11 for eighth overall in 250 Class
"RedBud is in the books. There's definitely some positives to take away, but a lot of mistakes were made. My speed was good, but I need to be up there mixing it up with those guys. I got a good start in the second moto, but went down twice. I got ninth in the first moto but crashed twice there, too. I'm going to keep striving and will enjoy the weekend off."
Mitchell Harrison | 13-8 for tenth overall in 250 Class
"I learned a lot this weekend. I went down three times in the first moto and got tangled up with a few guys. I had a strong second half of the moto and came back to 13th. I ripped the holeshot in the second moto, but these guys are so fast and they got by me. I rode my own race and was strong in the second half and caught a few riders. If I can do the whole moto like I can in the second half, I'll be right up there."
Joey Savatgy | 17-5 for 11th overall in 250 Class
"I love coming to RedBud, and the fans were really the thing that keeps us going when times are tough out there. We had some challenging moments, but in the end, we want to push for the entire race. If we can overcome a tough day like today, it puts us in the right frame of mind to get back up there next race at Millville."
Quote of the Week
Former Grand Prix regular Jake Nicholls made the trip over to RedBud to make his U.S. Pro Motocross debut. Nicholls no longer competes on the FIM Motocross World Championship circuit and races locally in Great Britain. He ventured over in hopes of being selected for Team Great Britain at the Motocross of Nations at RedBud in October. He was solid, going 9-13 for tenth overall in the 450 Class. The best moment of his weekend came post-race, though, when Steve Matthes asked him about waiting to jump LaRocco's Leap until the sighting lap for the first 450 moto.
"I just came around on the sighting lap and looked to my left and the top couple of guys did it, so I was like, right. Fuck it. If I don't do it now, then I don't deserve to have a good result. I overjumped it by about five bike lengths and was like, right, that's it. Done. Tick that one off the list. I made it hard for myself."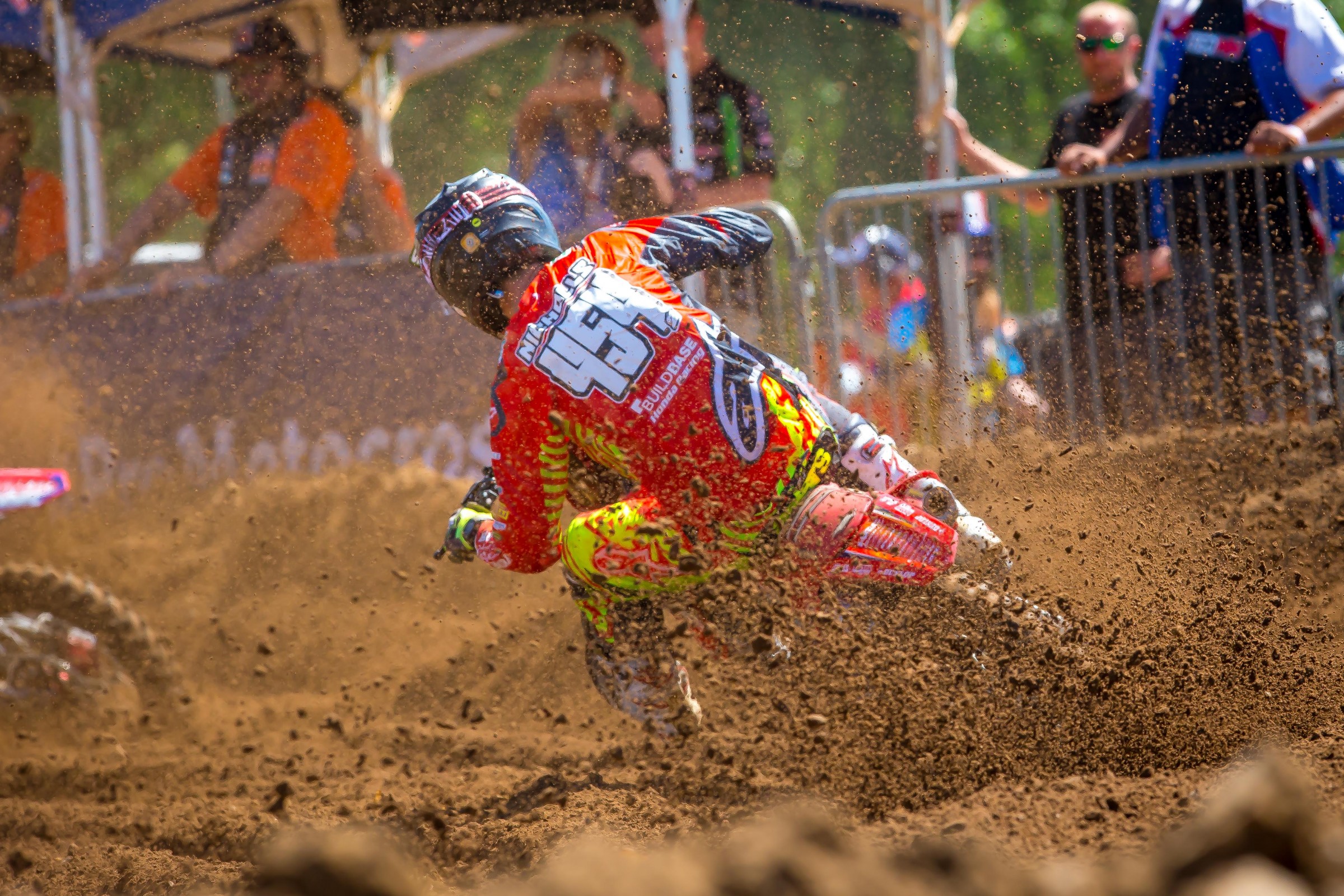 Sipes…. On a 250
Ryan Sipes was back in action this weekend. No, not on a 125, but a 250F. Sipes, who raced Muddy Creek on his own 125, will be doing a few rounds with the Rockstar Energy Husqvarna team on Zach Osborne's bike. He debuted at RedBud with 16-13 moto scores for 16th overall. His next race will be at Budds Creek on August 18.
"Man, Red Bud was tough!" Sipes wrote on Instagram. "Been a minute since I rode a track that gnarly or a pace that fast," he wrote on Instagram. "I felt better as the day went on and I got more time on the bike though. Second moto had a good start and ran top ten for 30 min, then had a little issue that dropped me back a few spots. 16-13 for 16th overall. I'll do better next time, no doubt. Thank you again @rockstarhusky for the opportunity, can't wait til Budds Creek to try it again."
Injury News
RJ Hampshire was one of many riders involved in the gnarly first-turn pileup in the second 250 moto on Saturday. According to the team, Hampshire is okay, but had to get about 30 stitches to "patch up some cuts up, and my back was pretty beat up again." He said he hopes to return for Millville on July 21.
"I got tangled off the start and I was up front, just couldn't control where I was going. Felt like a pinball machine. Once the chaos stopped, I was stuck under about four bikes and couldn't move! Michael Hand and Colt Nichols pulled the bikes off of me, which was much appreciated. Had to get about 30 stitches to patch some cuts up and my back was pretty beat up again. I'm alive, though! Thankful to be somewhat okay and will shoot on being back for Millville."
GIF of the Week
Two weeks in a row for Forkner!
Video of the Week
Who said press conferences can't be fun?
Note: Yes, they are joking with each other. Simmer down.